THE LAST WORD BEFORE GAME 10 vs. MIAMI (Saturday at 7 p.m. – Bobby Dodd Stadium)
By Matt Winkeljohn | The Good Word
Georgia Tech players are generally hesitant to say that one game is bigger than another, yet when the Yellow Jackets take on Miami tonight, it will be bigger than most and not just because they'll play under the lights in a somewhat rare night game at Bobby Dodd Stadium.
That's a bonus, to be sure, but the Jackets (5-4, 3-3 ACC) are most keenly interested in their chance to atone for last season's 25-24 loss at Miami (5-4, 2-3), when the Hurricanes won on a field goal with four seconds remaining in the game.
"That one hurt. That was a game we should have won. You go home after a loss like that and you remember if for the whole year," said senior linebacker and co-captain Brant Mitchell. "This is to get us bowl eligible, so we've got a lot of motivation going into this game."
Tech was 3-1 going into that game with only an overtime loss to Tennessee, and had several chances to win, as they have often against the 'Canes in recent years, despite dropping eight of the past nine meetings.
The Jackets went on to lose five of their last seven games and missed out on the bowl season. In a way, they blame the Hurricanes, or at least the last loss to them, as senior quarterback and co-captain TaQuon Marshall said, "It was kind of the turning point of our season last year."
Head coach Paul Johnson isn't one to prioritize one game over another, either, but Miami certainly has his full attention.
"Down there last year, kid made a great play. We should've picked the ball off. One guy misjudged it, it hit off our helmet, landed on a guy on a guy laying on the ground on his back and he caught it. Guy made a great play, and then they had to score on the possession.
"We've blown big leads here a couple times, so yeah, it's been a tough game for us. We've had a hard time beating them."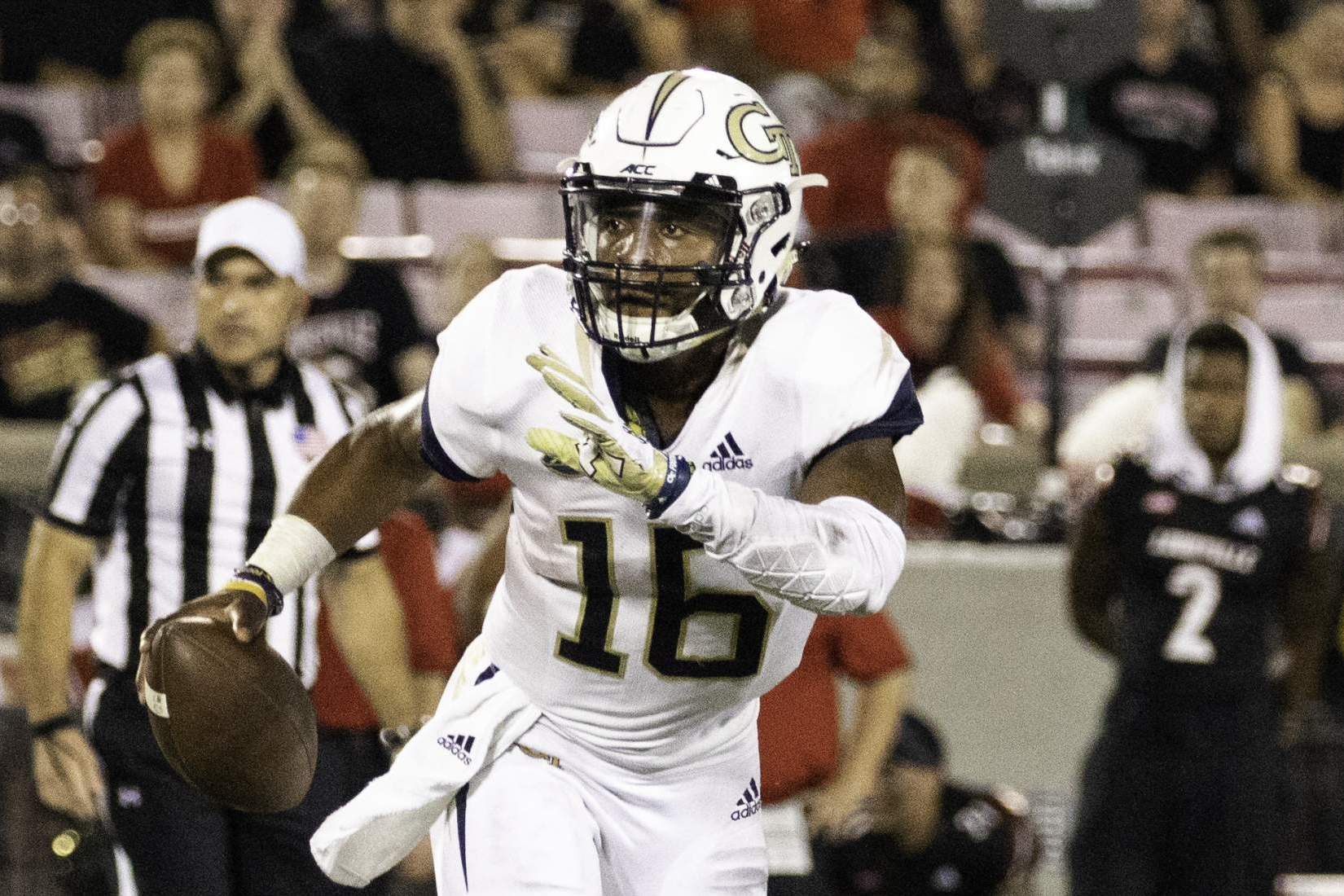 At least Marshall (above) will get another shot at Miami. While backup Tobias Oliver has been terrific in relief of Marshall in wins over Virginia Tech and North Carolina, Johnson has said that his senior co-captain will like start on Saturday night, although Oliver is expected to play as well.
"I tried to do what I could to put the team in the best position to be successful. I think Coach Johnson was trying to do the same thing, just to put the team in the best position to be successful," Marshall explained about sharing time with Oliver last week at UNC. "We put ourselves in position to win No. 6 and get back to a bowl game.
"It's also been exciting seeing Tobias get out there and do things to help our team get back to where we want to be, and that's getting back to a bowl game."
While Georgia Tech has won four of five games, Miami is trending another direction with three-straight defeats. The Hurricanes are ranked No. 77 in the nation in total offense (390.2 yards per game) and 101st in passing (193.2). That's quite sub-standard for head coach Mark Richt.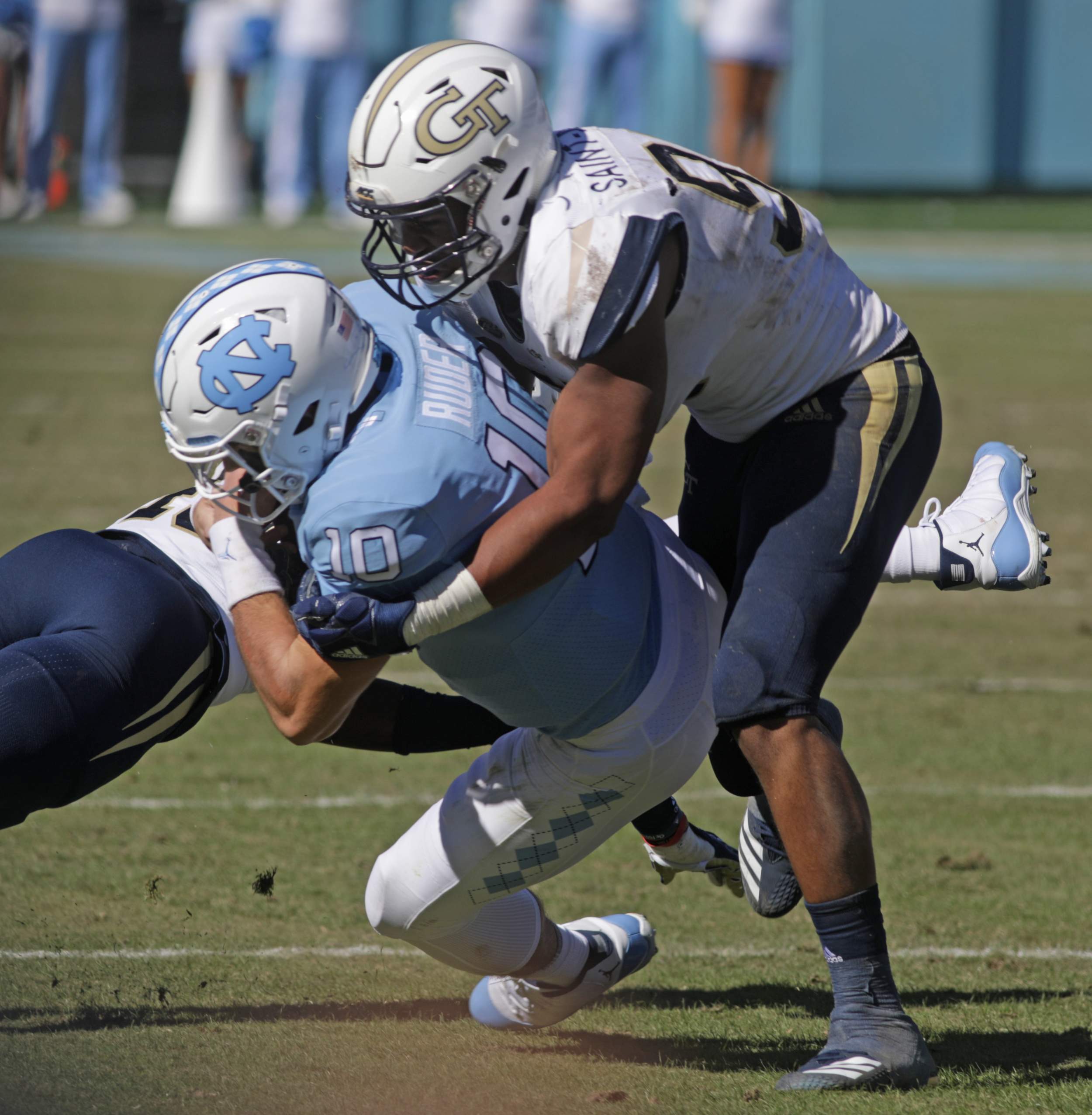 Senior defensive end Anree Saint-Amour (above) looks forward to challenging the Hurricanes in a special setting.
"Night games are something else – having a night game at Bobby Dodd under the city lights and under the lights of Bobby Dodd," he said. "There's always more energy in night games."
Miami has been bringing heat defensively where they're ranked No. 2 overall (264.7 yards allowed per game), although they've faced nothing like Tech's No. 1-ranked rushing attack (377.0 ypg). The Jackets have run for a combined 926 yards and 11 touchdowns in their back-to-back wins over VT and UNC.
The 'Canes' leading tackler is senior strong safety Jaquan Johnson, who has 61 stops despite missing a couple games.
They have 27 sacks as a team with superb junior linebacker Shaquille Quarterman and ends Jonathan Garvin and Joe Jackson pitching in five each.
Johnson would likely prefer that the Canes' pass rush not come into play, and if the Jackets keep running the ball so well, it probably won't. Tech has thrown the ball three times total in the past two games, completing two, including an 86-yard touchdown from Oliver to A-back Qua Searcy.
"I just think they're really aggressive," Johnson said. "They've put up some really good numbers. It helps to have really good players."
Oliver wouldn't mind putting up more crooked numbers, especially at night and against Miami.
"Especially with what happened last year we've been waiting on this one. It's one we've had marked on our calendars. We're looking forward to it.  It's even better [under the lights]."