By Matt Winkeljohn | The Good Word
Emily Ilgenfritz, Chanin Scott and Caroline Lee don't know any more about golf than they do of the next solar system over, yet the Georgia Tech student-athletes spent Saturday at the most famous golf course and learned to love the game AND the world into which they'll graduate.
They took an opportunity offered by the Georgia Tech Athletic Association to attend the inaugural Augusta National Women's Amateur tournament and participate with IBM upper management in a career exposure event focused on promoting women in technology.
The golf and the course were cool, yet nine Tech student-athletes who made the trip to Augusta were more impressed by IBM CEO Ginny Rometty, former U.S. Secretary of State Condoleezza Rice, retired golfer Anika Sorenstam and the career advice they offered.
Juniors Lee, Ilgenfritz and Scott lined up summer internships with IBM before the weekend, and the other six were selected on the basis of their majors.
This is a keen example of the opportunities that Georgia Tech provides students.
"It was an amazing experience. I'm so excited that I took it," said Lee, a member of the swimming team. "I knew that IBM was an amazing company, and . . . getting to know the female CEO was fantastic."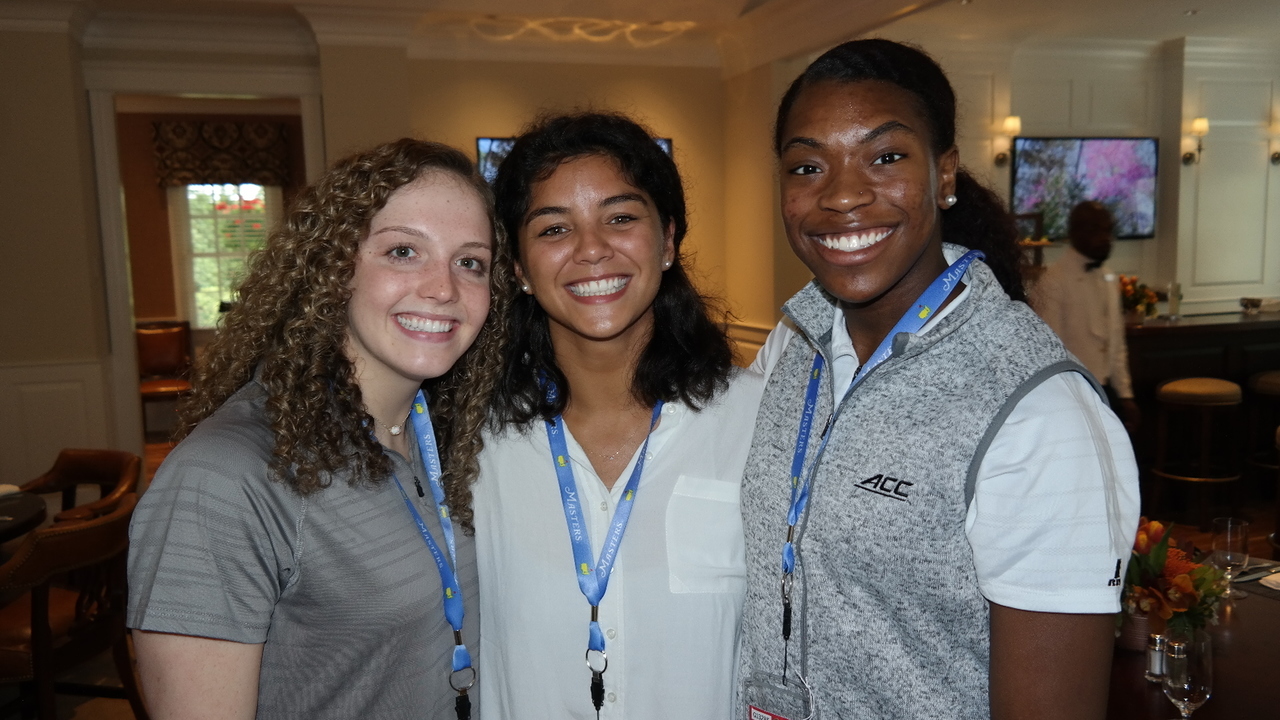 Augusta National is notorious as the site of the world's most famous golf tournament – The Masters begins Thursday – and for excluding all but white males as members until 1990 and females until Rice in 2012 became one of the first two females admitted.
So, the place is ironically positioned to incubate concepts of inclusion and diversity.
With the advent of the first female event ever at Augusta National (the final round was played there), ANWA sponsor IBM reached out to several schools to participate and Georgia Tech, Emory, South Carolina and Georgia attended the event.
Some time ago, Maureen Tremblay, coordinator of Tech's Total Person program, forwarded the invitation to several upper-class Jackets, and many who had no athletic obligation last weekend accepted. Lee, Scott and Ilgenfritz were joined in Augusta by swimmers Kristen Hepler, Lila Best, Emily Dykstra, Caroline Doi, Madeline Oliver and volleyball player Lauren Frerking.
Soon after the IBM bus drove down Magnolia Lane and dropped off the Jackets, the student-athletes had breakfast and then watched some golf. There was a tour of IBM scoring technology at the site, and then lunch and the symposium with Rometty and IBM human resources officials Deb Bubb and Obed Louissaint.
Lessons were learned.
"One of the HR specialists was saying what can really help with diversity and inclusion is feedback . . . and the best way to get that is to ask for it," Scott said. "I think I'm good at that because in basketball we get critiqued a lot."
Rometty advised all that succeeding will not be easy.
"Definitely meeting Ginny because she's the CEO, and I did not expect her to be so interactive with us. She was interacting with us the whole day," Ilgenfritz said. "That was definitely a very impactful conversation, and it inspired me to not be afraid to ask for feedback. They talked about how in order to grow, you have to be uncomfortable."
Athletic as these student-athletes are, golf was something of a new experience and the world's most famous course was a revelation of sorts. After lunch, they went back out to the course, where Wake Forest senior Jennifer Kupcho won amid polite and sporadic applause.
The Jackets didn't mind having no cellphones. They're not allowed at Augusta National.
"I thought it was so cool. The grass was perfect. It was very hilly, very big, and the weather was nice," Scott said. "I don't have a lot of experience with golf. It was cool to see a different culture. I'm used to being around sports where you cheer loudly. It was cool to unplug and really give your undivided attention to the sport."
Lee said, "I really appreciated not having our cell phones, and not being distracted and giving my full attention to the IBM staff. I don't want to seem like I'm always attached to my phone. It actually made me want to look into golf more."
That sounds like Condoleezza Rice. In 2012, she became one of the first two female members admitted to Augusta National. African-Americans were first admitted in 1990.
Rice took up the sport just about eight years ago, in part because she felt like she'd maxed out her tennis skills, and now regularly shoots in the 90s, sometimes in the 80s.
Tech's student-athletes will soon make their own transitions.
[Lila] Best, for example, is about to graduate and is in conversation with IBM for a position.
Scott and Lee will serve internships through IBM's Smyrna office this summer. Ilgenfritz will intern in Raleigh, N.C.
"Caroline and I will be working in the same place, in sales," Scott said. "I didn't know Caroline before (Saturday). We can probably even carpool."
These student-athletes are moving forward with the help of the Georgia Tech Athletic Association and Maureen Tremblay – a student-athlete at Oregon State while Tech athletics director Todd Stansbury was AD there.
This is what happens at Georgia Tech.
"I think a lot of the credit goes to Total Person program, which focuses on creating a total person for when you enter the work force," Ilgenfritz said. "Maureen helps connects us to the work."
"We would definitely go back again. The event was way beyond our expectations," Tremblay said.
*Read more on the event from IBM's HR Vice President Deb Hubb here.