By Matt Winkeljohn | The Good Word   
When Georgia Tech tips off the basketball season three weeks from Friday as Lamar visits McCamish Pavilion, the Yellow Jackets will at first glance appear notably different as Josh Okogie will be away playing in the NBA while Ben Lammers and Tadric Jackson toil in Europe.
The offense will be a little different, too, although modifications may at first be hard to see because, after all, Josh Pastner carries similar primary goals into his third season as head coach.
He wants the offense to be decisive in its actions so as to make Tech vague.
That may seem a strange summary judgement, but follow along, and learn how the Yellow Jackets will go about their business with the ball just a bit differently – or more aggressively.
As before, Pastner wants Tech to play with "pace," although it stands to reason that the absence of Lammers in the high post figures to make that easier. Every player on the floor will be faster than Ben, although his passing skills will be missed to make more important the passing skills of every other player.
The ball ought to move player-to-player quicker than before as Pastner will more rarely call plays ahead of time. Players will more often determine the plays based upon the positioning of teammates on the floor and the defensive matchups that they have.
"Coach talks about violent cuts, and violent movements in terms of pace and the speed that we play with. And that's not just in transition, but in the half court," explained assistant coach Anthony Wilkins.
"With some of the things we've done with our version of the Princeton offense, we've put guys into positions to exploit other teams and their philosophies about whether they're a switching team or a team that wants to stay in position and trail [over screens]. We're trying to put [defenders] in positions where they're not comfortable playing."
Sure, after the other team makes a basket, point guards Jose Alvarado and Michael Devoe will most often bring the ball up court.
Once they make the first pass in the front court, though, they'll move into a space determined by the location of teammates, the action likely to be created by that first pass, and the defensive matchups on the floor.
The point guard might move into the post to receive a pass for a post-up, or maybe skirt to a wing.
The "center," most likely to be Abdoulaye Gueye, Sylvester Ogbonda or others, may quickly vacate the post — if a center is even on the floor – both to create space for teammates to operate offensively and to drag a big opposing defender out of rebounding position.
"The way we're doing it now is extremely position-less. There's really not a position … " Pastner said. "I think you'll see a lot of those guys on the perimeter, truly position-less."
The first pass in the frontcourt will determine the actions that follow.
"What's been a big thing for us this summer is reactions and escapes. We want guys to be able to react quickly and escape to spots efficiently to where guys are attacking," said. "The two questions you have to ask if you're playing offense for Georgia Tech are whether the ball needs help or does the ball need space?
"That's a read approach where guys are reacting to each other and putting themselves in position for any number of options. If the ball needs space, that means the ball is on the attack. You want to space away from it so that you can draw [away defensive] help, [and] create gaps to attack. If the ball is picked up, and you don't have a dribble, the ball needs help."
Rarely other than dead-ball, inbounds situations will the Jackets call set plays, so Pastner wants every player to be able to do everything well: dribble, pass, shoot, drive.
Of course, not every player will be as adept at each skill as every teammate, yet an overwhelming percentage of Tech's offseason was spent shooting, shooting, shooting (the Jackets were last in the ACC in 3-point shooting in each of the past two seasons) and improving every part of every player's skill set.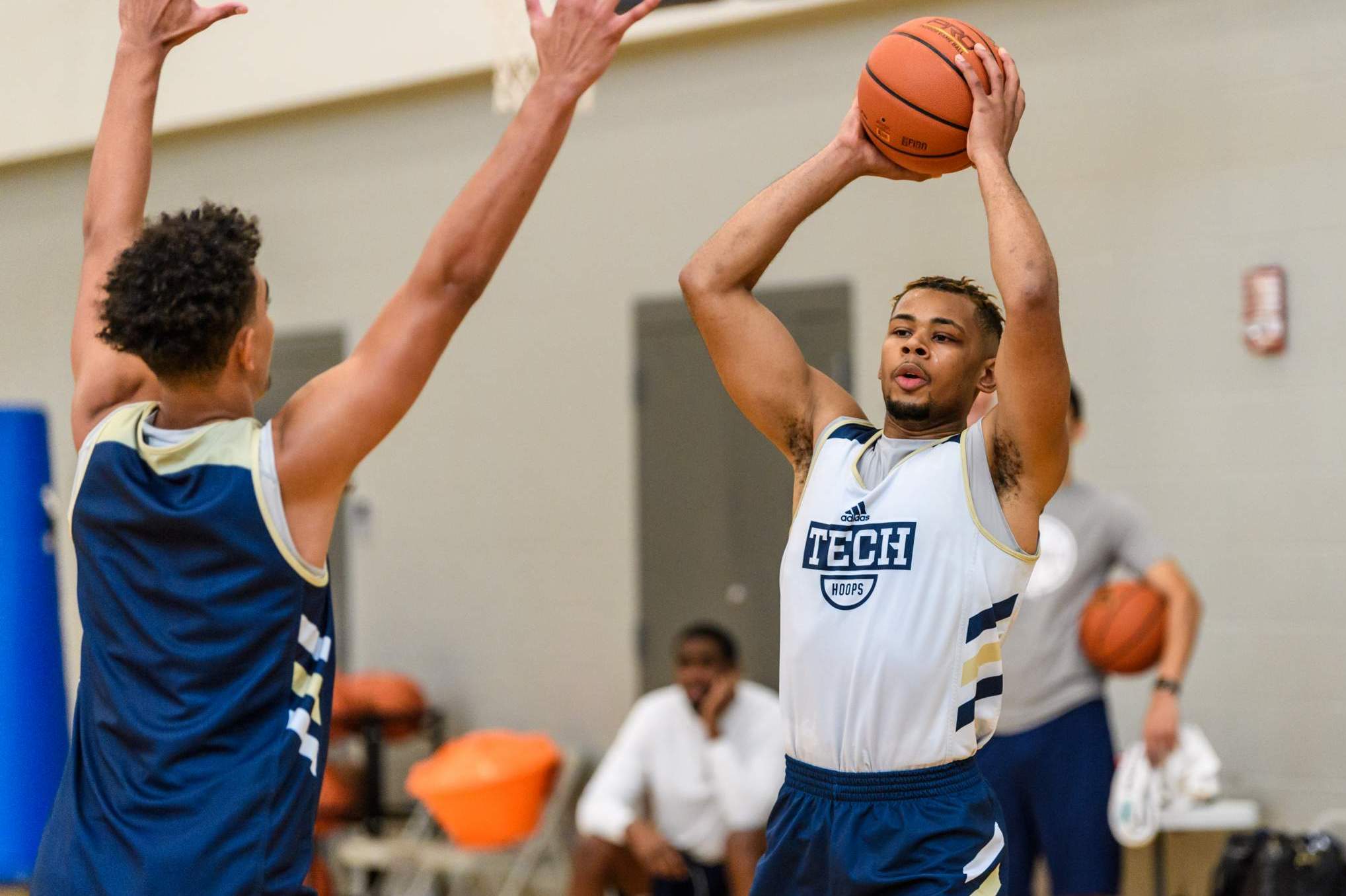 Assistant Eric Reveno works primarily with the bigger Jackets, but he's not spending all of his time fine-tuning back-to-the-basket post moves, setting screens and making outlet passes.
The bigs have also put in an abundance of time learning when to vacate the paint, where to go when they do, slipping from the perimeter to the basket, and moving faster.
Guards have spent a fair amount of time working on scoring in the post not only on drives, but post-ups for when matchups present such opportunities. And moving faster.
All player development in the offseason – long before the team began installing "actions" or plays – has been driven by making everyone more athletic and efficient in movement because Pastner wants sharp movement above all else (with better shooting a close second).
Better, more efficient movement should lead to improvement everywhere else: rebounding position, catch-and-shoot opportunities, wider passing lanes … you get the point.
"From a skills standpoint, the guys need to start efficiently, first step, explosion, getting downhill, shot preparation on the catch, and then the ability to stop, meaning that your gathers, your pivots when you arrive at certain points on the floor," Wilkins said. "Starts and stops are very important concepts within our offense.
"That's something that we grind at every day with our guys … the positioning, the ballhandling, the ball skills that you have, the angles that you have to learn to play with. Early in the year, I think it's really important to focus on your guys becoming better basketball players rather than spending a whole lot of time on sets or how to execute a play."
Playing time will be determined as much by skill as by how efficiently and how hard players cut on offense (in conjunction with how effective they are defensively at keeping opponents in front of them). Activity level is always critical.
Pastner, for example, said that Evan Cole, a 6-foot-9 sophomore wing Evan Cole who started Tech's final seven games and averaged 5.7 points and 5.3 rebounds, will play more if he can consistently play more violently.
"Evan, the harder he cuts … it's all about the speed of his cuts. The harder he cuts at the speed he needs to be cutting at, the better he'll be on the glass," Pastner said. "He's got to be better in the way he cuts."
That's a big word for the Jackets, hard.
Once into the ACC portion of the schedule, the hard part, Tech will not be able to overwhelm opponents with four- and five-star recruits. The Jackets aim to out-work everybody not only on defense, but also on offense with constant movement and one violent cut after another so as to become unpredictable with the ball in hands.
"To differentiate ourselves within the ACC, I think it's really important to be hard to guard, hard to scout, hard to prepare for," Wilkins said. "What we've done is blend some different offensive approaches in a way where it's hard to decipher what we are in. In the ACC, you can't just challenge people body to body, athlete to athlete and expect to finish at a high percentage.
"How tough they are, what their disposition is … at the end of the day those are going to be the separators. If we're able to have one of the most unselfish teams in the league, and we're able to say we have one of the hardest-playing teams in our league regardless of perceptions of playing talent, we're going to fare in a pretty solid way."