GT-Miami Set for Primetime at Bobby Dodd (7 p.m. Saturday) — Click HERE for details and tickets
By Jon Cooper | The Good Word
Georgia Tech's history against North Carolina at Keenan Stadium has resembled a whitewater rafting trip — fast-paced and exhilarating at times, but sometimes ending with capsizing.
Saturday afternoon was another thrill ride, but, early in the fourth quarter, showed signs of the Yellow Jackets' vessel being flipped upside down again.
But this time, the Jackets flipped the script instead of their raft and, despite letting an 18-point lead disappear, stayed afloat, finished the ride and came away with a 38-28 win.
"Well, it got a little crazy there," said head coach Paul Johnson. "I thought maybe when we came out and opened the third quarter and put together a nice, long drive and got a touchdown and then we got them pinned back up inside the 20 on the kickoff, maybe we could get away from them a little bit. To their credit, they kept on playing and they fought back.
"We did most everything we could to try to help them," he added. "I thought the defense did a great job there at the end getting a couple of turnovers when we had to have them and we did what we had to do to get out of here winning the game."
Highlights: Georgia Tech 38, North Carolina 28
The 'W' pushed the Jackets back over .500, moved them to within one win of bowl eligibility, lifted them to .500 in ACC play and gave them their third-straight road win.
A big part being able to survive this trip to Chapel Hill was their ability to roll with the punches and survive the rocky rapids — sometimes in the form of themselves, as the Jackets lost three fumbles.
The first two were especially costly, as Jerry Howard's fumble on GT's second offensive play was returned for a score, putting them down 7-0, then a third-quarter miscue by Jordan Mason led to field goal, part of Carolina's 18 unanswered points that turned a 28-10 Tech lead into a tie ballgame.
But the Jackets stayed even-keel and their faith never wavered.
"We were definitely thinking, 'Finish the game,' because it's never over,'" said senior A-back Qua Searcy, who amassed 124 yards on just three touches, including an 86-yard touchdown pass from Oliver (above). "We've come back before. It was just keep control of the game."
"Something we've kind of harped this season on as a team was just to keep controlling what you can control," added junior A-back Nathan Cottrell, who ran for a career-high 90 yards and a touchdown. "On the sideline, we just kept saying to each other, 'We just have to keep battling through adversity', no mater if it's us shooting ourselves in the foot or whatever's happening in the ballgame. That's how football goes sometimes. In the end, it's keep playing through it, keep pushing through it, keep battling through that adversity that we were facing. Our guys were stepping up to the plate and we came out on top this time."
The offense was effective for most of the game, rushing for 461 yards and gaining 565 in all. The key was going with the flow — using North Carolina's aggressive defensive style against them.
One such play came early in the second quarter, when Oliver and Searcy hooked up.
Up 14-7 and on the first play after getting the ball back on a punt, Oliver faked a handoff, dropped back and lofted the ball downfield to a wide-open Searcy, who broke free at his own 25, caught the ball at the 39 and sprinted home free the final 61 yards.
The 86-yard touchdown was the sixth-longest pass play in school history (the longest since 2009) and one they felt good about working on in practice and even better about once they saw the Tar Heels' defensive approach.
"I knew it was going to be a big play," said Oliver, who took over for starter TaQuon Marshall on Tech's fourth offensive possession and ran for 120 yards and passed for a career-best 104 more. "We ran the play that was play-action off of that. We ran that like a thousand times. They were flowing that way. I knew it was going to be a big play."
"Going back and watching the previous games from the past two years they'd done the same thing," added Searcy. "They've defensed us pretty well so it wasn't a surprise. They were flowing the whole game, fast. The coaches in the box made a great play call and we executed it."
Blocking on the perimeter was also well executed all day.
"We were getting our blocks pretty well on the perimeter," said Cottrell. "That usually opens it up pretty well as long as we can get things fitted right inside as well. That was how the flow of the game went this game."
The flow turned bumpy after Tech late in the third quarter and early in the fourth, as the Tar Heels made their comeback from the 18-point deficit with a touchdown, a field goal following Mason's fumble and another touchdown plus two-point conversion after Oliver and center Kenny Cooper had a bad exchange on fourth-and-one, leading to a turnover on downs.
Georgia Tech's turnovers actually continued on the next drive, when Oliver lost a fumble on the UNC 13, wiping out a drive that saw an electrifying 52-yard run by Howard.
But then Tech's defense stepped up.
Sophomore strong safety Tariq Carpenter quickly got the ball back for the Jackets with an interception of Carolina QB Nathan Elliott. Nine plays later, the Jackets took the lead for good on a 1-yard touchdown run by Oliver, his second score of the day. Included in the go-ahead TD drive was a crucial fourth-and-1 conversion at the UNC 20, when Lynch ran right for three yards.
"In the huddle we were just telling everyone, no matter what the play is, just keep two hands on the ball. Hold the ball tight," said Searcy. "The corner was in tight when I was on that side and I just got a hook and Clinton did the rest."
On the next play Cottrell burst outside for 16, then Oliver took the ball the final yard for the lead.
Tech would never trail again, as the defense would make sure of that.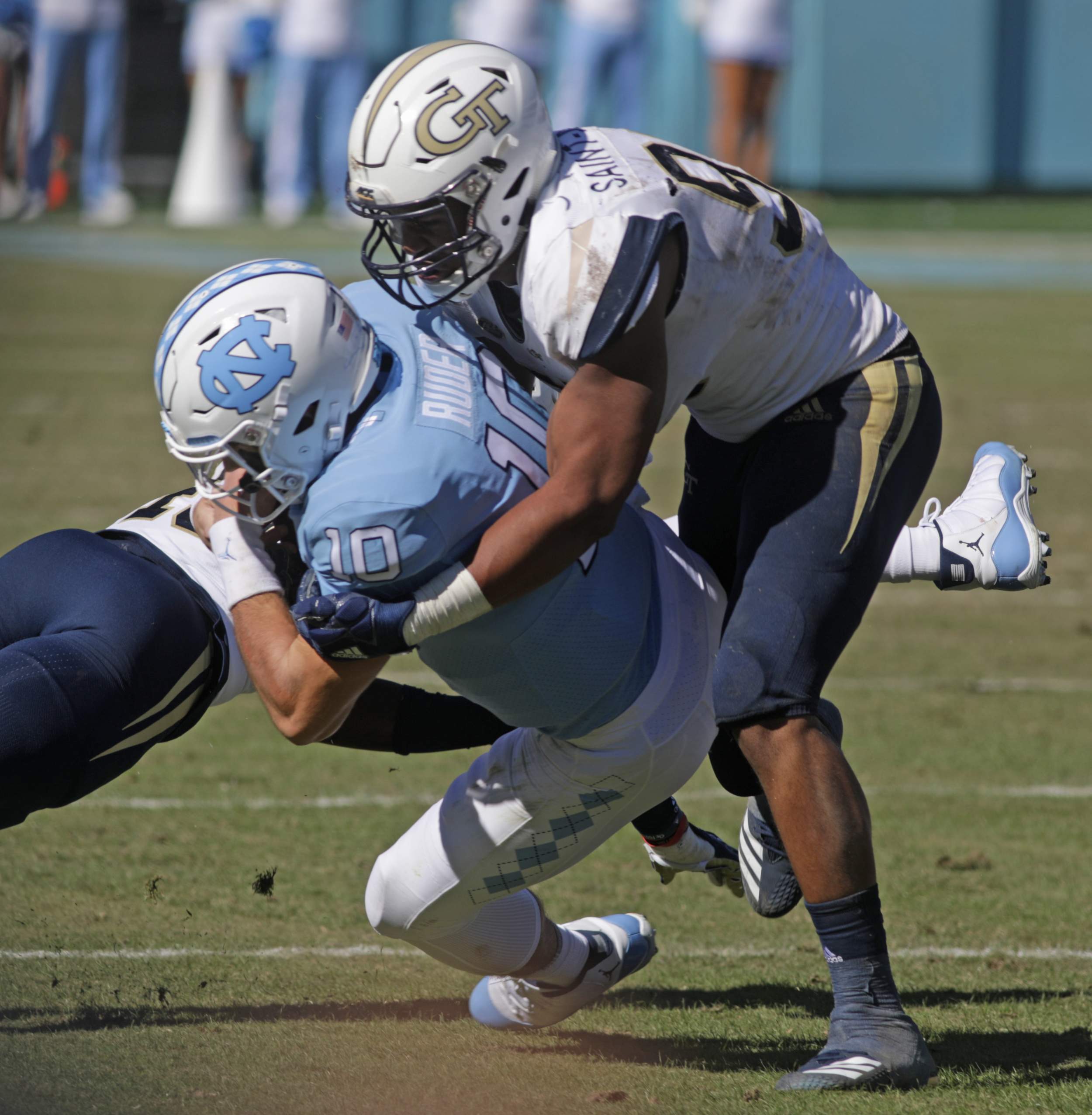 Anree Saint-Amour had a career-high nine tackles to go along with his spectacular game-clinching interception in Saturday's 38-28 win over North Carolina.
On UNC's very next play from scrimmage after the Jackets' go-ahead score, Elliott was picked off once again, this time by senior defensive end Anree Saint-Amour. Saint-Amour dropped into coverage and made a leaping grab for his second interception of the season and the fifth turnover that he's created in the last five games. That set up a victory-sealing 22-yard chip-shot field goal by true freshman kicker Wesley Wells.
With 46 seconds and a 10-point lead, the Jackets finally had clear sailing.
The waters don't get any smoother, however, as the Jackets play host to Miami for a key Coastal Division showdown in primetime on Saturday night. Bowl eligibility is just one win away, but there's still a lot of work to be done.
"We can't beat anyone else that we have on the schedule playing like we did today," said Oliver. "We can definitely get better."