By Jon Cooper | The Good Word
Do something for 28 years and there's always the danger of getting bored and falling into a rut.
Dave Patenaude, Georgia Tech's new offensive coordinator/quarterbacks coach has coached on the offensive side of the ball for 28 years, yet he's never had that problem and doesn't foresee it starting now.
Not when he's working with head coach Geoff Collins.
"The cool thing about having a defensive head coach is he says, 'Hey, do these things because they really mess with the defense,'" said Patenaude. "So we've kind of created this package of plays that are different formations, different personnel groupings, wacky formations, wacky plays that we'll run one or two times a game. Honestly, Geoff is like the mad scientist when it comes to that stuff. Each week is a different challenge. What you see one week, you probably won't see a lot of the next."
Patenaude admits he's not sure what exactly he'll see from the personnel at this juncture. There hasn't been a tight end on Georgia Tech's campus in more than a decade and the returning players on offense are accustomed to Paul Johnson's run-oriented spread-option attack.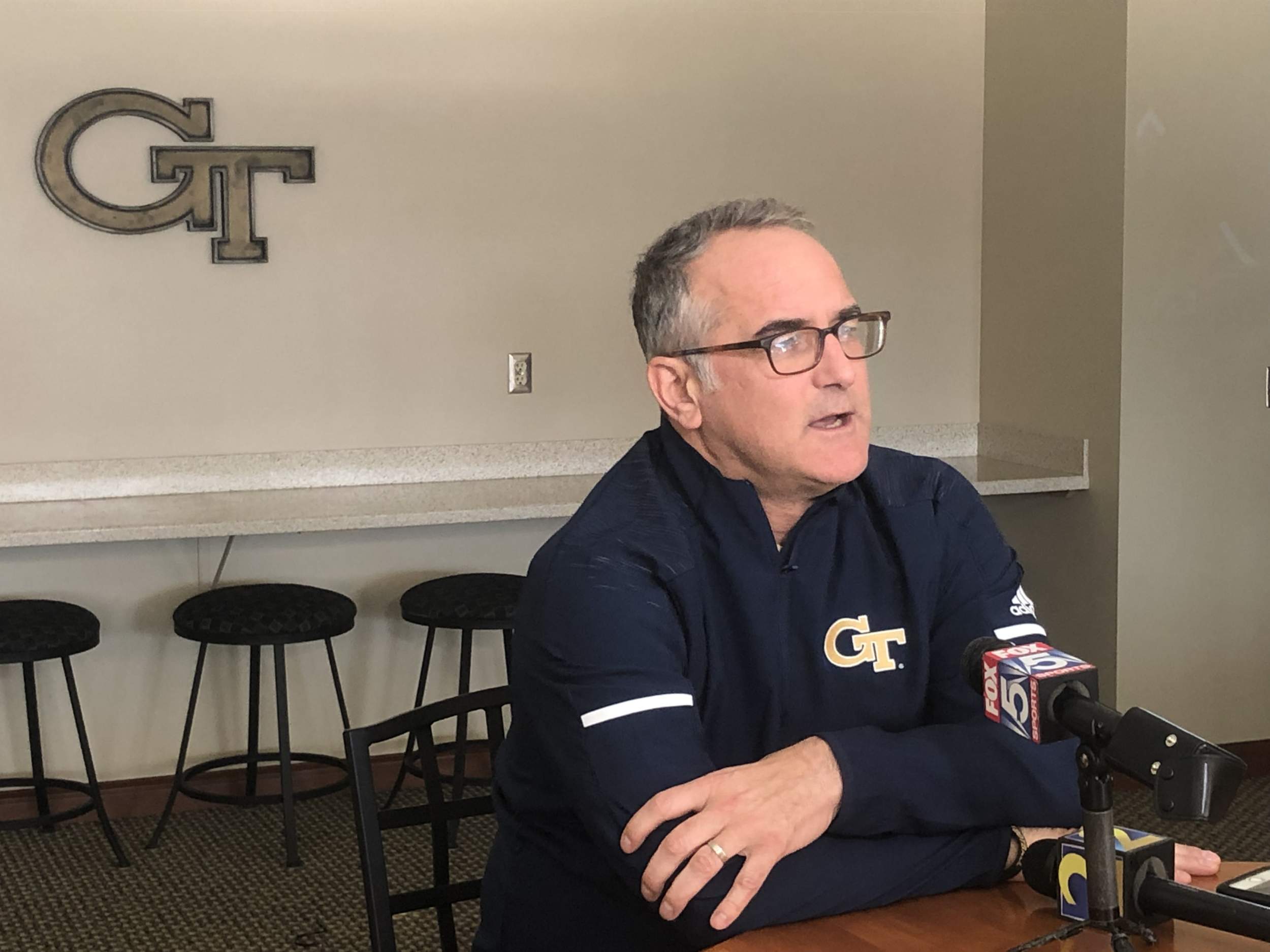 But making things fit makes it fun for Patenaude.
"That's the really cool thing. There's no established recipe at Tech for this kind of offense. For me, it's kind of like being on the Food Network and being in 'Chopped,'" said Patenaude. "You get a basket, you kind of look in there, you say, 'Okay, this is what we have, this goes together.' It's kind of fun to put all the pieces together, see what we have, see what the strengths are, see what the offensive line can do — a lot of it will be predicated on that, what the guys up front can do — and just kind of mixing and matching, watching what the quarterbacks can do.
"You can win a lot of games running the ball and running the quarterback like they have here, or throwing it," he added. "So you can put it together a bunch of different ways. Everybody was calling me and saying, 'Dude, what are you going to do down there? All they know how to do is run triple-option.' That's not true. We have really good athletes. We're just going to put them in some different situations and make that evaluation over the next two, three months."
Collins know what he expects to see in Tech's offense come game time.
"Two of the three best offenses in the history of Temple University were under Dave's direction," said Tech's head man, whose time with Patenaude goes back to 1996, when both were assistant coaches at Fordham. "The offenses that he's put together everywhere have been record-setters. So I'm really excited about what he's going to do with the offense and the flexibility of everything that we do, implementing a spread, pro-style, NFL-based attack. He's going to do a great job figuring out the personnel that we have in place."
Collins' positivity about having Patenaude is topped only by Patenaude's positivity about the job and players he's inherited. In the coming months leading up to spring practices, the staff will evaluate the talent and plug them into the new scheme, which will be tested in a big way when the Yellow Jackets open the Collins era on Aug. 29 at national champion Clemson.
However, it doesn't matter who the opener is against for Patenaude, whose passion for the job is not dictated by the opposition. It's part of what makes him such a good fit on Collins' staff.
"I thought the greatest thing that I had heard the first day that Geoff went into the meetings at Temple, he said, 'The No.1 job I have as the head coach at Temple,' — and it certainly will be the same here at Tech — 'is to love these kids,'" he recalled. "Love these players, love being around them, to have our families around them, to make sure that they are built up, challenged, held accountable, but loved.' I have two daughters at home and the running joke is, 'I have two daughters at home and 110 sons wherever we are.' Geoff does an unbelievable job of that, just creating a culture of energy, positivity."
Patenaude has a track record of producing high-scoring offenses with high-achieving players. Who his protege will be at Georgia Tech will be determined in time but he says there's no shortage of potential candidates, starting at quarterback.
"A lot of that will be determined just athletically over the next three months in the offseason workouts and then leading into spring ball," he said. "A big piece of it over the next three months will be processing information, learning the system and trying to absorb as much information as they possibly can. The smartest guys usually are the guys that do pretty well in this offense because, ultimately, they're given the keys to the car and they can utilize all the things in the offense to be able to get ourselves into the best look. We want to be able to play as fast as we can play and put pressure on teams by playing fast but we don't want to run bad plays. So our quarterback's ability to get us into the right play will be a big piece of who plays.
"The quarterbacks have to be really smart, the offensive line has to do a great job of communicating what the looks are, everybody has to be on the same page," he added. "So if you're a guy who can pick up information quickly, like these guys should be able to do, which is certainly one of the benefits of coaching at a place like Tech, or you can put a lot of stuff in and they can absorb it really quickly, that will be a big emphasis. [As will] their ability to play freely because they know exactly what we're doing and, by having a really good understanding of what we're doing, they can play a lot faster. There's going to be a big piece of that in the evaluation process of not only the skill set that they bring athletically, but what is their ability to pick up information, process information, process information on the move and then, when they get in that situation, play with true toughness?"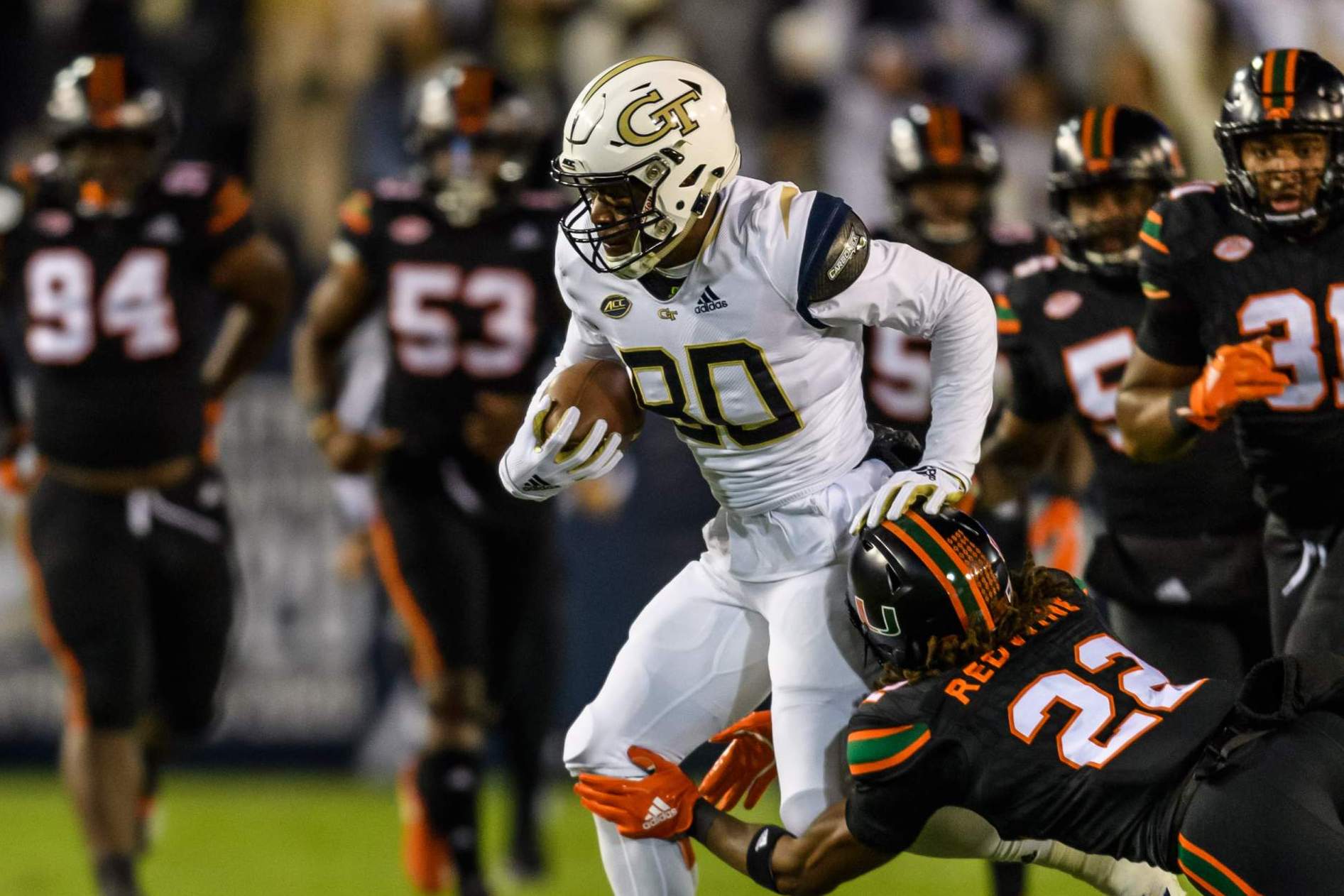 Senior Jalen Camp is one of the wideouts that figures to see more action in the passing game as part of Dave Patenaude's offensive scheme.
The hope is Georgia Tech's offense can keeps true to the near 50-50 run-pass mix Temple's offense had under Patenaude. While that is still to be determined, enthusiasm for a new scheme has spirits high.
Patenaude noticed how the receivers perked up when he showed them film of "Four Verts," a four-receiver set with all four wideouts running vertical routes, a play he said will be the first they install.
"Especially with the wideouts, there has been some positive chi, just about, 'Hey, we're going to line up four wides,'" he said. "I think it is cool for those guys. Just bringing positivity and juice to what we're doing and real belief in what we're doing and having fun with it. The validity of watching it on tape and having them grow and really sit there and understand what we're doing will be really cool. I think you'll really get an idea of it once we get out on the field and start running around."