Yellow Jackets showed signs of what they can do in 11-2 thumping of No. 4 Georgia
By Jon Cooper | The Good Word
THE FLATS — Patience really is a virtue.
On Tuesday night at Russ Chandler Stadium, Georgia Tech used patience at the plate to turn an early 2-0 deficit into a resounding 11-2 wipeout of No. 4 Georgia in a rain-shortened game, called in the seventh.
The game's ending was more of a washout than a walkoff, but that didn't matter to the Jackets and the fans that stuck around Russ Chandler Stadium despite a torrential rain that doused the field with one out in the bottom of the seventh. The win over Georgia ended a wait of nearly five years, as the last home win in the series came April 15, 2014 — the last series win was May 17, 2016, at Turner Field. It also was the team's fourth win against a top-10 team this season and third in four games over the past five days.
"It's a great way to start the week against your arch-rival and beating a top-10 team," said head coach Danny Hall. "We played four games games in five days against top-10 teams and we're 3-1. We feel like we can play with anybody that we're going to step up against. UCLA has been in here, they're No. 1 right now. We wish we'd have won that series but I felt like we played toe-to-toe with them. I think the more games like this we play, the more confident we'll get.
"I think our team felt very confident, very good about what happened in Louisville even though we would have liked to have had that last game," Hall added. "Having an opponent like Georgia sitting here on Tuesday really didn't give much time to think about what happened on Sunday. You have to put all your focus on trying to play well here tonight and I think we did."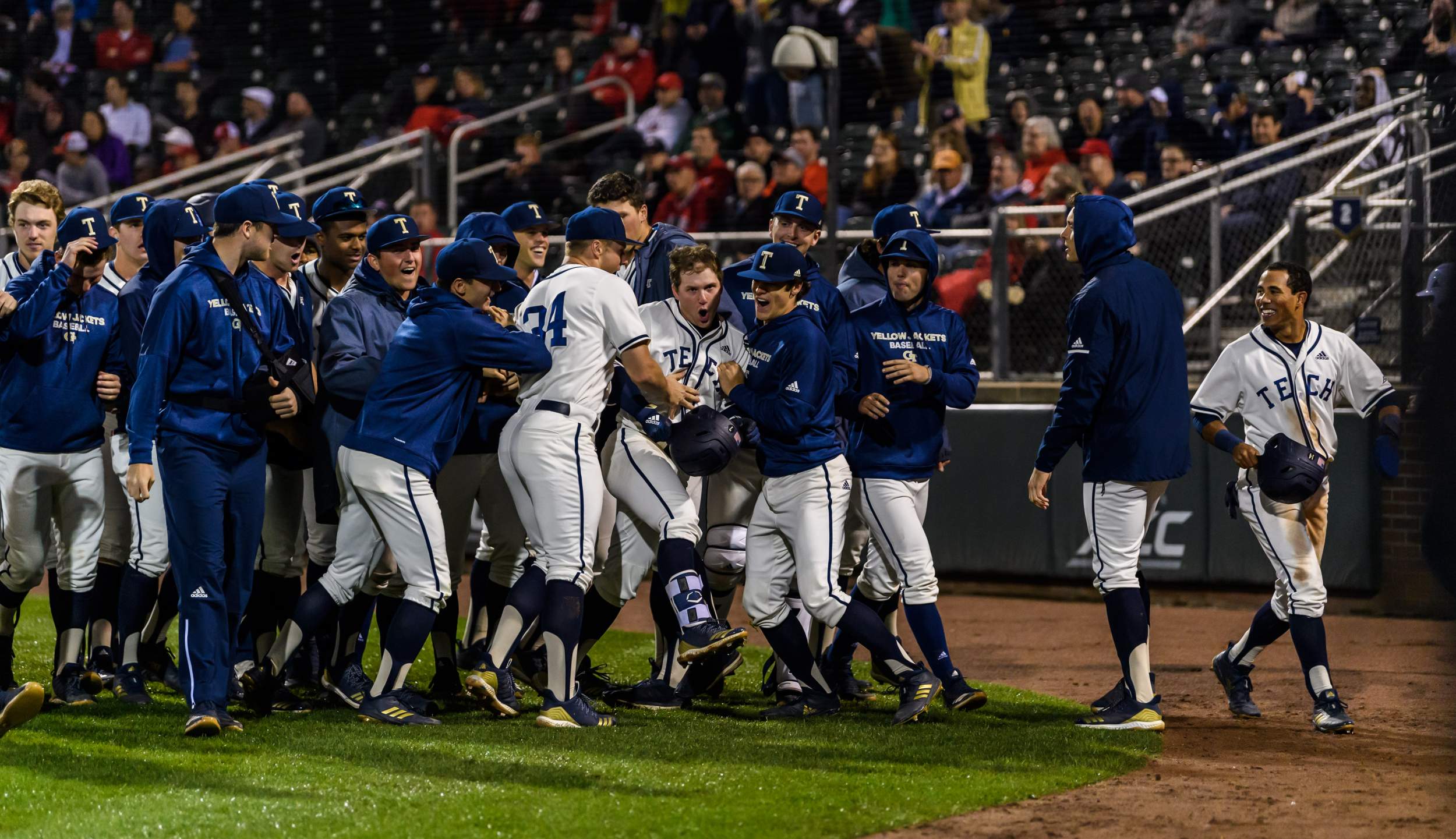 Being patient was the key. That patience was tested, as starter and winner Amos Willingham (4-0, the Jackets are 5-0 in his midweek starts) was reached for a pair of runs in the first on three doubles.
Allowing early runs to UGA isn't usually a good sign, as the Bulldogs came into Tuesday 17-1 when scoring first and 7-1 when scoring in the first inning. Starter Tim Elliott gave Tech hitters fits through four (one run, one hit, seven strikeouts), but the Jackets made Elliott work to do so, as he threw 79 pitches. The patience shown by left fielder Colin Hall, who needed seven pitches to be struck out and Oscar Serratos, who required eight before K'ing were big, even though they didn't result in hits.
By the fifth inning, when Austin and Nick Wilhite also put up seven- and eight-pitch at-bats — Austin grounding a single to left, Nick moving him to second with a ground out — Elliott was on fumes and would leave the game, having thrown 94 pitches.
"Some at-bats that didn't result in hits were key at-bats just because it drove his pitch-count up. That was kind of the strategy going in," said Hall. "Their starter kind of dominated on us quite honestly, they pulled him out in the fifth. Those guys had some extended at-bats where maybe they didn't get a hit but it gets that pitch-count up, where if we can get him out, which we did, then we've got a chance to do some damage against their bullpen a little bit."
Shortstop Luke Waddell, who reached three times, scoring all three, and blasted his second homer of the year, a fifth-inning, two-run shot to right that put Tech ahead for good and opened the floodgates for a six-run inning, credits assistant coach James Ramsey for the approach.
"He stresses see more pitches to try and get the starter out," he said. "We know if we can get into a team's bullpen we have a good shot to get some hits together. We definitely try and do that in our plan at the plate."
They did it perfectly, ravaging the Bulldogs bullpen for nine runs (six earned) on seven hits, and drawing four of the seven walks on the night — five of those free passes came around to score.
The damage started immediately off lefty Adam Goodman. Waddell greeted Goodman by taking took a 3-1 inside fastball out down the right-field line to give Tech the lead.
"The infield was in so I was just trying to get a ball to hit hard somewhere in the air. It worked out well," he said. "They put in that lefty and he was kind of wild and I got a good pitch to hit. It felt bigger when it happened and then we just kept getting hits together. It was the start of a great two innings there."
After Goodman walked Michael Guldberg, righty Jack Gowen relieved, but also had trouble locating. He intentionally walked Kyle McCann, allowed Tristin English's second sac fly of the game, then, saw Baron Radcliff work the count even from 0-2. On his fifth pitch with two strikes, the side-winding Gowen came over the top with a fastball. Radcliff put the offering over the fence in left-center field, his third homer in four games, extending the lead to 5-2.
A Serratos single scored Hall, who singled to center and took second on a wild pitch to wrap the six-run inning.
Wildness and weirdness ensued in the sixth, as the Jackets used a pair of walks to load the bases with none out. The weirdness then came with English batting and one out.
On the first pitch, he nubbed a ball toward third on a check swing. UGA catcher Austin Biggar fielded the ball but instead of tagging Nick Wilhite or stepping on the plate for a force play, he threw to first. The low throw was not handled by first baseman Chaney Rogers. Wilhite scored and as the ball lay at Rogers' feet, Waddell, who never stopped running, slid in with the Jackets' ninth run.
Hall would rake a two-out, two-run double to conclude the scoring.
Willingham benefited from the explosion. After struggling through the first, which saw him allow two runs on the three doubles — two of them identical opposite-field gap-splitters to right-center, the third a ball that parachuted over third and landed in short left, just eluding the head-first dive by Hall — he settled down, allowing only three hits in his final 5 ⅓. He struck out eight, walked two, throwing 107 pitches, 73 for strikes.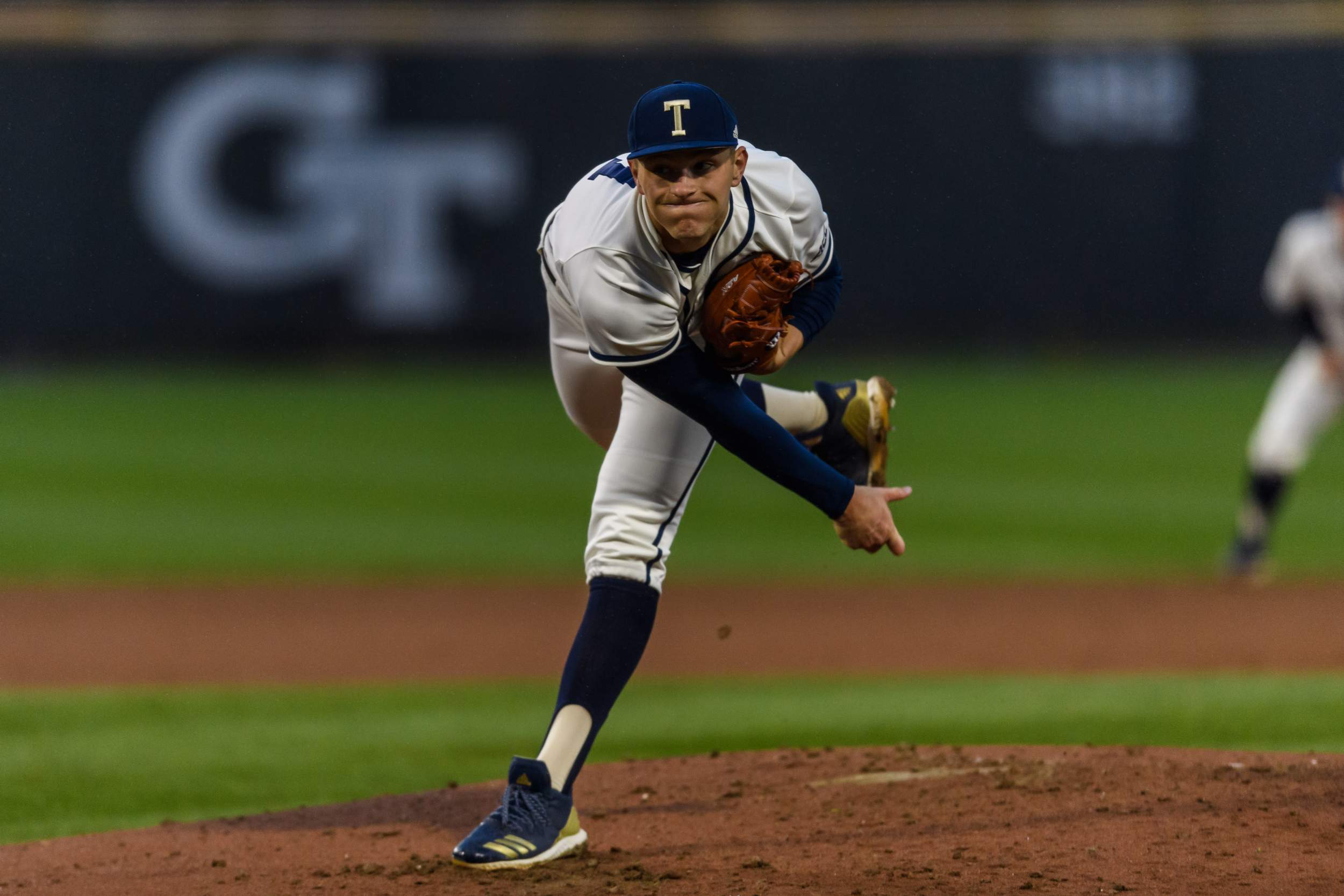 "There were a couple of pitches I left up in the zone and they did their job and hit them," said Willingham. "I kind of just made an adjustment, getting back down in the zone, working all three pitches. [Pitching] Coach [Jason] Howell called a really good game. Just trusting him, trusting my stuff and that's how I made it through. Obviously, you don't want to give up two runs in the first inning to a top-10 team but there wasn't ever a time that I lost confidence in my stuff."
The Jackets never lost confidence in him, as he kept the team in the game and they worked to get back in it.
Tech had one hit through the first four innings, but it was a big one. Guldberg's first-inning bunt followed a Waddell walk, with the throw from third baseman Aaron Schunk skipping away from first baseman Chaney Rogers to put runners at second and third. After McCann struck out, English hit a sacrifice fly, halving the deficit. The score would remain that way until the fifth, but the run proved important morale-wise for the Jackets.
"It's always good to answer," said Waddell. "We stress when we score runs we need to go back out and have a zero inning on the defensive side. So it's always good to try and get even one back because you kind of set the tone for the game. They put up two. If you put up zero, they keep momentum. We have to keep the momentum as little to them or all the way with us as much as possible."
The Jackets took control of the result in the fifth and sixth. Mother Nature would control the game's length, as heavy rains came and the game was called with one out in the bottom of the seventh. While the Jackets wouldn't get the satisfaction of recording a final out to end their skid with Georgia, they were still satisfied with the end result and the end of the series losing streak.
"It would have been a lot better if we could have played nine innings but I've never beaten Georgia, I don't think the class above me has never beaten Georgia," said Waddell. "Coming in we had a lot of confidence coming off a good weekend and we just tried to keep that momentum going. We talked about after, we didn't have a perfect first inning, down 2-1, but we really kept our bats strong and kept the pedal to the metal. Kept it going throughout the game and we finally got our runs."
"I didn't know how long it was," said Willingham. "I knew that for the past two years we hadn't beaten Georgia and it's been a big talking point for us, just going out and competing with them because, once again, they're a top-10 team in the country."
Next up is Notre Dame, who comes to town this weekend.. They're not a top-10 team but have given them fits and have Tech's complete attention.
"I just told the team, they went to Clemson and won that series, Florida State won the series in game three up there last weekend on a throwing error by the shortstop. So they've played everybody tough," said Hall. "I fully expect them to come in here and be ready to play us tough. There's no letting off the gas in our league. Everybody's good. Everybody's capable of beating everybody so we need to continue to grow and play well."
That shouldn't be a problem.
"We're ready to play," said Waddell. "We've got a lot of momentum. We're having fun, our pitchers are throwing great right now, we're playing great defense. Everything is working right now. We're just trying to keep that going as long as we can."