By Jon Cooper | The Good Word
It takes a special mindset to return to the scene of one of your lowest lows and turn it into one of your highest highs.
Cami Hidalgo has that mindset.
On Saturday evening at the Greensboro Aquatic Center, Hidalgo completed her final dive in the 1-meter and earned a total score of 290.35. That was good enough for a third place finish and a spot on the medal stand.
"For the whole weekend it was maybe a 6 out of 10," said the sophomore from Mission Viejo, California, who also finished seventh in the Platform and 17th in the 3-meter, with a laugh.
A year ago following ACCs, there was nothing for Hidalgo to laugh at. After a freshman season that saw her have the team's top dives in the 1-, 3- and platform, including setting school records in the 1- and 3-meters – and qualify in the NCAAs in all three events, she never even got to compete in the conference championships, as she hit her head on the board on a practice dive a "1.5 – 1.5" — a dive in which the diver does 1.5 flips and 1.5 twists and starts with the diver taking off the board facing forward but immediately flipping backwards.
She'd suffer a concussion that short-term would end any hopes of a medal in ACCs or nationally but could have ended a whole lot more. She'd shut down everything – diving AND school – for about three months then would have to rebuild.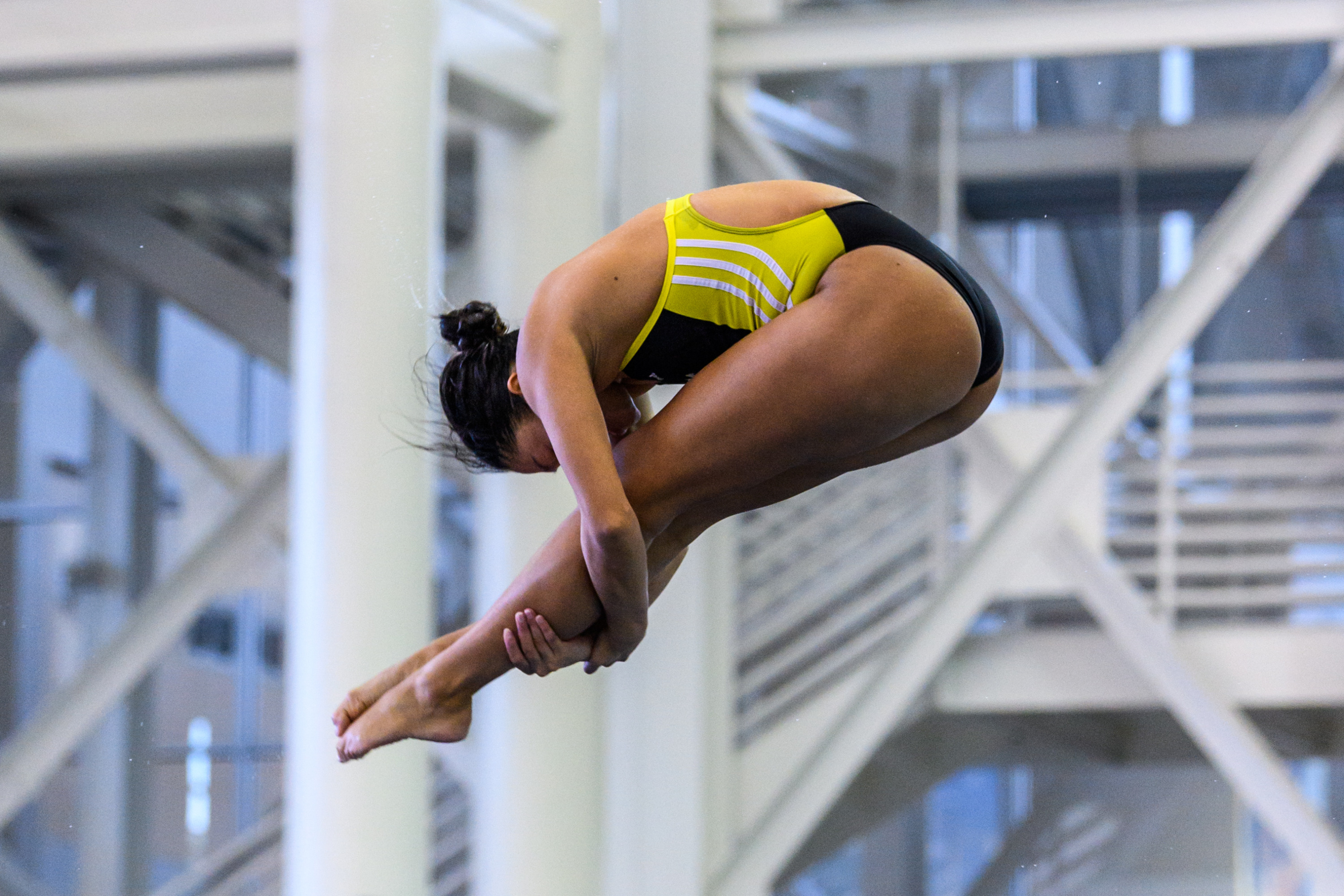 One big thing Hidalgo had in her favor was her great attitude in the face of adversity.
"Cami is an amazing young woman. She is probably one of the most resilient athletes I've ever met," said Georgia Tech swimming & diving head coach Courtney Shealy Hart. "To go through what she did last year, and she went through it with such grace. She never complained. I'll never forget being in that hospital room and just being in awe of her maturity and her ability to handle that type of situation as a freshman with such maturity. It's just an amazing accomplishment to come back one year later and excel like that."
Positivity is everything to Hidalgo, always has been.
"Cami has a very, very positive outlook on things. Even when things go wrong she's always trying to find something very positive," said Tech diving coach John Ames, with a laugh. "She even jokes about her accident last year that 'I'm sure it's a way of getting through things. Anybody who knows Cami would not be surprised at her ability to come back like this. She's got a great family who instilled a great character in her."
"I'm a huge believer in 'Everything happens for a reason,'" she said. "So I knew something was going to come out of this, that maybe I couldn't see at the time, but eventually I knew there would be a reason for this and it would just make me a better athlete and stronger mentally. I've just always been taught that as a kid."
To re-discover her identity as a diver, Hidalgo went home over the summer and went back to the people who helped her forge that identity as a kid — former coaches, Kim Berberi and Janet Ely.
"They've always been very strict. You can never say 'No' to them. So they got me back in the water — pretty quickly, actually," Cami recalled. "I remember doing drills on the first day that I didn't think I'd be doing so soon. But they knew. They said, 'It's a fluke thing so we've just got to get you back into shape.'
"So I had gotten my 1-meter list (of dives) off then my 3-meter list and I remember the day after I got my 3-meter list my coach expected me to get a couple of dives off 10-meter," she added. "I jumped into it a lot faster than I thought I would but it really helped in getting me prepared for the next season."
That road back proved tricky early on as she had to fight her body's reactions at every step.
"I couldn't do some of the dives that I normally was able to do just because my body did not want to be anywhere near the board or anywhere near the platform," Hidalgo said. "The hardest part about coming back was my body wanted to jump way farther out than I needed to and that's not what you want to do in diving because it's harder to make your dives and to make the flips you need to make. I would tell my mind, 'You're not going to hit the board,' but it just took a long time for me to get my body to do what I wanted it to do. So I definitely had doubt I would be able to get back to the level I was."
Hidalgo kept fighting and, as the season went on, Hidalgo started coming around.
"The first couple of dual meets we had some really good competition. You could tell she wasn't quite herself when she was competing," Ames said. "When we got to our Invitational, all of a sudden, that was big competition and she just turned it on. She won the 3-meter. That was kind of when I realized that she's almost there. She's almost back. I think this ACC meet really just kind of completed it."
"I think Cami's always been a competitor," said Hart. "I've noticed her confidence, her walk, her swagger gain every single time she was able to compete. Certainly, she had a great Invitational and was able to continue to build upon that."
When it came to preparing for ACCs, Hidalgo admitted she had nerves but only the usual jitters for anyone going through their first league championship.
"I was more just nervous to do well. I wanted to be able to perform for my team because I couldn't do so last year," she said. "I'd never really been at this high-level college meet before. I was more comfortable as the days went on. Usually my strongest event is platform and I think I had more nerves on platform just because I expected myself to do really well. That kind of hindered my performance. Going on to 1 meter I was more relaxed. My two hardest events had already been out of the way and I didn't have as high expectations for myself and I was able to just be more relaxed, have more fun with it and have a better performance."
Returning to Greensboro was never an issue.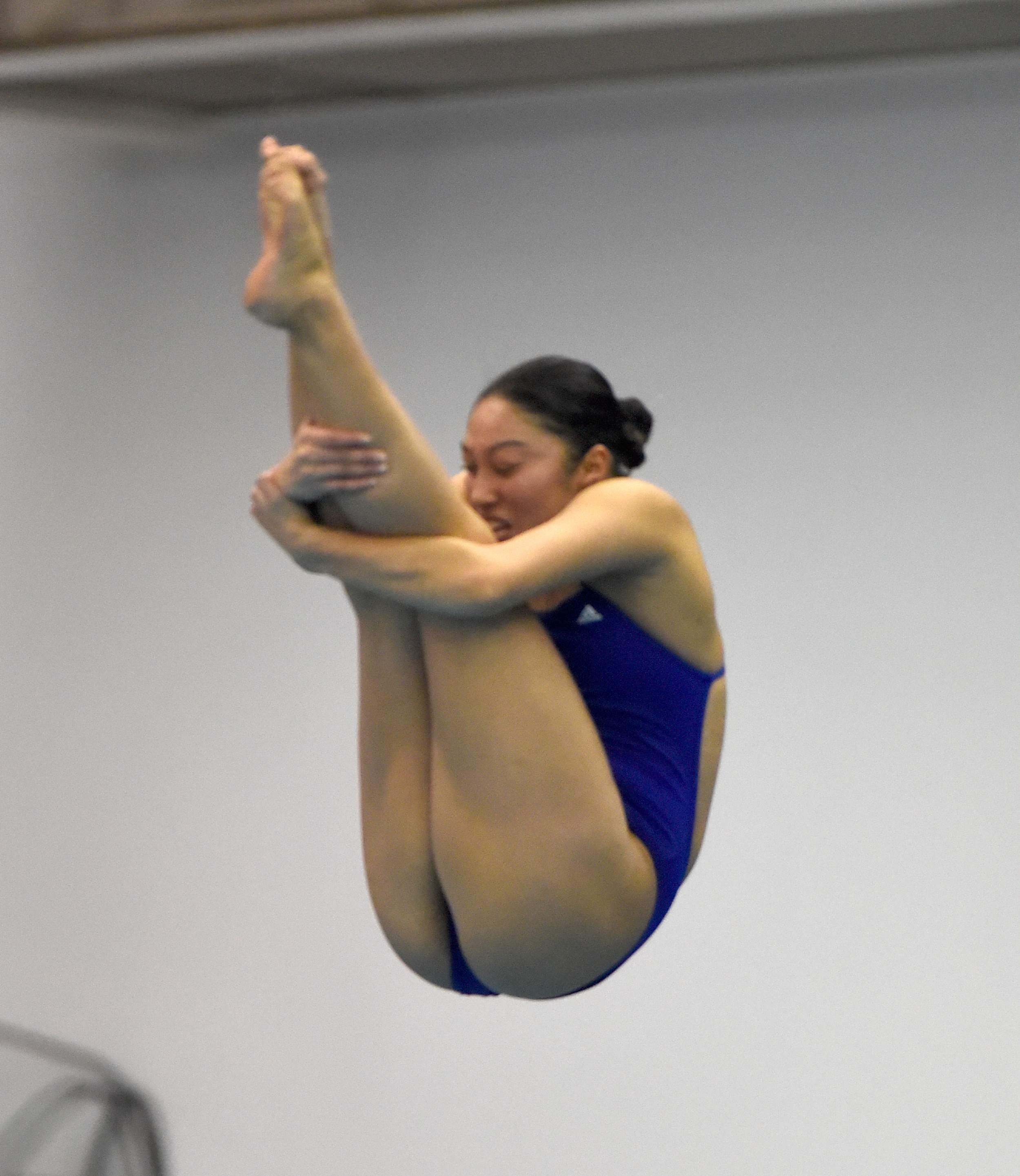 "I didn't need to talk to her about it," said Ames. "We'd worked on what was the problem and really she just needed to focus on her mechanics. We both understood and were each one of us was probably thinking, 'This is the board that this happened on,' but we didn't really spend a lot of time on that. It was kind of like, 'Just do what you do.' Since I've known Cami, I've always known her to rise to the occasion and when she gets in a competition she seems to find a way to get it done.
"The nerves were there on the (3-meter), so she didn't perform like she wanted to and like I've come to expect out of her," he added. "I think once she got to the 1-meter event and once she got through the prelim you could see the old Cami coming back, the competitiveness. When she got to the finals, that was it. She was back to being herself. She got through the board where she had the accident in the prelim and she was ready to turn it on. That's the type of competitor she is."
Hidalgo was never concerned about her return to the scene of the accident. She's neither re-lived it nor really talked about it, even though she lives near four-time Olympic champion and five-time World Champion diver Greg Louganis, who went through a similar ordeal on the 3-meter at the 1988 Seoul Olympics and came back to win a pair of golds. But she did use his experience, and that of diver Steele Johnson, a superb diver, who also came back from hitting his head on the board, as inspiration.
"I think she wants people to know, 'I'm good. I'm back. Don't worry about me.' - Diving Coach John Ames"
"It's one of those things where not many people have hit their head on the board but knowing other people have done it and have gone right back up and done great things was very inspiring," she said.
Hart finds Hidalgo's story inspirational and won't hesitate to bring it up in the future.
"From the very first time I met Cami, she's got a very sweet and warming personality but she's a competitor," Hart said. "I love that about her."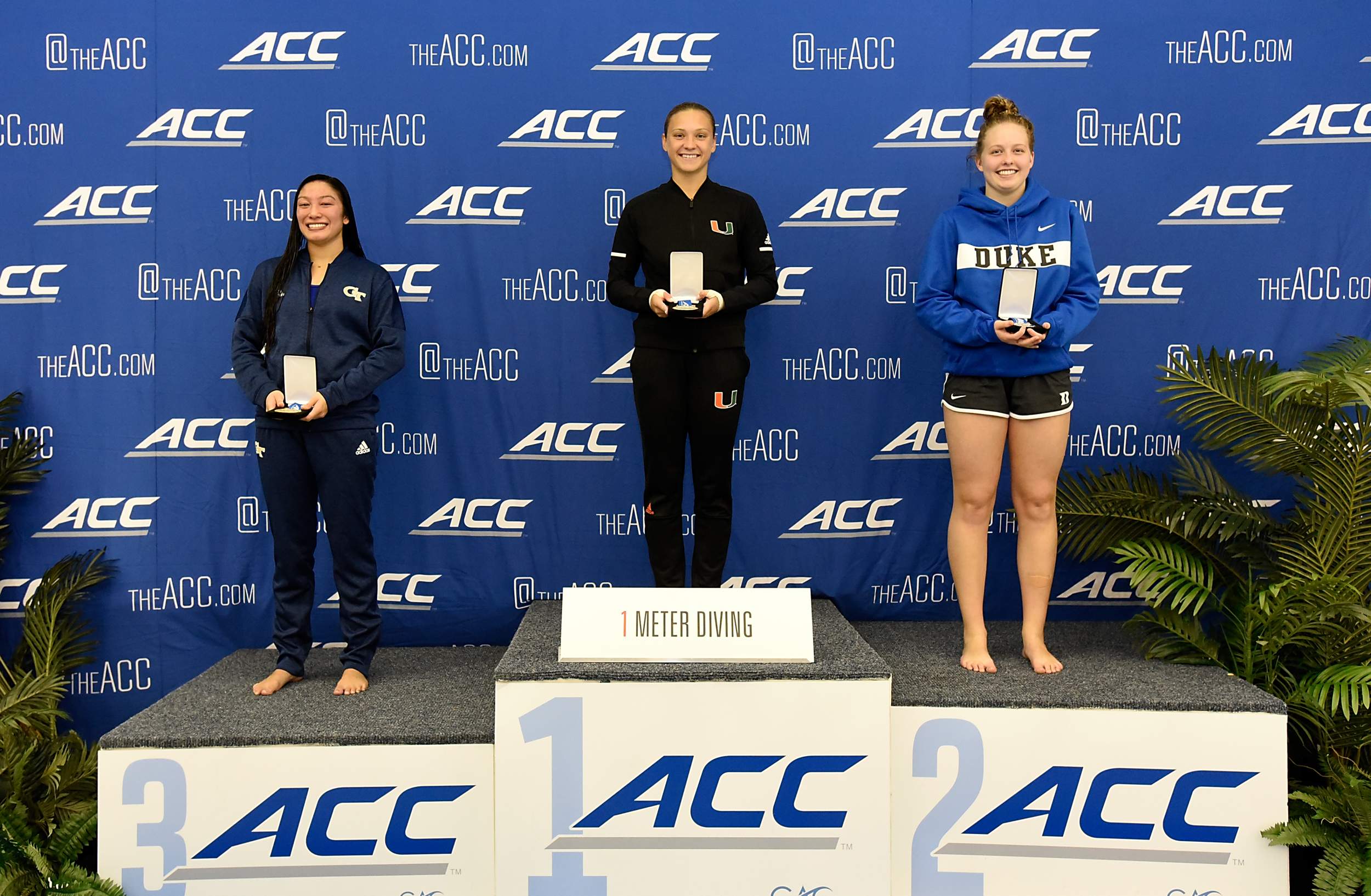 As she the competition wound down Saturday and news spread of her finishing third on the exact same board where her freshman season abruptly ended, her teammates couldn't wait to show their outpouring of love for their teammate.
"It was really overwhelming," Cami said. "I didn't see anyone coming but I just felt a bunch of arms around me. It was my whole team. It was just kind of relief, getting back and making my team proud."
Ames saw a lot of pride in Hidalgo's performance.
"I would say there's some pride there to saying, 'I'm going to show everybody that I'm back!'" he said. "It's been a slow process of getting over, just by the daily practices, slowly understanding that that was a fluke and just put it behind her. I think she wants people to know, 'I'm good. I'm back. Don't worry about me.'"
The only thing Hidalgo is worried about now is the Zone B Championships, which take place at the James E. Martin Aquatics Center on the campus of Auburn University on March 11 and 12. At stake are NCAA Championships bids.
Hart is excited to see how far she can carry the momentum.
"I think with any athlete, any time you do a good job you gain confidence. Cami's done that with each meet," she said. "I am certainly looking forward to seeing her results at Zones. I absolutely think she can make NCAAs and be an impact at NCAAs!"
Cami is in the same boat. Happy with ACCs but hungry for more.
"It's coming up pretty quick so it's a lot of training, doing the dives on your list that you've been preparing over and over and over again, trying to fix small corrections and getting everything down solid," she said, "I've definitely gotten back to where I know I can be and I know I can do even better."