By Matt Winkeljohn | The Good Word
THE FLATS — One might think this a wistful time for a certain set of four at Georgia Tech as this weekend will kick off the final home baseball series, and the seniors are preparing to bow out as Yellow Jackets against Pitt. But there are asterisks, and these guys have little time to ponder nor weep.
Keyton Gibson, Micah Carpenter, Jake Lee and Robert Winbourne – all right-handed pitchers – are the seniors listed on Tech's roster. Yet three others came to The Flats with them in the fall of 2015, and it just so happens that Carter Hall, Tristin English, Jonathan Hughes and Jackson Webb are classified "redshirt juniors" for scattered reasons.
Plus, they're all nearly guaranteed to be back at Russ Chandler Stadiums in a couple weekends as Tech (37-15, 18-10 ACC) figures to host one of 16 NCAA regionals.
They're having way too much fun to look at any ending, instead looking forward to Monday, May 27's NCAA selection show. Tech missed the NCAAs the past two years, and as freshmen these Jackets traveled for regional play to Gainesville only to be eliminated by host Florida.
"It's really bittersweet . . . and I've enjoyed playing with these guys this year and the last four years, so hopefully we can win three ball games and make the best out of it we can," said Gibson, who started Tuesday against Mercer and threw three scoreless innings before Carpenter followed with three hitless innings in Tech's 7-1 win.
"It's going to be much better than the last three years' selection shows. I'm sure we'll get the team together, figure it all out. Hopefully, we'll get to host something here."
That's just about a lock.
The Jackets are ranked No. 6 in the nation, and they have no plans of stopping anything with games Thursday night, Friday night and Saturday afternoon against the Panthers (20-33, 7-21). There's next week's ACC Tournament in Durham, N.C., the NCAA regional, and hopefully an NCAA super regional and then a trip to the College World Series June 15-24 in Omaha, Neb.
They already have stories, though.
Take Carpenter, the lone man in this group to walk this May – and it was a good thing.
Two Fridays back, he subbed in late as the Jackets were whipping Western Carolina, picked up his first collegiate hit, played a little centerfield and slept. Then, he woke up early, went through commencement in McCamish Pavilion to pick up a degree in business administration that made him late to the Saturday afternoon game.
He arrived in time, though, to pitch two scoreless innings with four strikeouts in another blowout of WCU.
So, it's been a good month of May, and Carpenter's able to have fun with the fact that his sister, MacKenzie, is going to sing the national anthem before Saturday's game.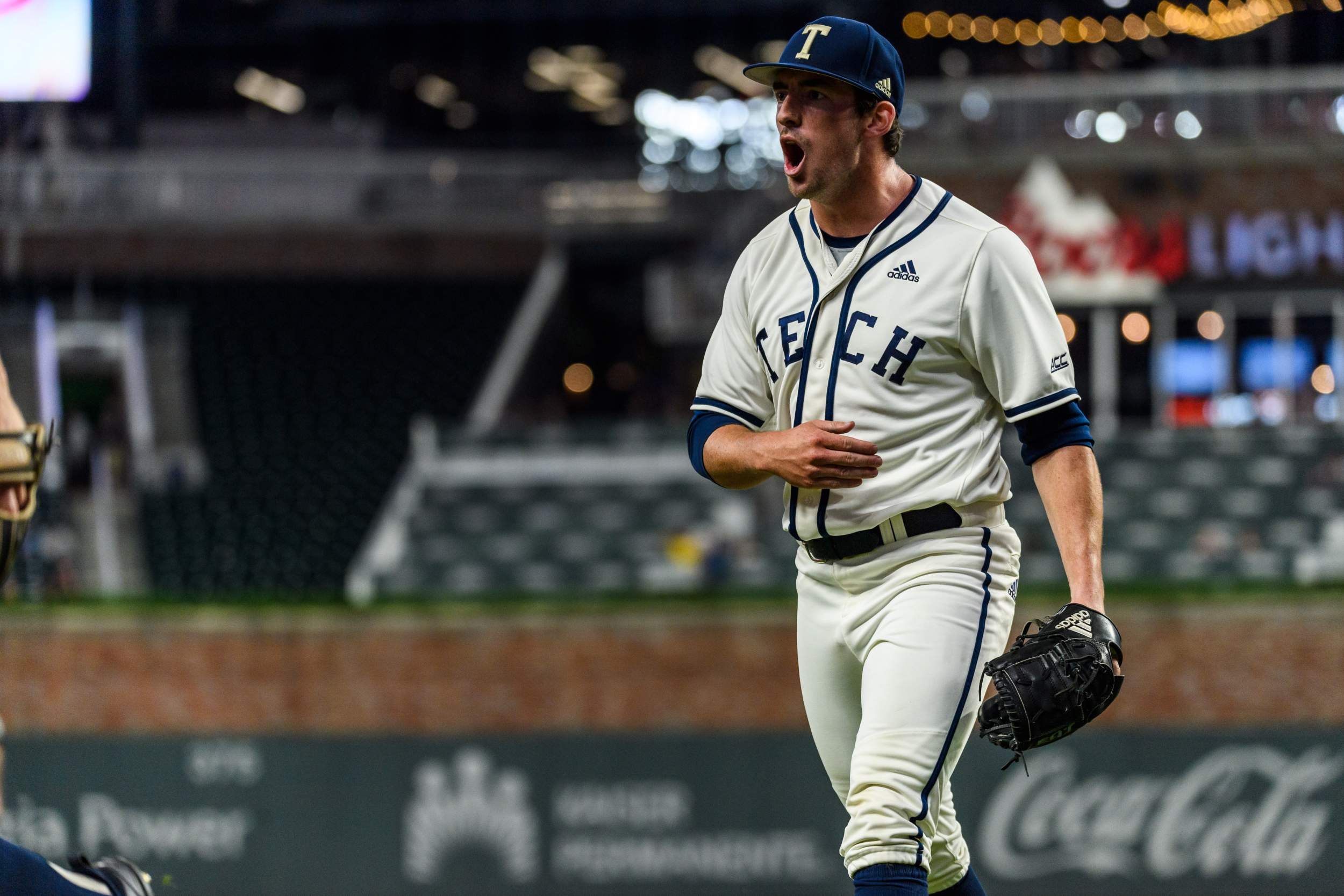 "Last year, I would have said we're going to soak it up, but this year we're definitely going to play longer so it's just another weekend," said the Jefferson High product. "[MacKenzie's] actually pretty nervous because she's 2-0 and we want to keep the streak alive.
"I'm just going to have fun, soak it on up, get our last series win here and head into the postseason with some momentum."
The Jackets have won nine-straight weekend series, eight of them in the ACC, and this would be the sixth to happen at home.
Head coach Danny Hall said of Carpenter, "one of our tri-captains and a very good leader . . . Had a great day at Virginia Tech. Comes in with the bases loaded and nobody out, and gets us out of a jam so we could win that series."
Lee, Winbourne and Gibson are on track to graduate in December, which strikes Lee kinds of strange. Not so long ago, he arrived from Whitewater High School in Brooks after squaring off against Gibson in the state high school playoffs.
"It feels like just yesterday those of us in the high school class of '15 were just getting on campus, hanging out on Eighth Street [freshman dorms] meeting each other and everything," he recalled. "It's gone by quick . . . once it got to baseball season it went by really fast because a lot of us were thrown into the fire and had a lot of action early in our freshman years."
Hall said of Lee, "This year, we're kind of nursing his elbow a little bit or he would have had a lot more opportunities. We're just kind of massaging his innings so we can keep him healthy."
Gibson arrived at Tech with Buford High teammate Joey Bart, the catcher who was drafted No. 2 overall last year by the San Francisco Giants after being named ACC Player of the Year as a junior. Gibson (and other teammates) remain in contact with Bart, whose left hand was fractured a month ago when he was hit by a pitch. They keep him up to date on Tech baseball.
"A lot of the time, the way we keep in touch with him is he'll send us a little Snapchat video of him hanging out with like Johnny Cueto in the locker room and the rehab stuff right now," Gibson said. "He'll send something like that two or three times a week, and we'll reply to it and have a little just 10-minute conversation about how things are going."
Hall said, "Keyton Gibson's had kind of up and down career, but he threw the ball really well Sunday at Duke, and he threw the ball really well [Tuesday night] so I think maybe he has saved the best for last."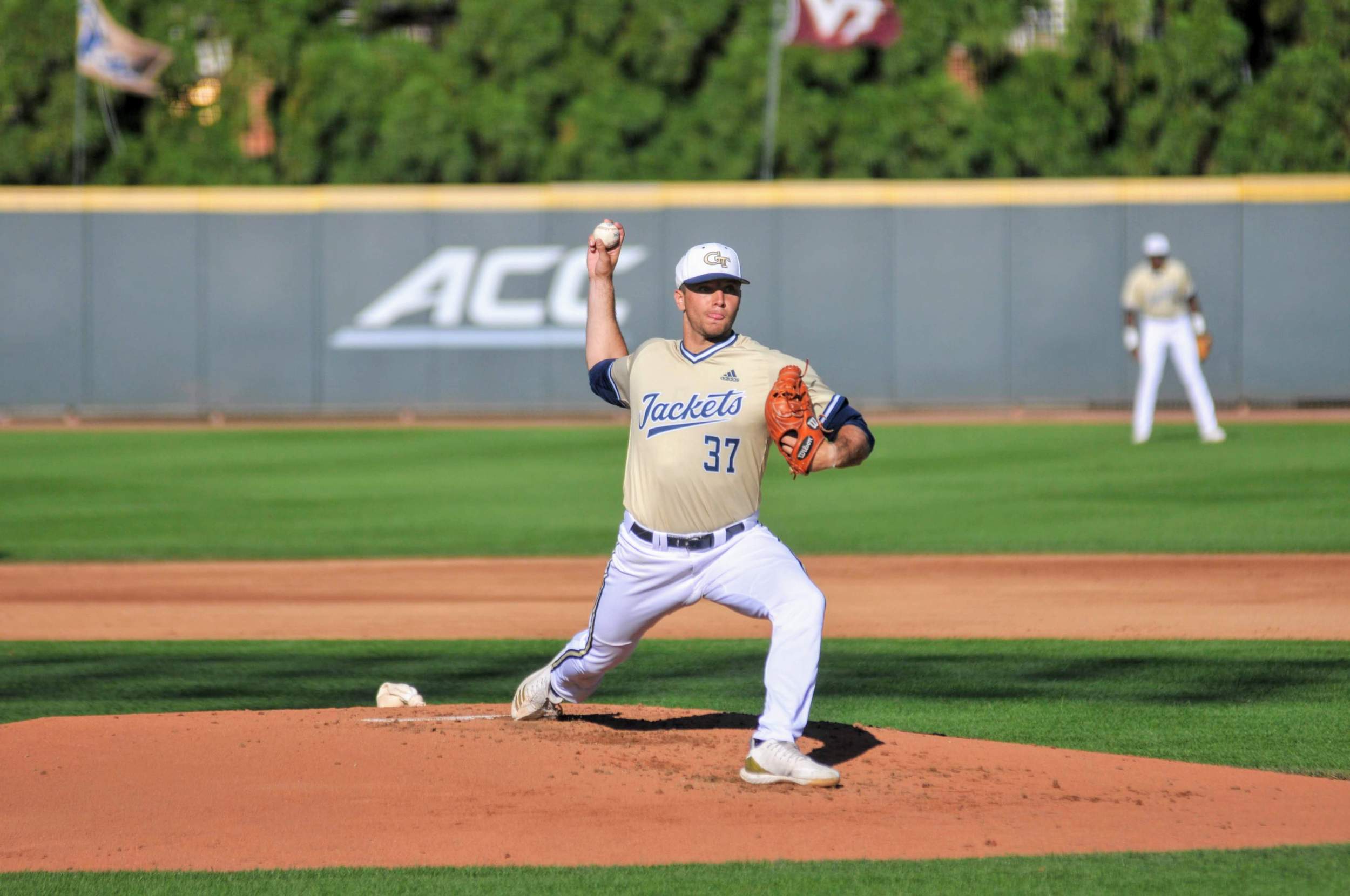 Winbourne, a submarine pitcher from The Lovett School in Atlanta, walked on at Tech with help from his older brother's counsel. Arthur Winbourne was Tech's equipment manager then; now he's a financial advisor in Atlanta.
"I had a few opportunities, and I guess the one I actually considered the most was Mercer. I think I made the best decision of my life right there. A couple factors when into it. I would say primarily that my older brother was here, and he had a good relationship with the baseball team," Winbourne explained. "He said given the academics and the baseball thing, you have to make the right decision and I did."
After Winbourne pitched a perfect ninth inning against Mercer for his fifth-consecutive scoreless appearance to drop his ERA to 2.35, Hall said he may factor moving forward.
"Robert Winbourne was a walk-on and hasn't had tremendous opportunities here, but you're seeing that we're sticking him in there a lot more because he's throwing more strikes and getting guys out," the coach said. "I think he's starting to believe that he can really help this team down the stretch."
There's more Tech baseball coming, but the finish line is in sight for Gibson, Carpenter, Lee and Winbourne.
Lee has a plan. He's majoring in business with a concentration in finance, and said, "I would like to go into sports agency and representing players as they try to make their Big League dreams come true, so I'm trying to lay the foundation for that.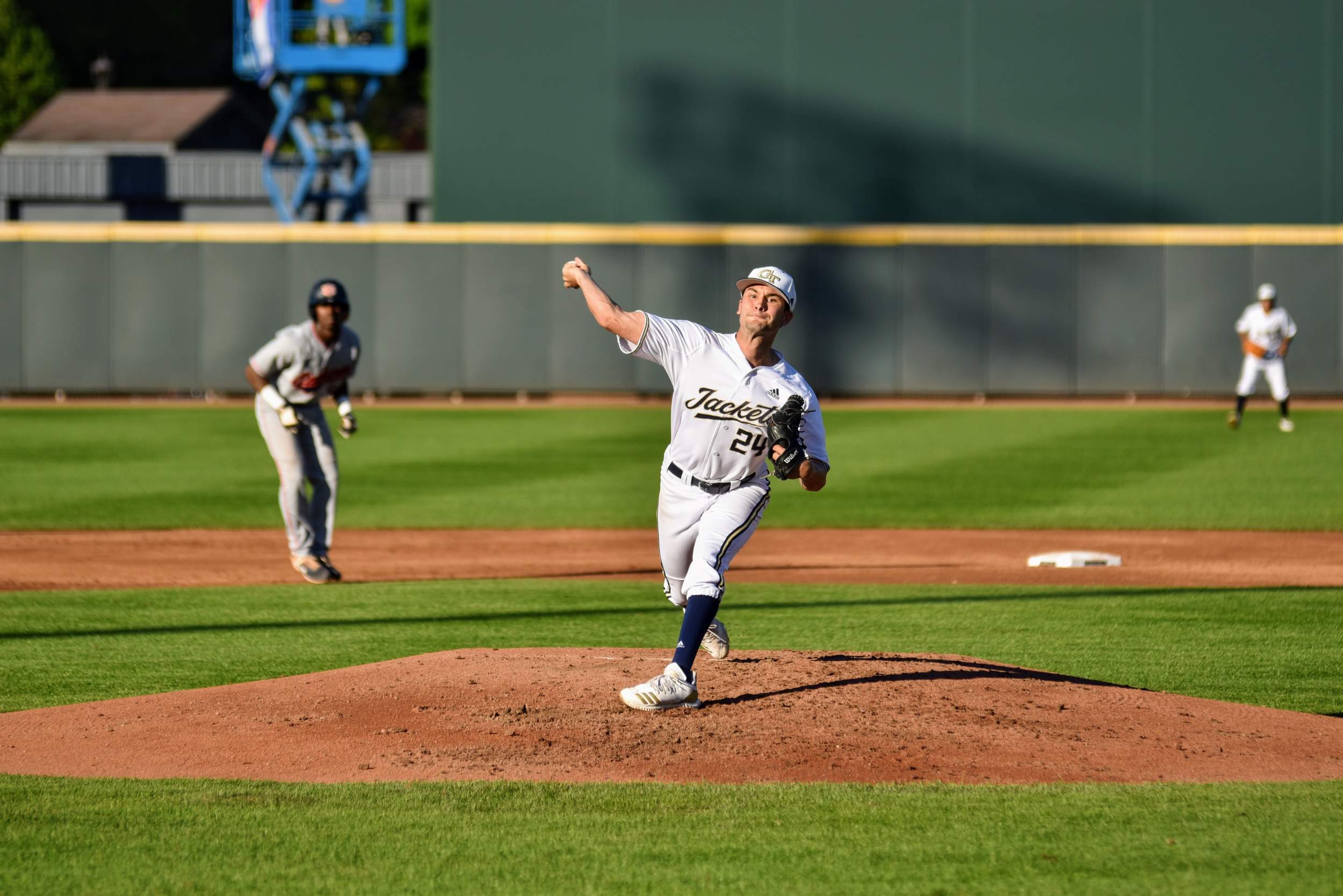 "I talk to a lot of guys because a lot of our guys have advisors that are affiliated with firms so I try to make my connections as much as I can, build relationships. Hopefully, I'll find myself in that sort of role in about six months when I graduate."
Winbourne and Gibson, who are throwing partners in practice, will intern side-by-side this summer with Incident IQ, an Atlanta-based software company.
"Given that I enjoy communicating with people I think that sales is probably the best route for me," Winbourne said. "I'm not an engineer, so my knowledge of coding and software systems is limited, but I continue to learn every day and I don't have to know the code behind it to sell it."
English and Hughes missed one season each after undergoing Tommy John surgery to repair damaged ligaments in their throwing elbows, and English more than likely will be drafted highly next month. Webb left Tech after his freshman year, played a year at a junior college and then a year at Central Florida before coming back. He and Hughes may return next season.
Winbourne will be back, too, but not as a player. He's level with that, a transition being made easier by what he described as special chemistry on his final team.
"This has been the greatest four years I could ever ask for, but I am at peace with it," he said. "There's nothing I can do about it. I will not get drafted, and that's OK. I will continue to come to these games and be a baseball fan for the rest of my life, so that's how I'll get my fix.
"So, I am OK with walking away. It will hurt, of course . . . there are 35 guys in there that I call my brothers, and we've gotten to grow from friends to brothers and family now. I truly consider them my family. I would do anything for them, and I think they would do anything for me."