By Matt Winkeljohn | The Good Word
Eric Reveno is about to hit the road again, except that he's going spend more time — a lot more time — in the air than covering asphalt as the assistant basketball coach continues Georgia Tech's push to recruit more internationally than in years.
He'll leave Sunday to split time evaluating prospective student-athletes at two far-flung spots. The FIBA Under-18 European Championships run Saturday-Aug. 5 in Skopje, Macedonia, in south-central Europe, and Riga, Latvia, in northern Europe.
"Yeah, they're not exactly making it easy on me," he said, mindful that Skopje and Riga are about 2,344 kilometers — or 1,456 miles — apart.
Make no mistake, Reveno is perfectly excited about his third international recruiting journey of the summer after trips to Argentina and Australia, and this is not new for him, as he had several foreign players in a 10-year run as the head coach Portland.
Yet it's sort of new for Tech, which hasn't had a student-athlete come straight from outside the U.S. in 10 years without first passing through an American high school.
Abdoulaye Gueye is from Senegal, yet before arriving on The Flats he attended Central Park Christian in Birmingham for two years. Sylvester Ogbonda is from Nigeria, by way of National Christian Academy in Fort Washington, Md.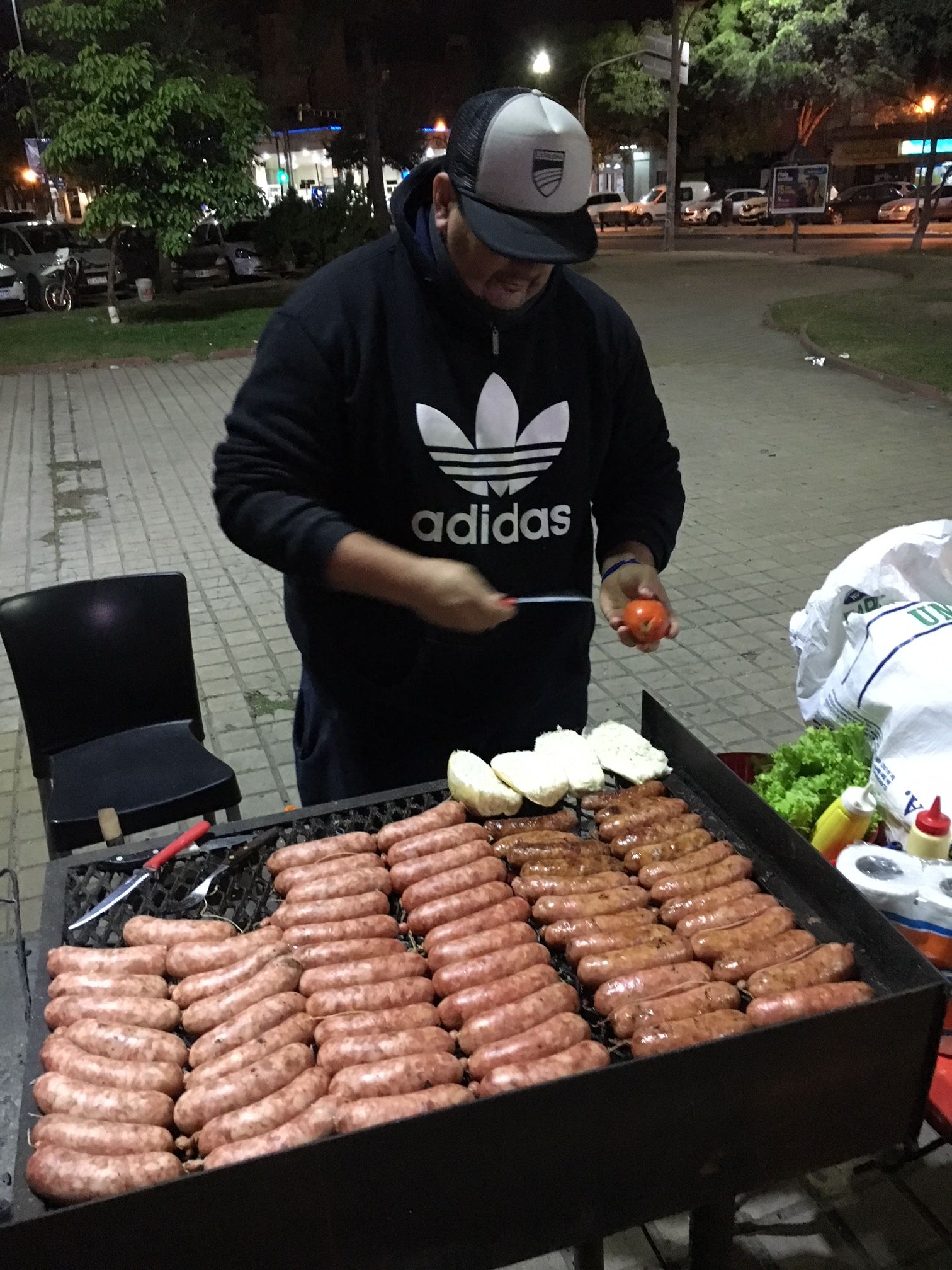 Reveno found a friendly face and some good food on a recent trip to Sante Fe, Argentina.
Head coach Josh Pastner commissioned Reveno as the mega-traveler — he's currently the only staff member recruiting abroad — soon after his hiring in 2016.
"When I came onboard, coach Pastner decided to make that international push and see what we can do," Reveno explained. "We're kind of in the third year of doing it, and I think we're close on some guys who can be difference makers for us."
The last straight-to-Tech international players were Paco Diaw (2005-07) and Mouhammad Faye (2006-08), whom former assistant John O'Connor recruited from Senegal. Both eventually transferred under former head coach Paul Hewitt.
International student-athletes are not rare at Tech. Women's basketball coach MaChelle Joseph's roster has four straight-from-abroad players, including junior Francesca Pan of Italy.
All three incoming freshman to head coach Rodney Harmon's women's tennis team are internationals (Dalila Said of Egypt, Baijing Lin of Australia and Valeriya Deminova of Russia), and he is seeking to bring on another international player in the second semester. Tech already has one of the top six recruiting classes in the nation.
Harmon will tell you about how recruiting domestic players to Tech is impacted by The Institute's math/science orientation, particularly when recruiting directly against traditional powers Stanford, Duke, North Carolina and UCLA — all liberal arts schools with more options for fields of study.
Yet Harmon also points to an apparent edge for Tech when recruiting internationally.
Many universities require international students — whether athletes or not — to achieve a certain score on the Test of English as a Foreign Language (TOEFL), which grades from 0-120.
Some schools might require a minimum score of 55, others 90, and so on.
Tech does not require a minimum TOEFL score for undergraduate admission.
Math works the same way around the globe, but English is not so universal, and Reveno said, "Academically, there are a lot of attractive top prospects [internationally]. Other top schools that don't offer a technology-based or math-based curriculum have heavier English requirements than we do, so if you're really good in math and maybe not as strong in English, hey, we don't write a lot of papers here."
The NCAA prohibits public discussion by member institutions of student-athletes who are being recruited until they sign letters-of-intent, but nobody's keeping Reveno from seeing them.
He's spending less time on the summer domestic recruiting trail than Pastner and assistants Julian Schwartz and Anthony Wilkins, yet he's not completely off that hook.
Reveno is scouting in in Las Vegas now, at an Under Armour/AAU event, and will take a flight back to Atlanta Sunday morning, "do some laundry," and jump a plane that evening for Europe, where recruiting international players is different than in the U.S.
For all of the coaches hopscotching tournaments to see prospects, the NCAA prohibits in-person conversations between coaches and student-athletes at these events worldwide. The rules fluctuate with regard to conversation by phone and e-mail, but there is no talking to kids while at these tournaments and camps home or abroad.
Evaluating international players is more difficult than those domestic because while the NCAA allows in-person evaluations from September-April at "scholastic events," internationally, "They don't have high school teams [internationally, for the most part]. They play for club teams," Reveno said. "There are no scholastic events."
The NCAA does not allow coaches to evaluate young players at club events.
So, watching them when they play for national teams and at summer camps where players are unaffiliated is the only way to go.
That's why Reveno in early July was at the FIBA U17 World Championships in Rosario and Sante Fe, Argentina, and last week he was at the NBA Academy Games & Basketball Australia Prospects Camp in Canberra, Australia.
Next up: his third foreign continent of the summer after last summer recruiting in The Ukraine, The Netherlands, Canada and Spain.
If the Jackets draw close enough to a prospect, maybe Pastner will fly international, too, to help close a deal.
"If we make progress with someone, I haven't found a place coach Pastner won't go," Reveno said. "But . . . you could maybe get away without doing the in-home visit with the parents because now by rule . . . you can fly the parents over [for the official visit] and they want to see where you're going to take care of their kid."
Parents and kids want to see what's different, much like international ball is different with rules that don't match those of the NCAA.
That actually causes few problems in evaluating players from abroad, but the general selflessness of international players does.
Internationals tend to play the game more like just about every coach would prefer every one of his players would, yet that makes it difficult at times to evaluate — in limited viewing time — how talented a player might be vs. how efficiently he may play the game.
Here, Reveno offers a few ironic chuckles.
"U.S. players are taught to utilize their athleticism whereas European players are taught more to utilize their skill; he's harder to gauge," the coach said. "In the U.S., you go to an AAU game and before the game is a dunk contest. When they're playing with a national team, they're playing with a stricter coach who maybe wants them to do a certain thing on a play. They're playing less selfish.
"We say that we want less selfish players, but we also want to see players do something. It's a definite Catch-22. I texted back to coach Pastner and said, 'He looks pretty good. I wish he'd just go out and try to get 50 points . . . "
So, it's easier to predict that international players will be good teammates than it is to predict if they'll be good players.
It's different, though, recruiting international basketball players to Georgia Tech than recruiting international tennis players or swimmers, of which the Jackets have several.
Many of them first met their Tech coaches in person were on campus for the first time as students. They arrived sight unseen.
"You really kind of have to go [see players],"  Reveno said. "It's interesting; in tennis or track and field or swimming you can go off times or [individual] results. The standard is more established on how they're playing. Whereas in some of these European leagues you have to have a feel for the level [of competition]."
The Tech basketball program gets a head start on international prospects much the same way that the tennis and swimming programs do, by subscribing to international scouting services, somewhat akin to Rivals.com and 24/7 in the U.S. when it comes to football and basketball.
Coaches can see videos, read biographies, and gain contact information that way.
A lot of work comes after that, and in that process, there is again a difference in recruiting abroad vs. in the United States.
There is more often in the young student-athlete a reduced bias to recruit against.
Many foreign prospects don't know more about the blue bloods of college basketball than they do about any other programs.
"It's much more about fit versus emotional connection. They don't grow up with preconceived notions of a certain school . . . " Reveno said. "So they have much more of a blank slate to start with . . . They're looking at the opportunity value. There's less entitlement and an attitude of gratitude.
"They're like  'Wait? You're going to pay for my education? I can't get that here.' They see the value of that. There is no better place in the world that you can compete at the highest level of basketball and get a great education. It's refreshing to offer that to people who are excited about that opportunity."