The Good Word | by Jon Cooper
It's said records are made to be broken.
Yet, some records hold up year after year and require the stars to align just right when they finally fall.
One such record had been the Georgia Tech men's track and field indoor 1000 meter event, a mark last set in 1987.
Last Friday, the stars finally did align and one of the program's oldest records finally fell. Senior Avery Bartlett made it happen, at last weekend's Clemson Invitational, running a  time of 2:22.49 — surpassing the record of 2:22.78, set by Alan Drosky. Yes, THAT Alan Drosky.
"It was an awesome race and it wasn't like it was a huge shock," said Drosky, Class of '87, a two-time All-American, and five-time All-ACC runner. Drosky, a 1996 inductee into the Georgia Tech Athletics Hall of Fame and the current head coach of women's track for the past 21 years and men's and women's cross country for the past 26 years.
"I knew a guy with Avery's talent, on that Clemson track, which is a nice track, if the race went fast enough, he very likely would break the record. So I kind of expected it. It was just a matter of was the pace fast enough early enough and, while it was a little slow, it was just quite fast enough for him to get it by the end."
Bartlett almost didn't run the race, choosing to pass on it as many Georgia Tech middle-distance runners in the past have — for a few different reasons. First, the event is no longer run in either the ACC or NCAAs, thus running in it is a missed opportunity to run an event in which one CAN qualify for either championship. Secondly, the Clemson Invitational is usually the first meet of the year and is something of what Drosky calls a "rust-buster" meet.
"The running joke on the team is that there are a lot of good runners that probably COULD HAVE broken his record earlier but (Drosky) avoided them running the 1000, saying, 'Oh, you could run the 1000 this week, but let's just do the 800 or let's do something else,'" Bartlett said, with a laugh. "(Last) weekend, it was kind of the same plan, 'Let's just workout.' But I texted him like three days beforehand and I was like, 'You know what, coach, I'm really feeling like I want to race in the 1000 meter event. I've never raced it before, and there's lot of really good competition so it would be a really good opportunity.'"
Included in this loaded field were Clemson All-American John Lewis, former 800 Outdoor National Champion Edward Kemboi, six-time All-American Dylan Capwell and former first-team All-American Patrick Peterson.
"If they weren't there, I wouldn't have broken the record," said Bartlett. "Historically, I'm really bad at running by myself. I'm a racer at heart, more so than a runner. So if I could beat all those guys…they could beat me any day, I could beat them any day, it's always great to prove that I can outrace some high-class competition."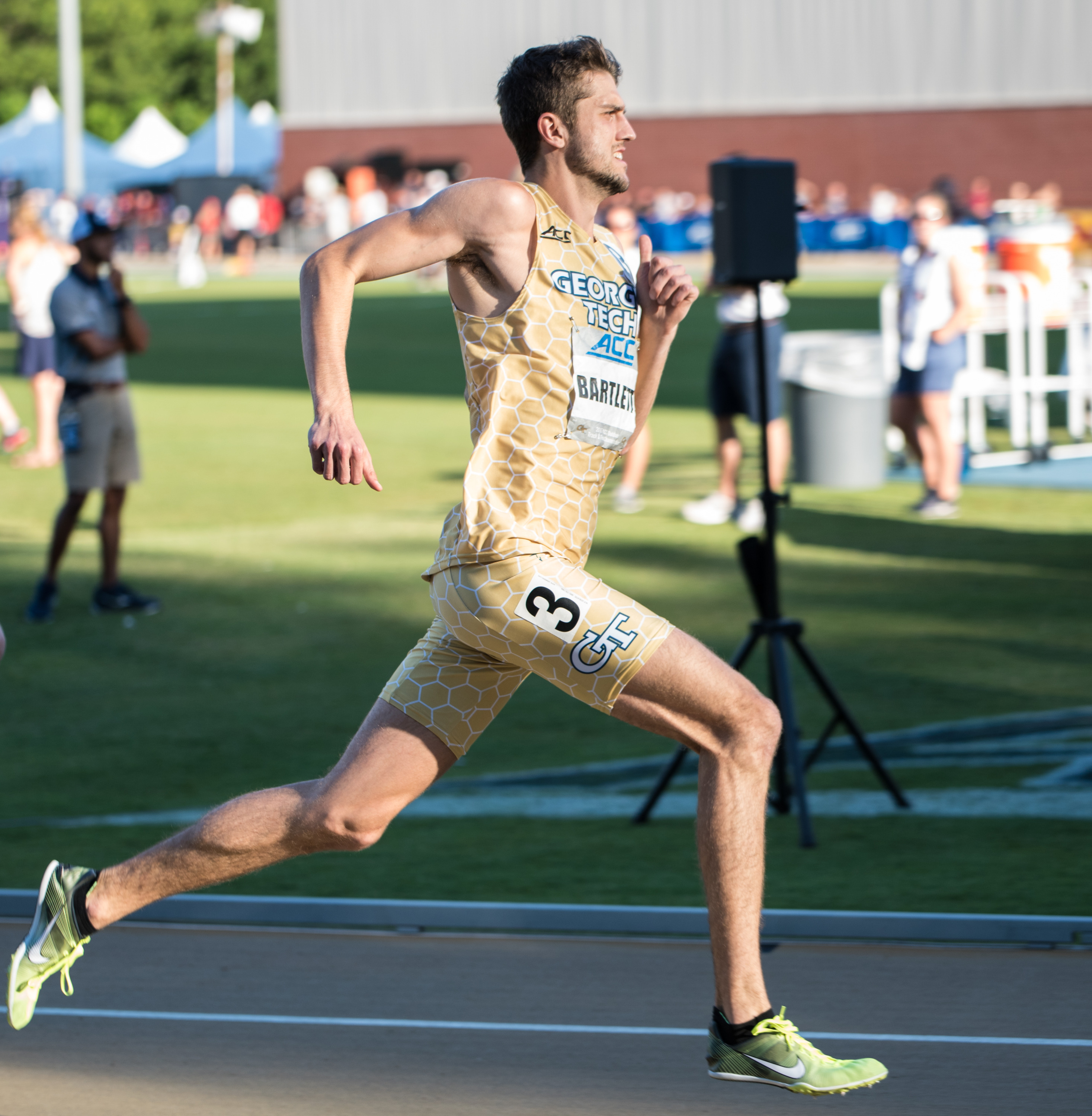 Then there was the track, built for speed and upon which Bartlett had success. Last year in the 800 event in the ACC Indoor Championships,  he finished sixth, finishing with a time of 1:50.68, in a race that saw five of the top seven times in the country set.
"I don't think I've had a bad race on that track," he said. "It's the fastest 200-meter, banked track that I've ever run on. It's definitely a great track."
What's that about the stars aligning?
Bartlett followed his formula that's worked so well for him in the 800 — staying close then using his tremendous finishing kick. He also got some help from Lewis, who ran a race-best 27.00 third lap.
"It kind of went off really slow," said Bartlett, who ran a 29.62 first lap, tying him for seventh. "At that point I kind of stopped worrying about the record and was worried more about winning because there was great competition. Then John Lewis got real worked up that we were going out slow and started just taking it. He just left the field. I slowly bridged the gap on him."
With one lap to go, Bartlett was in a tight pack, with Lewis, Kemboi, Capwell, Peterson and Florida State junior Humberto Freire.
"Going into the last lap, we were not on pace to break the record," he recalled. "(Drosky) was even telling me, he was next to the FSU coach and the FSU coach said, 'Oh, there's no way he's breaking the record, they're going out WAY too slow.'
"Then, I kind of realized that I just had to crank it into gear," he continued. "So I dug deep and I guess, really worried about winning because I think there were four guys just neck and neck coming down the back stretch. I knew if I could kick 'em down and go fast enough that I might have a shot at it."
Drosky knows that finishing kick and the nature of Bartlett, the runner ultimately would make the difference in winning and setting the record.
"Avery's a racer. He's not a guy that's going to go out and, what we call, 'time trial' a race, that is basically lead from the gun, trying to run a certain time," said Drosky, who admitted that's what he was during his career. "Going into the race, we talked a little bit about the kind of splits you would want to hit to run that kind of time. Avery's response was, 'coach, I'm a racer. I don't race against a clock well. I just need to race against the field.' He got the record in large part because he had to run that fast to win the race."
"But it was impressive. Looking at the splits, every split, I was like, 'I don't think he's going to get it,'" he added, with a laugh. "With one lap to go, I was like, 'I don't know, he's going to have to finish really fast.' Obviously, he finished really fast."
Bartlett, who hadn't run a lap under 28.08 and ran his second-slowest split, 28.62, on his previous lap, ran a blazing 27.79, the second-fastest lap by anyone in the entire race, edging Lewis by .14  seconds and moving Drosky into second place all-time.
Drosky, who is left with two school records, the 1500 event, 3:43.37, set in 1986, his lone indoor mark, and the 4 x 1600m relay, 16:32.98, also set in 1986, included his then roommate Clint Prouty, whose 1000m  record he'd held before Drosky.
"I was wanting Avery to break the record, but I'm not going to lie. If he had just missed it I wouldn't have felt too bad," he said, with a laugh. "I feel like 31 years is long enough to hold a record. I hope that any record in our program that's been around that long is hopefully in the crosshairs of kids in our program. So it was great to have the record that long, it's great to pass it on to Avery. I hope there are guys in the program that are looking at that record now and going, 'I think I can get that one day.'"
"I've kind of gotten used to it," he added. "When I graduated I think I had either 11 or 12 school records, between individual events and relays. I'm down to two. So I've kind of gotten used to having those records broken and so hopefully we'll keep breaking records. I think that's good stuff."
Bartlett, who owns three titles — he's also tops in the 800, a 1:47.32 time, set in 2017, and the Distance Medley Relay (DMR), 9:34.38, set with A.Z. Reese, Andres Littig, and Jeremy Greenwald in 2016 — admitted that he can relate to Drosky's position.
"My high school records, I thought, were just insane and were never going to get broken," he said. "Then my mile time — 4:06 and that's pretty competitive — this past year someone broke it, Michael Phillips, who now goes to Syracuse. I'm happy for him but a little part of me is, I guess, a little bummed that I won't be at the top of the record board. He definitely deserves it. I'm definitely more happy for him than I am bummed that I'm not on top anymore."
He also isn't dwelling, after all, fame can be fleeting — his national-best time in the 1000m event, didn't even last the weekend. But he did take time to appreciate just what he did.
"It's honestly a little hard to comprehend. There have been SO many good runners that have attempted the record and then something happened," he said. "I know Brandon Lasater (a former Yellow Jacket who participated in the race at Clemson) has tried it. He was a very successful runner that came through the program. It definitely feels good to have my name at the top there, but my year is not done. I guess I'm going to leave that behind and look for other records. So I'll leave the real accomplishment to after my career is over. I don't want to feel any sense of being easily satisfied or being comfortable with times because I definitely want to get as much as I can out of this career."
No time to look at the record book. He's focused on the schedule, which says the Vanderbilt Invitational, begins Friday in Nashville. That means taking on another loaded field, in a different event (the mile) and improving on an event that didn't go his way a year ago.
"They're going to try to go sub-4:00 and I've never done that," he said. "Last year, when I did this, going into the last lap on pace to break 4:00, it was a little too fast and I, basically, fell apart. But I'm in a little better shape this year. I'm going to go for a fast time. I'm going in thinking I'm going to break 4:00, which would be a big PR and maybe put me in the conversation to make it to Nationals."