By Jon Cooper | The Good Word
A major point of emphasis for Georgia Tech football this spring has been the lack of a depth chart.
Even if there had been one, it probably wouldn't have helped on Saturday morning during the Yellow Jackets' first scrimmage. Saturday was a day for implementation and experimentation, looking at potential player combinations for different situations.
"The big thing from today was position flexibility. Everything was about position flexibility," said head coach Geoff Collins. "There were a bunch of guys that played both ways. Just having a lot of guys do a lot of different things as we manage the roster in different positions to see what guys can do and how they can help us was exciting. I really loved the energy, I loved the approach they had coming out here. It was just a good day. Then we ended it with the kicking competition that got pretty heated. I thought both kickers [sophomores Brenton King and Wesley Wells – pictured below] rose to the challenge and did a really nice job for us."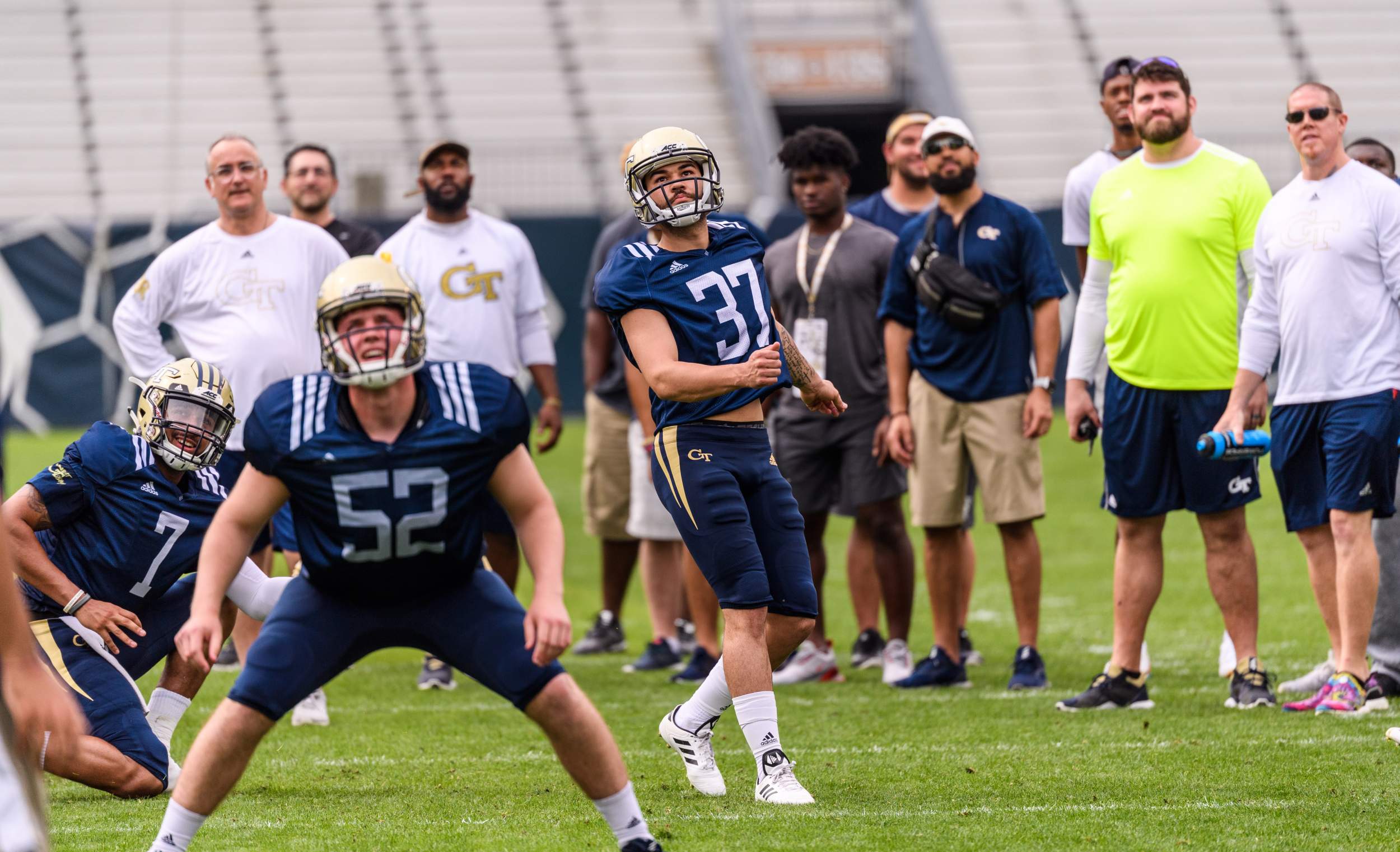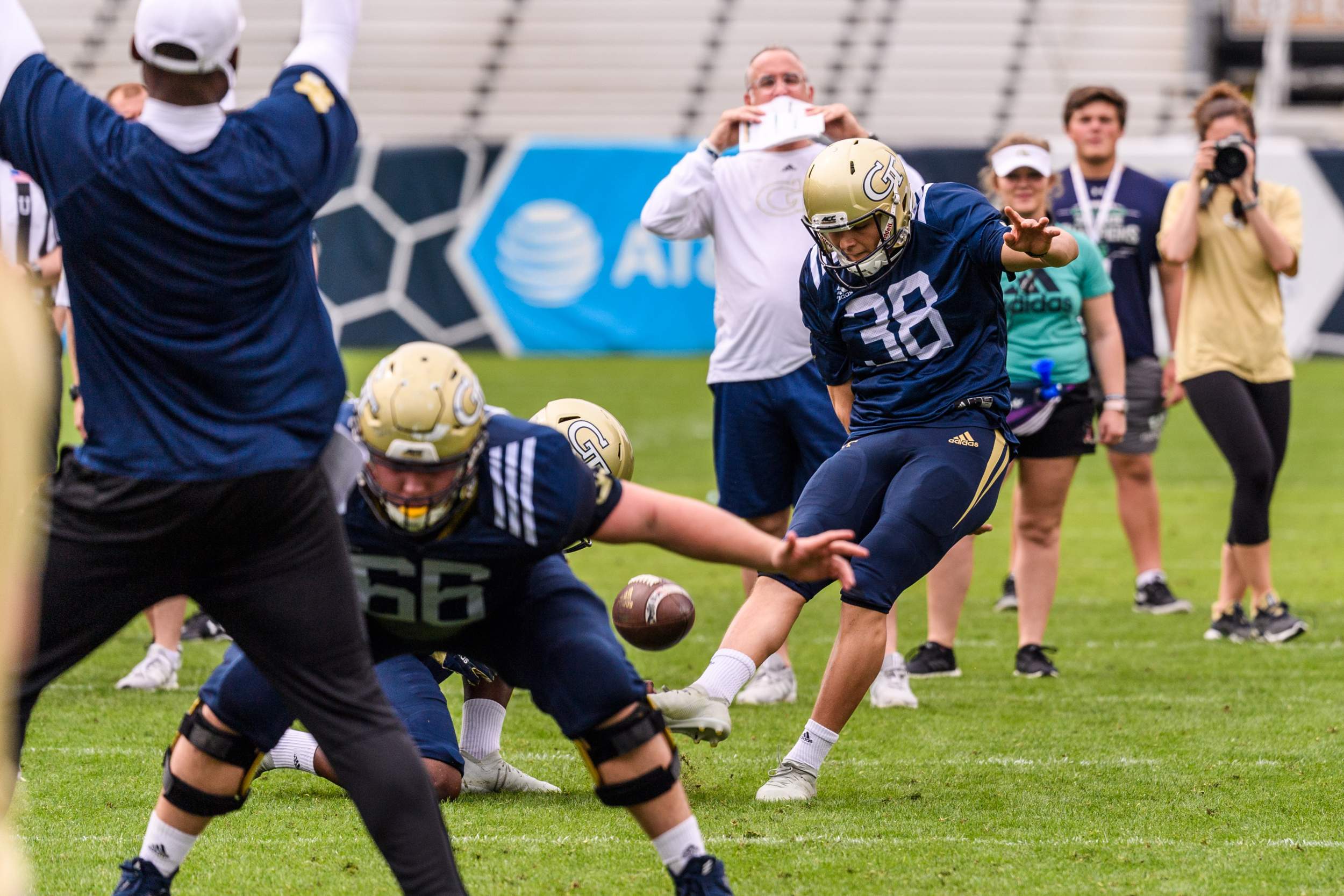 The players enjoyed the challenge.
"I feel like it was a very successful first scrimmage," said fifth-year senior Christian Campbell, who got snaps at free safety, strong safety and nickel. "A bunch of plays around the offense, they gave us a bunch of looks, the defense made a bunch of stops, so I think it was a successful scrimmage. We took it as just another practice just in the stadium. That same energy that we bring to practice every day, we brought to the stadium. We just practiced in a different spot."
A lot of players practiced in a different spot.
Collins admitted he had a goal of 120 plays and he probably needed all of them to get reps for all the different combinations of players trying their hand at different positions. The list of players that have seen action on both sides of the ball this spring includes Jalen Camp [WR and DE/OLB], Bruce Jordan-Swilling [LB and RB], Jair Hawkins-Anderson [WR and DB], Jahaziel Lee [OL and DL], Austin Nash [RB and DB], Brad Morgan [OL and DL], Kaleb Oliver [DB and WR – below], Ajani Kerr [DB and WR], Antwan Owens [DL and TE] and Ja'Quon Griffin [DL and TE/FB], just to name a few.
"It's exciting. I think we've got a lot of really good players. It's just figuring out the best things that they do at certain positions," said Collins. "If this young man's in the game, we're going to do these kind of plays, if this guy's in the game, we're going to do these kind of plays. Same thing defensively. Our defensive tackles have some different abilities. So when this D-tackle's in, we're going to run these kind of stunts, these kind of blitzes. When these D-tackles are in, we'll run more base.
"Everything in our program is based on these players and what these players do well and how they can excel," he added. "So there's a different body type or different style of player at the position at that given time, the play-caller knows who's in the game and adjusts the play-calls and the scheme to our players. The players are the thing that matters most in this."
VIDEO: Practice No. 9 Recap
The players are relishing the opportunity to move around — not move, a difference Collins made quite clear.
"Absolutely. Coach wants us to play as many positions as we can," said fifth-year senior linebacker David Curry. "As long as you're above the line. If you're above the line in that position, which means you're up to the standard of our team, then you can play as many positions as you want."
"It shows who wants to play and what effort they'll give, whatever they've got, to the team to get above that line," said senior O-lineman Kenny Cooper, a center for most of his collegiate career that is now seeing time at different spots across the offensive front. "So it really shows toughness — mental toughness."
There was plenty of toughness on display Saturday morning as the Jackets went after it.
"It's really fun. Everything we do, we compete," said Campbell. "So every time we compete, there's a winner and a loser and nobody wants to be a loser, so everyone ups their playing level. It makes everything better."
"I really like how they're competing," said Collins. "They're playing fast. There's a lot of times when we look like we're a really good spread-style offense. I've been really pleased.
"I think we ran six calls all day [on defense] and offensively we had three runs, we had about five passing concepts, a lot of different formations," Collins said. "We just wanted to see who could play fast, play with that effort, compete, and I thought they came out here and did that."
Among the notable players were Lee, who has 17 career starts at LT and center, including the first six at center to start 2018, yet found success on the other side of the line, recording tackles for loss on back-to-back plays. Lee had requested a chance to play on defense. That enthusiasm is something Collins has seen a lot of and encourages.
"Absolutely," he said. "These guys want to get on the field. We don't have a depth chart around here. So guys that can play, that can be above the line and they want to add value to the organization [will play]. He stepped up. He had back-to-back tackles for losses today and looked really good doing it. So we're excited about him both ways. He's a really good player."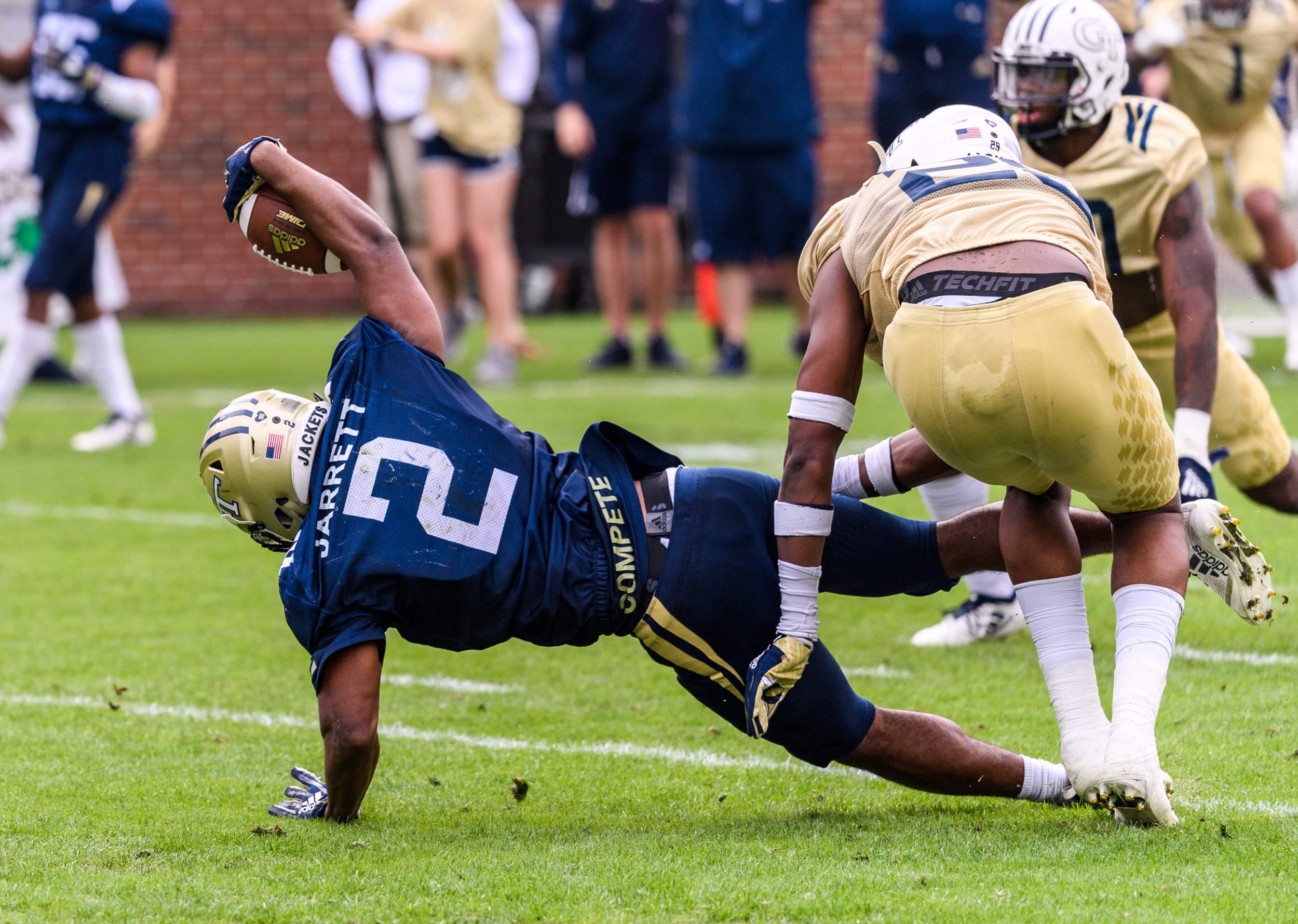 There were a lot of really good performances. Camp and junior quarterback Lucas Johnson stood out according to senior running back Omahri Jarrett, who quickly revised his scouting report.
"It wasn't really individual," said  Jarrett, who scored on a short burst on the scrimmage's final play (above) prior to the very intense, practice-ending kicking duel. "Everybody had good plays. It was cool to watch."
A position that was and promises to be fun to watch is tight end. Graduate transfer Tyler Davis, who impressed Collins when he was playing at UConn against Collins' Temple Owls the past two seasons, is the only Yellow Jacket that can boast that he's played tight end in a college game, but he believes that boast will be short-lived. He's impressed with what he's seen from his new team- and position-mates, a group that includes senior Tyler Cooksey and sophomore Josh Tukes (both former linebackers), junior Joseph Macrina (who has seen time as a running back and linebacker at Georgia Tech) and redshirt freshman transfer Nathan Tyler.
"They've come a long way. I realized they're Georgia Tech students. They come along real quick," he said, with a laugh. "They picked up things extremely fast, way faster than I thought. When I got out there, even before day one, we started talking offense, they looked like they were lost because these guys were used to the other side of the ball. But in the nine practices, they've come so far. I'm so proud of what they've done and I know that they're going to keep continuing to get better. I can't wait for the season."
Just waiting for what comes next is fun as well.
"It's just so fun, transitioning from the triple option to the spread," said Jarrett. "We've got different personnel, we actually have a tight end on the field now. The energy is just different. Everybody's ready to work."
*****
Collins used the beginning of his post-scrimmage remarks to point out the how the team continues to honor the memory of teammate Brandon Adams, who tragically passed away on March 23.
"Everything we're doing is trying to make sure we're celebrating what an unbelievable young man he was and what an integral part of everything we did and still do. The 90 yard line, we painted it black in honor of Brandon. Next week we'll paint it gold. Our first thoughts every day are with Brandon and his family. It's just a small tribute to him and what he means to us. We're constantly trying to embrace him and his family and his legacy that was so special to all of us."
Junior defensive lineman Chris Martin had the honor of carrying "Big B"'s No. 90 jersey and shoulder pads out to the field on Saturday.