By Matt Winkeljohn | The Good Word
There were signs Saturday that Georgia Tech could compete with mighty Clemson, as the Yellow Jackets moved the ball effectively at times and slowed the Tigers several times. Then, their football game turned into something of a tennis match.
As in tennis, unforced errors will ruin the underdog's chances for an upset, and Tech did not fare well in that category in a 49-21 loss in Bobby Dodd Stadium.
The Jackets fumbled eight times, one shy of the school record for one game, and although they lost just one of the bobbles, nearly every one that Tech recovered cost valuable real estate that was coming at a premium.
And while the home team committed a modest four penalties, their timing was terrible.
The results prompted A-back Nathan Cottrell to say, "we kept shooting ourselves in the foot," and defensive end Desmond Branch to summarize, "most of our wounds [were] self-inflicted."
All evidence was on the field early.
After the No. 3/2-ranked Tigers (4-0, 1-0 ACC) won the coin toss and deferred, the Jackets went on a diligent march, moving 58 yards in eight running plays to first-and-10 at the Clemson 17-yard-line.
The first play of the game went for 20 yards, a toss to A-back Qua Searcy around the left side.
Quarterback TaQuon Marshall ran six of the next seven plays, and the Tigers were found flailing.
But they found their footing, and the Jackets lost theirs.
Searcy jumped offsides.
B-back Jerry Howard lost five yards on a fumble, which Searcy recovered, and then Marshall was sacked by one of Clemson's many large, fast defensive linemen, Christian Wilkins, and the Jackets recovered again.
These were two of 10 plays (out of Tech's 64) that went backward for a total of 74 yards the wrong way.
Despite the drive-stalling miscues, Georgia Tech was still in field goal range at the 31, but reserve offensive lineman Jack DeFoor jumped offsides, and head coach Paul Johnson chose to punt on fourth-and-29. Touchback.
The chance to get a leg up was lost.
"We don't even get to kick it because we jump offsides on that, so we wasted the momentum of the first drive . . . " the head coach explained. "We can't have the negative plays. They're really good up front. They're hard to block. They got big guys, and when you get the opportunity you've got to execute."
Clemson's first drive was short, lasting five plays, and it ended when linebacker David Curry and Branch combined to sack Kelly Bryant on third down to force a punt.
There was no traction to be found.
Marshall fumbled on first down, Tech recovered. Marshall was sacked on second down. On third down, Searcy couldn't handle a pitch, and after the football went tumbling for several moments, Clemson end Clelin Ferrell recovered it for a score.
Tech trailed 7-0 late in the first quarter, but after the teams traded punts, the Jackets were fighting again. They drove to Clemson's 26 to try a field goal. Brenton King's 43-yard attempt went left.
A freshman soon gave the game its form.
Trevor Lawrence, a slinger from Cartersville High School, replaced Bryant and whipped the ball around. He would complete 13-of-18 passes for 176 yards and four touchdowns.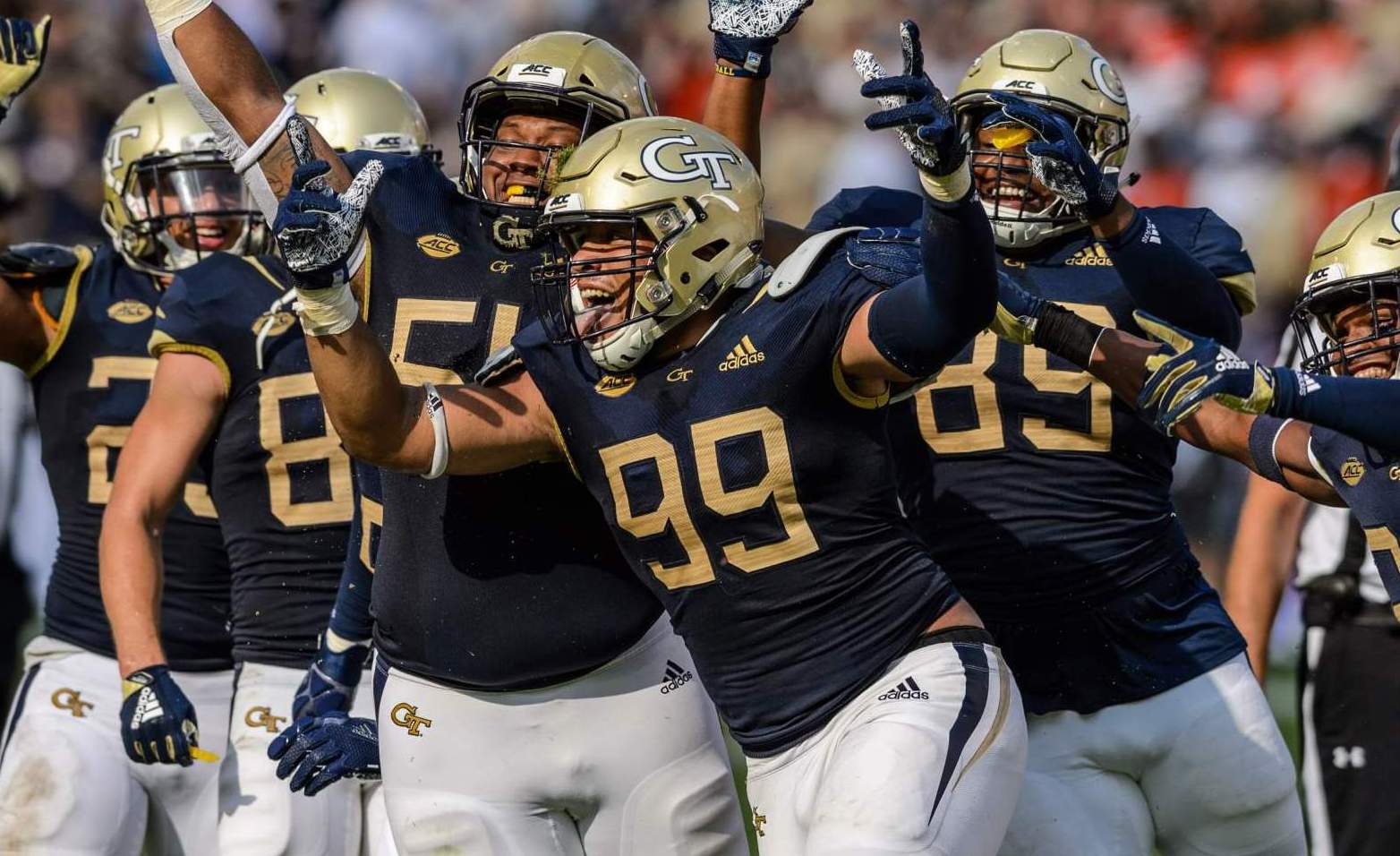 Tech could not sack him, although Branch intercepted one of his short attempts over the middle in the second quarter to set up the Jackets' first score (above).
"His set of plays is different than Kelly's, and his set of plays was working better against our defense . . . " Branch explained. "It was just more communication-wise, everyone on the defense getting the call, executing the call . . .
"Most of our wounds [were] self-inflicted — not getting the call, not tackling, not being in the right area, and that really hurt us. We were going stride-for-stride with them."
When Tech returns to practice Monday, Johnson said he will be more involved in working directly with the quarterbacks. Marshall was credited with four fumbles in the game, and backup Tobias Oliver with two. They rushed for 82 and 50 yards, respectively, but lost 35 and 16 each.
The center-quarterback exchange was not smooth, and multiple pitches were off the mark.
"I can promise you we're going to get better, fundamentally, at quarterback. I promise you that . . . " Johnson said. "I think a lot of it is mental … So that means we have to do things right, and when you don't do things right and you can't be consistent, when you play against guys like that, then you're going to struggle."
Marshall is eager to get back to work as the Jackets prepare to host Bowling Green next Saturday in Bobby Dodd Stadium before a game at Louisville on Friday, Oct. 5.
"It's just a chain of bad things happening," he said. "We jumped offsides, and then next thing you know, we had a bad play where we probably should have checked the other way, and then jumped offsides for the field goal, had to punt. That changes the momentum of the game.
"I don't think we can pinpoint one thing. We're having good weeks of practice. It has to translate to Saturday."