By Matt Winkeljohn | The Good Word
A few days out from competing in the NCAA men's swimming and diving championships at the University of Texas, and Georgia Tech's student-athletes already feel good about their chances because several have been there and done that.
The meet will begin Wednesday, March 27, and run through Saturday, and Caio Pumputis, Rodrigo Correia, Christian Ferraro will all swim in the big pool for a second time, and senior diver Matt Casillas will make his second trip as well. They'll be joined by Colt Williamson, Corben Miles and Darren Lim as Tech's contingent of seven student-athletes will be the largest sent to nationals since 2009.
That's reflective of the No. 19 squad in the land, a ranking made more impressive by the fact that Tech's swimming and diving programs are not yet fully funded for scholarships.
Caio Pumputis is the best young man to suggest that the Yellow Jackets are better equipped, and there's a little secret involved.
At last year's NCAAs, he finished 34th in the 100-yard breaststroke and 36th in the 200 individual medley in his first season swimming short-course yardages (as is the NCAA way) rather than long-course meters as he did growing up in Brazil.
This season, the sophomore earned Co-MVP honors at the ACC Championships meet, where he set school, pool and conference records in winning the 200 breaststroke (1:51.46) and 200 IM (1:41.28) and finished second in the 100 breaststroke (52.07), and get this:
He didn't even shave his body to reduce drag before ACCs.
"I didn't consider my freshman year a good year. I switched from long course to short course, and I think this year I'm just doing short," he said. "Short course yards you kind of have to improve your turns, breakouts and underwater work . . . I didn't have because I want to go faster."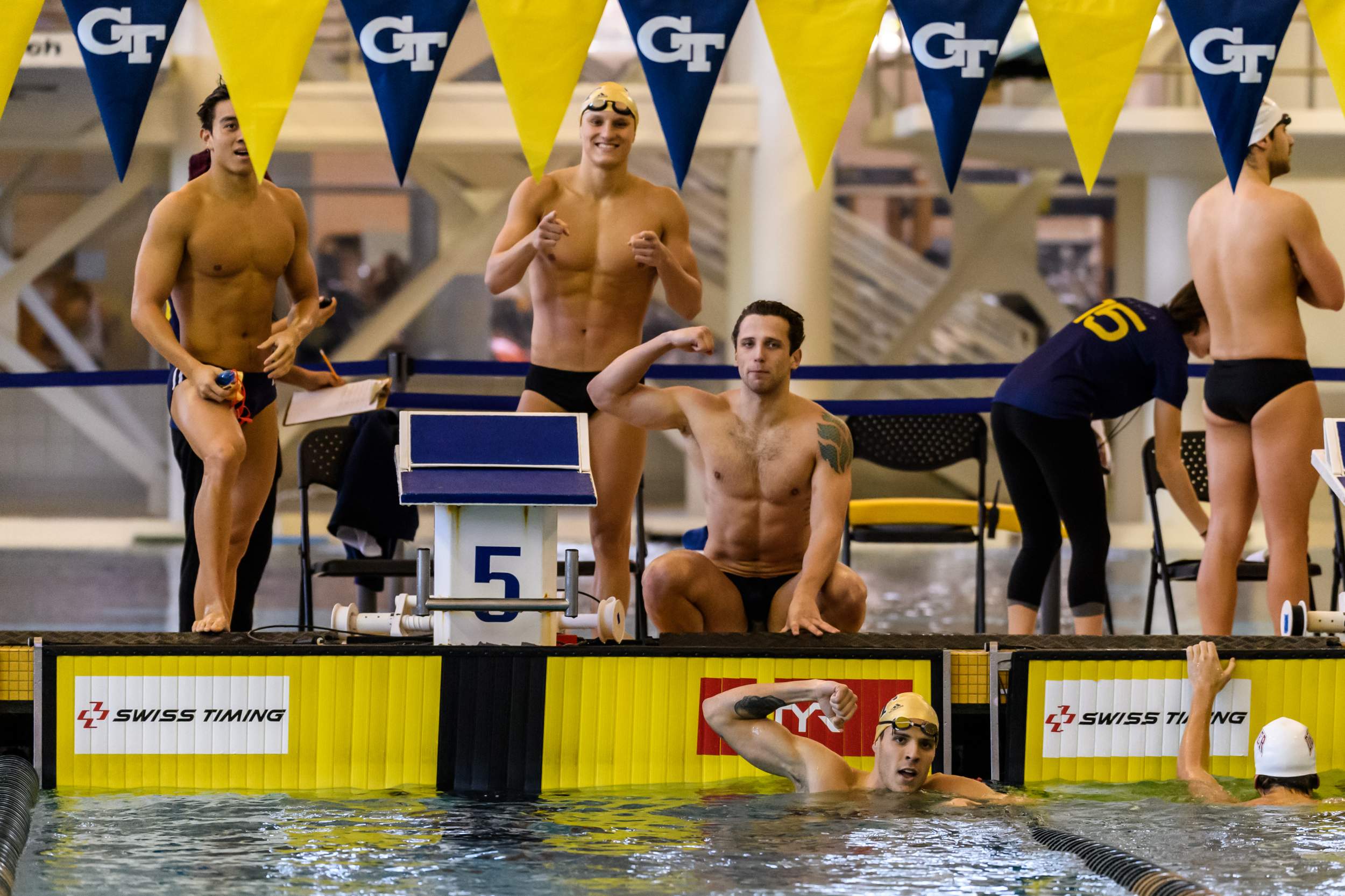 (Left to right) The Georgia Tech medley relay team of Darren Lim, Caio Pumputis, Corben Miles, Rodrigo Ferraro
So, there's that, and head coach Courtney Shealy Hart won't be surprised to see the Jackets and Pumputis make a splash.
"I think always your freshman year is a transition year no matter how good you are with the academics, and it just takes some time," she said. "To be ACC performer of the year his sophomore year is fabulous."
The Jackets have more than Pumputis with whom to work.
Correia also did not shave before ACCs, which most swimmers do once or twice a year before competing in the biggest meets.
Plus, Correia said that when he swam in the NCAAs in 2017, he carried something of a regular-season approach. He swam a little conservatively in preliminaries to conserve energy, figuring he'd still go fast enough to earn a spot in the finals.
That didn't work out. He finished 29th in the 100 backstroke, 34th in the 100 freestyle and 34th in the 200 IM.
"The NCAAs are definitely a lot more competitive than any other meet you will be a part of. The ACCs are really competitive, but you're going to have eight under a certain time, and in the NCAAs you're going to have 24," he said. "You have to focus on the little details.
"I did well, but I went to the meet with (regular-season) times that could have brought me to the finals, but this one I think I have a lot more experience. This year, I'll be 100 percent. I didn't shave before ACCs and I'm also excited about that."
Matt Casillas is looking forward to finding landmarks.
The senior driver competed in the platform last season, and plans to build upon his experience to better that this year while also competing in the 3-meter springboard.
"I didn't have the best meet there, but I was able to see that I was capable of making it into the top 16 to be an All-American if I perform  how I've been performing this year . . . " he said. "I've had a couple different meets (at Texas) in the past. When you're diving you have different visual clues, like how dark or light the pool is. How dark is the bottom of the pool, the walls?
"Each springboard is a little different, too, so you find the one you like."
Ferraro competed in NCAAs last year without making the finals, and he's had a hard time getting back. The sophomore from Italy missed about three weeks of work in January, when he had mononucleosis, and had to re-build his strength and endurance.
"I shaved (for ACCs) just because I was sick and I needed to get that little bit of help to go faster . . . " he explained. "I'm feeling much better. Last year . . . I learned that you really have go fast in the morning if you want to make the final. It's a really fast meet, much faster than ACCs."
Hart said, "I'm very proud of these guys, but I always want more."