By Matt Winkeljohn | The Good Word
When Tashard Choice and Nathan Burton took seats the other day to confirm the notion that you can go home again, two of Georgia Tech's new assistant football coaches said they're realizing dreams.
They both played for the Yellow Jackets, so it's not like they've entered foreign land, yet, after being hired by new head coach Geoff Collins, their returns to The Flats have left them surprised and proud to be back in their hometowns.
Choice, the south-sider who led the ACC in rushing in back-to-back seasons while playing at Tech from 2005-07, somehow figured he would end up where he is as the Jackets' running back coach and offensive recruiting coordinator. But maybe not so fast.
He has one season of full-on coaching under his belt, after all. He interned with the Dallas Cowboys in 2016 after his NFL playing career came to a close, then was a graduate assistant in '17 at North Texas before guiding the Mean Green's running backs in '18.
"When I got into coaching with the Cowboys, I told myself I was going to be back [at Georgia Tech]," he said to media before Tech's basketball team opened the ACC season last Saturday against Wake Forest. "I didn't know when it was going to happen, but I was looking forward to the day. So it is surreal . . .
"The first time we get in spring ball, or the first time we take the field and we're on the sideline, I may need a helmet. That's how I feel. I'm so passionate about the game of football, but more importantly my alma mater, my school and the people here that make this school so great."
And then there is Burton (below), who walked on at Tech in 2000 under former head coach George O'Leary after a fine career at Greater Atlanta Christian in Lilburn, and then worked as a backup safety from '01-'04 behind Jeremy Muyres, Cory Collins, Dawan Landry and James Butler.
He'll be Tech's co-defensive coordinator and coach safeties, too.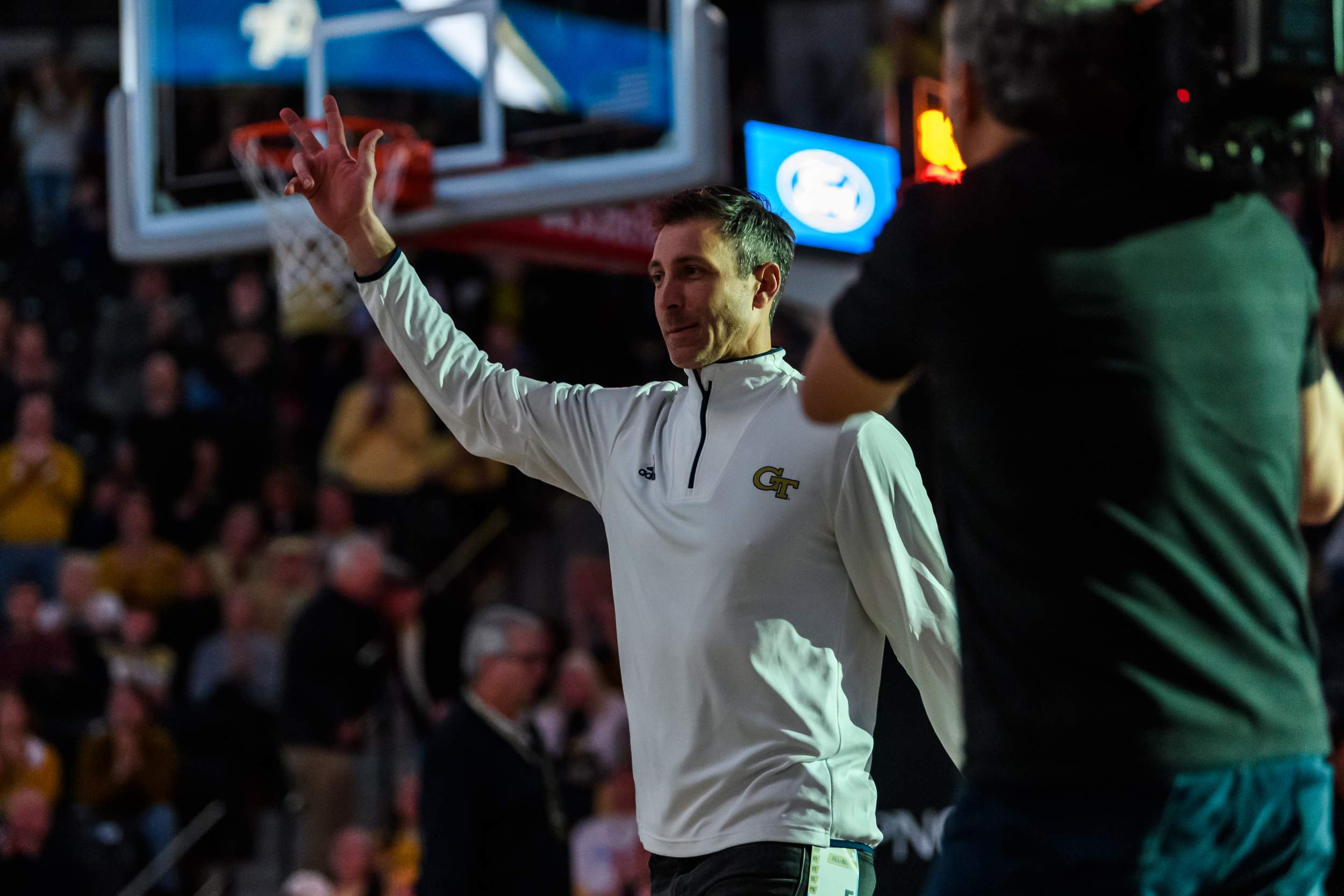 A 14-year coaching career has landed Burton, his wife, Britney, and their four sons at home.
His return to Tech prompts run-on sentences.
"For me, it's just weird," he said. "Being here as a player for five years and then working under coach [Chan] Gailey and coach [Paul] Johnson, I was here for nine years before I left, and now seeing all the changes and how great this place is and my wife graduated from here, so you talk "Like I said before, it's still sinking in. I think I've played the LeBron James' 'I'm Coming Home' tribute in my own eyes and just closed them like, that's me, that's me, that's me."
Maybe Choice and Burton shouldn't be surprised.
Collins knows them both.
Tech's new head coach was a graduate assistant under O'Leary in 1999 and 2000 and tight ends coach in 2001, overlapping Burton's first two years on campus. Burton also worked for Collins as defensive backs coach on Temple's staff the last two seasons.
Collins returned as Tech's recruiting coordinator in 2006, when Choice led the ACC with 1,473 rushing yards on a whopping 297 carries. He's back on The Flats after playing in the NFL with the Cowboys, Redskins, Bills and Colts.
Burton and Choice are excited to hit the recruiting trail, and they won't be new at it. Choice, in fact, said he was recruiting for North Texas in Atlanta when word went out that Johnson would retire was head coach. The Georgia Tech alums are also big fans of Tech's facility upgrades, especially the $4.5 million locker room makeover that was completed last summer.
"Hundred miles per hour. We're rolling. We're going to hit the ground rolling," said Choice (below), who graduated in '05 with a degree in history, technology and society, of the staff's recruiting plans. "Get into these schools . . . they're going to understand what Georgia Tech has to offer, but more important what we're going to bring. It's going to be fun.
"I wish it was like that when I was here," he said of the Jackets' facilities. "It is beautiful. I'm ecstatic. My office is beautiful. It's unbelievable the work that they have done."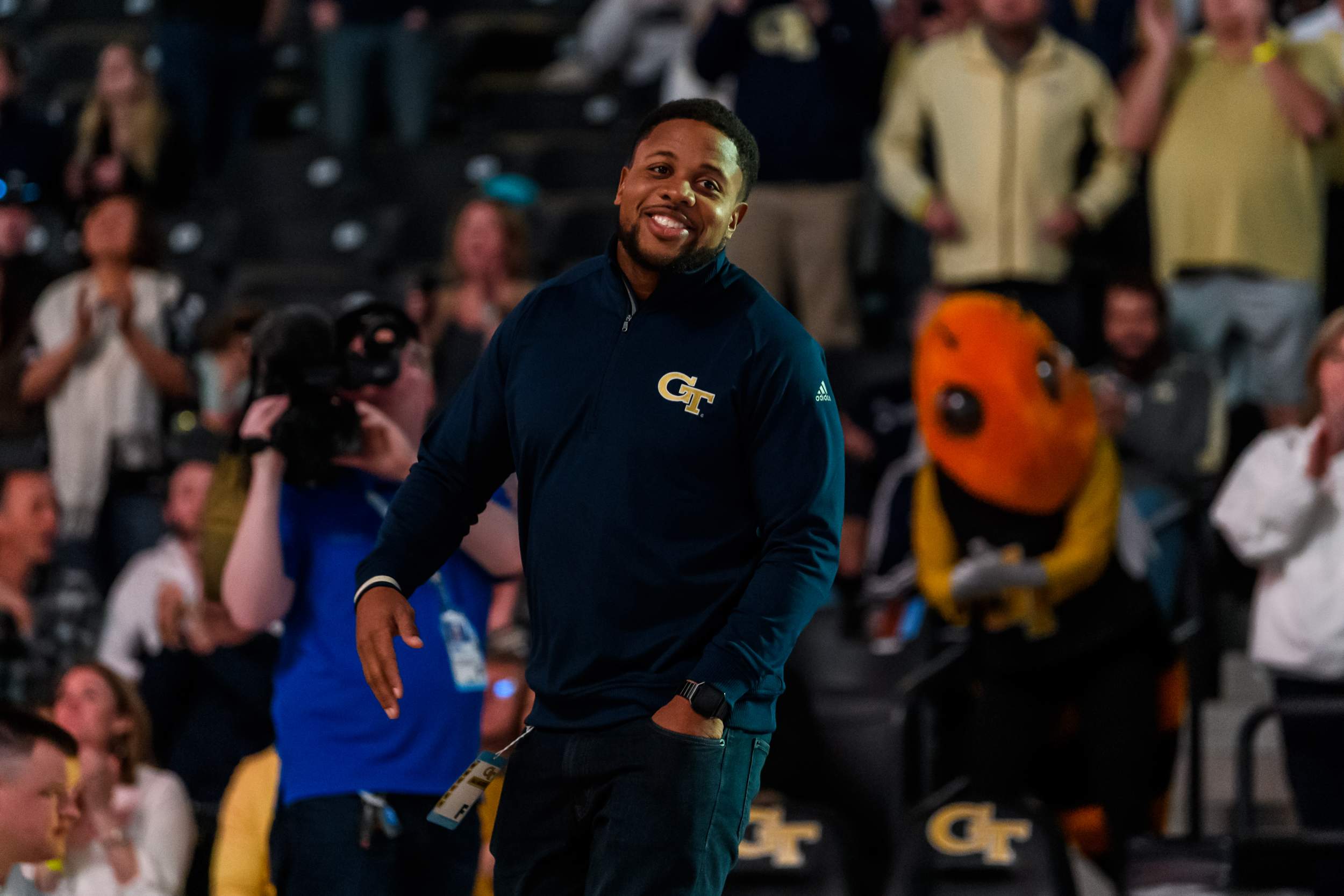 Burton suggested that having played or worked under Tech's last three head coaches has put him in position to succeed on The Flats.
"Coach O'Leary, the way he held everybody accountable was really good. Coach Gailey, to me, was one of the best men there ever was, and he was a really good coach," Burton said. "He's phenomenal. He's continued to be a mentor of mine, and I just can't tell you the things that he's impacted my life outside of football.
"Working for Coach Johnson that year, he's probably one of the smartest individuals I've ever met. The way he can see a game live and make adjustments, I think that got taken for granted around here a little bit, but he was phenomenal with what he could do with in-game adjustments."
Choice has a coaching method in mind.
"Every single day, we're coming to work and it won't stop. That's how I live my life and they're going to live it the same way," he said of the student-athletes that he will coach. "We're going to have to be great, and there's no other choice."
Burton is of like mind.
He graduated from Tech with a degree in applied biology, and said that several of his former lab partners have reached out to him since he was hired at his alma mater. Burton plans to create another network among players.
"Being great for us is having grit, relentless effort, accountability and toughness," he said. "That's what our program is going to be built on."