By Jon Cooper | The Good Word
Brandon Alston has one start this season for Georgia Tech but that doesn't mean he's doesn't have a starter's mentality.
Alston has proven a master of starting things on both ends of the floor in his "Three-and-D" role.
As the Yellow Jackets' sixth man, the Vienna, Va., who transferred to Georgia Tech from Lehigh, following the 2016-17 season, comes off the bench ready to score from anywhere. He enters Saturday's game at American Airlines Arena against St. John's as part of the Miami Invitational leading all but center James Banks in field goal percentage at .489 (22-for-45) and sets the standard in shooting from behind the arc, converting at a blazing .571 (8-for-14).
"Brandon is shooting at a high level," said Coach Josh Pastner. "If you look at his numbers he's efficient. He's worked at it. He put time and effort in. He's a relentless worker in the gym, and when he works at it, he's not just going in there jacking around. He's serious about his craft, and that's why he's shooting it the way he's shooting it."
That efficiency and relentless work ethic illustrate just what kind of self-starter Alston is OFF the floor, as he earned his undergraduate degree in economics from Lehigh in three years before coming to Georgia Tech to pursue his Master's — he's enrolled in economics program.
When Pastner challenged the team to make 10,000 three-pointers in the off-season, Alston not only accepted the challenge but went off the grid, and shot off the charts.
"Over the summer, he wanted us to make 10,000 threes, with a system called NOAH," he said. "I honestly shoot more than that, but that's a good benchmark for our team, and I think it definitely helps. The more you're in the gym, the more shots you make.
"I don't really keep track of my shots at a time," added Alston, who estimated his goal is closer to 18,000 to 20,000. "To me, getting in the gym it's not like, 'Oh, I'm getting in the gym to make this many shots.' I just like to be in there. It's kind of calming to me."
Alston is not a flamboyant personality, but is quiet and gracious. He's someone who is thankful for the opportunity to play at Georgia Tech and for the things the program has implemented to improve development, be it as big as the NOAH technology, or little things like the staff and managers.
"Everything we have here, having managers being able to rebound for you all the time," he said. "Coach puts a big emphasis on shooting."
Pastner also puts a big emphasis on player development, and Alston has earned high praise for his growth in that area.
"He's done a really nice job. He's better this year than he was last year," said Pastner. "Our player development has to be perfect, and that's a prime example. Obviously, he's worked at it, but us developing him, he's continued to get better. That's what we have to be in our program."
Part of Alston's development is his commitment to proving that he's more than simply a three-point specialist.
"I consider myself to be a really good three-point shooter, but I don't only look to score from three-pointers," he said. "I also like to get to the basket, shoot mid-range. I try to be a complete scorer."
To that end, Alston varies the workouts that he does on his own.
"I've got probably four different routines depending on when it is in the season," he said. "One's more of an all-around, then I'll have a shooting workout, one's more ball-handling, and then kind of more conditioning-shooting. During the season, we'll play with different basketballs, and so I like to do more of an all-around."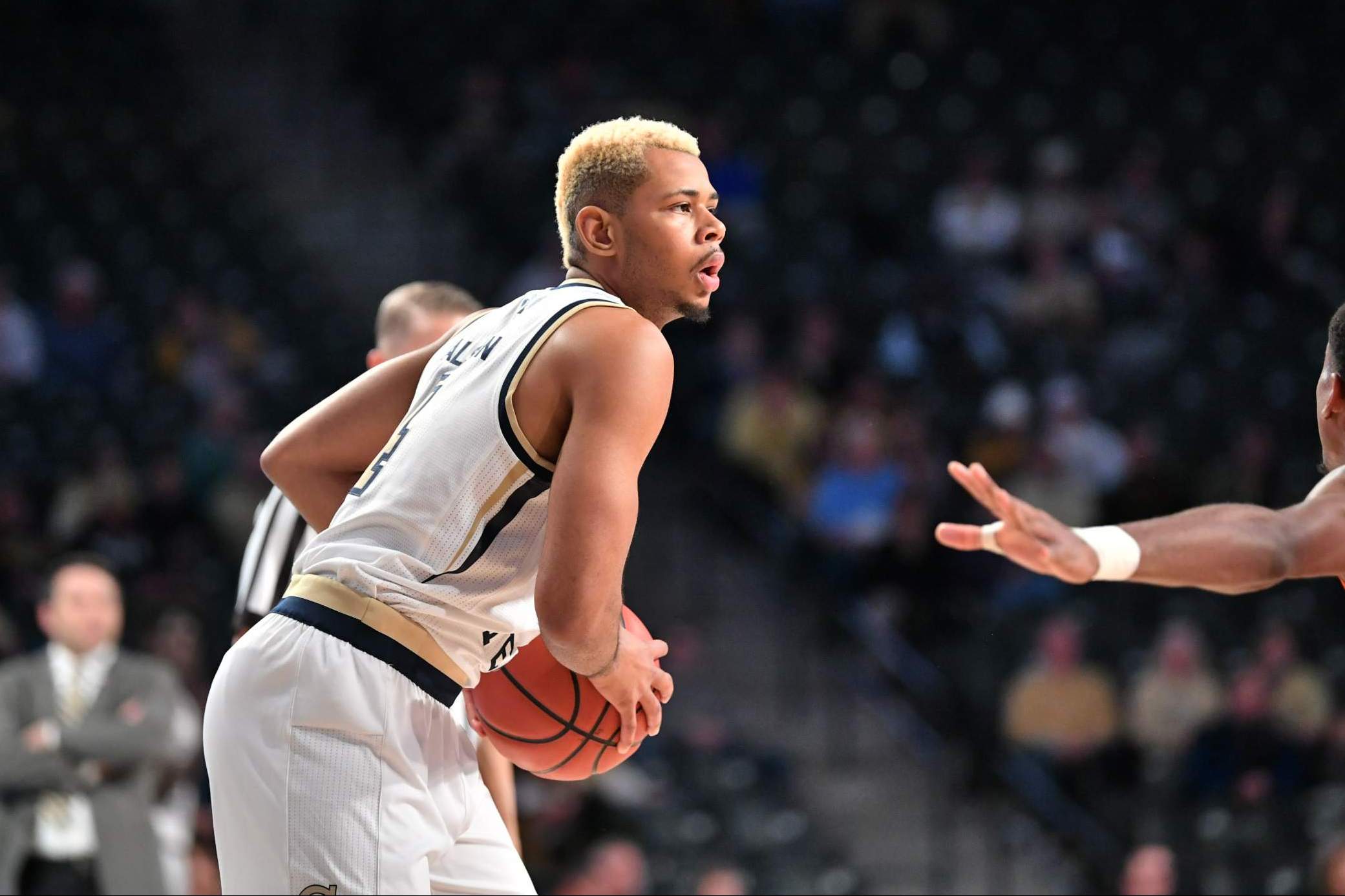 Alston has hit 8-of-14 from three-point range and 48.9 percent from the floor overall.
He's happily found that his time in the gym is rarely ever spent by himself.
"Our team has a really good work ethic," he said. "We have a lot of skill players on our team so a lot of times, if I'm here throughout the day, I'll see a lot of different people and we'll just work out together. That happened a lot (over the summer). But sometimes since my schedule is a little different, they have more classes, it's sometimes difficult to do that."
It's been difficult for opponents to hold Alston down this season. He's second on the team in scoring at 11.8 ppg, less than a bucket behind only point guard Jose Alvarado (13.7), and can be counted on to be around the double-figure-scoring mark. He's hit double-digits three times, including a 17-point effort in the season-opener Nov. 9, against Lamar in Tech's 88-69 win, while two other times he finished with nine points.
As important, he's about as safe with the ball as anyone on the team — he's turned the ball over only six times, never more than twice in a game, and four times this season, he's had one or fewer in a game. That's consistent with last season, when he turned the ball over only 1.9 times per 40 minutes, the lowest among Jackets guards, and had two-or-fewer turnovers in all but two of the Jackets' 32 games.
Alston is a lot more at home causing turnovers on defense, where he's an excellent defender. Unlike on offense, where he's proud to be mentioned by Pastner as an example, defensively, he'd prefer to stay unrecognized.
"Coach has really been on us on film about our defensive let-ups. So I think it's just putting more effort into it," he said, adding with a laugh. "Since it's such a focal part of our team a lot of times, the way you get subbed out is if you don't do something defensively. So that probably encourages it, too.
"Defense leads to offense," he added. "So we work hard trying to turn it into more offense, getting transition, transition threes. We didn't do that much last year but we're doing more this year."
Perhaps the biggest difference in Alston from last year is his simply being healthy.
"I actually had surgery after last season. I was injured before last season, so I dealt with some strains in my stomach throughout the entire season," he said. "My increased movement, being able to get around the court more has been helping me a lot."
Part of getting back healthy and to peak condition has been his training regimen, including an enthusiasm for the weight room. Some credit there goes to his older brother, Chris, who played football collegiately at Columbia and Morehouse.
"My brother played football so I really like lifting weights. I've always been one of the guys on the team who enjoys the weight room the most." Brandon said. "In terms of basketball, I just try to work out multiple times in one day. I try to do twice a day at least in the summer. Nothing too crazy. I feel like the more you're in there the more you get a feel for the ball."
Alston has gotten a feel for the up-tempo game the Jackets are playing this year. He's found it's not only freed him up, but also fellow guards and three-point gunners Alvarado, Curtis Haywood, Michael Devoe, and, really, the entire team.
"We didn't shoot as many threes last year so we kind of feel like the reins are off," he said. "So shooting transition threes is kind of new to us. It's just kind of fun. We all enjoy the new playing style. It's something Coach Pastner did in his past at Memphis so it's not really new to him. I think he just tried to play to the strengths. I think looking towards the future, Georgia Tech is probably always going to be playing high-pace from now on."
Alston's forecasts a bright future for Georgia Tech, beginning Saturday, but he isn't investing all his stock in these early non-conference tests, like the ACC-Big Ten Challenge game at Northwestern, a 67-61 loss, and the game against St. John's. Like any successful economist, he's looking big picture.
"No matter what happens, we're going to have a crazy amount more of opportunities," he said,. "We could lose these two games and our season could still be good. So the thing is you really just have to take each game for what it is."
Alston will continue to take each game and practice for what it is to him — a chance to go all-out playing the game he loves, with no strings attached. That includes no pregame routines, or superstitions or rituals, whatever you choose to call them.
"I don't really believe in superstitions," he said. "If you believe in superstitions then you can get thrown off. Like if you have a game routine, so precise and something goes wrong it can throw you off. So I try not to think about that stuff. I believe each time you go in it's up to you."