By Matt Winkeljohn | The Good Word
James Banks III was wheeling and dealing the other day, like he rarely has, dropping off bounce passes in the paint to cutting teammates, flicking the ball out to Khalid Moore for a 3-point basket, and, you know, facilitating like Ben Lammers before him.
This was a big deal for the big fella, who entered Georgia Tech's Sunday game against Florida A&M as the Yellow Jackets' leading rebounder, leading shot blocker and least likely passer.
In retrospect, it's interesting to note that head coach Josh Pastner last Friday told reporters that since Banks became the starting center one game earlier, "We've got to play through him now, [but] maybe not play through him like we did with Ben at the high post."
Lammers became a fine passing center in his final two seasons at Tech before his eligibility expired last spring. He finished fourth on the team last season with 54 assists in 32 games.
Banks approached the Florida A&M contest tied for ninth on the team with three assists, although he missed the first game. He had 10 assists in his first 52 college games.
But he heard about what Pastner said, and then banked more assists than rebounds or blocked shots as his game-high five dimes helped the Jackets throttle the Rattlers 73-40.
"I took it personal when [Pastner] said he felt like I wouldn't be able to run the offense from the high post like Lammers could in the past. I made sure I found open guys," Banks said after adding six points, four rebounds, a game-high four blocked shots and a steal.
So, Banks has come as a surprise. Again.
He transferred last spring from Texas, where he didn't play much for two seasons.
Although Tech and Banks appealed to the NCAA to waive his redshirt after his transfer out of hardship to be closer to his elderly mother, Sonja Banks, in Decatur, the Jackets worked out this summer and began practicing in the fall without counting on him being eligible to play.
When the NCAA sent word on Nov. 13 that the appeal was granted, Banks had to get up and go. His teammates were in Knoxville, getting ready to play the No. 5 Vols that night.
"That morning I woke up and got a good lift in, and got a good workout when the calls came through. My phone was blowing up," Banks said. "Coach Pastner said 'Do you want to play?' I got my jersey, shoes and hurried to the airport."
Yeah, those shoes, the fluorescent footwear … what's up with that?
"There's a minor story behind it. We got the adidas deal, but I have a size 18 foot, and had just recently committed to come to the school and a lot of the [custom ordered] shoes were not here," Banks said. "Being an adidas kid by nature, I had those shoes … "
What does being an adidas kid mean?
"I played [AAU ball] for the Celtics," he said. "They're adidas [sponsored]."
He was sort of rusty in his neon footwear that night, fouling out in 16 minutes with a bucket, seven rebounds, a blocked shot and a turnover. And no assists.
Banks has evolved, however, into a central part of Tech's action. After scoring 12 points with 12 rebounds and three blocks before he fouled out in a loss at Northwestern, he moved into the starting lineup and put up a career-high 14 points against St. John's while grabbing 12 more rebounds for his second straight double-double.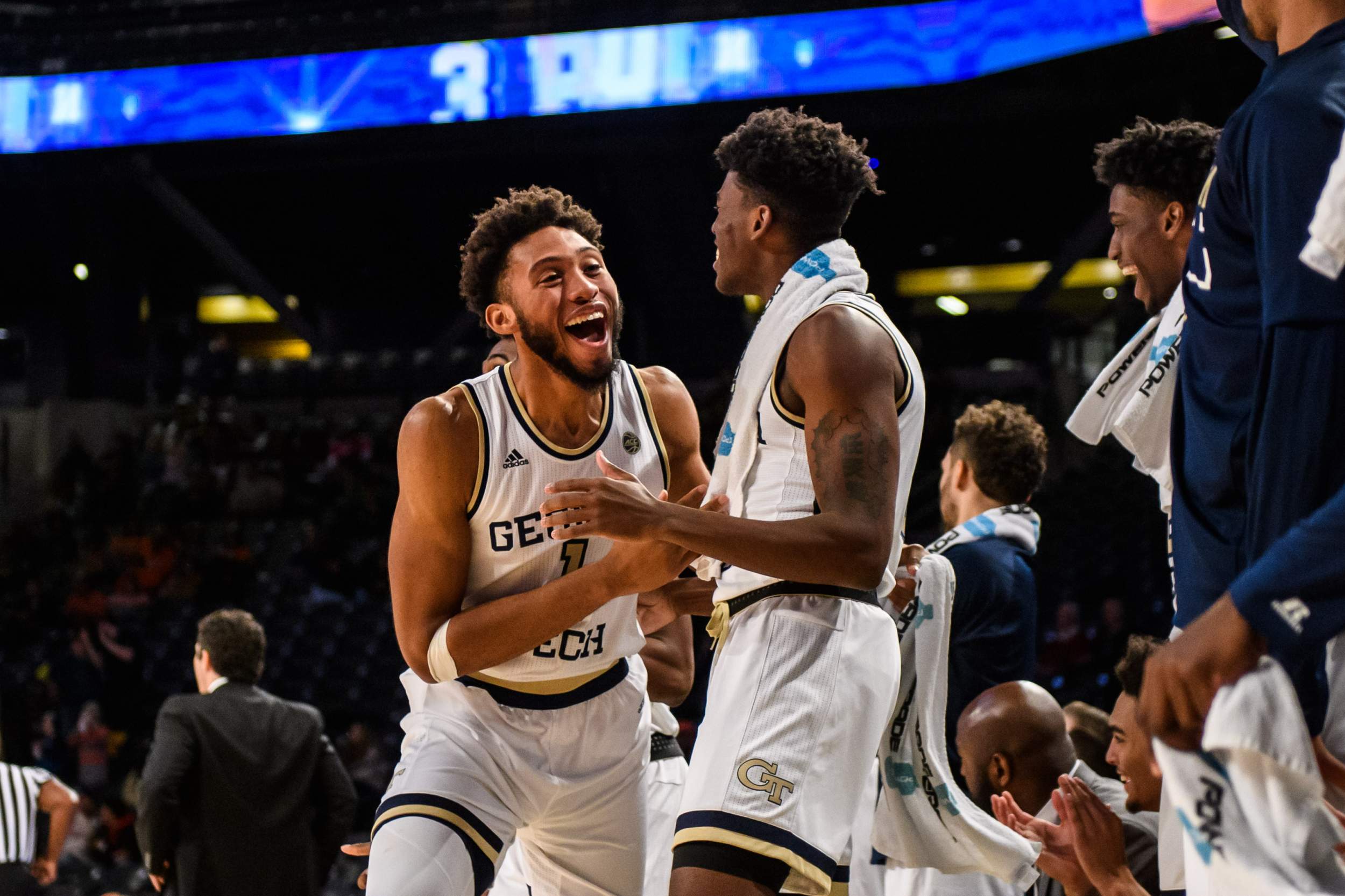 Then, he was dealing against the Rattlers.
"Really proud of James on the five assists and only one turnover," Pastner said after the Florida A&M game. "He made some great reads from the low block and the high post."
It should come as no surprise that Banks is impacting games.
The 6-foot-9, 243-pound postal player has notably long arms, and he's athletic.
Banks played at four different high schools, starting at Columbia in Decatur before playing at St. Francis in Roswell, Mt. Vernon Presbyterian in Sandy Springs and finally the La Lumiere School in LaPorte, Ind. That team reached the championship game of the Dick's Sporting Goods High School Nationals, losing to Oak Hill Academy.
As a recruit, Banks was ranked No. 49 in the nation by Scout, No. 57 by ESPN and No. 83 by Rivals.
He didn't play much in two years at Texas, where he earned academic honors, but he learned while working behind center Jarrett Allen, who was drafted No. 22 by the NBA's Brooklyn Nets in 2017, and then as a sophomore behind center Mo Bamba, who was drafted No. 6 this year by the Orlando Magic.
With his mother's health ebbing, he decided to transfer.
"Choosing Tech was a no-brainer," Banks explained. "I'm majoring in history, technology and society, setting up to be an entrepreneur after the ball stops bouncing, per se."
Banks bounced a couple balls Sunday in McCamish Pavilion. Stationed high in the lane with his back to the basket, he found Moore and Shembari Phillips with side passes off the floor that were converted into layups.
And the kickout to Moore for his first career 3-pointer was textbook.
Hey, Banks is a student as well as an athlete.
He took a couple lectures at the first media timeout of the Florida A&M game, when Pastner fussed at him as he approached the sideline, and then assistant coach Eric Reveno worked with Banks by the lane, demonstrating technique.
"I think it was just letting the ball into the post too easily," Banks said. "Coach really wanted to emphasize me playing hard every possession. He wants me to play to my best, and not play down or take plays off."
Pastner also wants Banks to improve his conditioning, and the head coach is looking to increase assists and drop turnovers across the team. The Jackets are in deficit now with a 106-117 ratio, and his new starting center went into the Florida A&M game at 3-11.
And then he rang up five assists with one turnover.
"I'm really locked in on looking on being a great teammate, passing up a good look for a great look, and I feel like that gets everybody going," he said. "I believe that remaining coachable and pliable is as big as being talented as a basketball player."