By Jon Cooper | The Good Word
There's no point in trying to count how many laps or reps swimmers and divers do over days, weeks and months of training to get compete in meets – or practices to earn the right to even compete in meets.
It's just as well they don't, as that might lead to asking 'Why?' resulting in comparisons with Sisyphus, the king in Greek mythology who was punished by the gods to push a boulder up a hill only to see if roll back down once reaching the top then having to repeat the process for eternity.
A better, and more rewarding, way to look at it is the grind and pushing can take you to places you've dreamed of going, making all the effort worthwhile.
The latter is the road Georgia Tech Men's Swimming and Diving took and it's paid off, as they've reached place is No. 17 in the nation in the College Swimming Coaches Association of America (CSCAA) Division I Poll.
"We're 17 and climbing," said sophomore Caio Pumputis, who has built off an all-ACC season by finishing first in every race he's been in thus far this season. "I think it's pretty nice, being No. 17 and I'm pretty sure we can do better than that and we are going to climb and do better. it's a nice start."
The Jackets are off to a 3-1 start as they head into the weekend, when Pumputis and teammates, seniors Rodrigo Correia and Matt Casillas (the only male diver), and sophomore Christian Ferraro head to West Lafayette, Ind., and the campus of Purdue University for the inaugural ACC-Big Ten Challenge. The women will be represented on the swimming side by seniors Laura Branton, and Iris Wang, and junior Emily Ilgenfritz, with sophomore Camryn Hidalgo representing diving.
Regardless of whether the weekend is spent forming a temporary allegiance with conference rivals or staying around campus, catching up on studies and maybe supporting basketball on Friday and Sunday, and football on Saturday, while fitting in workouts in anticipation of next weekend's Georgia Tech Invitational, it's a pretty cool time to be part of Georgia Tech swimming and diving.
"It's pretty nice to have our team ranked. I feel like last year we had a couple of frustrations because we SO thought we were going to be ranked and then when the polls came out we ended up not being in the top 25. So it's like a huge pleasure to have the 17 in front of our team," said Correia, who has excelled in the 100 and 200 backstroke and freestyle. "I hope we can keep working hard and keep swimming hard and make this number higher and higher and higher and make it to the top 15, then hopefully the top 10."
"It's been awesome. Every year we've been putting in the work," said Casillas, who has finished first or second in every meet this fall and will try to make it 4-for-4 in NCAA Championship appearances. "This year we really haven't had as many meets as we normally do – both times we've had tri-meets or a two-day meet with few different teams going on there. I think that's kind of enabled us to have more weeks to dedicate to training rather than preparing for a dual meet every weekend. Being able to keep our heads down and our horse-blinders on and keep training has been able to let us to get into those situations when we do have meets to just kind of trust what we've done in training. Being able to focus on us has helped us."
The Jackets began the year with emphatic statement wins over ACC rivals Florida State (158-141) and Pittsburgh (188-111) in Tallahassee. Correia, Pumputis, Ferraro and freshman Darren Lim began with a win in the 200 medley relay and the Jackets were off.
They haven't looked back since.
Two weeks later, they blew SCAD out of the water (199-38) at McAuley Aquatic Center, then put together another impressive weekend at McAuley a couple of weeks later, routing Miami (165-93) and coming within two points of upending Notre Dame (132-130).
There was little, if any, head-hanging following the loss to Notre Dame. It actually proved, simultaneously, how good the team is and how good it's gotten – the Jackets are currently ranked ahead of the Fighting Irish in the latest poll – while also showing there is still room to improve.
"Last year, Notre Dame beat us by 50 points," said Casillas. "So even though it was a tough loss, knowing that we've improved that much, only a two-point loss this time, definitely has given us all a boost in confidence and lit a fire under our butts to really show them that we can beat them. We lost to them by two points, it was our second day of a two-day meet and it was their first day. They were fresh. We were kind of tired. I think knowing once we get to ACCs and we're all on a level playing ground we can take them."
"The loss was not that bad, by two points," said Pumputis. "I'm pretty sure if we compete against them again, we can beat them."
Junior captain Joonas Koski points to that opening meet as the starting point of the team's current roll, which has snowballed into an obvious swagger.
"Starting off the season beating FSU was a huge confidence boost for us," said Koski, whose versatility has seen him earn finish second in the 200 free against SCAD and earn third in the 1650 free against Notre Dame, the 200 back against SCAD and the 500 free against Florida State/Pitt. "I really saw it in our team, how we carried ourselves. We're strong and we're confident but we're not overly confident. We're keeping our focus, knowing that there are some fast teams and that we've got to bring it and we've got to be ready in order to compete with them."
That commitment includes everyone and has seen contributions from all classes, senior to freshman.
"The freshman class has been stepping up in meets. Some of the freshman class from last year, they are sophomores this year, I'm sure they got a lot of experience from last year. So that's been helping the team, also," said Correia, who earned second in the 200 free and third in the 100 free vs. Notre Dame. "I feel like our difference this year is how we changed our approach to meets, not necessarily looking at what would be the best for that moment, we are looking for the best for the long run. I think that has definitely been helping us a lot."
All this success has morale at an all-time high.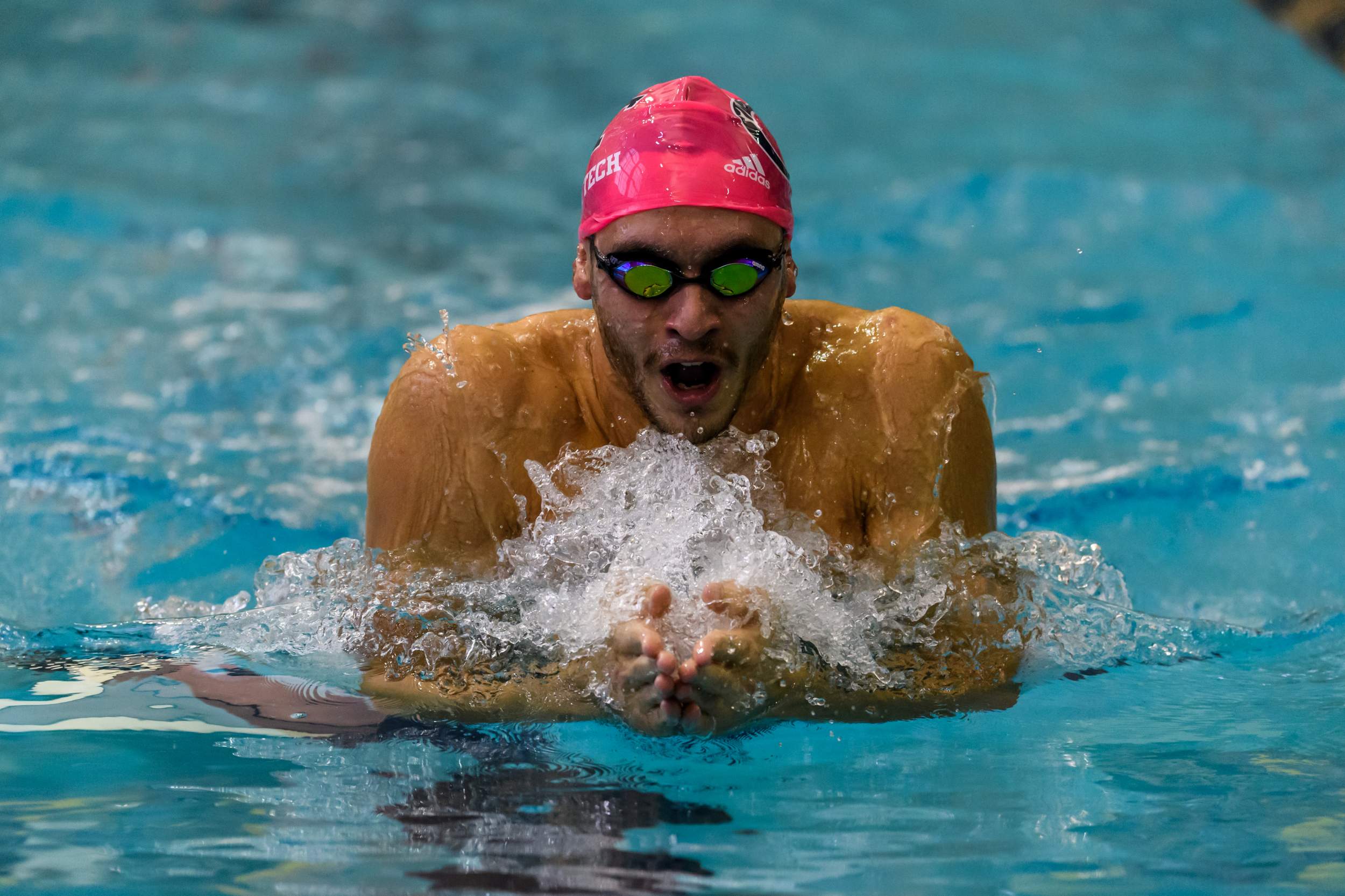 "I'd say we got better compared to last year because we cheer each other more, we are more focused," said Ferraro, who helped the Jackets to wins in the 400 medley relay, 200 free relay and won the 200 breaststroke against SCAD. "We want to give 100 percent in every event in whatever we do. Our results in the dual meets, we saw all the work that we did in practice was getting results. It's better than last year. It's great."
Expectations for that future – especially the near future, as in next weekend's Georgia Tech Invitational — are bright and that No. 17 could be more of a starting point than a high-water mark. Correia is especially happy with that prospect, having seen how far the program has come since he arrived on The Flats.
"It's really nice. Our goal here is to get out better than we came in," he said. "It's also pretty cool to know I've been helping with the results. So I'm pretty happy with that. I know I like how the team is reacting under pressure this year. It's completely different from what we had freshman year, where we would just fall really short toward the end of meets. I hope I can bring some experience to the team this year and help make us even better."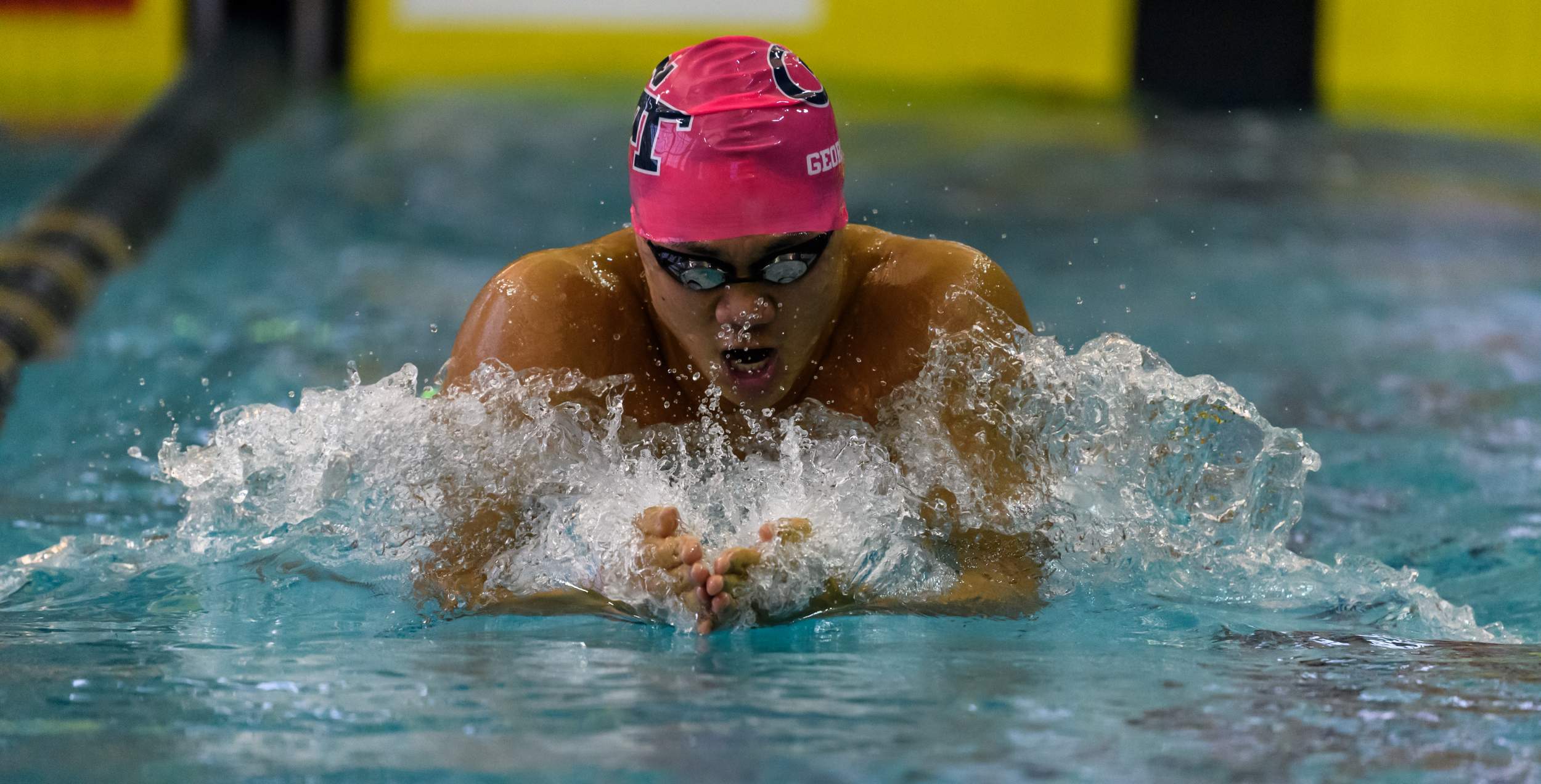 "It's amazing," added Koski. "It has changed year by year and, honestly, I think we get stronger every year. Especially this year, I've seen a lot of the underclassmen step up and overall our team effort and team chemistry is in a really good spot right now. We're working really hard every day, we're bringing it to practice and we're really focused on our goals. As a team, we're really locked in on what we need to do to be successful.
"It feels really good to be on this team right now and it's really exciting."