Great seats remain available starting at $290, which at less than $15 per game is the lowest entry price for season tickets since McCamish Pavilion opened in 2012. Purchasers have the ability to view inventory online or work with a personal sales representative to select seats that fit their needs. Click here to find your seats.
By Matt Winkeljohn | The Good Word
When Georgia Tech opens the season next month, the Yellow Jackets will not play your grandfather's game because basketball is different than it was not so long ago.
Head coach Josh Pastner's team will take the court Nov. 9 in McCamish Pavilion against Lamar with a point guard, a center and three "position-less" guys.
Those three players will be expected to really shoot the ball, just like the Golden State Warriors – winners of three of the last four NBA titles – can all nail it from almost everywhere on the court.
"I think the Warriors had a lot to do with it," Pastner said of the evolution of basketball away from powerful players, "but I also think it's just the way the game has changed where it's really where the [power forward] … has become a perimeter player. And now the [center] is more of a face-up, shooter guy.
As the Tech staff recruits now, coaches believe that the fact that Pastner seeks to deploy an offense that allows every player to do everything is a good thing.
Sure, the point guard will still bring the ball up the floor most of the time, but once he makes the first pass at the offensive end of the court, everybody is eligible to be a big man – regardless of size – or a sniper.
Specific plays will rarely be called ahead of time – other than clock-stopped inbounds plays – but rather dictated by where the second player takes the ball and then what he does with it.
"The second guy a lot of times has a lot of decision-making responsibility. Then, they're playing a little bit like a point guard," said assistant coach Eric Reveno. "From a recruiting standpoint and a teaching standpoint, guys are really engaged.
"If the other team scores, we're going to inbound to our point guard, so now you've defined a position. And the [center] is going to go to the basket. The other guys are position-less. As you flow into the offense, as soon as the point guard passes it, he's position-less. Now, the [power forward] could catch the ball and come off a ball screen, dribble off a ball screen, so now he's a point guard."
Basketball is changing because of analytical evidence that the 3-point shot is more valuable on the bottom line even though players convert it less frequently than shots taken from closer range.
Where everybody previously sought a large player to play center and camp around the basket. another big guy to man the power forward spot nearby, and then skilled shooters to play small forward and shooting guard, Tech is looking for all-around skill sets in players.
"We're looking for the best players, but guys can be different positions all over the floor," Pastner said. "Everybody wants to play all over the floor."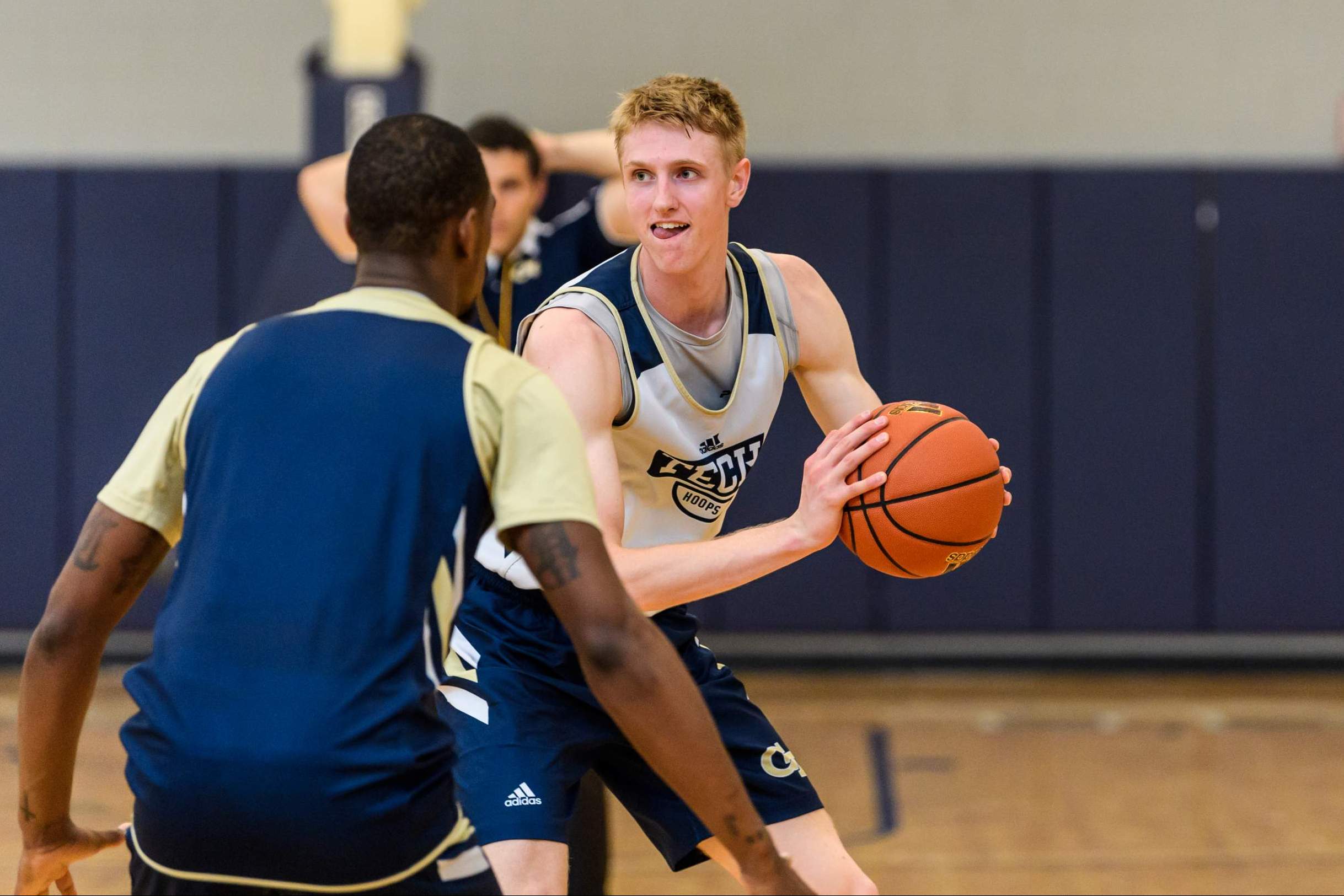 That includes the point guard.
Sophomore Jose Alvarado and freshman Michael Devoe figure to handle the ball the most for the Jackets this season, and they'll be called point guards.
But once they make that first pass – we're talking about traditional possessions here, not fast breaks – they may become any position.
The offense will be dictated by defensive alignment rather than a play sketched up ahead of time.
"Once the point guard throws it, you can't predict the play like you could draw it," Reveno said. "There's a certain freedom where they fill spots based on what we hopefully teach them based on reading things [in the defense]. The [center] is the most position-rigid.
"You're reading defensive positioning, defensive personnel. If they've got a smaller player on one of our bigger players, we've got actions where we can post that player. It's kind of decided early in the action, like a decision tree."
At the other end of the floor, on defense, positions are more defined, and will be based on what the scouting report says about the skill sets of opposing players.
"If you can guard multiple positions, you empower positions. [Abdoulaye Gueye] can guard multiple positions. He can get down in a stance," Reveno said.
Basketball is evolving at different speeds for different teams.
Defensively, more teams are switching when opponents deploy ball screens, and having multi-skilled players – like the Warriors – helps make that more effective.
That doesn't mean everybody is doing that all the time. Take the Cavaliers, and their non-stop man-to-man defense.
"Duke switches everything; Virginia does not," Pastner said, "and obviously they've been very successful with their defense."
For recruiting purposes, defense – perhaps appropriately — can complicate things.
"That's hard to evaluate, because 90 percent of the high school players don't play great defense," Reveno said. "They haven't been taught and challenged, and a lot of times, they don't even play against the other team's best player, because they can't get in foul trouble and they've got to play the most minutes.
"The high school player that hangs his hat on the defensive end is a unicorn. What we look for is a guy who's athletic, competitive and takes pride in it. Is he winning loose balls?"
More than anything, Tech is seeking multi-talented players rather than those who have a clear, singular skill — or size — that surpasses all others.
"There still is a place for two old-school posts, and just trying to kick the other team's rear end by feeding it inside, there's just not a lot of that anymore," Pastner said. "Kansas does it.  Carolina does it some.
"The reason it's gone away is if the other team has shooters, they drag [the big men] out [of the paint]. It's more the matchup. We do need skill set. We move a lot. We truly are position-less the way we play."