By Matt Winkeljohn | The Good Word
      For all the joy that is coming in just a couple months, this evening may be a bit sad for Abdoulaye Gueye, Sylvester Ogbonda and Brandon Alston when they play basketball in Georgia Tech uniforms for the final time in McCamish Pavilion. They're not sure, though.
They know they're on track to graduate in May, and it's a sure thing that they'll be honored on Senior Night before the Yellow Jackets take on Boston College.
Some details, though, are to be determined.
"I might cry. It's come fast, so I'm probably going to enjoy it," Gueye said while flashing his ever-so-bright smile. "It's been long four or five years, and I learned a lot and grew a lot."
These young men have all come long ways.
Gueye, a 24-year-old fifth-year senior, traveled from his native Dakar, Senegal, in 2012, spent two years schooling in Birmingham with a host family, and landed at Tech in 2014.
Ogbonda, 23, went from Port Harcourt, Nigeria, to a suburb of Washington, D.C., became valedictorian at National Christian Academy in Fort Washington, Md., and came to Tech in 2015.
Alston, 23, was born in Washington D.C., attended three high schools Virginia, graduated from Lehigh in three years with a degree in economics, and transferred to Tech in 2017. He's about to finish a master's in econ.
Ogbonda isn't finished traveling.
The 6-foot-10 post man hasn't played as much for Tech as he would have liked, admitting that's been his biggest struggle while pursuing a degree in business administration with a focus on business operation and supply chain. He has a year of eligibility remaining and wants to continue playing either professionally or at another school.
Or, he may go into the work force, but probably not before this summer working "on my game at a crazy level," with the goal of remaining a player.
"I can't really predict. I'm just so excited, but emotion . . . I might just bawl out or be happy to see everybody," he said of his future. "I know it's going to be exciting."
Alston will surely stay busy.
The 6-5 guard missed his second season at Lehigh with an injury, and started the final 10 games of his third. He started 19 games for Tech last season, and is the Jackets' fourth-leading scorer this season in all games, averaging 7.5 points with a team-high 38.9 percent success rate on 3-pointers.
It's not uncommon to see Alston putting up shots in McCamish, late after games.
"To get your degree in economics degree from Lehigh and a master's from Georgia Tech, again, he's going to be very successful in life beyond basketball," Pastner said. "I think he's overachieved. He's helped us win games. He's started for us. He's worked his tail off."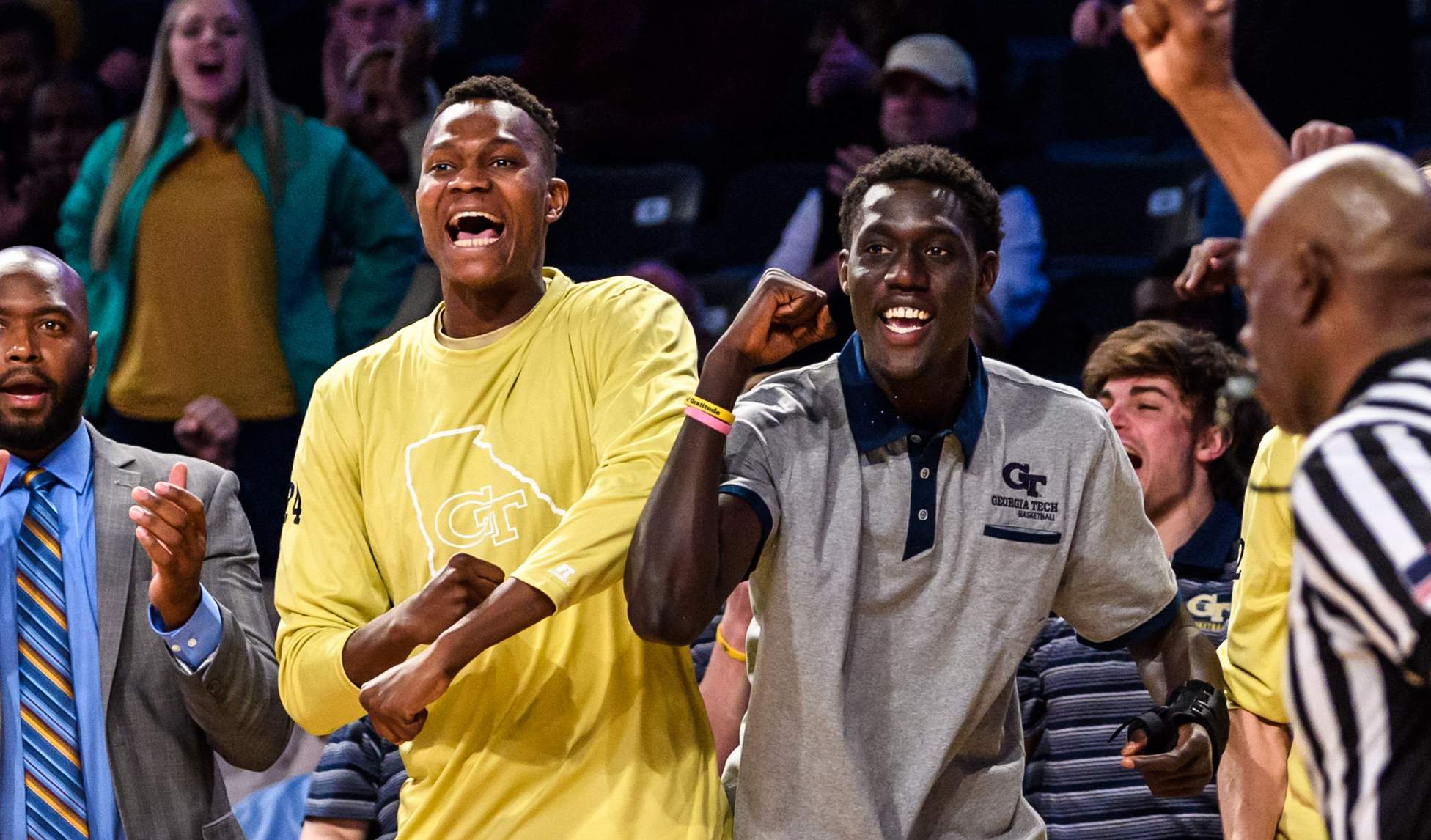 Ogbonda (left) and Gueye have become fast friends, almost brothers, with a wealth of shared experiences after emigrating to the United States and enroling at Georgia Tech.
Gueye, the wiry 6-9 post player with a 7-3 wingspan, will take a degree in business administration, yet said that if Ogbonda hadn't come along, he might not be about to graduate from Georgia Tech. They're roommates now.
"I would say if it was not for him, I don't know if I would be here. I remember the day I redshirted my sophomore year and … he said, me too," Gueye remembered. "We're going to graduate together."
The big fellas do a lot of things with each other, although where Gueye is more outgoing, Ogbonda seems more introspective.
"A.D. is a phenomenal person. Before my visit we actually talked a little bit, and when I came on my visit in 2015, we met and talked," Ogbonda said. "I think partly because of the part of the world we're from, western Africa, we just became good friends. A.D. knows how to brush stuff off and move on, and I think I learned that from him."
Gueye didn't impress Pastner at first, at least as a player of basketball. He was all over the place when the new coach arrived in 2016. He'd played 34 minutes over eight games as a freshman, and then redshirted in 2015-16.
"I didn't think he was an ACC-level guy to where he is today a good ACC player," the coach said. "He's put the time and effort in."
Gueye is averaging 8.9 points and four rebounds in ACC action. He's improved.
Ogbonda has, too, chiefly off the court. He will play tonight, maybe even log his first start, and he's sure to plug away as always.
"He's just an absolutely outstanding young man. He's going to be very successful in life," Pastner said. "Sylvester is a wonderful young man. He's a great team guy, a great team player. I know the minutes haven't worked out for him that he's wanted, but he's always brought it every day in practice. He and A.D. are closer than just friends. They're literally like brothers.
"They look after each other, so I think with A.D. leaving they both want to go out together. When Sylvester was in my office talking about the decision … that he and A.D. are going to be apart at some point, he was very emotional about that."
Sure enough, Ogbonda summarized his time at Tech thusly:
"I would say the best part is the people I've been able to come across, the people I've been able to meet: my teammates, former teammates, students, coaches, student-athletes in football, baseball, tennis, whatever it might be," he said. "It's been a bumpy ride, and it's been a fun ride, too."