Game notes   |  Coach Pastner audio  |  Watch online  |  Live Stats and Game Audio
THE FLATS  –  Georgia Tech makes its second road trip of the 2018-19 season this week, beginning with a visit to Evanston, Ill., for a 9:15 p.m., nationally-televised contest against Northwestern in the ACC/Big Ten Challenge Wednesday night at Welsh-Ryan Arena.
Tech (4-1), in its third season under head coach Josh Pastner, has won all four of its home games by double digits over Lamar, East Carolina, UT Rio Grande Valley and Prairie Vew A&M, sandwiched around a 66-53 road loss at No. 5 Tennessee.
Northwestern (5-1), in its sixth season under head coach Chris Collins, is coming off a fifth-place finish in the Wooden Legacy tournament, defeating LaSalle (91-74) and Utah (79-57) following a first-round loss to Fresno State (78-59).
Wednesday's game will be televised nationally on ESPNU and streamed live through the ESPN app. Radio coverage is provided on the Georgia Tech IMG Sports Network, airing in Atlanta on 680 AM and 93.7 FM the Fan. The Tech broadcast can also be heard on satellite radio (XM ch. 384, internet ch. 973).
STARTING LINEUP
On the road – Tech plays away from home just four times before January. Tech played at No. 5 Tennessee in the season's second game on Nov. 13, and this week plays at Northwestern and takes on St. John's Saturday in the Hoophall Miami Invitational. The Jackets also take a trip to Arkansas to play the Razorbacks on Dec. 19.
The 411 – is 4-1 for the sixth consecutive season. The Yellow Jackets have not made it to 5-1 since the 2014-15 season (actually 6-1). The fifth win came against Rhode Island on a neutral floor, and the sixth win game at Northwestern in the ACC-Big Ten Challenge.
Tough slate – Eight opponents on Georgia Tech's schedule were ranked in the top 25 of the preseason AP and coaches polls, including No. 5 Tennessee and ACC foes Duke (4/3), Virginia (5/5), North Carolina (8/7), Virginia Tech (15/17), Syracuse (16/14), Florida State (17/15) and Clemson (22/23).
Defending well – Georgia Tech ranks second in the ACC in scoring defense (No. 13 nationally) and leads the conference in field goal percentage defense (No. 6 nationally). Tech is No. 2 in three-point percentage defense (10th nationally) and steals.
Longer bench – Tech has deployed at least eight players for significant minutes (10 or more per game) in each of its five games so far, nine with the injured Evan Cole available. Tech's bench has played 40.1 percent of available minutes, 17th in the nation according to KenPom.com.
Filling up – Georgia Tech has averaged 6.8 three-point field goals in five games, 34 total threes made by six different players. That ranks 13th in the ACC. Tech averaged just 4.3 through its first four games last season and finished the year at 4.9, last in the ACC.
Creating offense with defense – Georgia Tech has forced an average of 16.8 turnovers per game, 2.8 per game more than through five games last season, and has turned those into 19 points per game (28 percent of total points).
Picking up the pace – Through five games, Tech is averaging 69.7 possessions per game to rank No. 193 in the nation, according to KenPom.com. The Jackets averaged 66.1 possessions last year (277th).
Unlucky 13 – Tech was picked to finish 13th in the Atlantic Coast Conference this season in a vote of the ACC media, ahead of Pittsburgh and Wake Forest. The Yellow Jackets finished 13th last season.
Seven – Number of freshmen and sophomores expected to play significant roles for the Yellow Jackets this season.
601 – Career points for Brandon Alston, the most of any current Tech player. Shembari Phillips is next with 386, followed by Jose Alvarado with 334 and Abdoulaye Gueye with 227. Georgia Tech finished last season with a trio of 1,000-point career scorers on its roster for the first time since 1989.
SERIES VS. NORTHWESTERN
This will be the fifth meeting between the Yellow Jackets and the Wildcats in the annual series, all of them part of the ACC-Big Ten Challenge series. It is the third one to take place in Evanston, where Tech won on its last visit by a 66-58 score in 2014, which was Chris Collins' second year as the Wildcats' head coach.
Tech made it two straight wins over Northwestern last year in Atlanta, a 52-51 Yellow Jacket victory won at the final horn when Tadric Jackson drove through the Wildcat defense for a layup.
Northwestern won the first two games in the series, first by a 91-71 score in 2010 in Evanston, and again by a 76-60 count in 2011 at Philips Arena in Atlanta.
Georgia Tech is 22-37 all-time against the Big Ten, last meeting a member of the conference in March of 2017, a 75-63 win over Indiana in the opening round of the NIT. That record does not count the Yellow Jackets' 36-40 mark against Maryland, which was previously a member of the Atlantic Coast conference.
Tech's Josh Pastner had never faced Northwestern as a head coach prior to last season's game, and is 5-4 against Big Ten teams in his career.
TECH IN THE ACC/BIG TEN CHALLENGE
Georgia Tech has a 7-10 mark in the ACC/Big Ten Challenge after downing Northwestern, 52-51, last year in Atlanta.
Tech and Northwestern have met four times in the Challenge, its most frequent opponent. The Yellow Jackets dropped the first two, but have come back to win the last two. Each team is 1-1 at home.
Tech and Penn State have met three times in the annual event, tied for the most of any opponent, with the Nittany Lions taking two of the three meetings.
Tech has played Illinois (2012 and 2013) and Northwestern (2010 and 2011) in consecutive years.
Tech has played eight "home" games in the series and has a 5-3 record in those contests. Four of the games were played at Alexander Memorial Coliseum, where Tech defeated Wisconsin (2001) and Michigan (2004) and went 1-1 against Penn State (2006, 2008). Two others were played at Philips Arena, an 80-77 loss to Michigan in the first Challenge game in 1999, and a 76-60 loss in 2011.
The Yellow Jackets have a 2-7 mark in ACC/Big Ten Challenge games on the road. The Yellow Jackets'scored a 73-53 win at Ohio State in 2003, the year in which Tech reached the NCAA Championship game., and won at Northwestern in 2014. Tech also has visited Iowa, Minnesota, Michigan State, Indiana and Northwestern (twice).
Maryland, Nebraska and Purdue are the only Big Ten teams the Yellow Jackets have not faced in the annual series.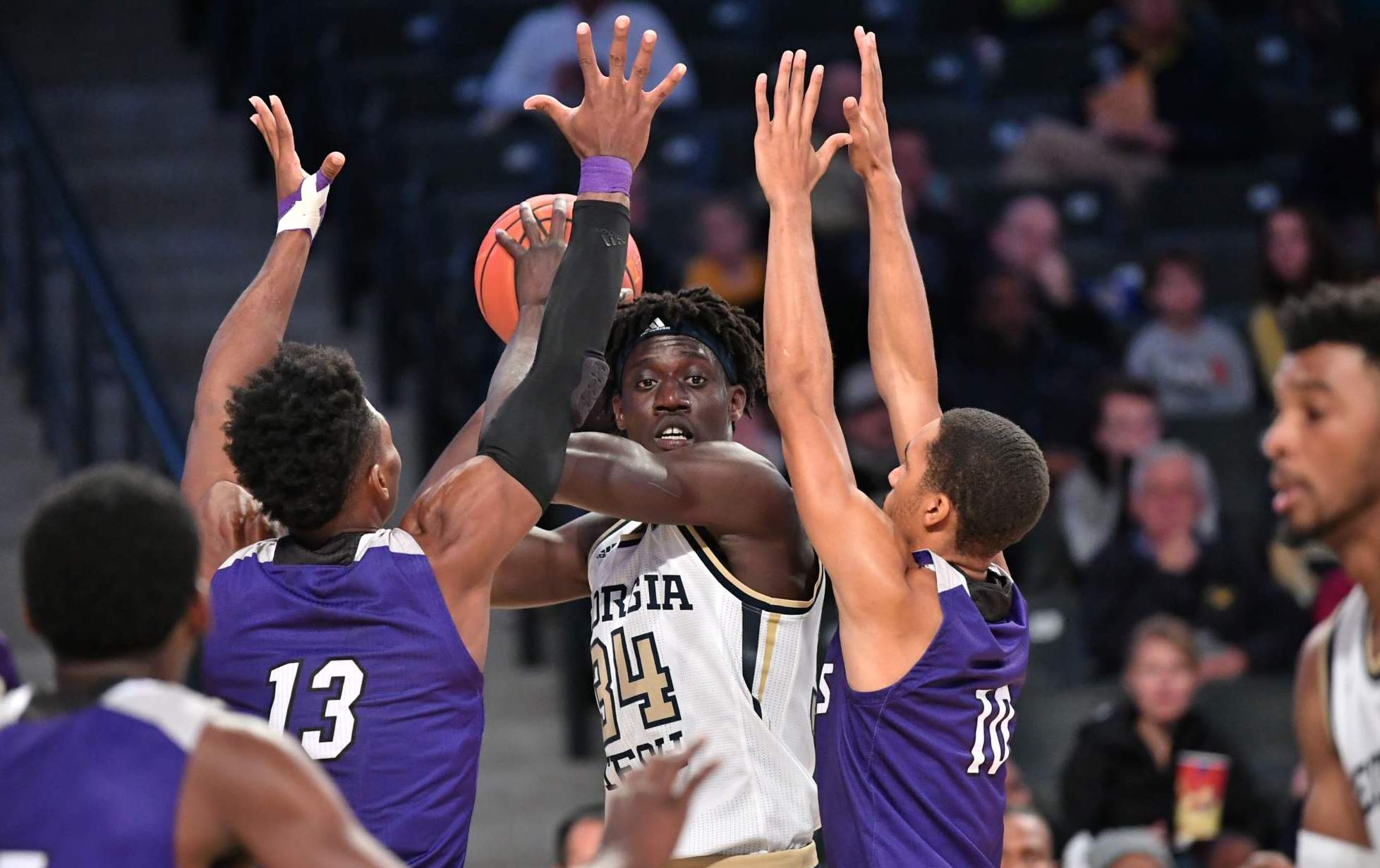 TEAM NOTES
Tech's 65-54 win over Prairie View A&M represented the Yellow Jackets lowest point total and its smallest margin of victory at home this season.
Tech has held three consecutive opponents under 60 points for the first time since February of 2013, when the Jackets held Florida State, Virginia Tech, Clemson and Wake Forest under 60 in succession. The 152 total points in this three-game stretch is the lowest since Tech held The Citadel, Fordham and Chattanooga to 140 points early in December of 2012 (same season).
Georgia Tech trailed at the half for the second time this season (33-25 at No. 5 Tennessee on Nov. 13). The Jackets made up most of a 10-point by making six straight field goals late in the first half to pull within one at intermission, then 8-of-9 in the second half to pulled the Yellow Jackets into their first lead of the game.
The 9-point deficit from which Tech rallied (38-29 at 16:49) in the second half against Prairie View A&M matched the largest deficit the Jackets faced in a game they won under Josh Pastner. Tech trailed NC State by nine at the 17:15 mark last March at McCamish Pavilion before rallying to win, 78-75.
Still, Tech finished the game at 38.5 percent from the floor, and 4-of-17 from three-point range, both figures season lows at home.
Tech connected on only four three-point field goals against Prairie View, but they all came after halftime – Brandon Alston made one at 17:56 (29-33), Jose Alvarado one at 13:54 (36-41), Alston again at 3:45 (55-50) and Haywood finally connected at 1:21 (63-52).
All of Tech's first five opponents have shot less than 40 percent from the floor. Tech ranks No. 2 in the ACC in field goal percentage defense, which is now 43.5 percent, and No. 2 in three-point percentage yield, which is now 23.5 (PVAMU went 5-for-18).
Tech has yielded just 20 three-point field goals in its first five games (23.5 percent). The Jackets allowed an average of 7.1 per game and a success rate of 37.9 percent last season.
Conversely, Tech has attempted 104 threes (6.8 per game) and made 34 (6.8 per game), compared to averages of 15.3 attempts and 4.9 made per game in 2018-19. Six different Yellow Jackets have made at least two three-point field goals so far this season. Tech has hit 34.5 percent of its threes for the season; only one Jackets team since 2010 has finished the season with a higher percentage (35.7 in 2015-16).
Tech has held its five opponents an average of 17.8 points under their scoring averages – breakdown by game: Lamar 81.0 (69), Tennessee 82.8 (66), East Carolina 72.7 (54), UTRGV 70.2 (44), Prairie View A&M 69.2 (54).
Defensively, Tech has forced 84 turnovers (16.8 per game) and taken 45 steals (9.0 per game). The Jackets forced an average of 12.6 turnovers per game last season and took 6.9 steals per game.
Tech has deployed eight players for significant minutes (10 or more per game) in each of its five games so far. All 12 scholarship players saw action at Tennessee and 11 (all except injured Evan Cole) against East Carolina and UTRGV. Only eight played against Prairie View A&M, with Evan Cole missing his third straight game with a sprained ankle.
Tech's bench outscored that of Prairie View A&M, 25-9. Yellow Jacket reserves have scored 166 points in five games (33.2 per game).
Tech was outrebounded in its first two games by a combined 10, but has been even (East Carolina) or on the plus side in its last three.
ABOUT GEORGIA TECH MEN'S BASKETBALL
Georgia Tech's men's basketball team is in its third year under head coach Josh Pastner. Tech has been a member of the Atlantic Coast Conference since 1979, won three ACC Championships (1985, 1990, 1993), played in the NCAA Tournament 16 times and played in two Final Fours (1990, 2004). Connect with Georgia Tech Men's Basketball on social media by liking their Facebook Page, or following on Twitter (@GTMBB) and Instagram.
For more information on Tech basketball, visit Ramblinwreck.com. Tickets for men's basketball can be purchased here.