THE FLATS – Georgia Tech returns to action following an eight-day break when it takes on No. 20 Kentucky in a nationally-televised game at 5 p.m. Sunday. The game is part of the Holiday Hoopsgiving event at State Farm Arena, which includes a slate of high school games as well as four more college games on Dec. 12 at State Farm Arena.
Returning four starters from last year's fifth-place ACC team, including a pair of All-ACC honorees in guards Jose Alvarado and Michael Devoe, Georgia Tech has its most experienced and deepest roster yet under head coach Josh Pastner, beginning his fifth season on The Flats. But the Yellow Jackets stumbled out of the gate Thanksgiving week, dropping both games in its multi-team event at McCamish Pavilion – a 123-120 four-overtime loss to Georgia State and an 83-73 defeat to Mercer.
Kentucky, in its 12th season under head coach John Calipari, is off to a 1-2 start after dropping a 65-62 decision to No. 7 Kansas Tuesday night in the State Farm Champions Classic in Indianapolis, Ind. The Wildcats have also split a pair of home games, defeating Morehead State, 81-45, in their season opener Nov. 25, and falling to Richmond, 76-64, last Sunday.
Sunday's game will be televised nationally on ESPN and will be streamed live on the ESPN app. Radio coverage is provided by the Georgia Tech Sports Network by Learfield IMG College, with flagship station WCNN-Radio (680 AM, 93.7 FM) in Atlanta. The Tech broadcasts can be heard on satellite radio (SiriusXM Ch. 371) and the TuneIn app.
Senior guard Jose Alvarado speaks with the media.
SERIES VS. KENTUCKY
Sunday's game will be the 73rd all-time meeting between Georgia Tech and Kentucky in a series that dates back to 1924. Kentucky leads the series, 57-15. All but 19 of those meetings occurred when the Yellow Jackets were members of the Southeastern Conference.
Sunday's game is the back end of a two-game contract between the two programs. Kentucky defeated the Yellow Jackets, 67-53, last year at Rupp Arena. It is also the ninth neutral site meeting between the teams, and the second at State Farm Arena. The teams played twice at the Georgia Dome in the late 1990s.
Tech is 2-8 against the Wildcats since leaving the SEC, including an 86-84 victory on Dec. 9, 2000 at State Farm Arena. The Yellow Jackets' other victory in that span came on Dec. 21, 1991 at the old Omni arena in downtown Atlanta, where State Farm Arena now stands.
Three of Georgia Tech's nine all-time wins against No. 1-ranked teams came against top-ranked Wildcat teams, all when John "Whack" Hyder coached the Yellow Jackets and Adolph Rupp led Kentucky. Two of those came in the 1954-55 season, when the Jackets ended a 129-game homecourt winning streak by the Wildcats with a 59-58 triumph. Tech completed a season sweep later at home by a 65-59 score. The third Tech win over the No. 1 Wildcats happened on Jan. 4, 1964 in Atlanta by a score of 76-67.
Sunday also marks the fourth encounter for Georgia Tech against a team coached by John Calipari. Calipari's Massachusetts team, ranked No. 2 at the time, downed Tech, 76-67, in the 1995 Jimmy V Classic. The Yellow Jackets toppled Calipari's 12th-ranked Memphis team, 92-85, in the 2006 Maui Invitational semifinals.
Tech head coach Josh Pastner was Calipari's assistant coach for his final year at Memphis and replaced him as the Tigers' head coach when he moved on to Kentucky. Pastner is 0-1 (last year's loss) against his former boss.
Head coach Josh Pastner speaks to the media.
THE TIPOFF
Late start – Due to Covid-19, the NCAA pushed back the start of the 2020-21 season to Nov. 25, two weeks later than normal. Division I teams are allowed to play a maximum of 27 games. The ACC will play a 20-game schedule for the second straight year, and teams are allowed a maximum of seven non-conference games. Tech has seven non-conference games scheduled.
Tech and Kentucky are meeting for the second time at State Farm Arena. The Yellow Jackets won the previous encounter on Dec. 9, 2000 (86-84) on a last-second corner jumper by Shaun Fein.
Tech has a 7-11 all-time record at State Farm Arena, which was formerly known as Philips Arena when first built (see history on page 4). The Yellow Jackets have not played a game in the facility since the 2011-12 season, when they played all eight ACC home games and an ACC Tournament game while McCamish Pavilion was being built.
Tech has lost its first two games for the first time since the 1974-75 season (both of those games were on the road). The Yellow Jackets last began a season with three straight losses the year before (1973-74), when they started 0-7 and finished 5-21 in head coach Dwane Morrison's first season as head coach.
Tech leads the ACC in scoring average (96.5 ppg), rebound average (52.5 rpg) and offensive rebound average (20.5 pg).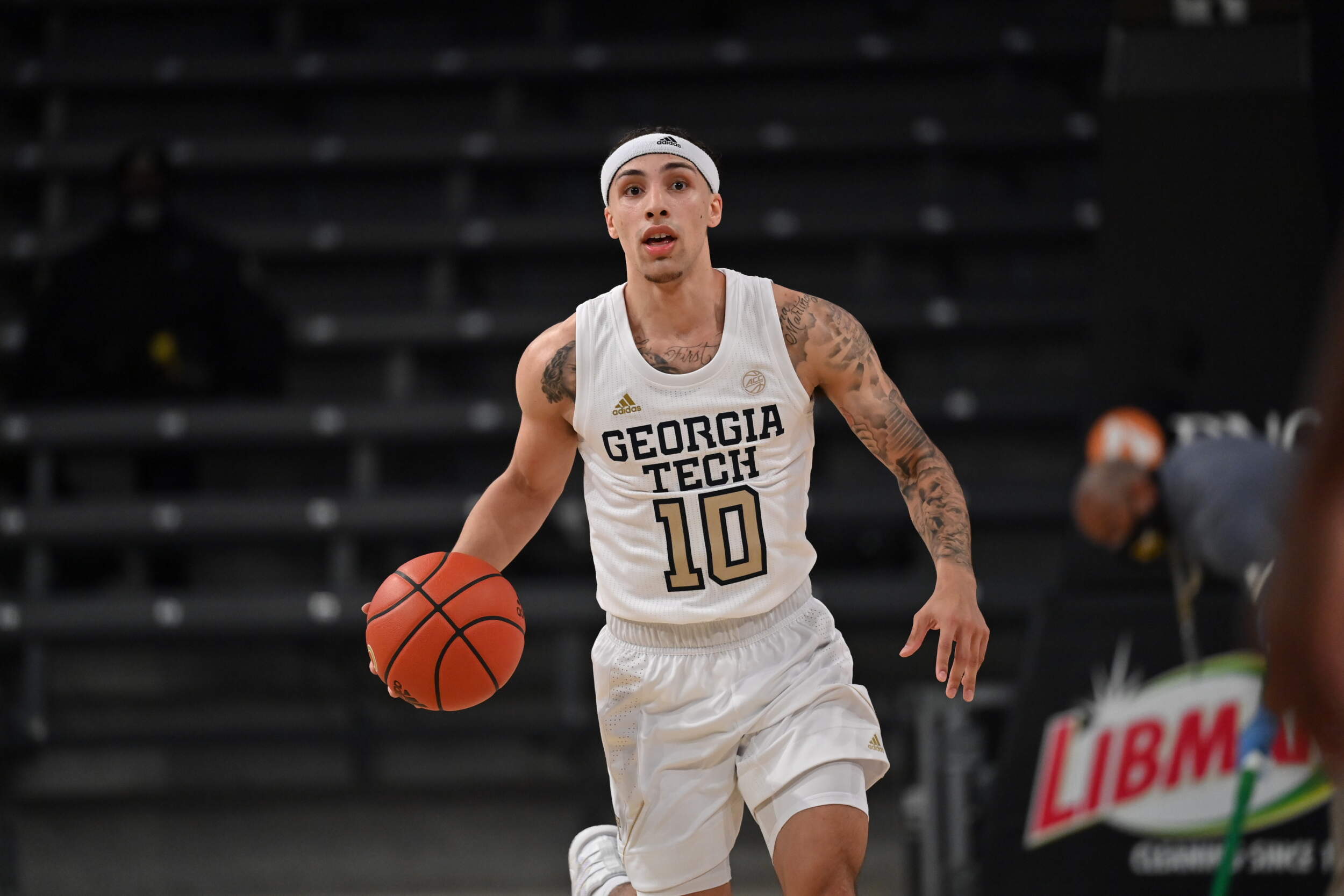 Alexander-Tharpe Fund
The Alexander-Tharpe Fund is the fundraising arm of Georgia Tech athletics, providing scholarship, operations and facilities support for Georgia Tech's 400-plus student-athletes. Be a part of developing Georgia Tech's Everyday Champions and helping the Yellow Jackets compete for championships at the highest levels of college athletics by supporting the A-T Fund's Annual Athletic Scholarship Fund, which directly provides scholarships for Georgia Tech student-athletes, and Athletics Initiative 2020, Georgia Tech athletics' ongoing $125 million initiative to allow Tech to recruit the nation's most elite student-athletes, build a better student-athlete once they arrive on The Flats and, ultimately, win! To learn more about supporting the Yellow Jackets, visit atfund.org.   
ABOUT GEORGIA TECH MEN'S BASKETBALL
Georgia Tech's men's basketball team is beginning its fifth year under head coach Josh Pastner, having finished fifth in the ACC in 2019-20, the program's highest finish since 2005. Tech has been a member of the Atlantic Coast Conference since 1979, won three ACC Championships (1985, 1990, 1993), played in the NCAA Tournament 16 times and played in two Final Fours (1990, 2004). Connect with Georgia Tech Men's Basketball on social media by liking their Facebook Page, or following on Twitter (@GTMBB) and Instagram. For more information on Tech basketball, visit Ramblinwreck.com.