THE FLATS – Georgia Tech softball continues its 2020 season with the Big Ten/ACC Challenge, from Feb. 14-16 at Mewborn Field. They'll face Big Ten foes Nebraska and Iowa.
Series Schedule
Friday, February 14 @ 4 p.m. vs. Nebraska
Watch | Live Stats
Saturday, February 15 @ 12:30 p.m. vs. Nebraska
Watch | Live Stats
Saturday, February 15 @ 6 p.m. vs. Iowa
Watch | Live Stats
Sunday, February 16 @ 12:30 p.m. vs. Iowa
Watch | Live Stats
TV
All Georgia Tech games will be broadcast live on ACC Network Extra
Storylines
Preseason All-ACC selection Breanna Roper, who led the ACC in doubles in 2019, hit three of them in four games this weekend, including two in Sunday's win over Ohio.
Bailee Zeitler went 6-for-13 with a double and an RBI last weekend, hitting .462 with an OBP of .533
Lilly Hooper tied a program record with two triples in a game on Feb. 7 against Washington. Tech hit six triples as a team in 2019.
Freshman Emma Kauf hit her first career home run against UAB and stole her first two career bases against Washington last weekend
Freshman Blake Neleman recorded her first-career strikeout against Washington when she punched out Sis Bates to retire the side in the sixth.
Lexi Ray made her first start for Georgia Tech last weekend, dealing out two strikeouts while allowing just two earned runs in 5.2 innings against No. 1 Washington.
Cameron Stanford tied her career high with four hits in a game, including a 3-run home run, her first of the season, Sunday against Ohio
Palmer Pinholster earned her first-career save Sunday against Ohio.
The Jackets went 5-for-5 on stolen bases this weekend at the Buzz Classic.
Georgia Tech allowed two runs or fewer against Washington for the first time since 2004.
Series Notes
Georgia Tech is 6-10 all time in the Big Ten/ACC Challenge, and 9-4 combined against its opponents this weekend.
The all-time series with Nebraska is tied, 4-4. The teams last met in the Big Ten/ACC Challenge in 2018, with the Cornhuskers winning both games. Tech's last win against Nebraska came in 2015 when they swept them in the Florida State Unconquered Invitational in Tallahassee, Fla. The Jackets are looking for their first win at home over Nebraska.
Tech is 5-0 against Iowa all time. This will be the second meeting between these two teams in the Big Ten/ACC Challenge, with the Jackets winning both games in 2017.
Parking
Parking for all three days of the Big Ten/ACC Challenge is available at McCamish, Family Housing or Fowler St.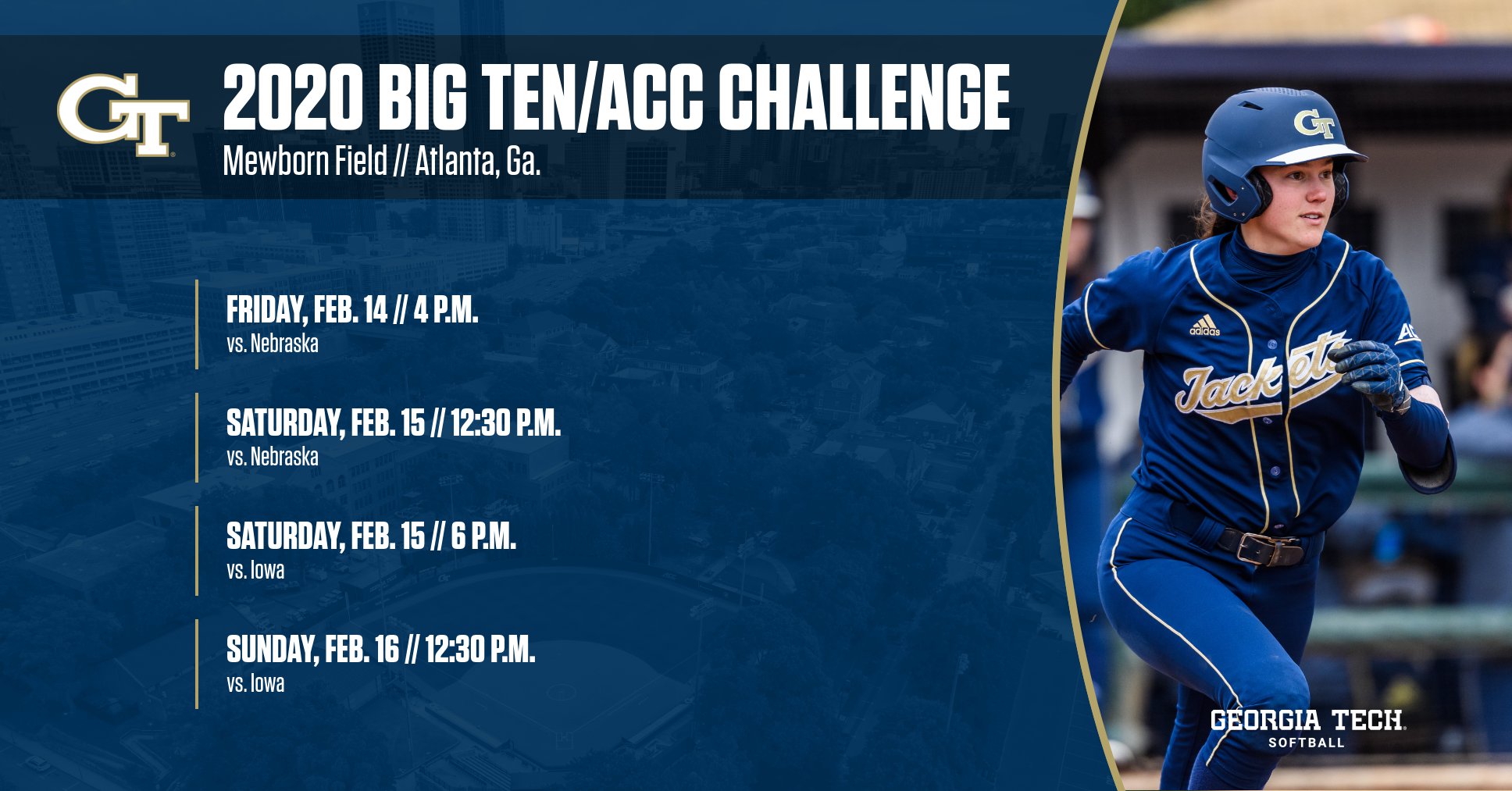 All of Georgia Tech's 34 home games in 2020, including all four at the Big Ten/ACC Challenge, will be streaming live on ACC Network Extra.
NOTE: ACC Network Extra (ACCNX) programming is available online via the ESPN app or WatchESPN.com. Viewers must subscribe to a cable/satellite/digital provider that carries the ACC Network to view ACCNX programming.
Alexander-Tharpe Fund
The Alexander-Tharpe Fund is the fundraising arm of Georgia Tech athletics, providing scholarship, operations and facilities support for Georgia Tech's 400-plus student-athletes. Be a part of developing Georgia Tech's Everyday Champions and helping the Yellow Jackets compete for championships at the highest levels of college athletics by supporting the A-T Fund's Annual Athletic Scholarship Fund, which directly provides scholarships for Georgia Tech student-athletes, and Athletics Initiative 2020, Georgia Tech athletics' ongoing $125 million initiative to allow Tech to recruit the nation's most elite student-athletes, build a better student-athlete once they arrive on The Flats and, ultimately, win! To learn more about supporting the Yellow Jackets, visit atfund.org.   
For the latest information on the Georgia Tech Yellow Jackets, follow us on Twitter (@GaTechSoftball), Facebook (Georgia Tech Softball) or visit us at www.ramblinwreck.com.
-#TogetherWeSwarm-