THE FLATS  –  Georgia Tech opens a stretch of three games in six days Monday night when Gardner-Webb visits McCamish Pavilion for a 7:30 p.m. contest.
Tech (5-3), in its third season under head coach Josh Pastner, has won all five of its home games by an average of 23 points over Lamar, East Carolina, UT Rio Grande Valley, Prairie Vew A&M and Florida A&M, and lost all three of its games away from home, Nov. 13 at No. 5 Tennessee (66-53), Nov. 28 at Northwestern (67-61) and Dec. 1 vs. St. John's (76-73) in Miami.
Gardner-Webb (6-5), in its sixth season under head coach Tim Craft, has won its last five games, including an 81-77 OT victory over Kennesaw State Thursday night. The Bulldogs are 2-4 on the road this season, including an 87-59 loss at Virginia Tech and wins over Savannah State and USC Upstate.
Monday's game will be streamed live on ACC Network Extra, available through the ESPN app. Radio coverage is provided on the Georgia Tech IMG Sports Network, airing in Atlanta on 680 AM and 93.7 FM the Fan. The Tech broadcast is available on satellite radio (XM ch. 380, internet ch. 971).
STARTING LINEUP
Home for the holidays – Tech is in a stretch of seven home games in its next eight, which began last Sunday with a 73-40 victory over Florida A&M. The stretch which carries the Yellow Jackets through the pre-conference schedule and ends with ACC games against Wake Forest (Jan. 5) and Virginia Tech (Jan. 9). Tech's only road game in that span occurs Wednesday at Arkansas.
Tough slate – Eight opponents on Georgia Tech's schedule were ranked in the top 25 of the preseason AP and coaches polls, including Tennessee and ACC foes Duke, Virginia, North Carolina, Virginia Tech, Syracuse, Florida State and Clemson. Six ACC teams are currently in the top 25 of both polls, and two others are receiving votes.
Defending well – Georgia Tech ranks third in the ACC in scoring defense (No. 13 nationally) and leads the conference in field goal percentage defense (No. 5 nationally) and three-point percentage defense (6th nationally). The Jackets are third in blocked shots and second in steals.
Longer bench – Tech has deployed at least eight players for significant minutes (10 or more per game) in each of its eight games so far, nine with the injured Evan Cole available. Tech's bench has played 37.7 percent of available minutes, 41st in the nation according to KenPom.com (national average is 30.5 pct.). Tech reserves are outscoring its opponents 30 to 13.9 per game).
That's a triple – Georgia Tech has averaged 6.0 three-point field goals in seven games, 48 total threes made by six different players. Tech averaged just 4.3 through its first four games last season and finished the year at 4.9, last in the ACC.
Creating offense with defense – Georgia Tech has forced an average of 16.1 turnovers per game, about 2.6 per game more than through eight games last season, and has turned those into 19 points per game (27 percent of total points).
Picking up the pace – Through eight games, Tech is averaging 69.4 possessions per game to rank No. 206 in the nation, according to KenPom.com. The Jackets averaged 66.1 possessions last year (277th).
Unlucky 13 – Tech was picked to finish 13th in the Atlantic Coast Conference this season in a vote of the ACC media, ahead of Pittsburgh and Wake Forest. The Yellow Jackets finished 13th last season.
Seven – Number of freshmen and sophomores playing significant roles for the Yellow Jackets this season.
636 – Career points for Brandon Alston, the most of any current Tech player. Jose Alvarado is next with 406, followed by Shembari Phillips with 401, and Abdoulaye Gueye with 247. Georgia Tech finished last season with a trio of 1,000-point career scorers on its roster for the first time since 1989.
104th season – Georgia Tech is playing its 104th season of basketball and has an all-time record of 1,367-1,229.
SERIES VS. GARDNER-WEBB
Georgia Tech and Gardner-Webb are meeting for just the second time Monday night, and first time since Dec. 1, 2002, a 75-53 win for the Yellow Jackets at Alexander Memorial Coliseum. That game was the third game in the careers of then-freshmen Chris Bosh and Jarrett Jack (see box on page 3).
Monday night's game is the first of two meetings Tech has scheduled against member of the Big South Conference. USC Upstate visits McCamish Pavilion for the Yellow Jackets' final non-conference game on Jan. 2.
Tech is 22-3 all-time against the current membership of the Big South. The Jackets' last loss to a member of the conference occurred on Dec. 6, 2014, a 59-54 homecourt defeat to Upstate.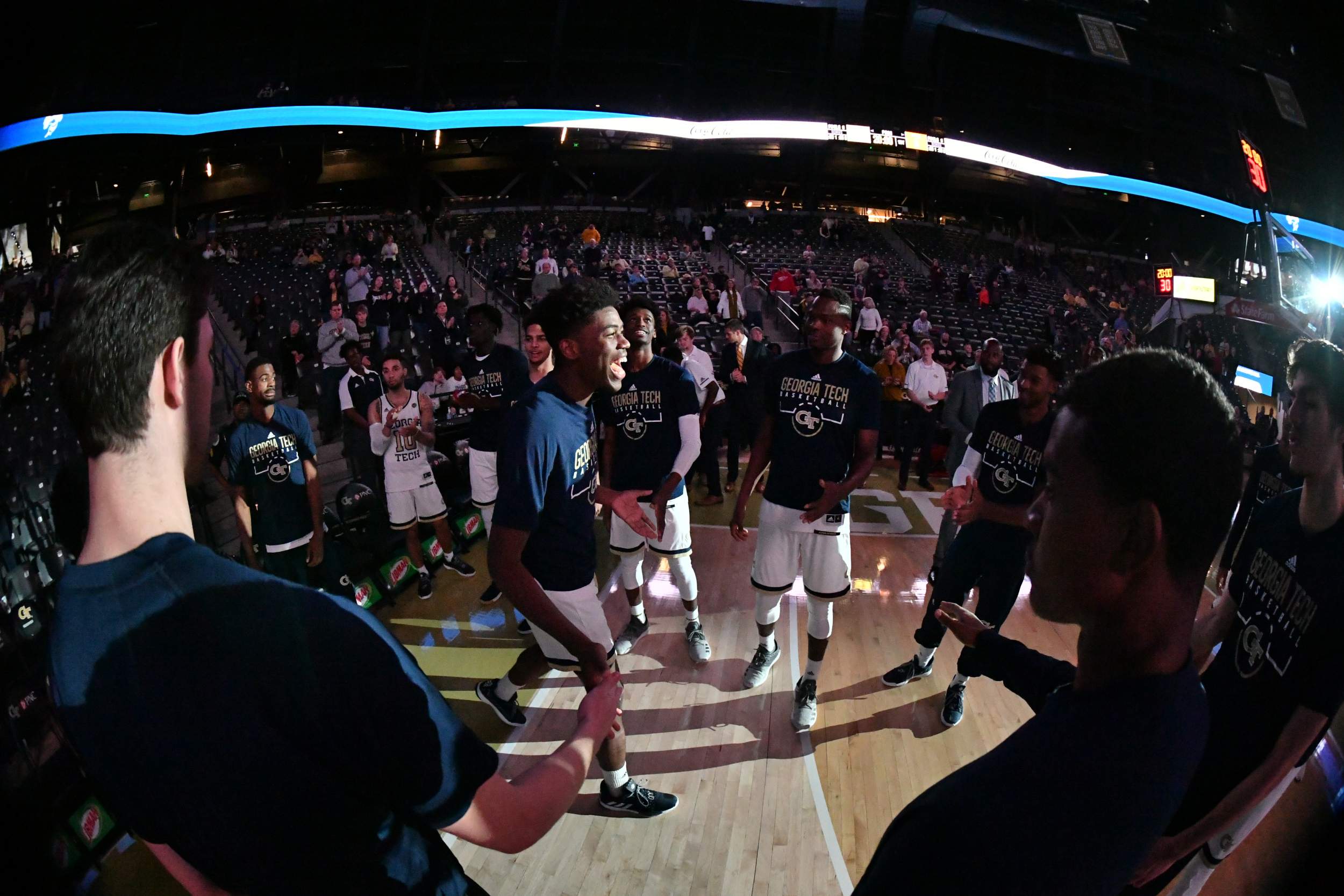 FOLLOWING THE TRENDS
For the last two games, Georgia Tech started Jose Alvarado, Brandon Alston and Curtis Haywood II across the perimeter, Moses Wright and James Banks III in the frontcourt. Banks made his second start of the season against Florida A&M, Alston his third, Wright his sixth. Haywood is the only Tech player to have started every game this season.
Tech played all 12 scholarship players for the third time this season against FAMU, and for the first time since the Tennessee game on Nov. 13. Eleven of them scored in the game.
Tech has deployed at least eight players for significant minutes in each of its eight games so far, nine vs. Northwestern and St. John's, despite Even Cole missing those games with an ankle injury.
The 40 points in the game by Florida A&M were the fewest allowed by Tech under Josh Pastner, and the fewest allowed by the Jackets since Nov. 22, 2012 (54-36 win over Rice).
The 13 points in the first half by Florida A&M were the second-fewest Tech has allowed in the first half this season (Tech led UTRGV, 42-11 on Nov. 21), and the fifth-fewest the Jackets have surrendered in a half in the modern era (fewest is 8 vs. University of the South in 1980, 11 vs. UTRGV and 12 on two other occasions).
Tech has held all eight opponents well under their season scoring averages – breakdown by game: Lamar 81.0 (69), Tennessee 82.8 (66), East Carolina 72.7 (54), UTRGV 70.2 (44), Prairie View A&M 69.2 (54), Northwestern 76.0 (67), St. John's 83.0 (76), Florida A&M 63.2 (40).
Tech has held seven of its eight opponents under 40 percent from the field this season (Northwestern converted 42.6 percent). Tech is holding its opponents to 36.2 percent collectively this season, which ranks first in the ACC.
Tech has yielded just 34 three-point field goals in its first eight games (4.3 per game, 25.2 percent). FAMU made just 2-of-11. The 25.2 percent ranks first in the ACC and was No. 6 nationally. The Jackets allowed an average of 7.1 per game and a success rate of 37.9 percent last season.
Tech has outrebounded its opponent four times in the last five games after not doing so in its first three games of the season, and are on the plus side (+0.3) for the first time this season. Tech outrebounded FAMU 31-26, and no Yellow Jacket secured more than four rebounds individually.
Defensively, Tech is forcing 16.1 turnovers and taking 8.8 steals per game, figures which rank third and second, respectively, in the ACC. The Yellow Jackets forced Florida A&M into 25 turnovers and scored 31 points from them, and is averaging 19 points per game off turnovers this season. The Jackets forced an average of 12.6 turnovers per game last season and took 6.9 steals per game.
Tech shot a season-high 54.3 percent against FAMU, the second time this season the Yellow Jackets have exceeded 50 percent. The Yellow Jackets have converted 48.9 percent from the floor at home this season, 37 percent from three-point range.
Tech has connected on just 36.6 percent of its field goals in three games away from home, and 11-of-52 (21.2 percent) of its three-point attempts. But it has converted 81.2 percent of its free throw tries and scored 56 of its 187 points there.
Tech has attempted 152 threes (17.3 per game) and made 48 (6.0 per game), compared to averages of 15.3 attempts and 4.9 made per game in 2018-19. Four different Yellow Jackets have made at least seven three-point field goals so far this season. Tech has hit 31.6 percent of its threes for the season, just below last season's 31.8-percent clip.
PERSONNEL NOTES
Brandon Alston has scored in double digits three times in Tech's last four games and five times this season after scoring a game-high 15 points against FAMU. The graduate senior connected on 1-of-3 from three-point range and is 12-of-21 (57.1 pct.) from distance this season. He has converted 50.8 percent of his field goals tries overall.
For three straight straight games since a DNP vs. Prairie View A&M, freshman forward Khalid Moore has played solidly off the bench, posting his first career double-digit game with 14 points (6-of-6 FG, 2-of-2 on 3s) with three rebounds and two steal with one turnover in nearly 18 minutes against FAMU. Moore has averaged 7.3 points over his last three games (7-of-10 FG, 6-of-6 FT) with five assists and five steals.
Sophomore Evan Cole played for the first time since the second game of the season, having missed Tech's last five games recovering from a left ankle sprain suffered on the Jackets' Nov. 13 game at Tennessee. He scored four points, all from the free throw line, against FAMU.
James Banks fell short of his third consecutive double-double (6 points, 4 rebounds vs, FAMU), but set career highs for assists (5) and blocked shots (4) in 27 minutes. The 6-9 junior is 12-for-17 from the floor with 37 rebounds (12.3 per game) in his last three games.
Banks has had at least one blocked shot in each of the seven games he has played, averaging 2.57 for the season (second in the ACC).
Moses Wright has started the last six games for Georgia Tech, averaging 6.5 points and 3.3 rebounds. Wright has two double-digit games (11 vs. UTRGV, 12 vs. St. John's) in that stretch, and is hitting 47.8 percent of his shots from the floor this season.
Freshman Michael Devoe continues to get his legs under him after missing most of pre-season practice with a big toe injury. Devoe scored eight points (3-of-6 FG, 1-of 2 on 3s) with three assists, one turnover and four steals against FAMU. Devoe is tied for the team lead in steals (15), is averaging 7.8 points for the season and has hit 17-of-21 from the free throw line.
Jose Alvarado played just 19:28 against FAMU after averaging 36 minutes over Tech's previous three games (36, 34, 38). He remains far-and-away Tech's minutes leader with 29.8 per game. Alvarado averaged 35 minutes as a freshman before being injured on Feb. 11.
REMINDERS FOR ALL TECH HOME GAMES
Clear Bag Policy – To provide a safer environment for the public and significantly expedite fan entry, the GTAA implemented a policy beginning with the 2018 football season that limits the size and type of bags that may be brought into athletics facilities. This policy continues with men's basketball games at McCamish Pavilion. Prohibited items include, but are not limited to: purses larger than a 4.5″ x 6.5″ clutch bag, coolers, briefcases, backpacks, fanny packs, grocery bags, cinch bags, non-approved chair backs and seat cushions, luggage of any kind, computer bags and camera bags or any bag larger than the permissible size.
Complimentary Bag Valet – A complimentary bag valet is available to fans who fail to comply with the clear bag policy. The bag valet location is located at the Byers Tennis Complex either inside the main lobby or located in a tent in the exterior courtyard. The location will be determined based on weather conditions.
Self-Service Scanning Kiosks – Self-service ticket scanning kiosks have been added to entrances at McCamish Pavilion to speed up entry procedures on game days.
ABOUT GEORGIA TECH MEN'S BASKETBALL
Georgia Tech's men's basketball team is in its third year under head coach Josh Pastner. Tech has been a member of the Atlantic Coast Conference since 1979, won three ACC Championships (1985, 1990, 1993), played in the NCAA Tournament 16 times and played in two Final Fours (1990, 2004). Connect with Georgia Tech Men's Basketball on social media by liking their Facebook Page, or following on Twitter (@GTMBB) and Instagram.
For more information on Tech basketball, visit Ramblinwreck.com. Tickets for men's basketball can be purchased here.