ITA Division I Preseason National Rankings
THE FLATS – Georgia Tech men's tennis redshirt freshmen Andres Martin, Marcus McDaniel, Keshav Chopra and redshirt-sophomore Pablo Schelcher represented the Yellow Jackets in the Oracle ITA Division I Preseason Rankings released on Wednesday.
McDaniel and Schelcher were slotted as the No. 31 doubles pairing in the nation, while Martin and Chopra ranked No. 41.
McDaniel paired up with senior Carlos Divar to take down No. 33 Miami's 15th ranked doubles duo of Franco Aubone/Benjamin Hannestad 6-2 on Feb. 23, 2020. Schelcher went 2-0 in ACC doubles play in 2020 picking up wins over No. 40 Clemson's Mike Agee/Jacob Jahn ,6-3, (Feb. 28) and No. 15 Florida State's Sebastian Arcila/Marcus Walters ,6-3, (March 1).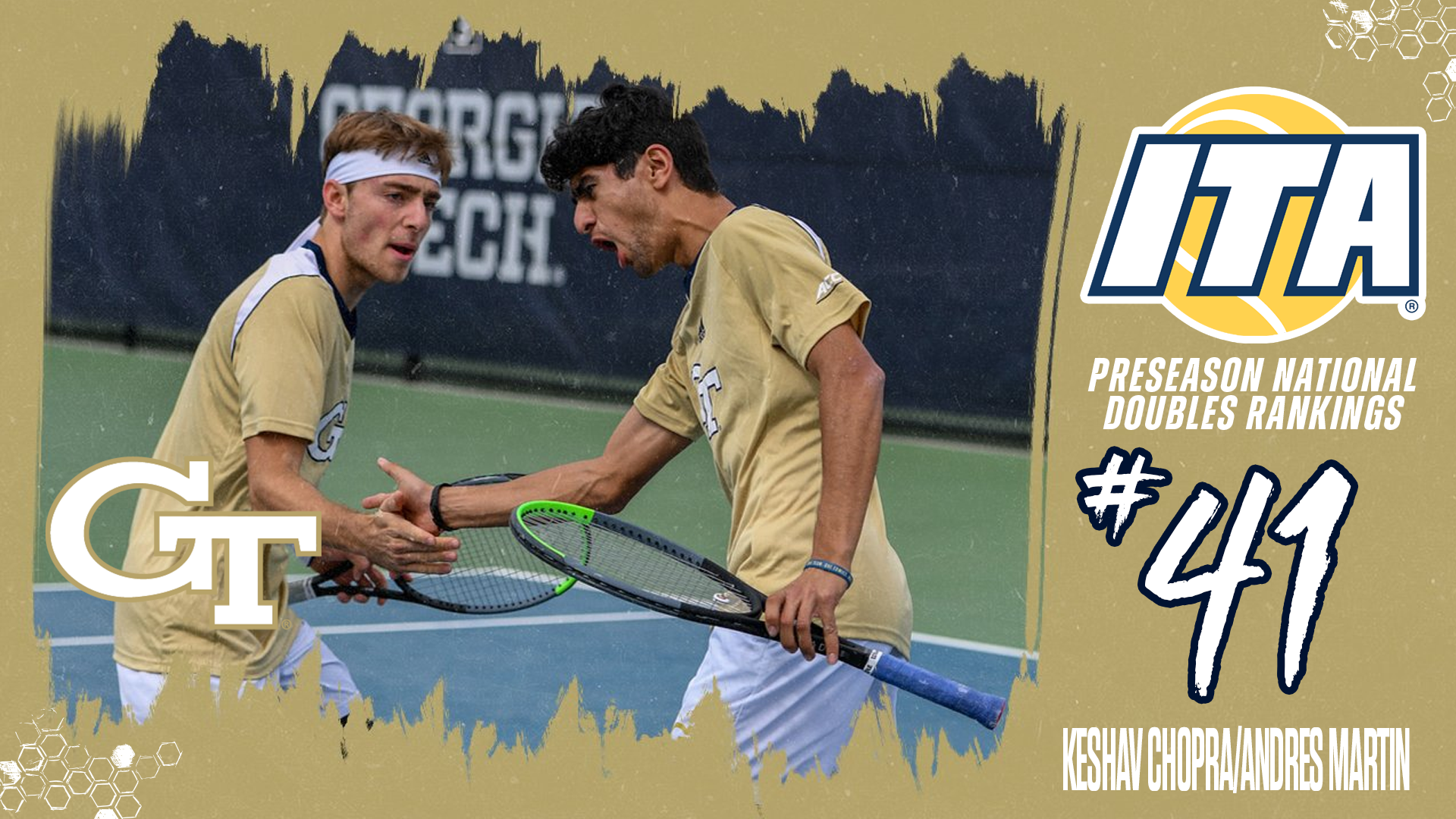 Martin appeared in the top 125 preseason national singles rankings, coming in at No. 59. Martin ranked as high as No. 60 in the 2020 Oracle/ITA Division I Men's Singles Rankings prior to the cancellation of the 2020 season. He also won five straight doubles matches from Feb. 9 – March 1. Last season he picked up a big singles victory over the No. 41 ranked player at the time, Miami's Adria Soriano Barrer, in a 7-6, (7-4), 6-3, match.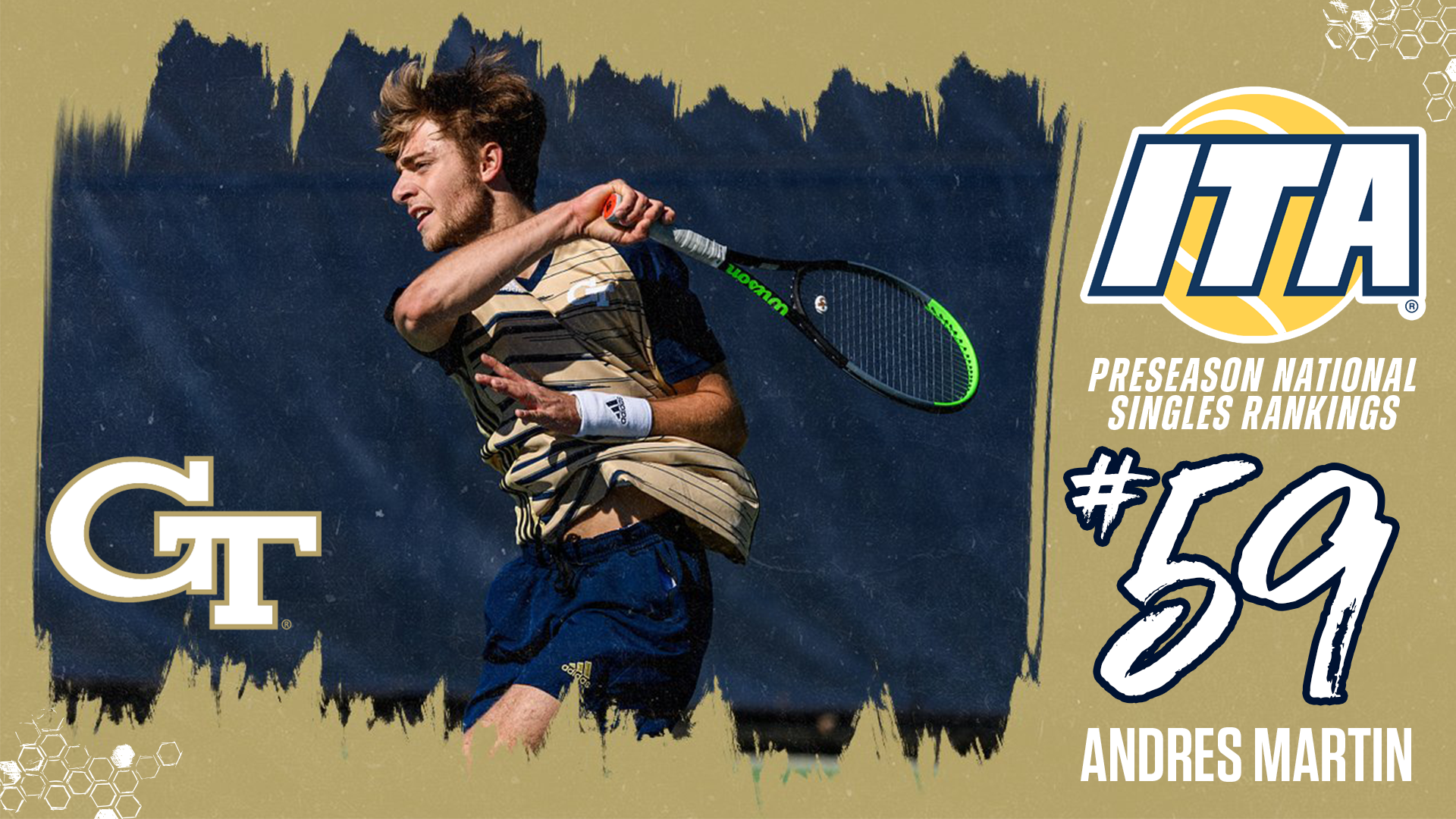 To view the complete rankings, please click here.
Preseason National Doubles
No. 31 Pablo Schelcher/Marcus McDaniel
No. 41 Keshav Chopra/Andres Martin
Preseason National Singles
No. 59 Andres Martin
Alexander-Tharpe Fund
The Alexander-Tharpe Fund is the fundraising arm of Georgia Tech athletics, providing scholarship, operations and facilities support for Georgia Tech's 400-plus student-athletes. Be a part of developing Georgia Tech's Everyday Champions and helping the Yellow Jackets compete for championships at the highest levels of college athletics by supporting the A-T Fund', which directly provides scholarships for Georgia Tech student-athletes, and the Support The Swarm Fund, created to give fans an opportunity to help Georgia Tech athletics maintain its recent momentum through the financial challenges of the Covid-19 pandemic! To learn more about supporting the Yellow Jackets, visit atfund.org.  
For the latest information on Georgia Tech Men's Tennis, follow us on Twitter (@GT_MTEN), Instagram (GT_MTEN), Facebook (Georgia Tech Men's Tennis) or visit us at www.ramblinwreck.com.