Game notes   |  Coach Pastner audio  |  Watch online  |  Live Stats and Audio
THE FLATS  –  Georgia Tech plays its fourth home game of the 2018-19 season and the second in three days on Friday afternoon when the Yellow Jackets take on Prairie View A&M at 4 p.m. at McCamish Pavilion.
Tech (3-1), in its third season under head coach Josh Pastner, has won all three of its home games in convincing fashion, by an average of 28.8 points over Lamar, East Carolina and UT Rio Grande Valley, sandwiched around a 66-53 road loss at No. 5 Tennessee.
Prairie View A&M (1-5), in its third season under head coach Byron Smith, has lost its last five games following a season-opening 81-64 victory at Santa Clara. The Panthers play their first 12 games of the season on the road before hosting Hutson-Tillotson on Jan. 2.
Friday's game will be streamed live on ACC Network Extra through the ESPN app. Radio coverage is provided on the Georgia Tech IMG Sports Network, airing in Atlanta on 680 AM and 93.7 FM the Fan. The Tech broadcast can also be heard on satellite radio (XM ch. 388, internet ch. 979).
STARTING LINEUP
104th season – Georgia Tech is playing its 104th season of basketball and has an all-time record of 1,365-1,227.
Showcase – Georgia Tech and its first four home opponents (Lamar, East Carolina, UTRGV, Prairie View A&M) are part of an NCAA-exempt multi-team event known as the Deep South Showcase, in which each team plays the other four. The Yellow Jackets and Panthers finish out the event Friday.
On the road – Tech plays away from home just three times before January. Aside from last week's game at Tennessee, the Yellow Jackets visit Northwestern for the ACC/Big Ten Challenge on Nov. 28, followed by a trip to Miami to play St. John's in the Hoophall Miami Invitational.
Tough slate – Eight opponents on Georgia Tech's schedule were ranked in the top 25 of the preseason AP and coaches polls, including No. 5 Tennessee and ACC foes Duke (4/3), Virginia (5/5), North Carolina (8/7), Virginia Tech (15/17), Syracuse (16/14), Florida State (17/15) and Clemson (22/23).
Defending well – Georgia Tech ranks third in the ACC in scoring defense and leads the conference in field goal percentage defense, three-point percentage defense and steals.
Long bench – Tech has deployed nine players for significant minutes (10 or more per game) in each of its two games so far. All 12 scholarship players saw action at Tennessee, and all but the injured Evan Cole played against East Carolina and UTRGV.
Filling up – Georgia Tech has averaged 7.5 three-point field goals in three games, 30 total threes made by six different players. That ranks ninth in the ACC. Tech averaged just 4.3 through its first four games last season and finished the year at 4.9, last in the ACC.
Creating offense with defense – Georgia Tech has forced an average of 17.3 turnovers per game, 1.3 per game more than through four games last season, and has turned those into 17.3 points per game.
Picking up the pace – Through four games, Tech is averaging 71.4 possessions per game to rank No. 145 in the nation, according to KenPom.com. The Jackets averaged 66.1 possessions last year (277th) and 68.2 in 2016-17 (179th).
587 – Career points for Brandon Alston, the most of any current Tech player. Shembari Phillips is next with 386, followed by Jose Alvarado with 334 and Abdoulaye Gueye with 227. Georgia Tech finished last season with a trio of 1,000-point career scorers on its roster for the first time since 1989.
SERIES VS. PRAIRIE VIEW A&M
Georgia Tech and Prairie View A&M are meeting for the first time on Friday afternoon. With the game, Texas Southern becomes the only SWAC team that Tech has never faced.
The Yellow Jackets have a long history of playing teams from the Southwestern Athletic Conference, dating back to the first of their five meetings against Alabama A&M in 1982.
Tech is 18-2 all-time against the SWAC, including a 64-63 home loss to Grambling State last Dec. 1 at McCamish Pavilion. The jackets also lost to Southern University in the first round of the 1993 NCAA Tournament.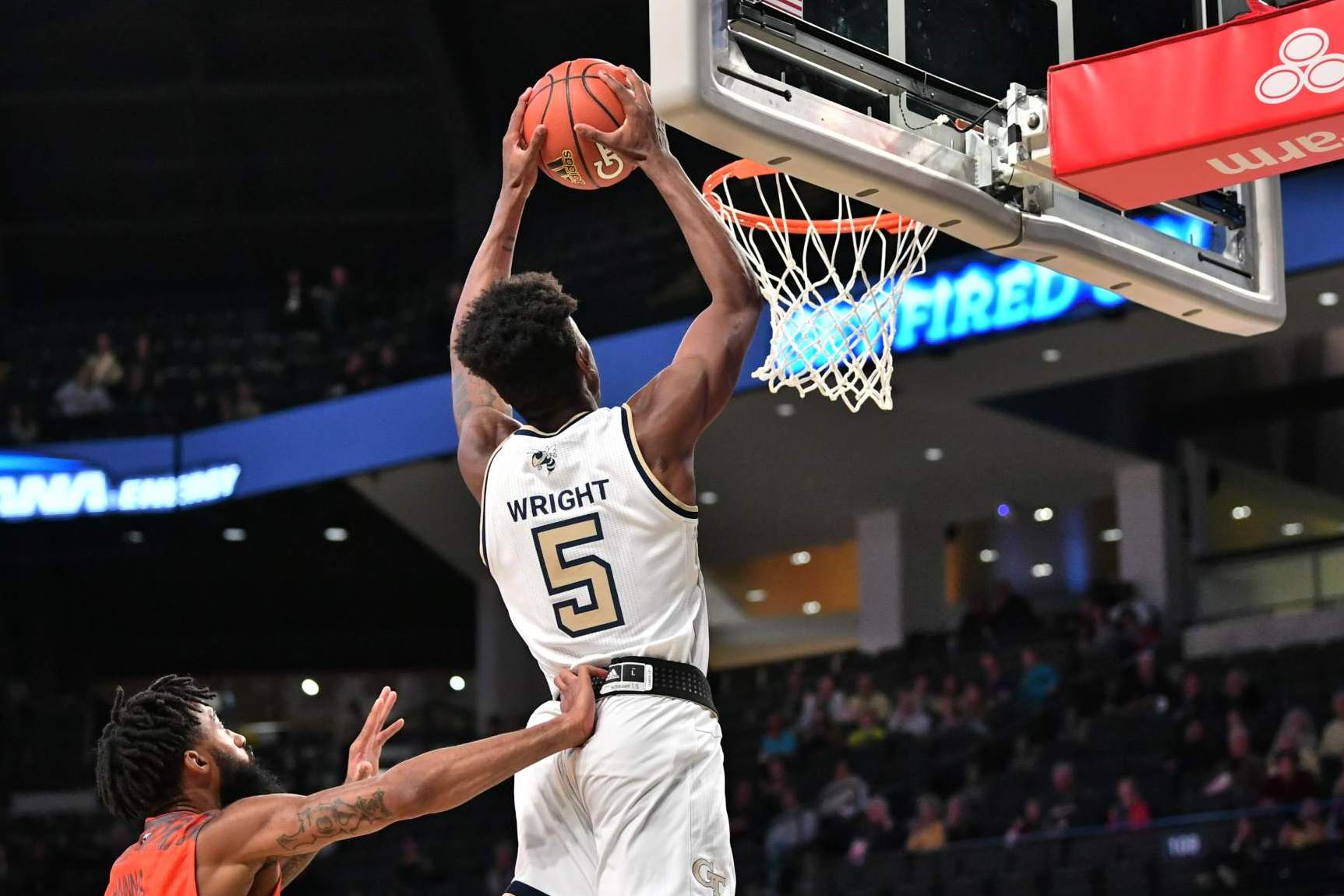 Moses Wright has started Tech's last two games and averaged 8.5 points and 5.0 rebounds.
TEAM NOTES
Georgia Tech held UTRGV to 22.6 percent from the floor, the second-lowest percentage yield ion the modern era (16.3 is the lowest, by Kentucky on Jan. 2, 1960). It was more than 13 percent below the Vaqueros' rate in their first five games.
Tech has held all four of its opponents under 40 percent this season, and to 34.1 percent collectively for the season. The Yellow Jackets are 27-8 when holding opponents to less than 40 percent under Josh Pastner.
The 11 points scored by UTRGV in the first half were the second fewest Georgia Tech has allowed in a half in the modern era (since 1950). The fewest had been eight, in the second half by the University of the South on Dec. 2, 1980. The Vaqueros made just two of 22 shots from the floor.
Tech has yielded just 15 three-point field goals in its first four games (22.4 percent). The Jackets allowed an average of 7.1 per game and a success rate of 37.9 percent last season.
Conversely, Tech has attempted 87 threes (21.8 per game) and made 30 (7.5 per game), compared to averages of 15.3 attempts and 4.9 made per game in 2018-19. Six different Yellow Jackets have made at least two three-point field goals so far this season. Tech has hit 34.5 percent of its threes for the season; only one Jackets team since 2010 has finished the season with a higher percentage (35.7 in 2015-16).
Tech has held its four opponents an average of 20.8 points under their scoring averages – breakdown by game: Lamar 75.3 (69), Tennessee 86.5 (66), East Carolina 79.0 (54), UTRGV 75.4 (44).
Defensively, Tech has forced 70 turnovers (17.5 per game) and taken 41 steals (10.3 per game). The Jackets forced an average of 12.6 turnovers per game last season and took 6.9 steals per game.
Tech's 43.1-percent shooting from the floor against UTRGV was its lowest in three home games. The Jackets shot 50.8 percent against Lamar and 49.1 against East Carolina
Tech's bench outscored that of UTRGV, 31-16. Yellow Jacket reserves have scored 141 points in four games (35.4 per game).
INDIVIDUAL NOTES
Moses Wright has started the last two games for Georgia Tech in place of Evan Cole, who was sidelined with a sprained left ankle suffered in the Tennessee game Nov. 13. He notched his first double-figure game this season (11 points) against UTRGV, and the second of his career. His career high is 19 points last season vs. Florida A&M.
Freshman guard Michael Devoe posted his second consecutive double-digit game with 14 points, went 7-for-8 at the free throw line and had his season high in assists with five against one turnover, and has three steals. He has averaged 13.5 points and hit 7-of-14 shots from the floor in Tech's last two games.
Jose Alvarado was the only other Tech player to score in double digits (12 points), and connected on three three-point field goals. He has hit 8-of-22 (36.4 percent) for the season.
Curtis Haywood II didn't score in double figures (7 points) against UTRGV but racked up seven rebounds, six assists and four steals with just one turnover in 26 minutes. He went 2-of-4 from three-point range and has hit 8-of-20 (40 percent) for the season.
Alvarado, Devoe and Haywood combined to dish 14 assists and turn the ball over just three times against UTRGV.
Having played one game fewer than his teammates, transfer James Banks is averaging a team-high 7.0 rebounds per game and has blocked a team-high seven shots.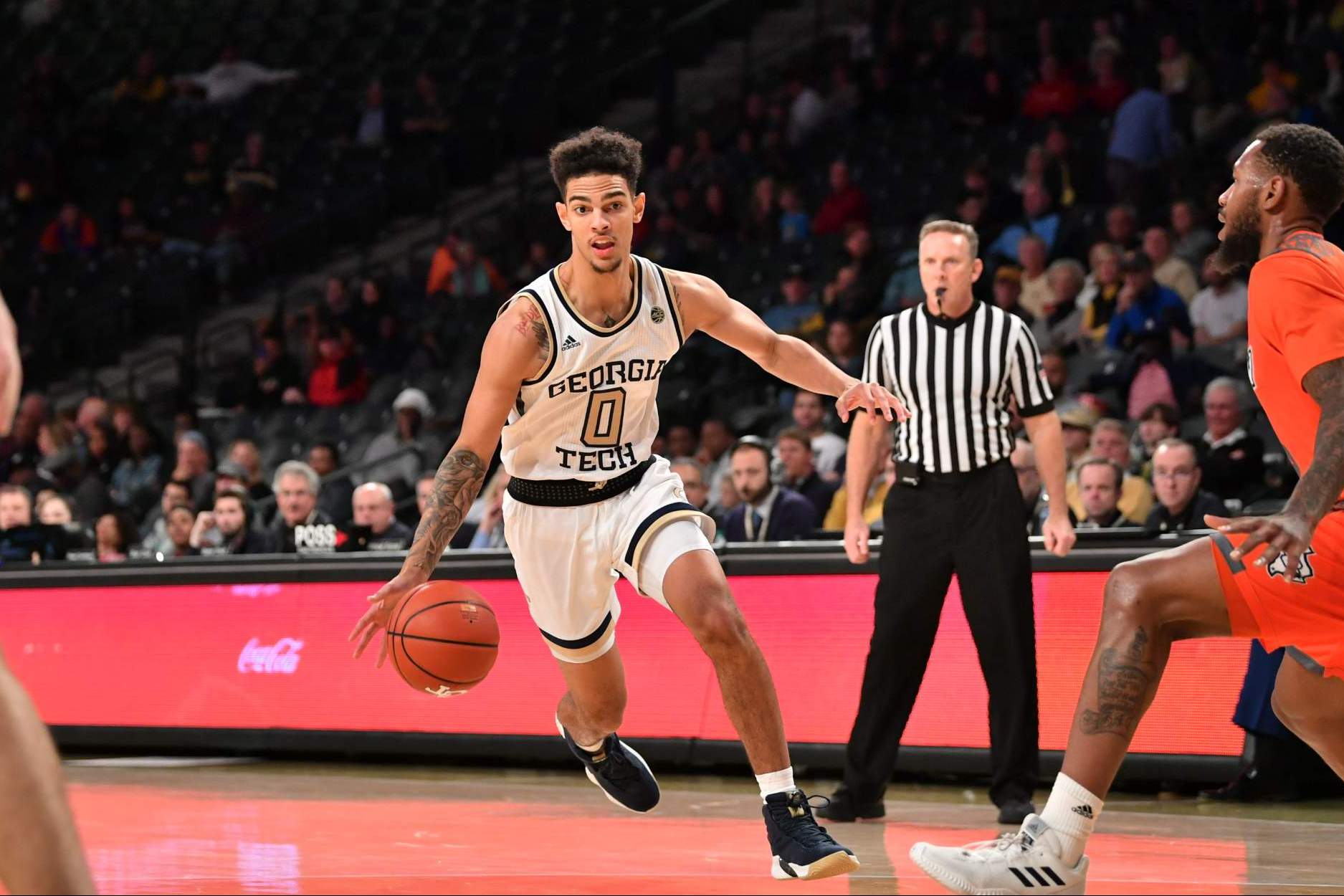 Freshman Michael Devoe has scored in double digits in each of Tech's last two games (13.5 ppg) and taken seven steals.
SEASON-TICKET HOLDER DISCOUNTS AND T-SHIRTS – Season-ticket holders can receive a 20-percent discount at select concession stands inside McCamish Pavilion, and a 25-percent discount off a single item at the Georgia Tech Bookstore location inside McCamish Pavilion, behind section 115. Season-ticket holders can simply present their season ticket prior to purchase to receive the discount. Participating concession locations will be clearly marked with appropriate signage.
SEASON-TICKET HOLDER T-SHIRTS – This season, each full season-ticket holder will receive an exclusive gold adidas performance t-shirt for each ticket purchased.  The voucher(s) for this shirt has included with each patron's season tickets. The voucher can be redeemed at the t-shirt redemption table behind section 101 in McCamish Pavilion during any non-conference home game (last non-conference game is Jan. 2 vs. USC Upstate).  Sizes from XS-XXL are available and will be distributed on a first-come, first-served basis, and pickup will conclude at the end of halftime during each game.
CLEAR BAG POLICY – To provide a safer environment for the public and significantly expedite fan entry, the GTAA implemented a policy beginning with the 2018 football season that limits the size and type of bags that may be brought into athletics facilities. This policy continues with men's basketball games at McCamish Pavilion. Prohibited items include, but are not limited to: purses larger than a 4.5″ x 6.5″ clutch bag, coolers, briefcases, backpacks, fanny packs, grocery bags, cinch bags, non-approved chair backs and seat cushions, luggage of any kind, computer bags and camera bags or any bag larger than the permissible size.
COMPLIMENTARY BAG VALET – A complimentary bag valet is available to fans who fail to comply with the clear bag policy. The bag valet location is located at the Byers Tennis Complex either inside the main lobby or located in a tent in the exterior courtyard. The location will be determined based on weather conditions.
SELF-SERVICE SCANNING KIOSKS – Self-service ticket scanning kiosks have been added to entrances at McCamish Pavilion to speed up entry procedures on game days.
ABOUT GEORGIA TECH MEN'S BASKETBALL
Georgia Tech's men's basketball team is in its third year under head coach Josh Pastner. Tech has been a member of the Atlantic Coast Conference since 1979, won three ACC Championships (1985, 1990, 1993), played in the NCAA Tournament 16 times and played in two Final Fours (1990, 2004). Connect with Georgia Tech Men's Basketball on social media by liking their Facebook Page, or following on Twitter (@GTMBB) and Instagram.
For more information on Tech basketball, visit Ramblinwreck.com. Tickets for men's basketball can be purchased here.