Complete game notes   |  Coach Pastner audio from Friday presser  |  Watch online (ESPNU)  |  Live Stats and Game Audio
THE FLATS  –  Georgia Tech finishes a stretch of three games in six days Saturday afternoon when it hosts state rival Georgia for a noon contest at McCamish Pavilion.
Tech (6-4), in its third season under head coach Josh Pastner, is 5-1 at home this season, dropping its most recent game at McCamish Pavilion, 79-69, on Monday following an eight-day break for exams. But the Yellow Jackets rebounded by winning its first road game of the year, 69-65 over Arkansas, Wednesday night. Tech had lost at No. 5 Tennessee and Northwestern, as well as a neutral court game to St. John's.
Georgia (6-4), in its first season under head coach Tom Crean, lost its only other true road game, an 81-77 decision at Temple in the Bulldogs' second game of the season. Georgia's wins have come against Savannah State, Sam Houston State, Illinois State, Kennesaw State, Texas Southern and Oakland.
Saturday's game will be televised live on ESPNU, and streamed live through the ESPN app. Radio coverage is provided on the Georgia Tech IMG Sports Network, airing in Atlanta on 680 AM and 93.7 FM the Fan. The Tech broadcast is available on satellite radio (XM ch. 382, internet ch. 973).
STARTING LINEUP
Sold out – Saturday's game against Georgia is sold out, Georgia Tech's ninth sellout over its last two-plus seasons and the 16th in the history of McCamish Pavilion, now in its seventh season.
Three games in six days – Georgia Tech is finishing a stretch of three games in six days this week after playing only once in the 15 days prior. The Jackets do not have another such stretch the rest of the season, even during ACC play.
Three vs. the SEC – Georgia is the last of three opponents from the Southeastern Conference that Georgia Tech faces during its non-conference schedule. The Yellow Jackets lost at No. 5 Tennessee, 66-53, in the second game of the season, and won, 69-65 at Arkansas Wednesday night.
Home for the holidays – Tech is in the midst of seven home games in a stretch of eight games. It began Dec. 9 with a 73-40 victory over Florida A&M and carries the Yellow Jackets through the pre-conference schedule and ends with ACC games against Wake Forest (Jan. 5) and Virginia Tech (Jan. 9). Tech's only road game in that span was at Arkansas.
Frequent visitor points for Crean – First-year Georgia head coach Tom Crean is visiting McCamish Pavilion for the third straight season. He brought his final Indiana team to Atlanta for an opening round game in the 2017 National Invitation Tournament, and served as an ESPN color analyst for Tech's home court loss to Tennessee just eight months later.
Tech-UGA connections – Georgia assistant coaches Amir Abdur-Rahim and Chad Dollar both were members of Georgia Tech's basketball staff under former Yellow Jackets head coach Brian Gregory. Dollar was Gregory's assistant coach for all five of his years at Tech, while Abdur-Rahim was Gregory's director of player development for his first season (2011-12) on The Flats.
Tough slate – Eight opponents on Georgia Tech's schedule were ranked in the top 25 of the preseason AP and coaches polls, including Tennessee and ACC foes Duke, Virginia, North Carolina, Virginia Tech, Syracuse, Florida State and Clemson. Five ACC teams are currently in the top 25 of both polls, and two others are receiving votes.
Defending well – Georgia Tech ranks third in the ACC in scoring defense (No. 15 nationally), field goal percentage defense (No. 23 nationally) and three-point percentage defense (8th nationally). The Jackets are also third in blocked shots and in second in steals.
Longer bench – Tech has deployed at least eight players for significant minutes in each of its 10 games so far, sometimes as many as 10. Tech's bench has played 33.5 percent of available minutes, 99th in the nation according to KenPom.com (national average is 30.8 pct.). Tech reserves are outscoring its opponents 25.8 to 14.5 per game).
That's a triple – Georgia Tech has averaged 5.9 three-point field goals, 59 total threes made by six different players. Tech averaged just 4.9 made threes last season, last in the ACC.
Creating offense with defense – Georgia Tech has forced an average of 15.4 turnovers per game, about two per game more than last season (ranks 6th in ACC, 71st in NCAA). Tech has turned those into 17.1 points per game (24.4 percent of total points).
Picking up the pace – Through 10 games, Tech is averaging 69.6 possessions per game to rank No. 192 in the nation, according to KenPom.com. The Jackets averaged 66.1 possessions last year (277th).
642 – Career points for Brandon Alston, the most of any current Tech player. Jose Alvarado is next with 445, followed by Shembari Phillips with 401, and Abdoulaye Gueye with 249. Georgia Tech finished last season with a trio of 1,000-point career scorers on its roster for the first time since 1989.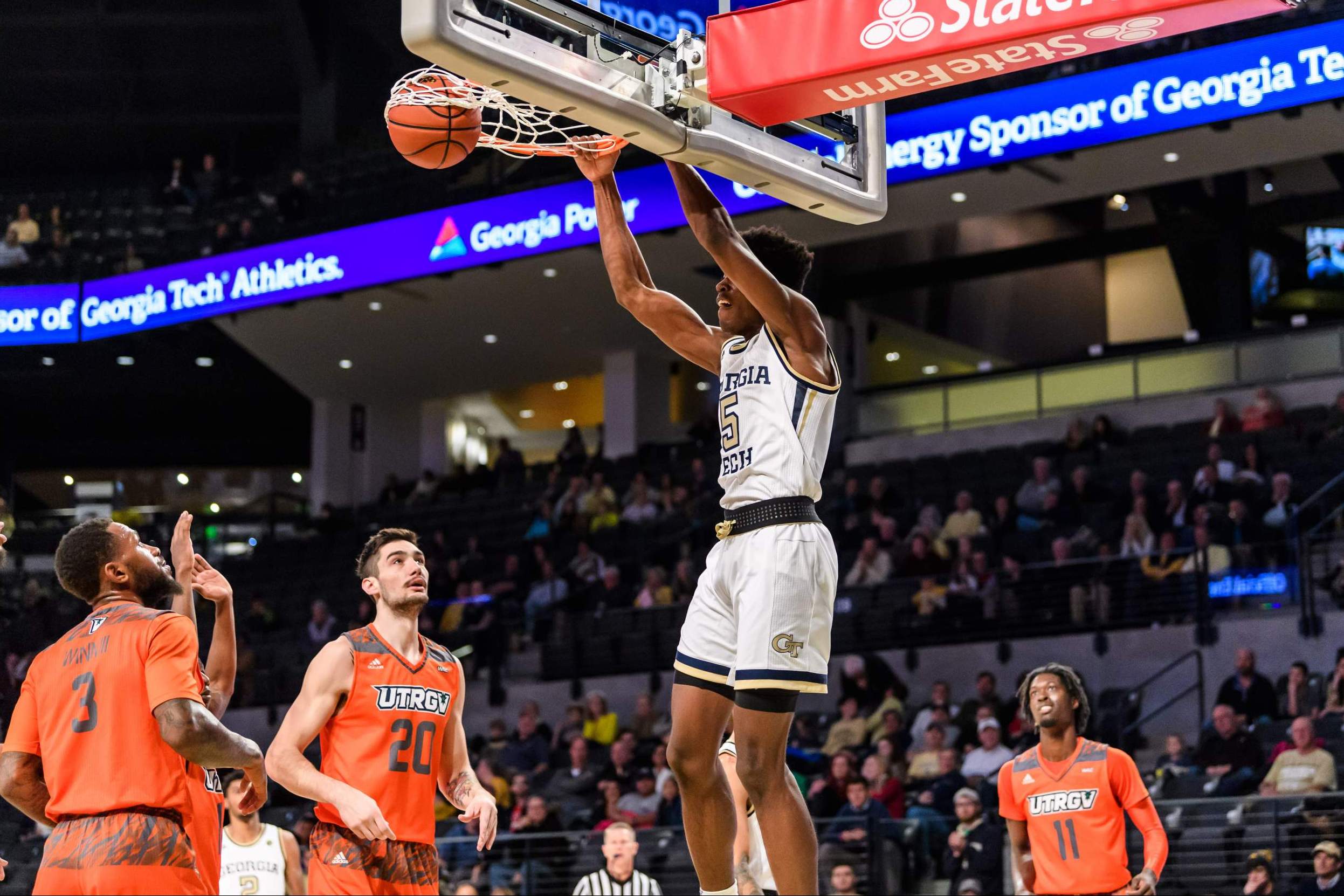 SERIES VS. GEORGIA
Georgia Tech leads the overall series 105-89 and has played the Bulldogs more than any other opponent in its basketball history.
The series has been played alternately on the respective schools' campuses since the 1995-96 season. Georgia holds a 13-10 lead over that period. In the 23 on-campus meetings since 1995, Georgia has won three times in Atlanta, and Tech has won twice in Athens.
Before that December, 1995 meeting in Athens, the teams played 14 straight years at the Omni in downtown Atlanta, which was located on the site of the current Philips Arena. Tech went 8-6 against the Bulldogs in the facility, including eight of the last 10 before the neutral series ended. The teams have played on neutral sites other than the SEC or Southern Intercollegiate Championships only one other time, that coming at the 1960 Gator Bowl Tournament in Jacksonville, Fla.
Georgia has won the last three games in the series, two of those in Athens, including an 80-59 win last December. The Bulldogs also won the last meeting in McCamish Pavilion, 60-43, in December of 2016.
Prior to that, Georgia Tech had won four consecutive games over Georgia for the first time since winning 10 in a row over the Bulldogs, the longest for either team in the series, from December of 1958 to February of 1961.
Tech won its only previous encounter with first-year Georgia coach Tom Crean, capturing a 75-63 win over his final Indiana team in the opening round of the 2017 National Invitation Tournament.
Tech is 35-33 against Georgia since leaving the SEC.
ABOUT GEORGIA TECH MEN'S BASKETBALL
Georgia Tech's men's basketball team is in its third year under head coach Josh Pastner. Tech has been a member of the Atlantic Coast Conference since 1979, won three ACC Championships (1985, 1990, 1993), played in the NCAA Tournament 16 times and played in two Final Fours (1990, 2004). Connect with Georgia Tech Men's Basketball on social media by liking their Facebook Page, or following on Twitter (@GTMBB) and Instagram.
For more information on Tech basketball, visit Ramblinwreck.com. Tickets for men's basketball can be purchased here.