Final Box Score (pdf) | Full game book/play-by-play (pdf) | Postgame Quotes | Multimedia  | Photo Gallery | Postgame Notes
Athens, Ga. – Michael Devoe had a career night with 34 points and nine rebounds, but a late Georgia Tech rally came up short as the Jackets suffered their first loss of the season, 82-78, to Georgia Wednesday night at Stegeman Coliseum.
Devoe scored 20 in the second half, including the final 12 points of the game for Georgia Tech (2-1, 1-0 ACC) as they attempted a late comeback, but Georgia (4-0) hit all of their free throws down the stretch to seal the win.
Moses Wright turned in a season-high 18 points and pulled down eight boards, and Bubba Parham added a season-high 10 points off the bench for the Jackets.
After a slow start by both teams, Devoe caught fire in the first half, scoring nine of the team's first 14 points to help Tech jump out to 20-12 lead. But the Bulldogs roared back, taking a 35-27 lead into halftime behind a 13-2 run to end the half. Rayshaun Hammonds scored 19 of his team-high 26 points for Georgia in the first half.
The Bulldogs rode that momentum into the second half and led by as many as 16 on two occasions, but the Jackets kept on battling. Moses Wright put the team on his back with 16 of his 18 points coming in the second half, but he was matched by Georgia's Anthony Edwards, who scored 16 of his 18 points in the second half as well, including a late layup that put the Bulldogs back up by double-digits with under two minutes left.
Tech returns to action Monday, Nov. 25 when it hosts Arkansas for its second straight game against a member of the Southeastern Conference. Tipoff is at 7 p.m. at McCamish Pavilion, and the game will be televised live on the ACC Network.
Michael Devoe hit 12 of 21 shots from the floor, including 5 of 7 from three-point range, en route to his career high of 34 points. (photo by Danny Karnik)
Post-Game Notes
TEAM NOTES
Georgia Tech struggled from the foul line, shooting just 52 percent (12-for-23) and missing the front end of three one-and-one opportunities
The Jackets were out-rebounded by the Bulldogs in the game 42-40
Tech shot 46.8 percent from the field overall, 55.9 percent in a 51-point second half, while holding Georgia to 42 percent
Georgia Tech still leads the all-time series 105-91, but has dropped the last five in the series.
PASTNER'S KEY METRICS
Assists to made field goals: The Jackets assisted on just seven of its 29 made field goals (24 percent) after assisting on 68 percent of their made field goals through the team's first two games of the season.
 Free throws made to opponents' attempts: Georgia Tech made just 12-of-23 free throw attempts while Georgia hit 22-of-31.
 Turnovers: Georgia Tech committed 15 turnovers in the game after averaging 17.5 through its first two games of the season. The Jackets forced 13 Georgia turnovers.
 Guard rebounding: Tech's players outside of Banks, Cole and Wright accounted for 22 of the team's 40 rebounds
INDIVIDUAL NOTES
Michael Devoe set career-highs in points (34) and rebounds (9). The sophomore, who entered tonight's game fourth in the ACC in scoring, is averaging 26 points per game this season.
Devoe, who came into the game leading the ACC in three-point percentage, also went 5-of-7 from long range against Georgia and is 11-for-15 for the season.
Moses Wright scored 16 of his season-high 18 points in the second half on 8-of-15 shooting. He also pulled down eight rebounds. He has scored in double figures in six of his last eight games dating back to last season.
James Banks, the nation's leading shotblocker, tied his season high with six blocked shots against Georgia and is averaging just under six per game.
Bubba Parham came off the bench to score a season-high 10 points, his first double-digit game as a Yellow Jacket, adding four rebounds and two assists.
Jose Alvarado scored two points in 16 minutes in his return to the lineup after missing one game with an ankle injury.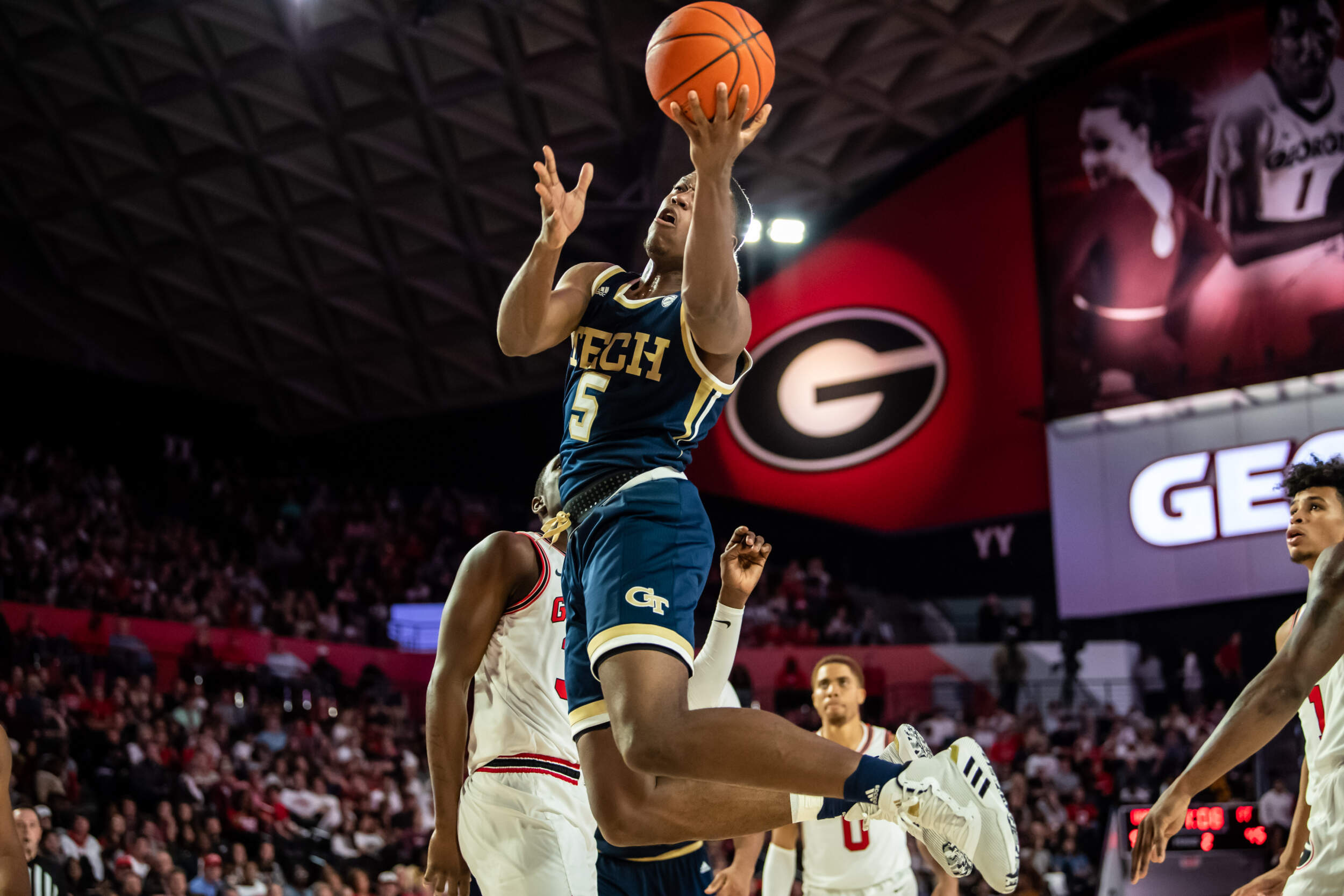 Moses Wright scored 16 of his 18 points in the second half as Tech tried to rally. (photo by Danny Karnik)
Multimedia