Complete game notes | Watch online | Listen
THE FLATS – Finishing off a stretch of five consecutive games away from home, Georgia Tech continues Atlantic Coast Conference play Saturday at North Carolina. Tip time is 6 p.m. at the Dean Smith Center in Chapel Hill, N.C.
Georgia Tech update (6-7, 1-2 ACC) – In its fourth season under head coach Josh Pastner, Tech is 2-2 in its last four games, including two wins in three games to capture third place at the Diamond Head Classic which concluded on Christmas Day. The Yellow Jackets resumed ACC play Tuesday with a 70-58 loss at No. 18 Florida State. Tech is 3-4 away from home this season, including an 83-81 overtime victory at NC State to open the season.
North Carolina update (8-5, 1-1 ACC) – In its 17th season under head coach Roy Williams, North Carolina has won two straight games, including a 74-64 win against UCLA in Las Vegas on Dec. 21, and a 70-67 homecourt win over Yale Monday. That came on the heels of a four-game losing streak, three of those against top 10 teams, including a 56-47 loss at Virginia Dec. 7. The Tar Heels defeated Notre Dame at home to open the season and are 4-2 at home.
Broadcast information – Live coverage on the ACC Network, online streaming available through the ESPN app. Radio coverage by Learfield IMG College (680 AM and 93.7 FM the Fan in Atlanta, TuneIn app). Tech broadcast available on satellite radio (XM ch. 380, internet ch. 970).
Head coach Josh Pastner previews the Tech-North Carolina game
THE TIPOFF
Chapel thrill – A win Saturday for Georgia Tech would be its first in Chapel Hill since Jan. 10, 2010 (73-71), which started a four-game winning streak for the Yellow Jackets in the series.
Opportunity knocks (but you must open the door) – Tech is 5-8 against unranked North Carolina teams since joining the ACC.
Full deck – Georgia Tech had its full roster available for the first time this season for the opening game of the Diamond Head Classic on Dec. 22. Junior forward Jordan Usher became eligible for the Yellow Jackets' Dec. 18 game against Ball State, and junior point guard Jose Alvarado played for the first time since Nov. 20 in the Jackets' 74-60 win over Boise State in Hawai'i.
Long time away – Georgia Tech has played only one home game since its Dec. 7 loss to Syracuse, that on Dec. 18 against Ball State, and does not play at home again until it faces Duke on Jan. 8.
Missing piece – Jose Alvarado returned to the court for the first time since Nov. 20 when he played 30 minutes against Boise State on Dec. 22, scoring 14 points and keying a strong second-half defensive effort by the Jackets. The junior point guard averaged 9.7 points and 3.0 assists, and took a team-high seven steals in the three games.
Ushering in – Jordan Usher made his debut for the Yellow Jackets Dec. 18 against Ball State after sitting out the required two semesters after he transferred from Southern California last January. The 6-7 junior guard/forward from Canton, Ga., has averaged 10.2 points and 3.8 rebounds, hitting 37.5 percent of his shots from the floor and 14-of-15 from the free throw line.
Junior forward Moses Wright made the all-tournament team at the Diamond Head Classic, averaging 17.7 points and 7.3 rebounds while hitting 63.6 percent of his shots from the floor. The 6-9 junior ranks No. 2 in the ACC in field goal percentage (56.1) and No. 8 in rebound average (8.0).
Sophomore guard Michael Devoe ranks fifth in the ACC in scoring (17.9 ppg), and eighth in field goal percentage (.461). He also is No. 2 in minutes played (36.3).
No ducking – Georgia Tech's schedule is the third-strongest among power conference teams according to KenPom.com, behind Kansas and North Carolina. Tech's schedule included six power conference teams in its first 10 games, including road games at NC State, Georgia and Kentucky, and home games against Arkansas, Nebraska and Syracuse. The Jackets' non-conference schedule rates sixth-toughest among power conference teams.
Beefing up – With a more veteran team in 2019-20, Georgia Tech made an effort to strengthen its non-conference schedule, beginning a two-game series with Kentucky and finishing another two-game set with Arkansas, while accepting an invitation to play in the Diamond Head Classic, in which the Jackets faced a 2019 NCAA Tournament teams in Houston. Tech also played its annual meeting against Georgia and the Big Ten/ACC matchup against Nebraska.
SERIES VS. NORTH CAROLINA
North Carolina has a 69-24 lead in the all-time series between the two teams, and a 55-22 advantage since Tech joined the ACC.
The Tar Heels have won nine of the last 10 games in the series, including a 77-54 win in Atlanta in the teams' only meeting of the 2018-19 season.
Tech's only win in that stretch occurred on New Year's Eve of 2016, opening its ACC schedule with a 75-63 homecourt upset of the Tar Heels, who went on to win the national championship. It was the Jackets' first win in the series since a 78-58 win in Atlanta on Jan. 16, 2011. (Win vacated by the NCAA Committee on Infractions.)
Before that, Tech had won four games in a row for its longest winning streak in the series. Tech is 11-13 against North Carolina dating back to the 2001-02 season.
Tech is 8-6 in games played away from Chapel Hill since 2000-01, including three ACC Tournament wins. The Jackets are 9-15 against the Tar Heels under Roy Williams, 9-16 against Williams all-time.
Tech has lost 12 of the last 13 meetings in the Smith Center and is 4-25 all-time in the building. Counting regular-season games in Greensboro, Tech is 5-32 on the road against UNC.
Tech's greatest success in its series with North Carolina occurred during the middle 1990s when the Jackets won five of seven meetings, including three straight wins over No. 1-ranked Tar Heel teams during the 1993 and 1994 campaigns.
Junior guard Jose Alvarado talks about returning to the court after an ankle injury and ramping up ACC play
WHAT'S TRENDING
Second half surge – In the Diamond Head Classic, Tech held its three opponents to 28.3 percent from the floor, 3-for-22 from three-point range, and forced an average of 10 turnovers after intermission. For the season, the Yellow Jackets have outscored opponents by nearly four points per game in the second half and outshot them from the floor 46.2 percent to 36.4 percent on nearly the same number of attempts, and forced 7.5 turnovers per game.
Georgia Tech ranks No. 29 in defensive efficiency according to KenPom.com (89.8 points per 100 possessions), No. 24 nationally in effective defensive field goal percentage (44.1) and 35th in two-point field goal defense (43.5).
Tech has held five opponents to their lowest defensive efficiency of the season, including two of its foes in Hawai'i – Elon, Arkansas, Nebraska, Boise State and Hawai'i.
Georgia Tech's adjusted tempo is 71.4 possessions per game according to KenPom.com (105th in the nation), well ahead of the 66.1 possessions per game last season and 66.8 in 2016-17. Game-by-game, Tech has played less than 70 possessions just five times and has exceeded 100 points/100 possessions three times.
Two fouls in the first half? No problem. Georgia Tech ranks No. 2 in the nation, according to KenPom.com, in 2-foul participation, a measure of percentage of available minutes played by players with two fouls (69.2 pct. for Tech). The Jackets led the nation in this category in 2018-19, was fourth in 2017-18 and 35th in 2016-17.
Tech is 3-4 away from home this season, 3-3 at home.
Tech has trailed at halftime in 11 of 13 games this season, but has come back to win four of those 11 games. The Jackets are 14-47 under Josh Pastner when trailing at the half.
Tech hit 6-of-8 shots from the free throw line against Florida State and has connected on 55-of-73 (75.3 pct.) in its last four games. Tech had not hit the 70-percent mark since making 72.7 percent in the season opener at NC State but has done so in four consecutive games.
Tech committed 20 turnovers against Florida State after recording just 23 in its last two games of the Diamond Head Classic. The Jackets have committed 20 or more four times this season and are averaging 17.4 per game.
Tech went 8-for-22 (36.4 percent) from three-point range against the Seminoles, its most threes since hitting eight (in 23 attempts) against Syracuse on Dec. 7. The Jackets had connected on just 36-of-148 three-point field goals in its last seven games (24.3 percent), including 10-of-48 in the Diamond Head Classic). The Jackets are hitting 27.8 percent for the season.
PERSONNEL TRENDS
Moses Wright has four double-doubles this season after notching 13 points and 10 rebounds against Florida State. He has averaged 16.5 points and 8.0 rebounds in his last four games, connecting on 27-of-46 of his shots from the floor (58.6 percent).
After missing seven of Tech's eight games before the Diamond Head Classic because of an ankle injury, Jose Alvarado has played an average of nearly 35 minutes in the four games since his return, scoring 33 points (10-34 FG, 3-16 3pt, 10-10 FT) with 12 assists and eight turnovers.
Jordan Usher has reached double figures in three of his five games since becoming eligible, getting 18 against Boise State, 10 against Hawai'i and 11 at Florida State. The 6-7 junior has hit 14-of-41 shots from the floor and 12-of-13 from the foul line, and recorded seven assists.
Michael Devoe, the ACC's fifth-leading scorer, has hit double figures in each of Tech's last five games after scoring just 12 total in the two games prior. He scored 19 against Florida State with a career-best six three-point field goals in eight attempts.
Devoe has averaged 16.8 points per game since Tech left for Hawai'i and connected on 23-of-48 shots from the floor (47.9 percent). After opening the Diamond Head Classic 0-for-6 from three-point range, he has hit 10-of-16 in his last three games.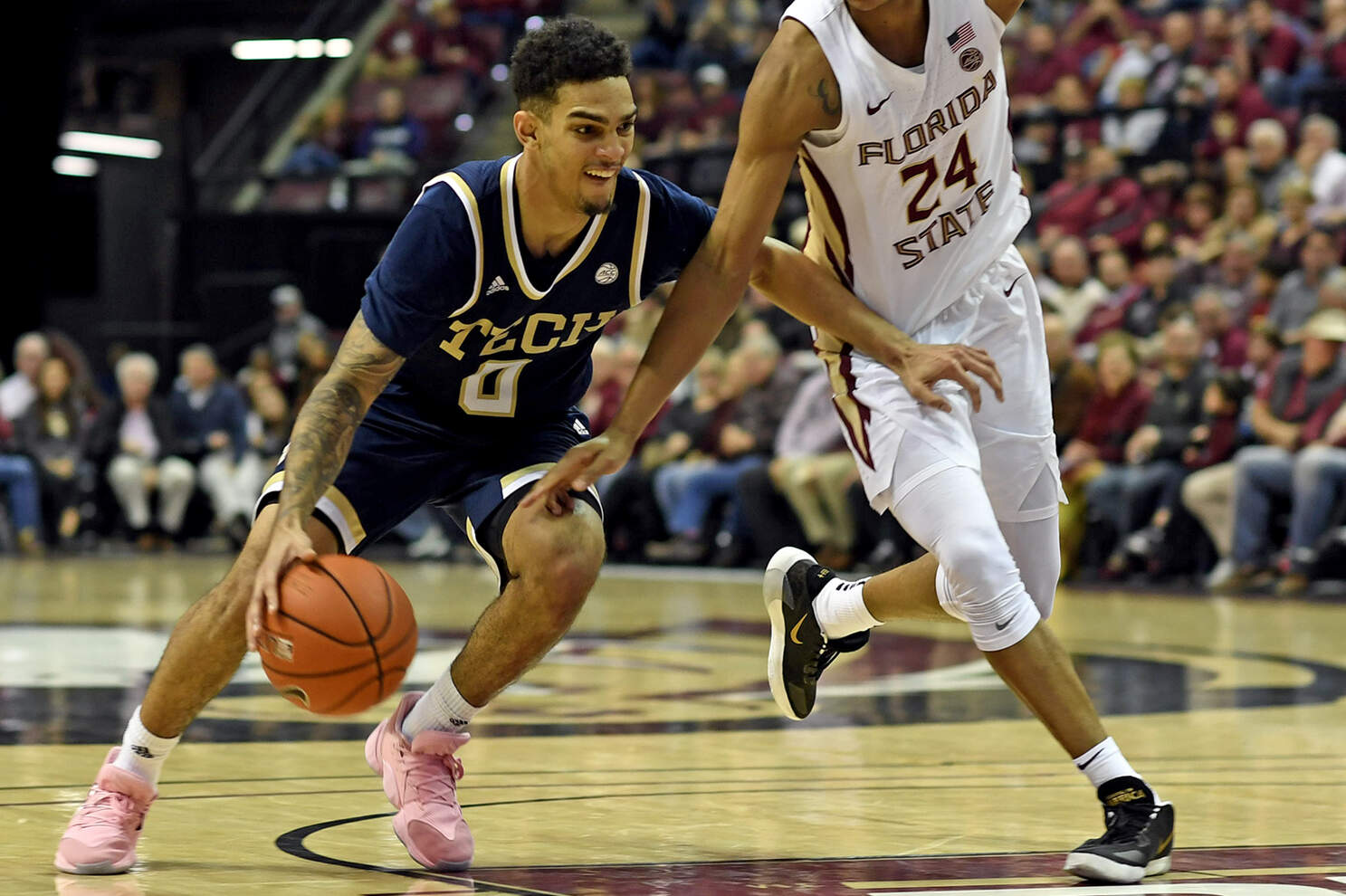 Michael Devoe ranks third in the ACC in scoring average and has connected on 58.8 percent of his three-point attempts in ACC games. (photo by Bob Myers)
About the ACC Network: The ACC Network (ACCN) is a new national network dedicated to 24/7 coverage of Atlantic Coast Conference sports. ACCN is currently available through seven national providers: AT&T U-Verse (Ch. 610), DirecTV (Ch. 612), Dish Network (Ch. 402), Sling, Hulu, PlayStation Vue and YouTube TV. ACCN is also available via 60-plus local cable/digital providers. To learn what providers carry ACCN in your area, visit getaccn.com.
*NOTE: To watch ACC Network programming online via the ESPN app or WatchESPN.com, the viewer must subscribe to a cable/satellite/digital provider that carries the ACC Network.
 ABOUT GEORGIA TECH MEN'S BASKETBALL
Georgia Tech's men's basketball team is in its fourth year under head coach Josh Pastner. Tech has been a member of the Atlantic Coast Conference since 1979, won three ACC Championships (1985, 1990, 1993), played in the NCAA Tournament 16 times and played in two Final Fours (1990, 2004). Connect with Georgia Tech Men's Basketball on social media by liking their Facebook Page, or following on Twitter (@GTMBB) and Instagram. For more information on Tech basketball, visit Ramblinwreck.com.
Season tickets for men's basketball can be purchased here.