Box Score (.pdf) | Full gamebook (.pdf) | Multimedia | Photo Gallery | Postgame Notes
THE FLATS – Moses Wright recorded his third-straight double-double with 31 points and 16 rebounds to lead Georgia Tech to its fourth-consecutive Atlantic Coast Conference win, a 84-77 triumph over visiting Syracuse on Saturday afternoon at McCamish Pavilion.
With the victory, Georgia Tech (13-8, 9-6 ACC) clinched a winning record in ACC play for the second year in a row, marking the first time since 1988-89 and 1989-90 that the Yellow Jackets will post winning records in ACC play in consecutive seasons.
Like in last Saturday's 87-60 win at Miami (Fla.), when Georgia Tech grabbed an early 12-0 lead, the Jackets ran out to an 8-0 advantage just 1:01 into the game. However, unlike the rout at Miami, when Tech led 48-18 at halftime, Syracuse fought back from a 13-point first-half deficit (29-16) to take a 39-34 lead.
The lead switched hands twice in the opening minutes of the second half but a dunk by Wright gave Tech a 50-49 advantage with 14:23 to go and the Yellow Jackets never trailed the rest of the way. An 8-0 run midway through the half stretched the Jackets' advantage to 10 points (63-53) and opened a span in which Tech made nine-straight field goals to lead by as many as 14 down the stretch. Six of the Jackets' nine-straight made shots came on slam dunks – four by Wright and two by Jordan Usher.
The come-from-behind win marked the third time this season that Georgia Tech has overcome a halftime deficit to win (the Jackets also came from behind at halftime to defeat North Carolina on Dec. 30 and Notre Dame on Feb. 6).
Wright's 31-point performance was the third 30-point game of his career and second against Syracuse (he scored a career-high 33 points against the Orange on Feb. 22 of last season at the Carrier Dome). He also became only the second Yellow Jacket to ever score at least 30 points and pull down at least 15 rebounds in an ACC game, joining Matt Harpring, who scored 30 points and grabbed 16 rebounds in a two-overtime loss at North Carolina on Feb. 8, 1998.
Usher scored 19 points on 7-of-11 shooting from the field and 5-of-6 from the foul line and Michael Devoe added 18 points to round out three Yellow Jackets in double-figures. Four different Jackets – Usher, Devoe, Jose Alvarado and Khalid Moore – had five or more assists each. As a team, Tech assisted on 26 of its 33 made field goals.
Alan Griffin scored 26 points to lead Syracuse (13-8, 7-7 ACC).
Georgia Tech puts its four-game winning streak on the line on Tuesday when it hosts a pivotal showdown versus Duke. Tipoff is set for 8 p.m. at McCamish Pavilion and the game will be televised nationally on ACC Network.
Moses Wright's 31-point, 16-rebound double-double was the first 30-point, 15-rebound performance in an ACC game for a Tech player since Matt Harpring had a 30-point, 16-rebound game against North Carolina on Feb. 8, 1998. (Danny Karnik photo)
Post-Game Notes
TEAM NOTES
Georgia Tech improved to 9-6 in conference play and guaranteed itself winning ACC records in back-to-back seasons since 1989 and 1990 (both 8-6).
The Yellow Jackets are three games over .500 in the ACC for the first time since March 3, 1996.
Tech improved to 7-1 at home in ACC games this season and has won 13 of its last 14 conference games at home.
Tech won its fourth consecutive ACC game, tying a program high under head coach Josh Pastner. The Yellow Jackets have not won five straight ACC games since they won the last five regular season games of the 2001-02 season.
Tech won its third ACC home game this season when trailing at intermission.
Tech now has a winning streak or has won the last meeting against 10 of its 14 ACC foes. A win over Duke Tuesday would make it 11 of 14.
Tech has shot 50 percent or better from the floor in three straight games (50 percent vs. Syracuse, 52 percent at Virginia Tech, 57.1 percent at Miami), connecting on 53.1 percent of its field goals over that stretch.
Tech has shot 50 percent or better in eight ACC games this season (also 52 and 57.4 in two games against Clemson, 58.3 against Notre Dame, 50 against Wake Forest, 52.9 against North Carolina), and has connected on 48 percent of its shots in ACC games this season.
In the second half during its four-game winning streak, the Yellow Jackets have shot 57.4 percent from the floor (62-of-108). Tech has shot 50 percent or better the second half of 11 of its 14 ACC games this season.
Tech has won the turnover battle in 18 of its last 19 games (13 to Syracuse's 14), and the Yellow Jackets have a plus-4.5 turnover margin in conference play, plus-4.4 in all games. Both rank No. 1 in the ACC. Tech also leads the ACC in turnovers forced in conference games (15.3) and is second in all games (15.4).
Tech scored over a point per possession (KenPom.com offensive efficiency) for the fifth straight game and for the 17th time this season. The Yellow Jackets rank 18th in the nation on offensive efficiency (114.5).
Tech recorded 26 assists, its most in an ACC game since dishing 26 against Maryland on Jan. 4, 1994, tied for fifth most in the Tech record book. Four Jackets had five or more assists.
One of the bottom teams in the ACC in rebound margin, Georgia Tech has outrebounded its last three foes – Miami (35-26), Virginia Tech (31-23), Syracuse (41-36).
In the battle of the top two ACC teams in terms of steals per game (Syracuse 1, Tech 2), the Yellow Jackets were credited with nine against Syracuse, which had six. Tech is averaging 9.1 in conference games, 9.0 in all games, both rank No. 2 behind Syracuse.
Moses Wright played the full 40 minutes for the third time this season. Alvarado has done so four times, Michael Devoe and Bubba Parham once each.
INDIVIDUAL HIGHLIGHTS
Moses Wright posted a double-double for the third straight game (31 points, 16 rebounds) and for the sixth time this season. Five of his double-doubles have come in ACC games, all of them in Tech's last 10 games (Duke, Louisville, Miami, Virginia Tech, Syracuse). It was the first 30-point, 15-rebound ACC game for a Tech player since Matt Harpring had 30 and 16 against North Carolina on Feb. 8, 1998.
Wright posted the third 30-point game of his career (taking 10 rebounds in each). Two of those have come against Syracuse. In his last three games against Syracuse, the 6-9 junior has had 17 points/9 rebounds, 33 points/10 rebounds and 31 points/16 rebounds, hitting 36-of-59 shots from the floor.
Over Tech's last five games, Wright has averaged 22.0 points and 9.4 rebounds. He has hit 45-of-65 FG (69.2 pct.), 18-of-27 FT and 2-of 3 3pt FG, adding in 11 assists, 9 blocks, and 5 steals.
Wright's 31 points represented his ninth game of 20-or-more points this season and he has assumed the team scoring lead at 17.5 points per game overall and 16.1 ppg in ACC games. He has hit 53.5 percent of his shots from the floor overall, 51.5 percent in conference games.
Jordan Usher scored 19 points against Syracuse, three more than he scored in his last three games combined. The 6-7 senior hit 7-of-11 shots from the floor, 5-of-6 from the foul line, and had seven rebounds, seven assists and three steals.
Alvarado was credited with one steal against Syracuse, giving him 211 for his career, fourth place on Tech's all-time list. He is bidding to become the first Tech player to lead the ACC in steals twice and the first ACC player to do so since Chris Paul in 2004 and 2005. Alvarado's conference leading rate is 2.81 in all games, 3.07 in ACC games. His overall rate is the most by an ACC player since Johnny Rhodes of Maryland set the ACC record in 1996 (3.7), and his rate in ACC games is the most since Clemson's Vernon Hamilton set the conference record of 4.1 in 2006.
Michael Devoe scored 18 points with six rebounds and five assists against Syracuse, the seventh time this season he has had a game of five or more assists, and his seventh game of five or more rebounds.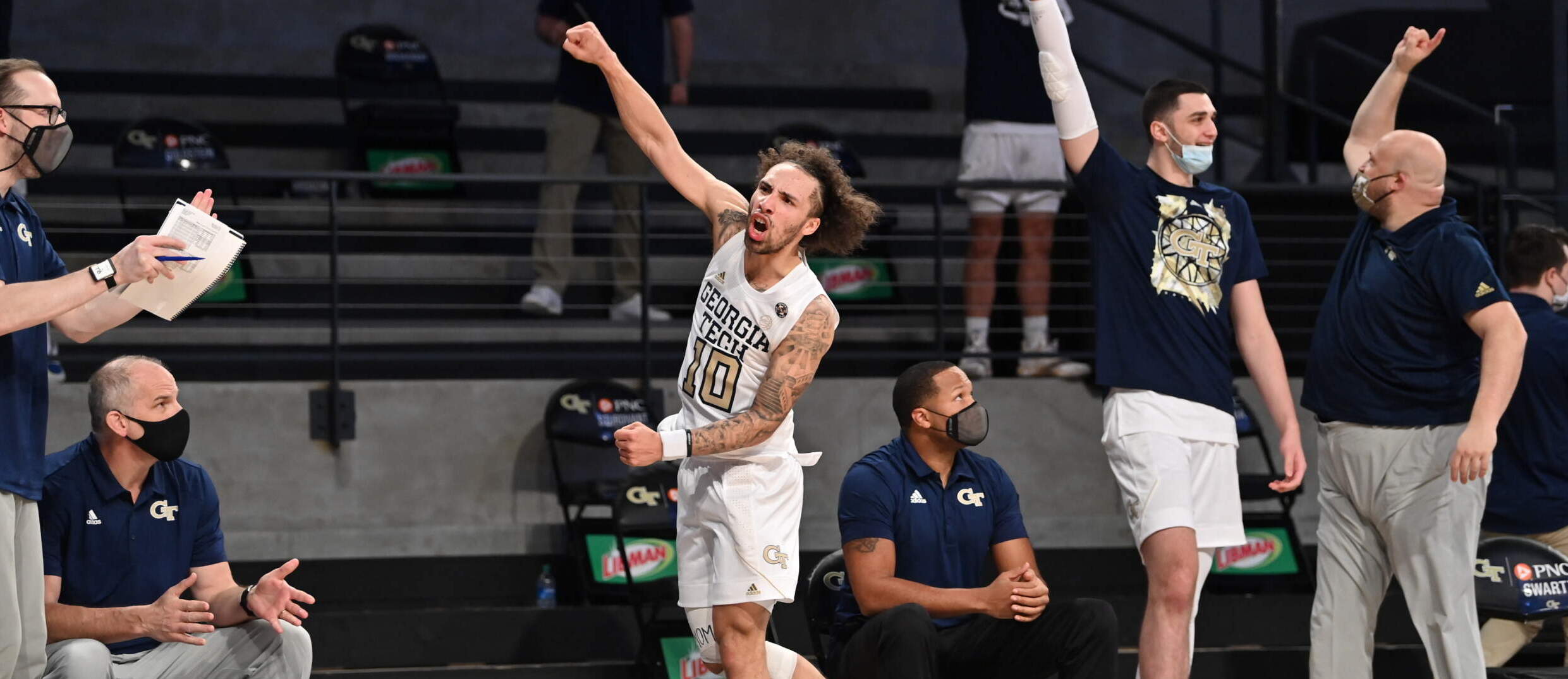 Jose Alvarado (10) and the Yellow Jackets' bench celebrate in the waning moments of Georgia Tech's 84-77 win over Syracuse. (Danny Karnik photo)
Game Highlights
Post-Game Press Conferences
Head coach Josh Pastner
Junior guard Michael Devoe
Senior forward Moses Wright