Box Score (.pdf) | Full gamebook (.pdf) | Multimedia | Photo Gallery | Postgame Notes
Press Conference Transcripts:  Head coach Josh Pastner | Jose Alvarado | Jordan Usher
GREENSBORO, N.C. – Georgia Tech men's basketball overcame a seven-point deficit in the second half to notch its first Atlantic Coast Conference Tournament win in five years, a 70-66 quarterfinal victory over Miami (Fla.) on Thursday afternoon at Greensboro Coliseum.
With its seventh-straight victory, No. 4 seed Georgia Tech (16-8) advances to face top-seeded Virginia (18-6) in Friday's ACC Tournament semifinals. Tipoff is set for 6:30 p.m.
Georgia Tech's triumph over 13th-seeded Miami did not come easy, as the Hurricanes shot a 52.5% from the field while limiting the Yellow Jackets to 39.3% shooting in the first half to take a 33-29 halftime lead. The Jackets' misfortune in the first half was punctuated by a scary knee-on-knee collision between Miami's Isaiah Wong and Tech's Jose Alvarado that required Alvarado to be carried to the locker room for observation late in the opening period.
Miami (10-17) extended its lead to seven points at 41-34 less than two minutes into the second half but Tech responded with an 11-3 run, kick-started by a 3-pointer by Moses Wright and capped by a driving layup by Jordan Usher that have the Jackets their first lead of the second half at 45-44.
The Hurricanes regained a four-point advantage but Tech took the lead for good with a 14-2 run midway through the second half that turned the four-point deficit into a 61-53 lead with 7:19 to go in the ballgame. Alvarado – who shook off the knee bruise to return to the game at the start the second half – scored five points during the run, including a 3-pointer that extended Tech's lead to four points and a layup that capped the spurt and gave the Jackets an eight-point advantage.
Alvarado also made perhaps the game's biggest play in the waning moments. With Georgia Tech clinging to a 68-66 lead following a 3-pointer by Miami's Kameron McGusty with 32 seconds to go, an inbounds pass by Usher appeared to be on its way out of bounds, which would give possession back to the Hurricanes. However, Alvarado chased down the loose ball, collected it just before it went out of bounds, played give-and-go with Bubba Parham, then fired a pass ahead to a wide open Usher, who slammed it home to seal the victory.
Usher led four Yellow Jackets in double-figures with 15 points, while Alvarado and Michael Devoe chipped in with 13 apiece. Devoe made 3-of-4 3-pointers and also dished out a game-high seven assists. ACC Player of the Year Moses Wright was limited to just seven points by a Miami defense determined to stop him, but pulled down a team-high six rebounds.
McGusty led all players with 25 points and seven rebounds for Miami.
Georgia Tech's win was its first ACC Tournament triumph since an 88-85 overtime victory against Clemson in the opening round in 2016. Tech has advanced to the tournament semifinals for the first time since it played in the ACC title game in 2010.
Jordan Usher slams home two of his team-high 15 points in Thursday's ACC quarterfinal win over Miami. (photo courtesy of the Atlantic Coast Conference)
Post-Game Notes
TEAM NOTES
Georgia Tech snapped a four-game losing streak in ACC Tournament games, winning for the first time since the opening round of the 2016 tournament in Washington, D.C. (Clemson, 88-85 in OT).
Georgia Tech has never won an ACC Tournament played in Greensboro, but it has reached the finals on three occasions, falling to Duke in 1986 (68-67), Wake Forest in 1996 (75-74) and Duke in 2010 (65-61). Thursday's win pushed the Yellow Jackets' record to 10-17 all-time at Greensboro Coliseum.
Tech is in the semifinals of the ACC Tournament for the first time since 2010, when the No. 7-seed Yellow Jackets defeated North Carolina (62-58) and Maryland (69-64) in the first two rounds in Greensboro. Tech defeated NC State (64-59) in the semifinals of that tournament, and is 7-4 in semifinal games.
Tech is 3-3 in the ACC Tournament as a No. 4 seed. The Jackets won their three ACC titles as a 1 seed (1985), a 3 seed (1990) and a 6 seed (1993).
Tech also evened its record against Miami at 1-1 in tournament play. The Hurricanes had defeated the Jackets, 54-36, in the first round of the 2012 tournament in Atlanta.
Tech and Virginia have met nine times previously in the ACC Tournament and have a 5-4 tournament record against the Cavaliers. The last meeting occurred in the second round of the 2016 tournament, a 72-52 Virginia win. The Yellow Jackets have beaten Virginia along the way to two of its three ACC Tournament titles – in the first round in 1985 in Atlanta and in the championship game of the 1990 tournament in Charlotte.
Tech win its seventh straight game Thursday, six regular season games and its first tournament game. The Yellow Jackets won nine in a row in 1996, seven to finish the regular season and their quarterfinal and semifinal games in the tournament. Tech lost in the finals to Wake Forest.
Tech has a winning streak or has won the last meeting against 11 of its 14 ACC foes. Virginia is the only team the Jackets have a current losing streak against (eight in a row).
After intermission during its seven-game winning streak, the Yellow Jackets have shot 55.1 percent from the floor (113-of-204). Tech has shot 50 percent or better the second half of 13 of its 18 games against ACC teams this season, logging a 51.8-percent rate against the league for the season, 56.1 percent in its 12 wins. The Jackets shot 56.7 percent in the second half against Miami Thursday (17-of-30),
Tech improved to 12-1 overall, 10-0 in ACC games, when Jose Alvarado and Michael Devoe reach double figures in points.
Tech won the turnover battle for the 20th time in the last 22 games (11 to Miami's 18). The Yellow Jackets lead the ACC with a plus-4.3 turnover margin. Tech also leads the ACC in turnovers forced in conference games (15.5).
Tech has scored over a point per possession (KenPom.com offensive efficiency) in its last eight games and 20 times this season. The Yellow Jackets rank No. 29 in the nation on offensive efficiency (113.5).
Tech was credited with nine against Miami, matching its ACC-leading average of 9.0 per game.
One of the bottom teams in the ACC in rebound margin, Georgia Tech has a plus-23 rebound margin over its last six games (Wake Forest and Miami outrebounded Tech by one each).
INDIVIDUAL HIGHLIGHTS
Jordan Usher has scored 62 points in his last four games (19 vs. Syracuse, 14 vs. Duke, 14 vs. Wake Forest, 15 vs. Miami), after tallying 16 total in his previous three games. The 6-7 senior has hit 26-of-47 shots from the floor with 19 rebounds, 12 assists and nine steals combined in the four games. Usher scored 13 of his 15 points against Miami in the second half.
Jose Alvarado and Michael Devoe combined for 26 points and 11 assists, having a hand in 20 of the Yellow Jackets' 28 baskets against Miami. During the regular season, they scored or assisted on 66.4 percent of Tech's baskets during the regular season.
ACC Player of the Year Moses Wright failed to reach double figures in points for just the fourth time this season (7 points, 6 rebounds) and fouled out in just 24:56 minutes. During Tech's last six games, Wright had averaged 23.5 points and 10.0 rebounds.
Jose Alvarado was credited with three steals against Miami, giving him 221 for his career, third place all-time at Tech. He needs six to tie Bruce Dalrymple for the No. 2 position. He is bidding to become the first Tech player to lead the ACC in steals twice and the first ACC player to do so since Chris Paul in 2004 and 2005. Alvarado's conference-leading rate is 2.88 in all games (3.12 in ACC games). Alvarado also moved into the top 25 in the ACC's career annals. He passed Sidney Lowe (NC State, 1980-83), who had 220 steals, for the 25th slot and will move into a tie for 24th with Othell Wilson (Virginia, 1981-84) with his next steal.
Alvarado's 13 points moved him into 21st place on Tech's career scoring list (1,403 points), passing Marvin Lewis (1,396 points), who was a senior on Tech's 2004 national runner-up team.
Since Tech's last loss, at Clemson on Feb. 12 when he missed two free throws in the final seconds that led to the Tigers' game-winning three-point basket, Jose Alvarado hit 18 in a row before missing his last two attempts against Miami.
Khalid Moore (6 points, 5 rebounds vs. Miami) has averaged 5.4 points and 3.9 points in Tech's last seven games since joining the Tech starting lineup, adding five blocks and four steals.
Reserve guard Bubba Parham scored nine points off the bench in just 13:09 for Tech, including a three-pointer and a driving layup in the final minute of the game.
Reserve center Rodney Howard played a season-high 18:16, scoring two points with three rebounds and playing good defense on Miami center Nysier Brooks.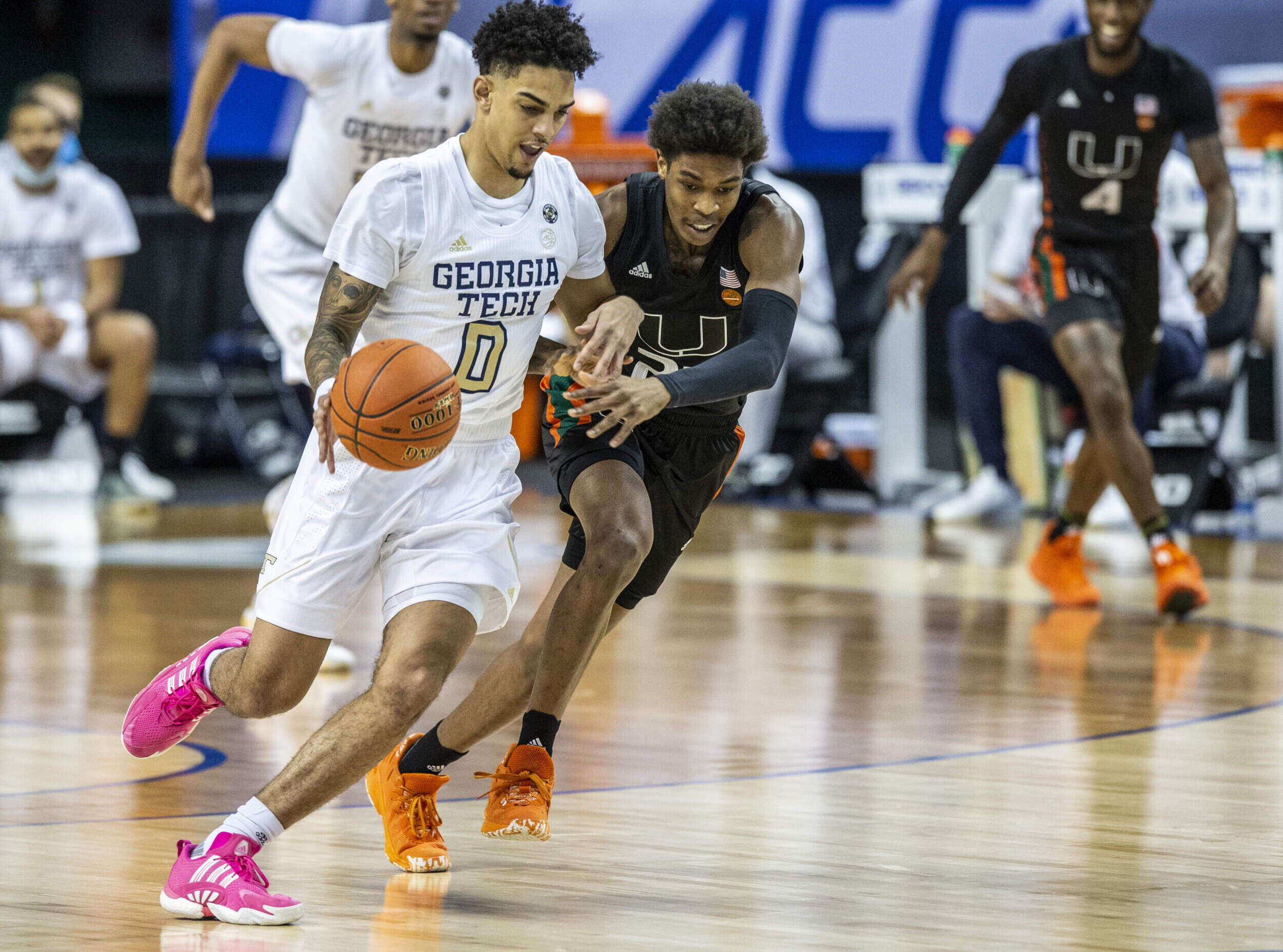 Michael Devoe scored 13 points on 3-of-4 shooting from 3-point range and dished out a game-high seven assists in the ACC quarterfinal win over Miami. (photo courtesy of the Atlantic Coast Conference)
Game Highlights
Post-Game Press Conferences
Head coach Josh Pastner
Senior guard Jose Alvarado
Senior forward Jordan Usher