Final Box Score (.pdf) | Full gamebook/play-by-play (.pdf) | Multimedia | Postgame Notes
Syracuse, N.Y. – Moses Wright scored a career-high 33 points with 10 rebounds, but Georgia Tech could not build on an 11-point halftime lead and dropped a 79-72 decision in Atlantic Coast Conference basketball Saturday afternoon at the Carrier Dome.
After trailing 38-27 at the break, Syracuse (15-12, 8-8 ACC) scored the first seven points of the second half to turn the tide in its favor, and outscored the Yellow Jackets (13-14, 7-9) 52-34 after intermission. The Orange shot 64 percent from the floor, hitting 14 of 19 shots inside the three-point arc.
The Orange pulled even for the first time, 52-52, on an Elijah Hughes jumper in the paint with 9:49 remaining in the game, and gave his team the lead with a free throw 34 seconds later. Syracuse never trailed again, allowing the Jackets within a point three times.
Wright scored 17 of his points in the first half, working from the high post area inside the Syracuse zone, and Michael Devoe scored all 11 of his, including a pair of threes, while point guard Jose Alvarado was effective in controlling the pace in lifting the Yellow Jackets to their halftime lead.
Wright finished the game 14-of-17 from the floor, 5-of-8 from the foul line. He notched his seventh double-double of the season. No other Yellow Jacket reached double figures, but Jose Alvarado finished with eight points, including a pair of three-pointers, and six assists with three steals.
Hughes and Marek Dolezaj each scored 20 points to lead the Orange, Dolezaj getting 16 in the second half, while Joseph Girard III added 15 points and Buddy Boeheim chipped in with 13.
Georgia Tech returns to Atlanta to open a three-game homestand Tuesday night with a 9 p.m. game against Clemson at McCamish Pavilion. The game will be televised nationally on the ACC Network.
Jose Alvarado had eight points and six assists and was effective in operating Tech's offense against the Syracuse zone. (photo by Chuck Wainwright)
Post-Game Notes
TEAM NOTES
Tech lost for just the second time this season when leading at halftime (Louisville on Jan. 22 was the other). The Jackets are 8-2 this season when leading at the half.
Tech has averaged 31 free throw attempts in its last three games, connecting on 72 percent (67-of-93). The Jackets went 29-of-39 in their last game at Wake Forest, both highs for Tech under Josh Pastner.
Tech has hit 29-of-77 (37.7 percent) of its three-point attempts in its last five games.
Tech has averaged 72.3 points, has shot 46.8 percent from the floor, and 34.7 percent from three-point range over its last six ACC games.
Twenty-two Georgia Tech players have fouled out this season, the most for the Yellow Jackets since the 1989-90 season (28 in 38 games). In conference play, 15 Jackets have fouled out, the most ever for the Jackets in an ACC season.
Tech was whistled for 26 fouls at Louisville, matching the team's season high of 26 set Dec. 22 against Boise State. It was the fifth time this season the Jackets have committed 25 or more in a game. Tech has been whistled for 51 fouls in its last two games, 98 in its last four.
Tech has won the rebounding battle seven times and held even twice in 12 games since the beginning of January. The Jackets are plus-24 on the boards in ACC games for the season, averaging 1.6 per game more than their opponents.
INDIVIDUAL NOTES
Moses Wright scored 33 points to beat his previous career high by eight (25 vs. Notre Dame in the 2019 ACC Tournament), and added 10 rebounds to notch his seventh double-double this season.
Wright's 33 points were the most by a Tech player in an ACC road game since Tony Akins scored 33 at Florida State on Feb. 21, 2000. It tied for the third most points ever scored by a Tech player in an ACC road game.
Wright's 14 field goals matched the third-most by a Tech player in an ACC game (school record: 16 by James Forrest vs. Maryland, 1/4/1994).
Wright has hit double figures in Tech's last six ACC games, averaging 17 points and 7.5 rebounds over that stretch, and hitting 57.5 percent of his shots from the floor. The 6-9 junior has scored 10 or more in all but five games this season. Until his 33 points at Syracuse, Wright had score 20 or more in a game only once this season (22 at North Carolina on Jan. 4).
Wright hit 14-of-17 shots from the floor at Syracuse, improving his season rate to 53.2 percent in ACC games, and 55.3 percent in all games, which ranks No. 2 in the ACC.
Jose Alvarado (eight points, two 3pt FG) has made a three-point basket in 14 straight games. That is the longest streak for a Tech player since Adam Smith knocked down a three in 24 straight games during the 2015-16 season.
Alvarado has hit 29-of-75 shots (38.6 pct.) from three-point range in his last 14 games (2-of-6 at Syracuse) and is 69-of-145 overall (47.6 pct.) during that stretch. He has hit 35.7 percent from distance in ACC games.
Last six games for Michael Devoe – 16.8 points per game, 4.7 assists per game, 51.6 percent (32-of-62) from the floor, 42.8 percent (12-for-28) from three-point range, 86.2 percent (25-of-29) from the free throw line. He has hit 42.6 percent of his threes in ACC games.
Jordan Usher had a season-high eight rebounds at Syracuse.
James Banks III has fouled out in four straight games, and has averaged just 7.2 points and 4.5 rebounds over that stretch. He has also blocked just five shots in those games.
Alvarado and Devoe have combined to score 38.7 percent of Tech's points and sink 38.6 percent of their three-point attempts in ACC games, 46.2 percent overall from the floor.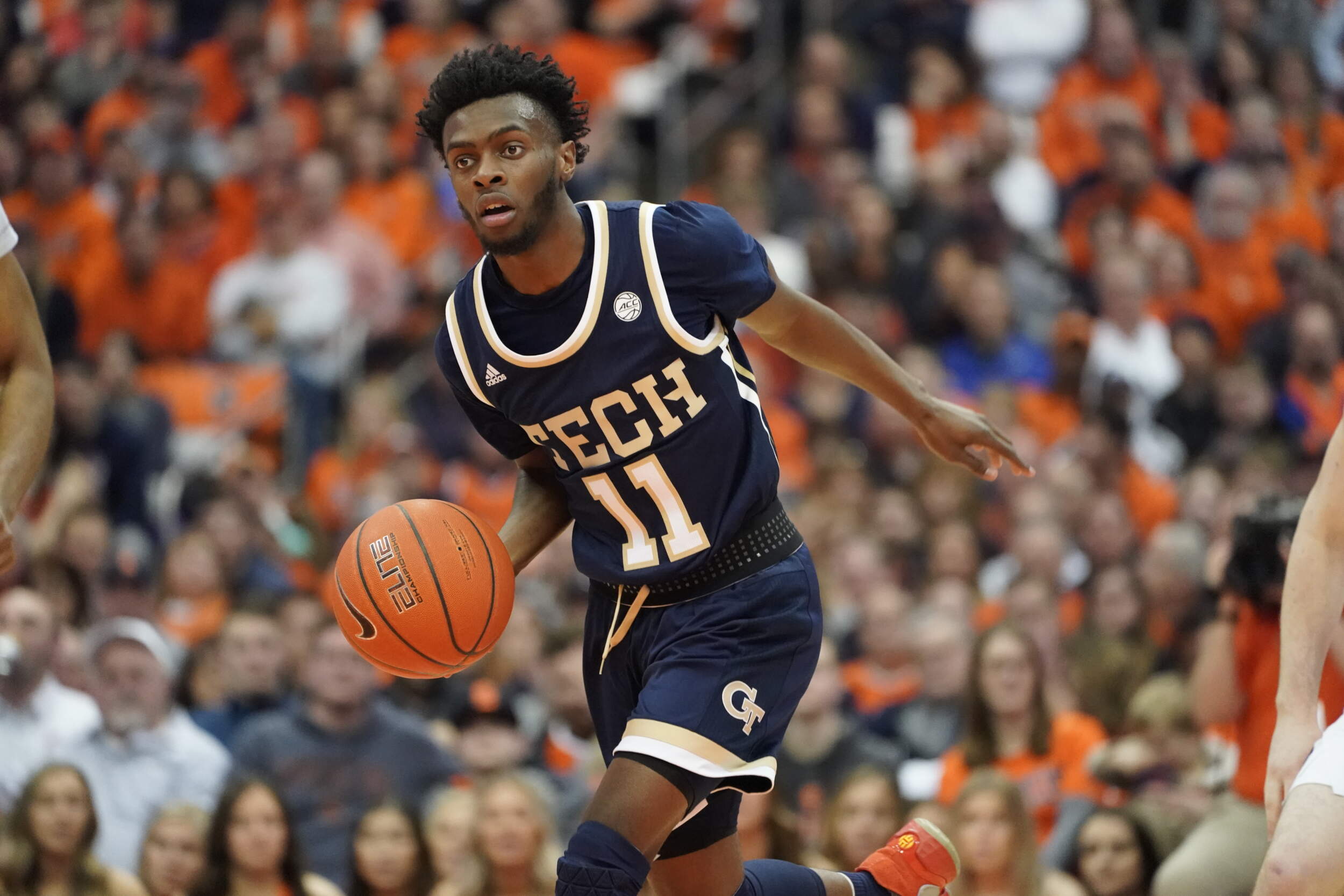 Bubba Parham scored five points with three assists and no turnovers off the bench. (photo by Chuck Wainwright)
Top performances – ACC Road Games
Dennis Scott – 36 at WF, 1/6/1990
Dennis Scott – 36 at Duke, 1/28/1990
Duane Ferrell – 34 at Clemson, 3/5/1988
Dennis Scott – 33 at UNC, 2/28/1990
Kenny Anderson – 33 at UVA, 2/19/1991
Tony Akins – 33 at FSU, 2/21/2000
MOSES WRIGHT – 33 at Syracuse, 2/22/2020
Multimedia
Head coach Josh Pastner postgame presser