Box Score (.pdf) | Full gamebook (.pdf) | Multimedia | Photo Gallery | Postgame Notes
Charlottesville, Va. – Jose Alvarado and Jordan Usher combined to score 39 points and hit six three-point field goals on the night, but No. 13/12 Virginia rallied in the second half to outlast Georgia Tech, 64-62, in Atlantic Coast Conference basketball Saturday night at John Paul Jones Arena.
In a battle of the top two offensive teams in the conference, the Yellow Jackets (7-4, 3-2 ACC) had a 60 percent (9-of-15) showing from beyond the arc while the Cavaliers (10-2, 6-0 ACC) hit 44.4 percent (8-for-18) from three.
Tech led 36-32 at intermission and were able to extend their halftime lead to 49-38 after a dunk from Usher four and a half minutes into the second half. Virginia charged back with a 24-10 run over the next thirteen minutes of game time, taking the lead at 62-59 with 2:03 left on the clock following a three from Jay Huff.
Moses Wright responded by draining a three, inbounding with just one second left on the shot clock to tie the game at 62-62. After missing his first nine shots, UVA guard Kihei Clark sank a jumper in the paint at the 1:08 mark to give the Cavaliers a 64-62 advantage, before Michael Devoe missed what would have been the game winning three at the end of regulation.
Ultimately, Tech's late second-half cold spell proved costly as the Cavaliers were able to fend off the Jackets shooting attack, holding them to just two made baskets on their final 10 shots.
Alvarado finished the game with 20 points and eight assists, while also snagging six steals. Usher scored 19 points along with six rebounds and three blocks, while Wright recorded five blocks and contributed 13 points.
Georgia Tech returns to the court on Tuesday, Jan. 26, traveling to Cameron Indoor Stadium to take on Duke. The game tips at 9 p.m. (EST) and will be televised on ESPN.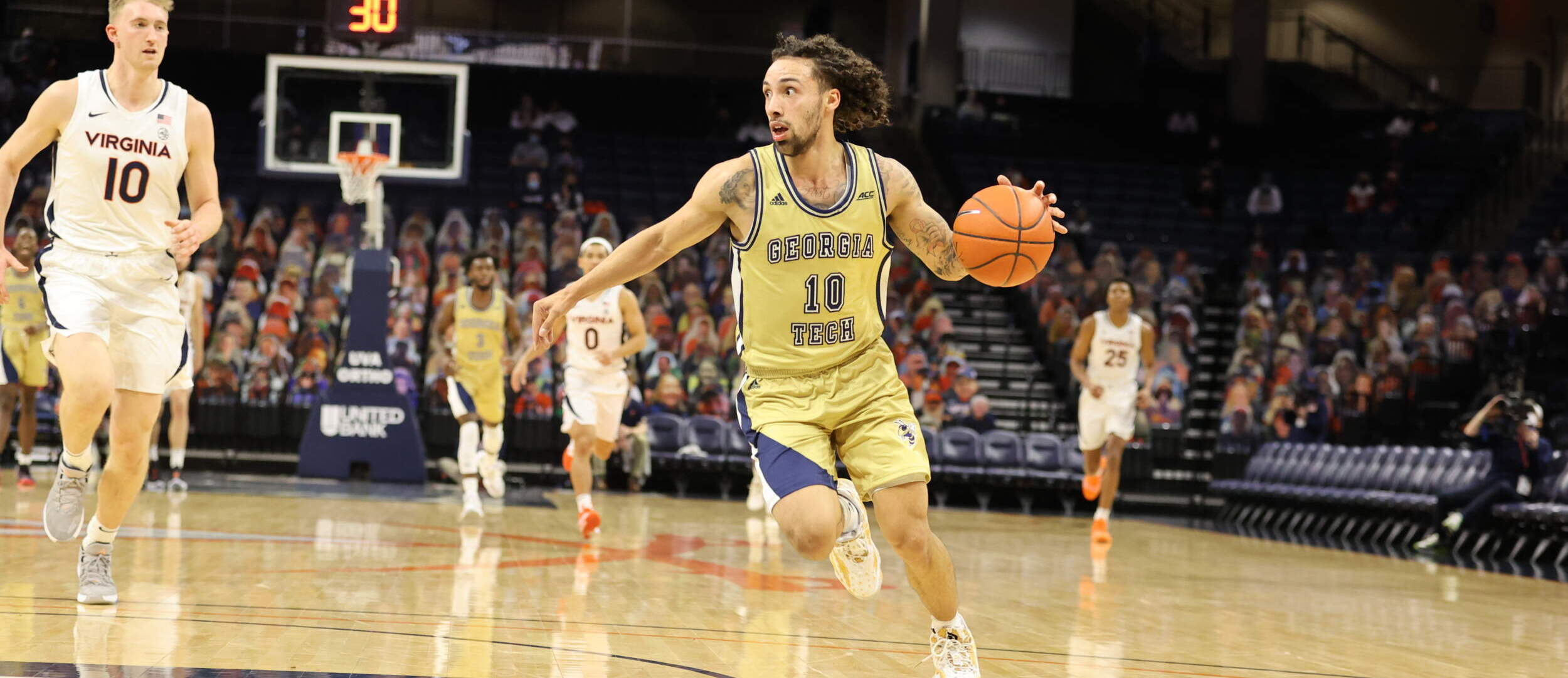 Alvarado scored 20 points, while dishing out eight assists and snagging six steals on the evening. (photo by Keith Lucas)
Post-Game Notes
Despite the low score of the game, both teams scored more than a point per possession. Georgia Tech has done so 10 times in 11 games this season after reaching that mark in 11 games all last season.
Tech committed just six turnovers against Virginia, the fourth time this season the Yellow Jackets have had fewer than 10, and reduced its season average to 11.5 per game, 11.0 over five ACC games.
For the eighth time in its last nine games, Tech won the turnover battle and had more assists than turnovers. Only against Florida State (11 assists, 12 turnovers, FSU has 12 turnovers) did the Jackets fall short.
Tech forced nine Virginia turnovers and capitalized on them for 11 points, matching the fewest this season. The Jackets have forced 15.8 turnovers per game this season, 15.6 per game against ACC foes..
The Jackets came into the Virginia game with second-best turnover margin and the third-best assist/turnover ratio in the ACC. In conference games, Tech's turnover margin is plus-4.6, which leads the ACC.
Tech's 62 points was its second lowest output of the season, next to the 61 it scored at Florida State on Dec. 15. The Jackets had a season-low 59 offensive possessions, five fewer than against FSU.
Tech (9-of-15 against Virginia) has connected on 62 of its 134 three-point attempts in its last six games (46.3 percent) and is up to 38.1 percent for the season, 44.5 percent in ACC games. The Jackets are averaging 8.9 made threes per game (3.7 per game more than they made in 2019-20), and are averaging 9.8 threes in ACC games.
Since going to its smaller lineup, Tech has had just 16 shots blocked in its last nine games, seven of those by Virginia, five of those seven by Jay Huff. The Yellow Jackets had 13 shots blocked in their two season-opening losses.
Tech has collected 41 steals in each of its last four games and is averaging an ACC-high 9.6 in conference games. The Jackets are averaging 9.2 in all games.
INDIVIDUAL HIGHLIGHTS
According to ESPN Stats and Info, this was Jose Alvarado's second career game with 20 points, 5 assists, and 5 steals, as many as all other Georgia Tech players over the last 25 seasons have combined for (Iman Shumpert and Javaris Crittenton with 1 each).
The 6-foot senior scored 20 points (7-12 FG, 4-5 3pt FG) with eight assists and six steals against Virginia. It was his sixth game of 20 or more points this season, third against an ACC team.
Alvarado has connected on 60 percent of his shots from the floor in ACC games, 45 percent from three-point range.
Alvarado has made a three-point basket in 29 straight games (went 4-for-5 vs. Virginia. He sits 12th on Tech's all-time list for three-pointers with 149.
Alvarado remains in 29th place in career scoring at Georgia Tech with 1,225 points in his career. He needs 28 points to catch 28th-place Drew Barry (1,253 points from 1993-96).
With 182 career steals at Tech, Alvarado moved into solo seventh place on the career list, needing one to catch sixth-place Jarrett Jack. The senior's eight assists against Virginia moved him past Josh Heath into 13th place on the Tech career chart.
Alvarado, Michael Devoe and Bubba Parham have combined to hit 42-of-86 collectively in Tech's last six games (7-of-14 collectively vs. North Carolina, 6-of-12 vs. Delaware State, 8-of-19 vs. Florida A&M, 7-of-13 vs. Clemson, 6-of-9 at Virginia). Against Virginia, Jordan Usher went 2-of-4 and Moses Wright 1-of-2.
Devoe and Alvarado are averaging 16.6 and 16.0 points per game, respectively, in ACC games. They have shot 53.6 percent from the floor combined (59-of-110) and 49.1 percent (26-of-53) from three-point range.
Devoe scored just three points after averaging an ACC-high 20 over Tech's first four conference games. He did hit one three-pointer, however, which was the 122nd of his career to tie Marcus Georges-Hunt for 17th place on the all-time list. His career percentage of 41.2 would rank fourth in program history if his career ended today.
Moses Wright, the fifth-leading scorer in the ACC entering Saturday night's action, reached double figures for the ninth time in 11 games this season, scoring 13 points against Virginia (6-of-17 FG).
Since the beginning of the 2019-20 season, Wright has hit double figures in 33 of 43 games. The 6-9 senior has connected on 52.9 percent of his shots from the floor this season, and is 8-of-15 from three-point range (he went 1-for-2 vs. Virginia).
Wright now has 882 points in his career, and elevated his career rebound total of 484. He is bidding to become the 21st player in Tech history with 1,000 points and 500 rebounds in a career.
Jordan Usher followed up his 21 points against Clemson with 19 at Virginia. He has connected on 15-of-23 field goals and 7-of-12 three-point tries in his last two games. He reached double digits for the eighth time this season and 16th time in his career (Tech is 10-6 in those games).
Bubba Parham had no turnovers for the sixth time in 11 games and has committed just six turnovers all season with 24 assists. He has turned the ball more than once only one time.
Parham, who scored just one basket (his 217th career 3-pointer) and grabbed five rebounds at Virginia, played his first 40-minute game in a Tech uniform. He had two complete games in two seasons at VMI.
Moses Wright recorded five blocks, while also contributing 13 total points (photo by Keith Lucas)
Game Highlights
Post-Game Press Conference
Head Coach Josh Pastner
Senior guard Jose Alvarado