Final Box Score (.pdf) | Full gamebook/play-by-play (.pdf) | Multimedia | Postgame Notes
South Bend, Ind. – Jose Alvarado scored 25 points and James Banks III added a double-double Saturday afternoon, but Georgia Tech surrendered an 80-72 defeat and a season sweep at the hands of Notre Dame at Purcell Pavilion.
The Fighting Irish (13-8, 4-6 ACC) got nine three-point field goals and 28 points and 10 rebounds from John Mooney, grabbing a three-point lead at intermission and never allowing the Jackets to get closer than that in the second half.
The Yellow Jackets (10-12, 4-7 ACC) dominated the boards and got 25 points from second chances, and turned the ball over just five times, a season low, but missed a large number of shots close to the basket and finished at 40.5 percent from the floor. Notre Dame generated good shots through their offense and hit 47.1 percent of them. In addition, the Fighting Irish hit 23 of 28 free throw tries.
Banks posted his fifth double-double this season with 13 points (5-8 FG) and 10 rebounds, and Moses Wright scored 17 points (8-17 FG) with eight rebounds before fouling out.
Alvarado hit 10 of 19 shots from the floor and knocked down three three-point field goals, but the Jackets went only 4-for-18 from distance as a team.
T.J. Gibbs scored 19 points for the Fighting Irish, while Nate Laszewski added 14 and Rex Pflueger 13.
Georgia Tech returns home to take on Virginia Tech at 7 p.m. Tuesday, Feb. 4 at McCamish Pavilion. The game will be televised on the ACC Network.
Moses Wright scored 17 points with eight rebounds and four assists before fouling out. (photo courtesy of Notre Dame)
Post-Game Notes
TEAM NOTES
Tech is 5-6 away from McCamish Pavilion this season, 5-6 at home.
Tech's 74 field goal attempts (23 more than Notre Dame attempted) were a season high by one over the 73 it attempted against Nebraska on Dec. 4.
Tech has connected on as many as 30 field goals five other times this season, but its four three-point field goals matched a season low for an ACC game, and the Jackets have made fewer than eight free throws in an ACC game just three times, all losses.
Jose Alvarado connected on 3-of-7 three-point attempts, but the rest of the team hit just 1-of-11.
Tech's 20 offensive rebounds and 25 second-chance points also were season highs. Previous highs were 16 and 14 against Duke on Jan 8.
Tech has averaged 40.4 points in the paint over its last nine games (44 vs. Morehouse), compared to 28.2 for its opponents. Only Duke (38-36) and Louisville (32-30) have scored more than Tech in that stretch.
Tech's five turnovers were a season low and the fewest by a Josh Pastner-coached Yellow Jacket team. Tech's previous low this season was nine in a loss to Houston on Dec. 23. It previous low under Pastner has been six, accomplished four times, including against Notre Dame in last year's ACC Tournament.
Tech has averaged just 10 turnovers in its last three games (13 each vs. NC State and Morehouse), and just 14.4 in the 13 games since the return of Jose Alvarado to the Yellow Jackets' lineup, compared to 17.4 per game prior to that.
Tech went 8-of-12 from the free throw line against Notre Dame and has hit better than 70 percent in nine of its last 13 games. Tech has converted 163-of-224 attempts (72.8 percent) over that stretch.
Tech is plus-2 assist-to-turnovers in ACC games, minus-45 in non-conference games. The Jackets have been on the plus side of that ledger in six of the last nine games.
INDIVIDUAL NOTES
James Banks III posted his fifth double-double this season and 12th of his career with 13 points (5-8 FG) and 10 rebounds at Notre Dame. He has averaged 11.5 points and 8.0 rebounds against ACC teams this season, hitting 57.3 percent of his shots from the floor and 80 percent from the foul line.
Moses Wright scored 17 points (8-17 FG) with eight rebounds against Notre Dame, his third double-digit scoring game in the last five after a streak of eight straight in double figures. He also had a season-high four assists and matched his season high in blocked shots with three. Wright has averaged 19.3 points in his last three games against Notre Dame
Wright has connected on 66.7 percent of his free throws (28-of-42) over Tech's last 13 games after going just 4-of-14 in the first nine games of the season.
Jose Alvarado scored 25 points, one shy of his season high of 26 set against NC State a week ago. The 6-foot junior has four 20-point games this season, all since Jan. 4 at North Carolina, and has 15 in his career.
Alvarado has hit 19-of-49 shots (38.8 pct.) from three-point range in his last nine games (3-7 vs. Notre Dame) and is 48-of-99 overall (48.5 pct.) during that stretch. He hit 10-of-19 at Notre Dame, including 3-of-7 from distance.
Alvarado played the full 40 minutes for the first time this season – the first time any Tech player has gone the distance this season. It was the 14th complete game of his career.
Jordan Usher has dealt six assists in each of his last two games against just three total turnovers. The 6-7 junior scored nine points (4-5 FG) against Morehouse and also took four steals, a season-best.
Khalid Moore has started the last three games for the Yellow Jackets in the absence of injured Michael Devoe, and 12 altogether this season. He scored five points against NC State and nine against Morehouse, but was scoreless against Notre Dame.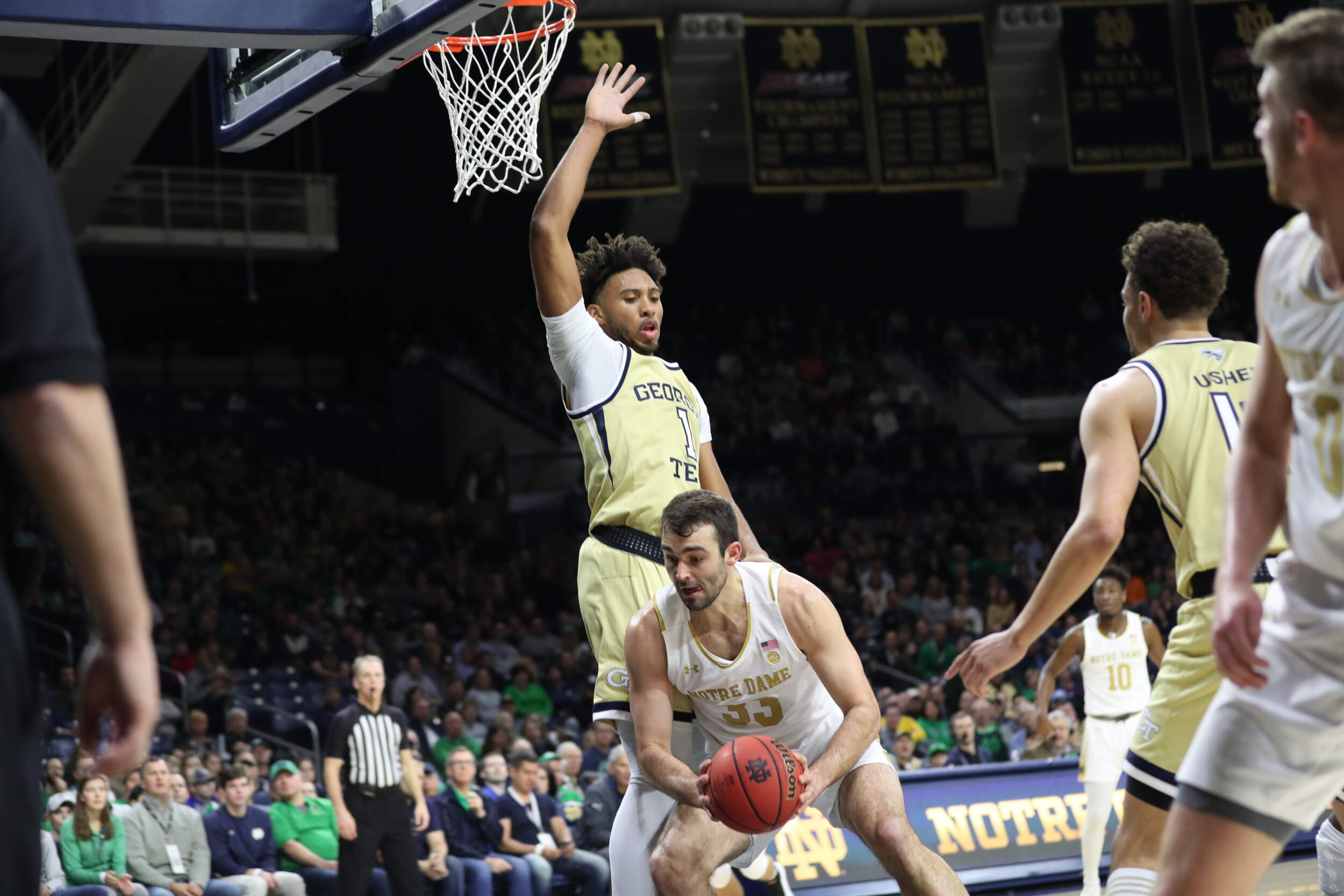 James Banks III earned his fifth double-double this season and the 12th of his career with 13 points and 10 boards. (photo by courtesy of Notre Dame)
Multimedia
Head coach Josh Pastner post-game press conference