Box Score (.pdf) | Full gamebook (.pdf) | Multimedia | Photo Gallery | Postgame Notes
Coral Gables, Fla. –  Michael Devoe led all scorers with 29 points as Georgia Tech dominated Miami in an 87-60 victory Saturday afternoon in the Watsco Center. Devoe led three Yellow Jackets in double-figures, including Moses Wright who finished with 14 points to surpass the 1,000-career points mark.
The 27-point win marked the largest margin of victory by Georgia Tech in an Atlantic Coast Conference game in program history. The Jackets gained momentum with a strong first half as Miami won the second half, 42-39, but wasn't able to significantly cut into Tech's 30-point halftime advantage.
Georgia Tech (11-8, 7-6 ACC) held a convincing 48-18 lead at halftime, marking the highest scoring half for the Jackets in an ACC game this season. Devoe and Wright combined for 26 points as Tech shot 63.3 percent (19-30) in the half, while limiting the Hurricanes (7-13, 3-12 ACC) to a 28.6 percent (6-21) effort from the floor. The Jackets recorded 13 assists on 19 made field goals in the first half, paced by Jose Alvarado's five. On the defensive side, Tech swiped eight steals in the half to force 12 Miami turnovers.
Devoe added 13 points in the second half to keep the Hurricanes at bay as the Jackets shot 51.5 percent in the final 20 minutes to hold off Miami's attempt to rally. Alvarado posted seven points in the second half to finish with 16. Along with becoming the 21st player in Georgia Tech history to own 1,000 career points and 500 rebounds, Wright posted a double-double with 12 rebounds to lead Tech's performance on the glass, his fourth this season.
Tech won the rebounding battle, 35-26, and finished the game shooting 57.1 percent (36-63) from the field. Miami was led by Elijah Olaniyi with 18 points, followed by Anthony Walker with 16 and Nysier Brooks with 12.
Tech returns to action Tuesday night with another road trip, this time to Blacksburg, Va., for a 7 p.m. contest against No. 16/17 Virginia Tech at Cassell Coliseum. The game will be televised live on the ACC's Regional Sports Network (Fox Sports South in Georgia).
Moses Wright became the fourth player on Tech's current team to surpass 1,000 career points, and the 21st player in program history with 1,000 points and 500 rebounds in a career. (photo by Sam Navarro/UM Athletics)
Post-Game Notes
Georgia Tech captured its first road win in the ACC this season and did so in record fashion, posting the largest margin of victory in an ACC road game in program history, 27 points, eclipsing its 26-point win at Wake Forest on March 3, 2011.
Tech improved to 8-1 this season when Jose Alvarado and Michael Devoe both score in double figures, 6-0 in ACC games.
Moses Wright passed the 1,000-career-point plateau Saturday, and Tech now has four 1,000-point scorers in its starting lineup – Bubba Parham (1,424, not all at Tech), Jose Alvarado (1,352) and Devoe (1,037) and Moses Wright (1,005). Ole Miss is the only other NCAA Division I team currently with four active 1,000-point scorers on its roster.
Tech's 87 points were its season high for an ACC game and most since scoring 96 at North Carolina on Jan. 4, 2020.
For the 16th time in its last 17 games, Tech won the turnover battle (11 to Miami's 15), and the Yellow Jackets have a plus-4.4 turnover margin in conference play, plus-4.3 in all games. Both rank No. 1 in the ACC. Tech also leads the ACC in turnovers forced in conference games (15.3) and is second in all games (15.5).
Tech has shot 50 percent or better in six ACC games this season (57.1 percent vs. Miami, North Carolina, Wake Forest, Notre Dame, both games against Clemson), and has connected on 47.5 percent of its shots in ACC games this season.
Tech's 36 field goals made matched its season high (36 in a 4-OT game vs. Georgia State)) and set a season high for a regulation game, one more than its 35 vs. Notre Dame.
Tech snapped out of a five-game funk from the three-point line, hitting 11-of-26 from distance (42.3 percent) against Miami. The Jackets had shot just 30.1 percent over its previous five games.
It didn't figure in the outcome, but Tech matched a season-low for free throws made (4-for-4 at Miami, 4-for-5 at Duke). The Jackets have averaged 9.4 points from the foul line in ACC play this season.
For only the fifth time this season, Tech's bench outscored its opponent's reserves (18-2 vs. Miami). The Jackets are 5-0 when that happens.
Miami was just the third Tech opponent this season to fail to shoot 40 percent from the floor (39.2 percent), joining Louisville and Nebraska.
Tech's 22 assists were a season high for an ACC game. The Jackets had recorded 25 against Delaware State in December. Tech is averaging 15.4 assists in ACC games and 16.0 for all games, which is No. 1 in the conference rankings.
Since going to its smaller lineup in the season's third game, Tech has had just 41 shots blocked in its last 17 games (2.41 per game), 14 of those by Virginia in two meetings. The Yellow Jackets had 13 shots blocked in their two season-opening losses.
Tech collected 10 steals against Miami and is averaging 9.1 in conference games, 9.0 in all games, both rank No. 2 behind Syracuse.
No Tech player played as many as 30 minutes in the win over Miami. Tech had had a 40-minute player six times in seven games before Saturday.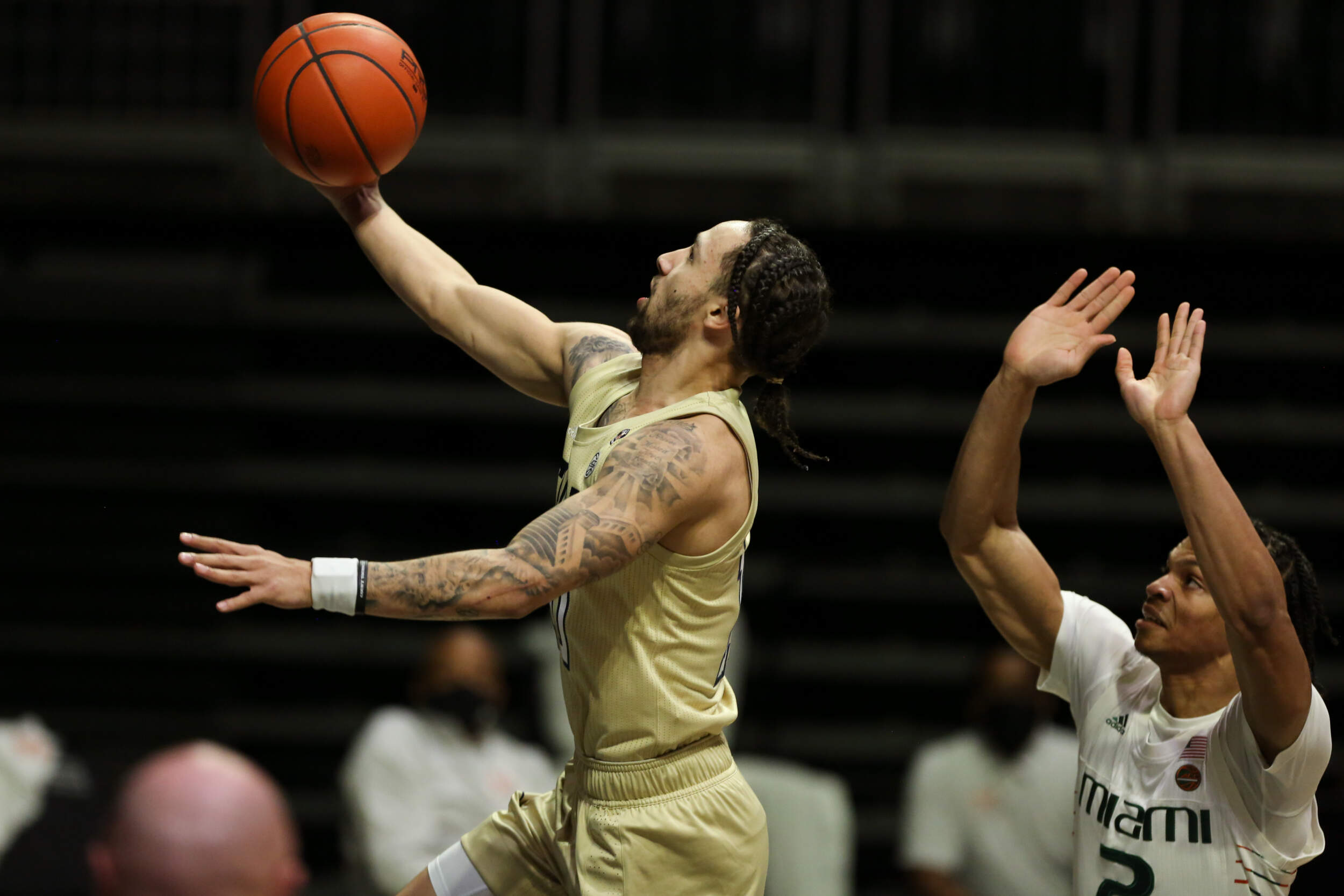 Jose Alvarado finished the game with 16 points and a pair of three-point field goals. (photo by Sam Navarro/UM Athletics)
Game Highlights
Post-Game Press Conferences
Head coach Josh Pastner
Junior guard Michael Devoe
Senior forward Moses Wright