Final Stats (.html) | Final Stats (.pdf) | Multimedia | Postgame Notes
Fayetteville, Ark. – Jose Alvarado scored a game-high 20 points to lead for Georgia Tech players in double figures, and the Yellow Jackets outscored Arkansas 10-5 over the final 1:47 to capture a 69-65 victory over the Razorbacks Wednesday night at Bud Walton Arena.
James Banks III scored 14 points and grabbed 14 rebounds for his fourth double-double in five games for Tech (6-4), which rebounded from a disappointing home loss to Gardner-Webb Monday night. Freshmen Michael Devoe and Khalid Moore, each making their first collegiate starts for the Jackets, added 11 and 10 points, respectively.
Tech coach Josh Pastner inserted the two freshmen in the starting lineup hoping Tech could shake its recent slow starts. The ploy worked as the Yellow Jackets started the game on a 15-4 run, each scoring one basket while Alvarado scored his first three baskets of the night.
The homestanding Razorbacks recovered, connecting on six three-point field goals, three from Mason Jones, to take a 32-31 lead into intermission.
The lead went back and forth for most of the second half, with Arkansas taking their final lead at 60-59 on a three from Isaiah Joe.
Tech got the lead back for good on a pair of free throws from Banks, and the Jackets made it 65-60 on a fast break layup from Alvarado and a pair of free throws from Devoe. Moore helped seal the win with four free throws in the final 36 seconds.
Georgia Tech finishes off its busy week of action Saturday, returning home to McCamish Pavilion to face Georgia at noon. The game will be televised on ESPNU.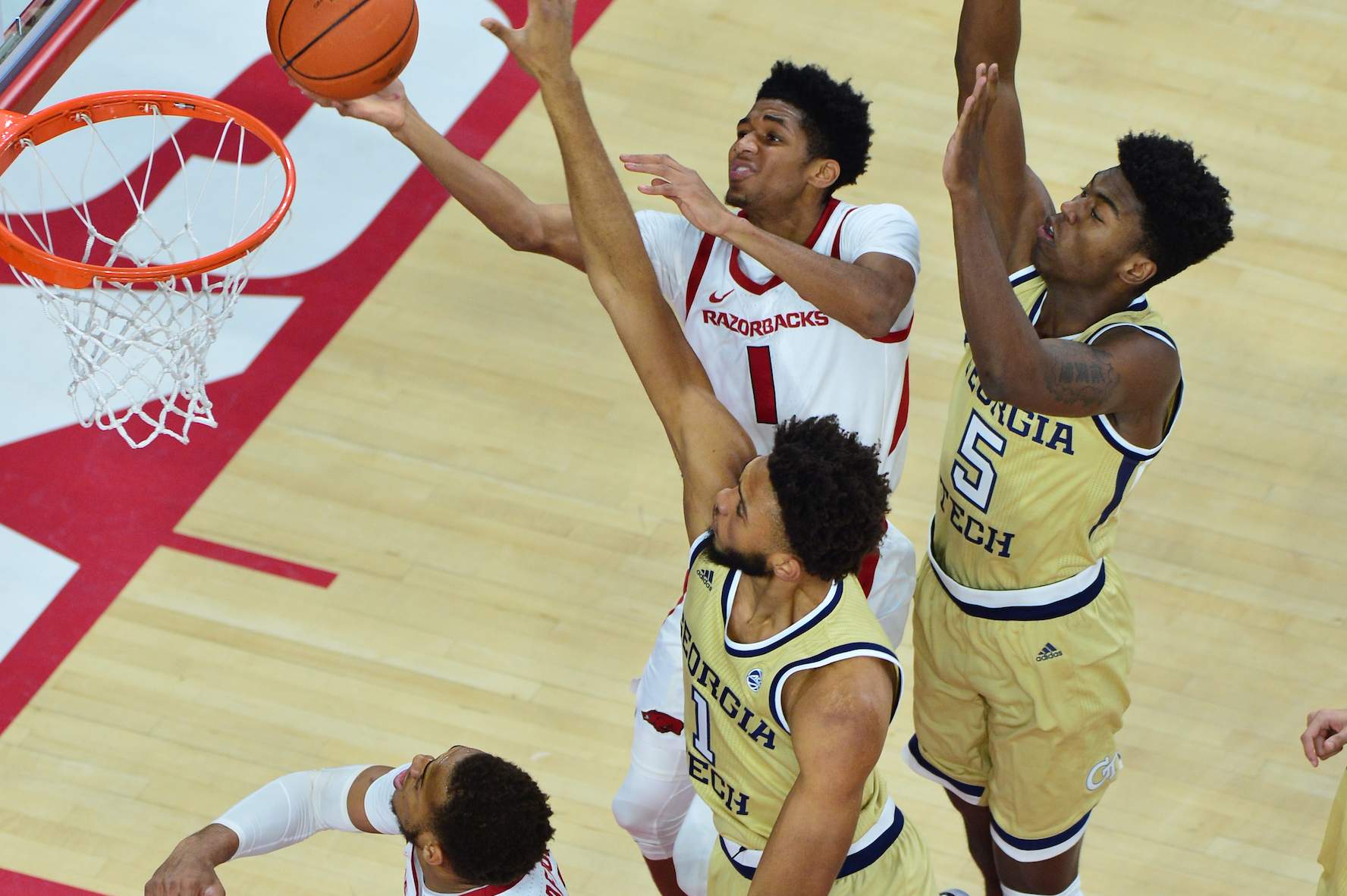 James Banks posted his fourth double-double in Tech's last five games, scoring 14 points with 14 rebounds.
Post-Game Notes
MISCELLANEOUS NOTES
Georgia Tech starting lineup: Alvarado, Devoe, Moore, Wright, Banks III
First subs for Georgia Tech: Alston, Gueye for Wright, Banks – 14:07-1st half
On the floor for Georgia Tech at the end: Alston, Alvarado, Devoe, Moore, Banks III
Opening tap won by Arkansas – Georgia Tech has won the opening tap four times in 10 games this season
Series record vs. Arkansas: Georgia Tech is 5-1 overall, 1-0 on the road, 1-0 under Josh Pastner, 2-0 vs. Mike Anderson
Current series streak: Georgia Tech won the last five meetings
Georgia Tech is 5-1 at McCamish Pavilion this season, 77-38 in its sixth season in the building, 34-12 under Josh Pastner
Georgia Tech is 1-2 on the road this season, 1-3 away from McCamish Pavilion
Georgia Tech's next game: Saturday, Dec. 22, 12 p.m. ET, vs. Georgia, McCamish Pavilion
 TEAM NOTES
Freshmen Michael Devoe and Khalid Moore made their first collegiate starts against Arkansas, and Georgia Tech started its fourth different lineup this season. Transfer James Banks III made his fourth straight start in the post, and Moses Wright his eighth of the season at the big forward spot. Sophomore Curtis Haywood II, the only Tech player who had started each of the first eight Tech games, did not start for the first time this season. Jose Alvarado has started eight of the nine Tech games.
Tech has deployed at least eight players for significant minutes in each of its nine games so far, nine vs. Northwestern and St. John's, despite Evan Cole missing those games with an ankle injury. Tech used eight players at Arkansas, Cole did not play.
Tech has held every opponent this season under its season scoring average – breakdown by game: Lamar 81.0 (69), Tennessee 82.8 (66), East Carolina 72.7 (54), UTRGV 70.2 (44), Prairie View A&M 69.2 (54), Northwestern 76.0 (67), St. John's 83.0 (76), Florida A&M 63.2 (40), Gardner-Webb 82.2 (79), Arkansas 85.2 (69).
Tech has outrebounded its opponent six times in the last seven games after not doing so in its first three games of the season. Tech forged its largest rebound margin of the season at Arkansas (43-31) and is now plus-1.5 per game for the season.
Arkansas went 10-of-32 from three-point range, the most threes made and attempted against the Yellow Jackets this season. Tech had yielded just 40 three-point field goals in its first nine games (4.4 per game, 26.7 percent). The Jackets entered the night No. 1 in the ACC in lowest three-point percentage yield and has given up just 27.5 percent for the season. The Jackets allowed an average of 7.1 per game and a success rate of 37.9 percent last season.
Tech limited Arkansas to 38.1-percent shooting from the floor, the eighth time in 10 games this season the Jackets have held an opponent under 40 percent. Tech ranks third in the ACC in field goal percentage yield at 38.1 percent.
Arkansas came into the game hitting 47.3 percent from the floor and 36.2 percent from three-point range.
Defensively, Tech is forcing 15.4 turnovers and taking 8.3 steals per game, figures which rank third in the ACC. Only St. John's (5 turnovers) and Gardner-Webb (9) have managed to keep their turnover total under 10 this season against Tech. Tech forced 16 turnovers from Arkansas and converted them into 13 points, and is averaging 17.1 points from turnover this season. The Jackets forced an average of 12.6 turnovers per game last season and took 6.9 steals per game.
Tech won despite committing a season-high 20 turnovers, the most for the Jackets since recording 20 at Louisville in a 77-54 loss. Tech last won a game committing 20 turnovers on Dec. 7, 2016 at VCU (76-73 in overtime).
Tech has connected on just 38.8 percent of its field goals in three games away from home, and 23.2 percent of its three-point attempts. But it has converted 78.7 percent of its free throw tries and scored 70 of its 256 points there.
Tech has attempted 192 threes (19.2 per game) and made 59 (5.9 per game), compared to averages of 15.3 attempts and 4.9 made per game in 2017-18. Four different Yellow Jackets have made at least seven three-point field goals so far this season. Tech has hit 30.7 percent of its threes for the season, below last season's 31.8-percent clip.
Tech's bench has been outscored the last two games by 34-18 after having held a 30-to-13.9 per game advantage over its first eight games. For the season, Tech reserves have averaged 25.8 points per game to 14.5 for the opponents.
Tech has averaged committing 15 fouls over its last three games after averaging 22.1 over its first seven games. The Jackets rank among the top 50 teams in the nation in most fouls committed.
PASTNER'S KEY METRICS
Assists to made field goals: Tech assisted on 14 of 25 made field goals (56.0 percent) against Arkansas, missing its nightly goal of 60 percent for the eighth time this season. The Jackets are at 55 percent for the season, above the nation's average of just over 50 percent.
Free throws made to opponents' attempts: Tech connected on 14-of-20 free throw attempts to Arkansas' 7-of-9 (nightly goal of making more than opponent tries accomplished). Tech is 35-11 under Josh Pastner when attempting more free throws than the opponent.
Turnovers: Tech has 15.4 turnovers per game and taken 8.3 steals per game. The Jackets forced an average of 12.6 turnovers per game last season and took 6.9 steals per game. Tech ranks third in the ACC in steals.
Guard rebounding: Tech's guards combined for 15 of Tech's 28 defensive rebounds against Arkansas. The group of Alvarado, Alston, Devoe, Haywood, Moore and Phillips has combined to take 127 of Tech's 267 defensive rebounds this season (47.6 percent).
INDIVIDUAL NOTES
Jose Alvarado posted his sixth double-figure game in the last seven with a game-high 20 points (9-15 FG) against Arkansas. He has seven this season and 23 for his career. Alvarado, 17-of-31 from the floor in his last two games, has scored 20 or more six times in his career.
Alvarado played the full 40 minutes against Arkansas, the first time this season and the ninth time in his career he has posted a complete game. The 6-foot sophomore played all but 33 seconds of the Gardner-Webb game, and might have played all 40 if not for picking up his fourth foul with 2:17 remaining, forcing Tech to remove him on defensive possessions.
James Banks reached posted his fourth double-double in Tech's last games, scoring 14 points (5-7 FG, 4-4 FT) and with a season-best 14 rebounds. The 6-9 junior has averaged 13.6 points, hit 27 of 38 shots from the floor and averaged 12.6 per game) in his last five games.
Banks, with a career-best five blocked shots at Arkansas, has had at least one blocked shot in each of the nine games he has played, averaging 2.67 for the season (second in the ACC).
Freshman Michael Devoe, continuing to get his legs under him after missing most of pre-season practice with a big toe injury, made his first collegiate start at Arkansas and scored 11 points, hitting 3-of-10 from the floor and 4-of-5 from the free throw line. He added three rebounds, two assists and two steals in a season-high 33 minutes. He has three double-digit scoring games this season, is tied for the team lead in steals (18), and has converted 82.1 percent of his free throw tries.
Freshman Khalid Moore also earned his first collegiate start after putting together four consecutive solid games off the bench since a DNP Nov. 23 against Prairie View A&M. The 6-7 forward posted his second double-figure game of the season at Arkansas with 10 points (3-7 FG, 4-6 FT), sealing the victory for Tech by going 4-for-4 at the line in the final 36 seconds. Moore has averaged 7.6 points over his last five games (12-of-19 FG, 12-of-14 FT) with nine assists and five steals. For the season he has connected on 53.8 percent of his field goal tries and 80 percent (16-of-20) from the foul line.
Curtis Haywood II has connected on 6-of-13 three-point attempts in Tech's last two games. Haywood, who went 4-for-8 from behind the arc against Gardner-Webb, had been 3-for-14 from behind the arc over the previous four games.
Moses Wright started his eighth straight game for Georgia Tech, scoring four points with four rebounds in 17 minutes against Arkansas. Wright has two double-digit games (11 vs. UTRGV, 12 vs. St. John's) in that stretch.
Brandon Alston was shut out (0-for-1) from the three-point line for the second straight game and for the fourth time this season. The 6-5 senior has hit 12-of-25 (48 percent) from long range this season, 47.2 percent overall.