GEORGIA TECH HEAD COACH PAUL JOHNSON
 Opening Statement
"Well, we got our tails kicked. I mean that's pretty much it. We got out-played, out-coached and we got beat by a really good football team. We aren't good enough to fumble the ball seven or eight times and jump offsides and take ourselves out of field-goal range to start the game with two sacks in a row and all those things. I thought we got off to a pretty good start, strung together some first downs and got down there to about the 20, and then we get a penalty, and then they back us up, and then we are trying to throw a really quick pass, and we take a wrong pass set with a guy, and it just opens up a gap and we get sacked. Now its third and 14, and then we can't make that play and we go out to kick a field goal, which is an exercise in futility sometimes, but we don't even get to kick it, because we jump off sides on that. So we wasted the momentum of the first drive, and then I think there was another drive we get down there and miss another 40-yard field goal or whatever, couldn't finish, and we can't have the negative plays. They are really good upfront they are hard to block, they got big guys and when you get the opportunity, you've got to execute."
On the fumbles throughout the game
"Yeah, fundamentals. We aren't doing a really good job coaching them. Just call it what it is, we're not. "
On how he feels coming out of this game
"Yeah, well we thought we had some starters back, but we lost Kenny [Cooper] and KirVonte [Benson] and they were two of our starters. But yeah, I'm frustrated with the way we are playing, absolutely. It's embarrassing. I can promise you we're going to get better, fundamentally or quarterback, I'll promise you that."
On if the team's challenges thus far are mental or physical?
"I think that a lot of it is mental – some of it is physical. I mean, you know upfront they are better than we are, not close. That comes back to recruiting and we knew that. Anyone watching the game knew that. That means we have to do things right and when you don't do things right and can't be consistent, then when you play against guys like that, you're going to struggle because you can't have all the negative plays."
On TaQuon Marshall's progression
"Well I think at times today we talked about just fundamentally trying to get downhill at times; until I see it, I'm not sure we seal the guys enough inside for him to get downhill. You know, you have to look at it. Now a couple of the pitches were bad pitches and that comes back to the relationship cause if one guy's going downhill and the other guy's not you have issues and what happens is when they run across and box him at the end at some of the speed option stuff he's got to have a lane to cut back inside on, if you have no lane there's nowhere for you to go and the guy's blocked you in. So it's not all TaQuon (Marshall) I mean he can be better fundamentally and we can coach him better, but it is not all him."
On the mistakes made on the field by upperclassmen
"Yeah it is [frustrating]. How about when you roll the snap back on the ground, and when it just rolls back on the ground, what do we do? We had four center quarterback exchanges. One on third and one and that we were fortunate that we made the first down. I mean you got to care enough to get the snap and the guy's got to care enough to snap it. That's not hard."
On how much energy the team came out with to start against Clemson
"I think we came out with some energy. We had a drive that ate up a lot of the first quarter and then we went out and got a sack, got a stop and got some things going and as the game wore on and when [Clemson's Trevor Lawrence] came in, yeah, he had more success no question."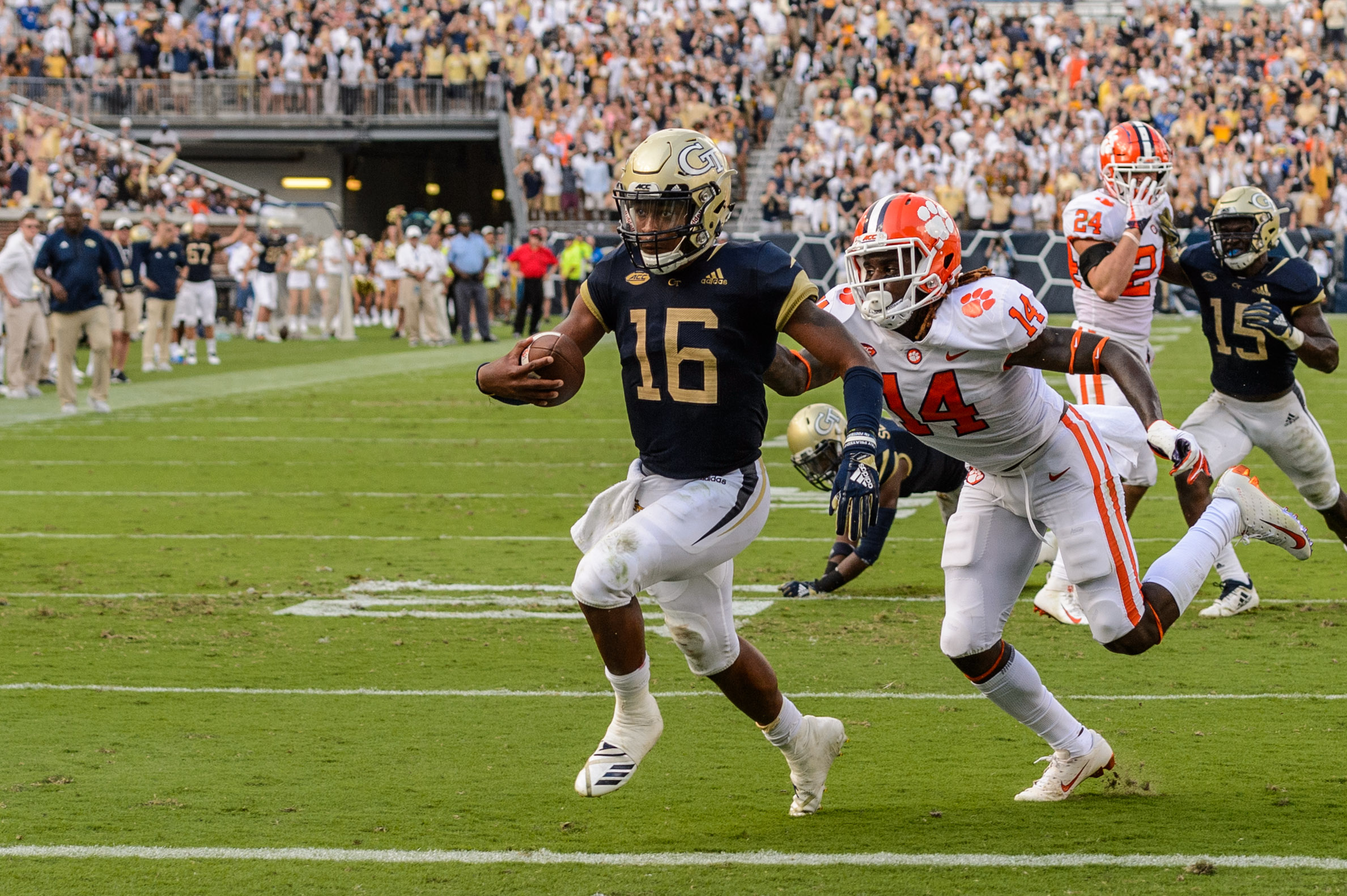 CLEMSON HEAD COACH DABO SWINNEY
 Opening thoughts
"I thought this was our best game for sure of our four games to this point. I'm really pleased with the things we tried to do in this game that I saw take place in the game. It's a really good start for us in conference play. To have two road wins already at this point in the season is great experience for our team as we get deep into conference play."
On Clemson seniors winning at Tech
"I'm really proud of our seniors. As you know, it's not been easy to win down here. This group – 1903, 1996 and 2018 – that's the only senior classes that have beaten Tech four years in a row. That just shows you how hard that is to do. This rivalry, 100-some years, it's been incredibly competitive. That has not happened very often. And again, it shows you how successful this senior group has been.
"That was something they really wanted to achieve.  They were very focused and aware of that opportunity for them. Not only that, but Georgia Tech came in leading the nation in rushing, and that's four straight years we've outrushed them. Our ability to run the football, and our ability to stop the run has served us very well as it did today."
On the Clemson offense
"We did a lot of good things, 480 yards, right at 250 rushing. I thought our tempo was really good, once we got going. I went back and forth on whether I wanted to take the toss and defer. Dadgum it, that's why sometimes people take the ball. They kept the ball for eight minutes, and that's a long time to stand over there on the sideline. They took the ball and went on a long drive, but I was proud of our defense for bowing up in the red zone and getting the ball back with no points.
"They dominated the time of possession. Some of that was we were explosive. We had some explosive drives. Time of possession was 36 minutes to 23, but we were incredibly efficient with our plays for sure. That's what you've got to do to beat Georgia Tech. Our ability to run the football set up some of that explosiveness, especially in the second half. We rushed the ball for, like, 200 yards, something like that.
"It was good to see (Tavien) Feaster. I thought he had one of the bigger plays in the game. He is starting to hit his stride. [Etienne] has had back-to-back 100-plus-yard games. That hasn't happened around here in a while. He averaged 11.1 a carry, Feaster was 9-something a carry. So just a lot of good things in the run game, and then we had some explosive plays.
"I keep telling our guys, we need to throw it to [Justyn Ross] just a little bit more, he seems to score every time he touches it. [His touchdown catch] was just a huge play. And it was good to see Tee (Higgins) get in the end zone. A lot of guys had the chance to touch the ball today. We played 72 guys. We brought 72 guys, and all 72 got in the game."
On the Clemson defense
"To see them score was awesome. I thought we had another opportunity or two to score, certainly to give us a short field, but we just couldn't come up with the ball. But I was really please with just how disruptive we were, defensively."
On special teams
"Amari Rodgers is really becoming a weapon for us. Our guys are taking a lot of pride in that. Guys are loving that opportunity when they go out on the field. Amari has got a knack for it, and has got to be one of the better ones in the country right now. Our kickoff coverage was tremendous."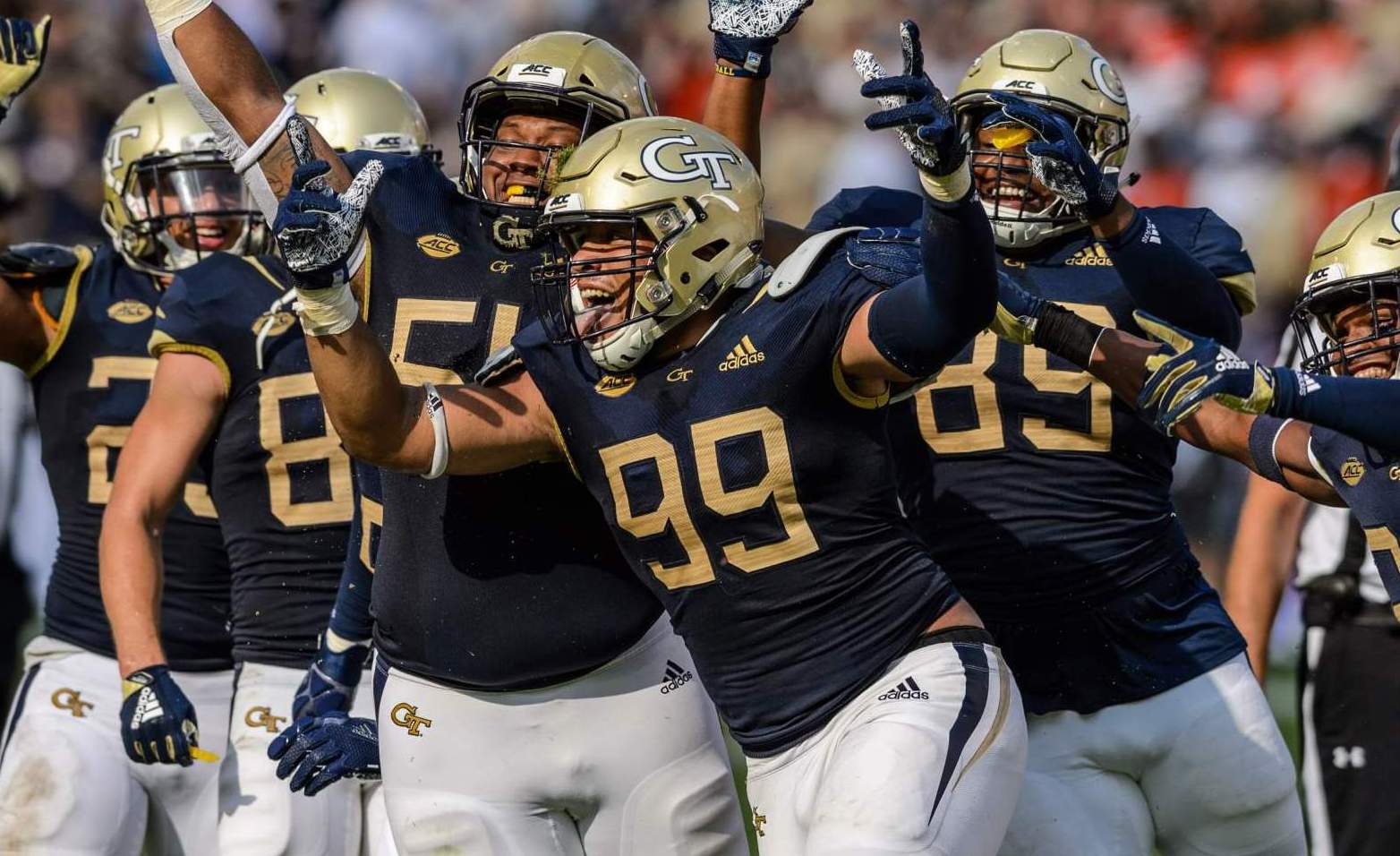 GEORGIA TECH PLAYERS
NATHAN COTTRELL, A-BACK, Jr.
On his first career rushing touchdown:
"I'm not going to lie, it felt great to get in the endzone. I forgot what that felt like – it's been since high school since I scored. I'll probably buy Clinton [Lynch] some dinner because that was a nice block by him [at the goal line]."
On the mindset the team needs going into next week:
"We just have to come back next week and work on fundamentals. We have to come back Monday and flush all of this out. We can't let it affect us."
"I truly believe that if we buckle down, continue to listen to coaches, and buy in to what they're telling us, continue to work on what we need to work on, we'll be able to bounce back. It's going to be tough, but I know our team has the ability to do it if we all believe it."
DESMOND BRANCH, DE, RS-Sr.
On what Clemson was able to do to get the win
"I don't feel like they did anything too special. Our wounds were self-inflicted, which really hurt us."
 On if the defense struggled with Clemson's use of two quarterbacks in the game
"I don't think we were struggling with the quarterback particularly. It was just that [Trevor Lawrence's] plays were working better than [Kelly Bryant's] plays against our defense."
 On how the performance by the defensive line and pressure on Clemson QB's
"I felt that we got good pressure out there, the defensive line did a good job trying to condense the pocket and make it muddy for the quarterback. [Trevor Lawrence] made some of the throws after we got him off his spot, but I think we did good in that area."
TAQUON MARSHALL, QB, Sr.
On what the biggest takeaway from the game is
"We left points on the board and that changes the momentum of the game."
On if there's anything that sticks out that the team needs to change
"We just need to win. At the end of the day, as long as we have more points than they do, then things will change. Right now, we're kind of in a slump. We have to come back next week ready to work."