GEORGIA TECH HEAD COACH PAUL JOHNSON
Opening Statement
"Well that's a lot more fun than what's happened. I thought offensively we were very efficient. We went back and tried to simplify and just make sure we did things the right way. I don't think we had a penalty on offense, and we might have had one bad snap, but the ball was never out. When you do that, you have a chance. Defensively we gave up some yardage and some first downs, but we did a decent job keeping them out of the end zone, and we got some turnovers that set up short scores. It was a crazy game. For a team that goes fast, I think there was only eight or nine offensive possessions, so there wasn't a lot of possessions. And the way the game was going, we were pretty efficient on offense, so it felt like we pretty much had the game in hand"
On the offensive pitch relationships:
"It was a little better. We spent a lot of time working on it. There is still a lot of things we got to get better at. That looked more like one of our football teams."
On TaQuon Marshall's passing being better today than it has been in the past:
"Yeah, when you give him time. Nobody can throw the ball when they don't have time. Most of the stuff we threw today was play action other than the first play. We were trying to isolate on a certain person and other than that it was pretty much all play action. The one he threw to Qua [Searcy] could have been caught. He came out and played a clean game, I don't know if he missed a read on the option, got the ball dealt and played very well."
On building rhythm against different opponents:
"We played better, we didn't put the ball on the ground, we dint turn the ball over, we didn't have the stupid penalties. It's like I told our guys: it's about us not who you played most of the time. It's about you. Next week we got to go to Louisville to play and it's still going to be about us. You got to play without putting the ball on the ground, you can't have a bunch of missed assignments and missed coverages. We still got some work to do on the tempo stuff. They got us several times especially on short yardage, with sneaks and snapping the ball before were ready to play. There is still a lot to work on. It's disappointing, we had a penalty on Juanyeh's [Thomas] kickoff return. He did a nice job with that. The one guy who has been pretty consistent for the most part of the year is Pressley [Harvin III] punting the ball. He had a great punt, we wore him out last week, so it was good we didn't have to use him much today."
On the game being more about Tech instead of the opponent today:
"We dug ourselves a hole and we've got to dig it out one week at a time. It's not undoable. It's like I said, we have to go to Louisville now and win an ACC game on the road and then we are back to even. Then we play the last part of the season and we will see where it goes."
On having a short week and then only playing starters for around two quarters:
"We will practice tomorrow, so we have to change the schedule. We gave the kids Friday off. They had Friday this week off, we didn't have any meeting or anything. Maybe that's what we need to do all the time. Literally, when I coached at Georgia Southern, we never met on Friday, never went to a hotel and we managed to win 38 games in a row at home, so it might be overrated."
On the defensive line:
"Anree [Saint-Amour] was playing hard. It's hard to tell until you watch the tape. Victor [Alexander] had a big play where they kind of turned him lose on the back side and he got a big sack and forced a fumble. We had some plays but we've just got to be better on third down."
On the adjustments made on defense:
"They [Bowling Green] have some pretty good wide receivers, they were quick. To start the game, we weren't getting inside the third guy in some of those RPOs. We changed some of that. We started to stem a little bit, but there wasn't a great deal of change. Like anything with the defense for Nate [Woody], sometimes it's frustrating because he doesn't have everything in and sometimes there is stuff you want to run that's not in, and so we stay fairly vanilla at times, which is what we did on offense. The more we are out there the more he'll get in and the more pressure stuff you will see."
On the fundamentals talked about last week and the progress made today:
"I thought we did a good job against the run game. They [Bowling Green] struggled to run the ball and they became somewhat one dimensional. While they converted too many third downs and possessed the ball 33 minutes and we were 26 minutes, and that's some of it scoring a little faster on offense, but their third downs were 11 of 19. We aren't going to survive like that, we have to do better on third down."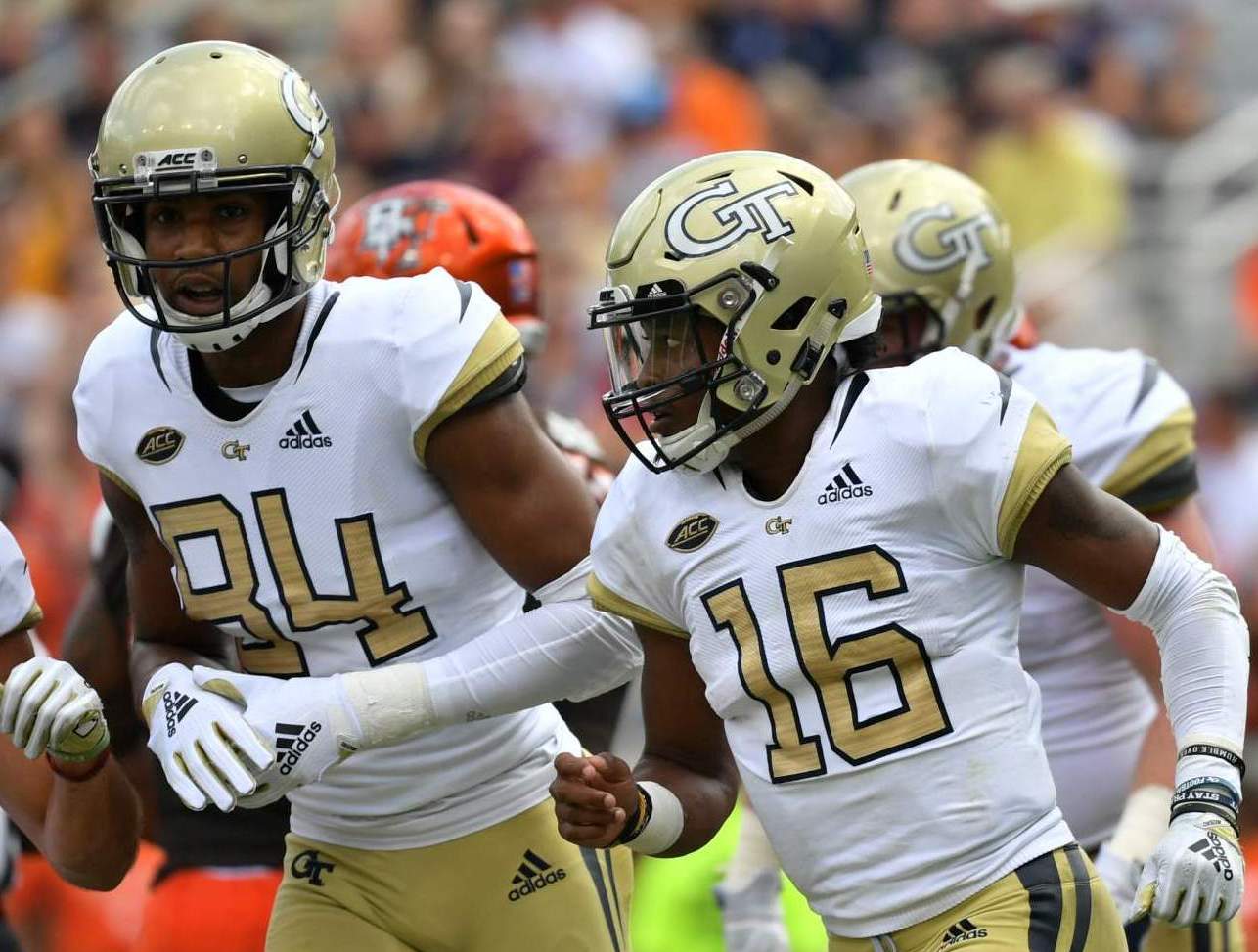 BOWLING GREEN HEAD COACH MIKE JINKS
Opening thoughts on the game
"We still haven't gotten a stop. That's a big part of it. We knew that would post a problem with their scheme and having a limited time to prepare for it. I really thought that they did a great job in the air, and they hit a lot of big passing plays. They got rolling and we didn't have an answer for them."
Watching Tech live compared to on film
"We knew they were athletic. From a defensive standpoint, we were very worried and concerned about them inside, especially the nose and the two ends. They're very good players. Their linebackers have played a lot of football. So we knew they presented a problem, and we wanted to push the tempo a little bit and kind of wear them down. As a one-on-one matchup, we knew that we might have some issues there. We felt like we could play fast, and if we could keep them on the field for a while, we might have some success. Early on, we were able to do that. We were [11-of-19] on third downs. We've got to continue to do those things, and we've got to score more touchdowns than field goals in the red zone."
What changed offensively for you after being able to get yards early?
"In the second half, I felt like we were still moving the football, and we blew a protection. It wasn't anybody getting beat; backs just went the wrong way on the protection. The quarterback gets sacked, fumbled, and they get a touchdown. They popped the ball up in the air and get another score. When we were going in in the fourth quarter, and then we had a bad throw. We had them out in front, and he puts the ball in a bad spot.
On the play of QB Jarrett Doege
"Up until the end, he was playing confidently. He was seeing things. He was having an opportunity to have success from an offensive standpoint."
Did having an undersized defensive line hurt?
"There's no doubt, because it starts with the dive. That sets everything up. When they get that dive going and establish some movement, it presents all the problems. We were at a point where we had to sell out to stop the run. They hit some big pass plays. They were going to make some big pass plays, and they made them today."
On using OL Tim Blair on the defensive line
"We lack size on the defensive line, and Tim's a guy from the offensive line who hasn't gotten a lot of playing time this year, so we put him in there at nose just to give them a run. Having some size at the nose position is something that kind of gives you a chance vs. these teams."
Did Georgia Tech wear you down?
"They did, and they kept guys running in. And as the game went on, the tackling became very spotty, and they hit a lot of explosive plays, so that's off to Georgia Tech. We knew what we were up against coming into the ballgame. There were no surprises. We need to go back and watch the video and see: was it a scheme thing, were guys in position? A lot of times we have one guy on the quarterback and one on the pitch, and they both went to the quarterback."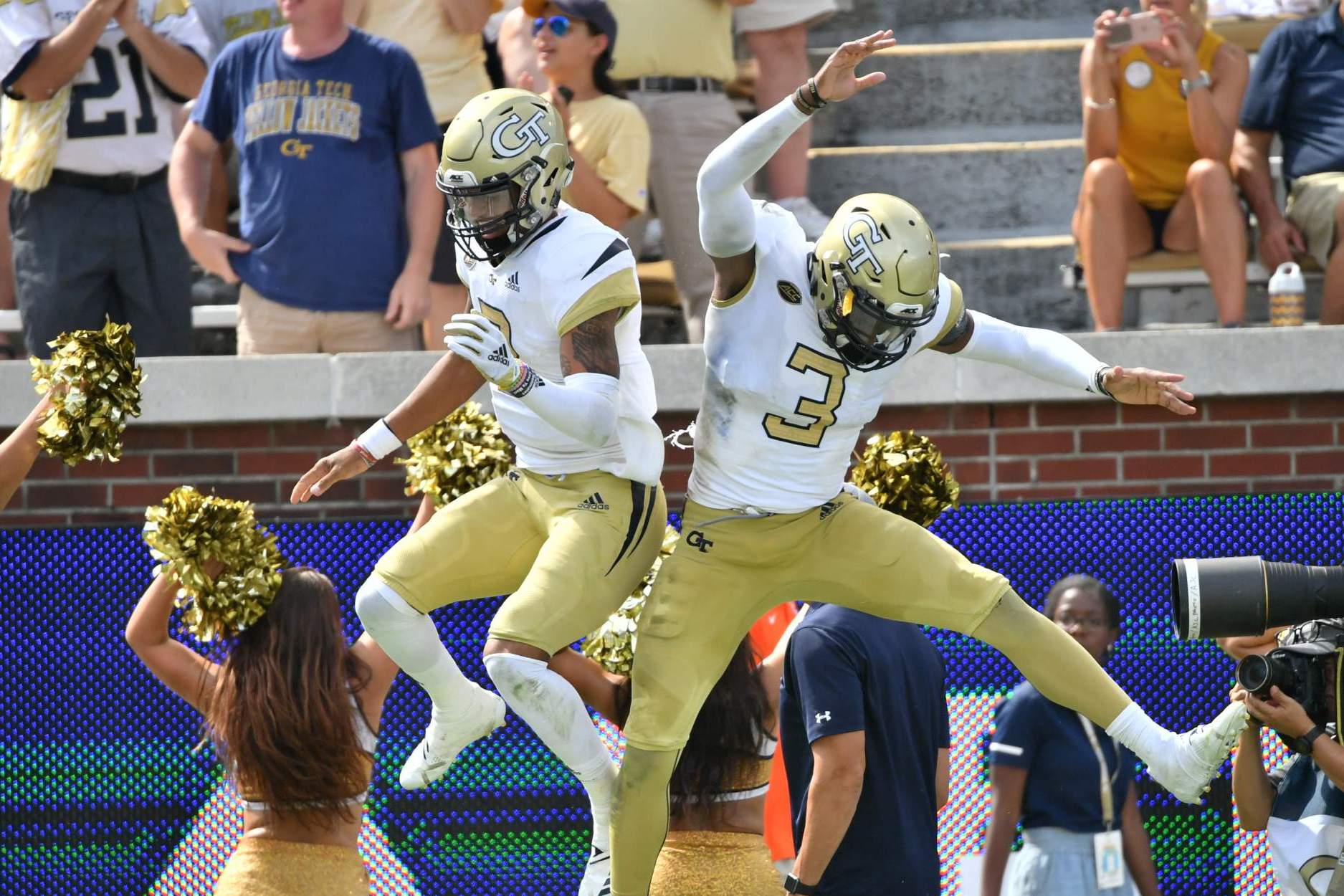 GEORGIA TECH PLAYERS
 TaQuon Marshall, QB, r-Sr.
On working on QB fundamentals in practice the past week
"It worked out well. As you can see, we didn't have any balls on the ground with any pitches. I think the correlation between me and the A-backs was pretty good. I just tried to put the ball in their hands so they could run."
Victor Alexander, LB, Sr.
On the change up in schedule by taking an off day on Friday
"I had Tre' Jackson as a roommate, so we're just sitting and telling jokes. We talked about life a little bit, and that's how you bond with the guy you room with. When the game time comes, you feel like you're a lot closer; you can trust the guy next to you, and you believe in them."
David Curry, LB, Jr.
On Bowling Green's passing plays over the middle, which lead to his interception
"It was in our goal-line package, and I made a good read. We practice that all the time, which allowed me to make a good break on the ball. They had been going to number 21 all game, so I figured he would get the ball. As the quarterback threw the ball, no 21 was yelling 'No!' and I picked it."
Jalen Camp, WR, Jr.
On targeting Camp on the first play of the game
"I was pretty shocked because normally we go into a running play. I took it as an opportunity to run my route and be able to make the play."
On improving as an offense after a slow start to the year
"For the first third of the season, there were a lot of things we did to hurt ourselves, had nothing to do with the opponent. Today, I felt that we put some things together, taking a good step in the right direction."
Anree Saint-Amour, DL, Sr.
On having a good day getting to the opposing QB
"We did a good job recognizing when it was going to be a pass play, which was a big key for us. Great film study throughout the week and pass rush preparation."
Clinton Lynch, AB, r-Sr.
On making the reception to become the first player in GT FB history with 1000-plus yards receiving and running
"I was really listening in for the announcer, once I heard him, I knew I did it. I had my moment and went on to the next play."