GEORGIA TECH HEAD COACH PAUL JOHNSON
Opening Statement:
"Well, it was a heck of a game. I don't think we particularly always played well, but we found a way to gut it out in the end and get the win. Their (Virginia) quarterback (Bryce Perkins) is a heck of a player. He makes a lot of plays and he's a really, really good player. We left some opportunities out there and didn't finish drives. We had to kick too many field goals. Although our kicker (Wesley Wells) was pretty special. He did a great job. That game, I was just looking at the time of possession, I don't know the time of possession in regulation time (GT 31:13; UVA 28:47), but they (Virginia) did a nice job possessing the ball and driving the ball, and really other than the punt that hit them in the leg, t's been a long time since you could say that we won a game on special teams. Tonight, special teams had a part in it."
On the safety and punt return:
"I want to see the safety on film. I think the ball was loose and we didn't get after the ball. It should have been a touchdown instead of a safety. Juanyeh Thomas on the return is a really good athlete, it's just been a matter of time. He is going to return a bunch of them before he leaves here. He's pretty good."
On both kickers', Wesley Wells and Pressley Harvin III, clutch performance:
"Pressley Harvin III is a really, really good and with the way Wesley Wells kicked the ball today; when you have two pretty good kickers like that, it makes a world of difference."
On how it wasn't the best game offensively, but they were still able to get the win:
"These kids all year have battled. They have had a lot of heart. To think they've come back from 1-3 and we are gonna finish second in our division – that's the seventh time in eleven years we've done that. It's not easy to do and for those kids to come back from an 0-2 start in the league and get that accomplished, I'm proud of them."
On the biggest area that has seen improvement:
"From the start of the year to now we've probably gotten better offensively, although we didn't necessarily tonight. I think we are better in special teams, clearly it wasn't a far climb. Defensively, we have made some progress, we still struggle on third down. They (Virginia) were 5-of-8 and we were 10-of-18, so both teams."
On the last pass attempt before the 48-yard field goal:
"We thought it was going to be open and it was. Really if you watch it, they (Virginia) held the fire out of Brad Stewart. As he was coming across on the crossing route he almost got tackled and Jalen (Camp) had a little bit of room there and we just threw it over his head. We thought we were in field goal range. I knew that Wesley (Wells) could make it – well I didn't know, but he's got that much range in practice – so I didn't even consider just trying to run the ball in there to get it closer. I was trying to score a touchdown."
On Wesley Wells' and his performance tonight:
"He is just pretty cool. I asked him on the kick in overtime in the locker room 'You didn't hit that one real solid, huh?' He (Wesley Wells) said 'Coach, I missed the fool out of that. I looked up and was thinking oh god just get in there.' I mean he is just kind of even-keeled. The moment is not too big for him. We have guys who we've played a lot and I think the moment is just a little too big for him, but with him it's not. He's made every kick we've trotted him out there for."
On the seniors:
"They did a great job of keeping the team together when it was 1-3 and that is not easy, I can promise you, I've been doing this for 40 years. As a coach, when you start out like that and you got all the negativity around you and everybody's pronounced you dead and shoveling dirt on you, it's hard to keep everybody going in the same direction. The seniors just didn't listen. They just turned it off and we just went to work, and kept playing. That's all you can do."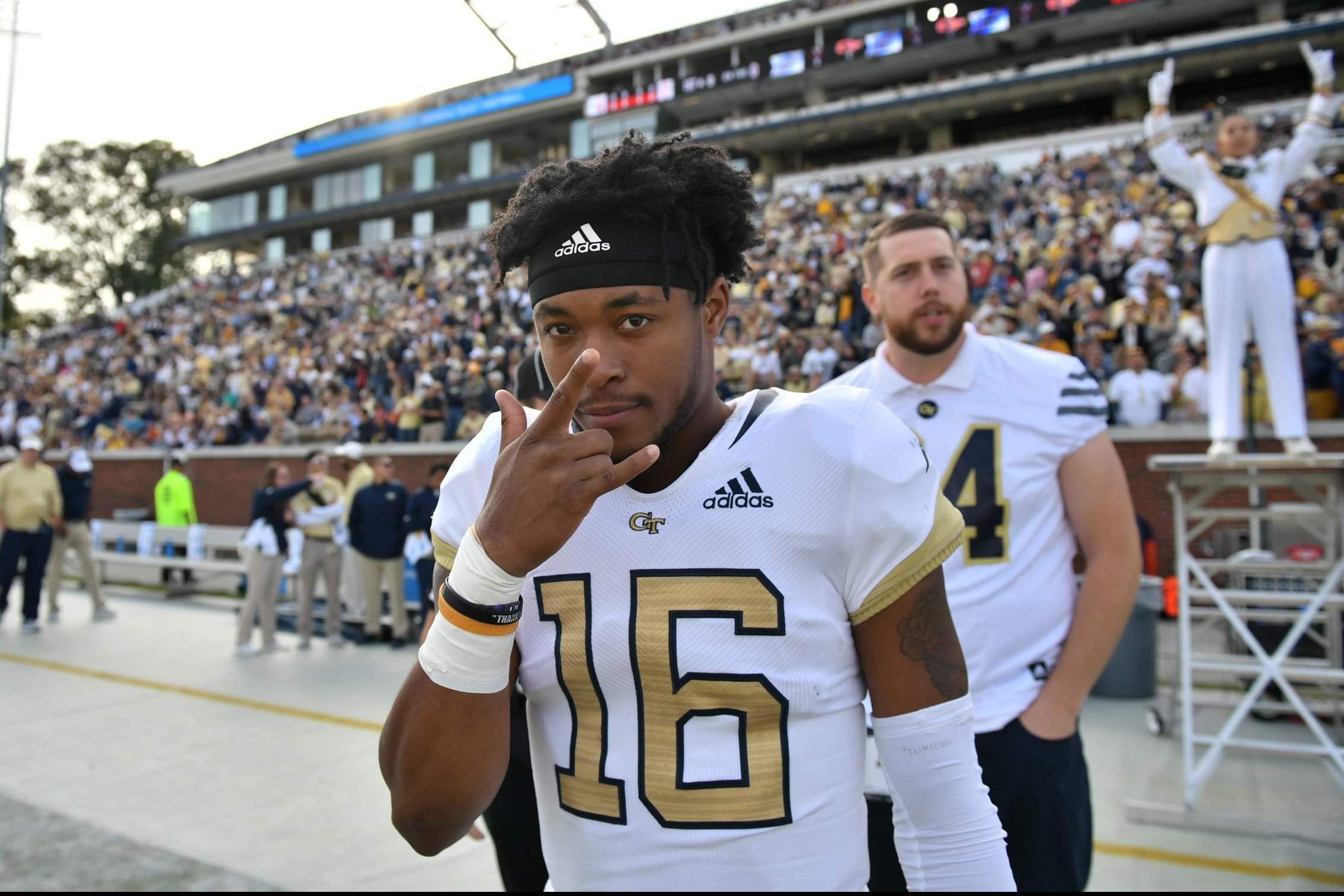 VIRGINIA HEAD COACH BRONCO MENDENHALL
Opening Statement
"Congratulations to Paul Johnson and their football team, it was a hard-fought game. I love my team; they battled like crazy … played very strong and played tough, played right to the end. I thought, defensively, we played very well, holding [Georgia] Tech to field goals for the most part. Ultimately, the storyline was the special teams miscues … the kick return for a touchdown, and the punt that bounced up and hit one of our players, that turnover. Those two plays, I thought, contributed to us not being quite able to pull off this game. Certainly, the safety … those three plays, in terms of clean play and execution, were the difference in the game.
"Offensively, we held the ball and scored. Defensively, we played well and held them to field goals, as well as significantly under their rushing total. So the plan worked well other than the special teams didn't execute well enough on a few plays to win the game."
On playing defense first in overtime, being where you want to be…
"It's exactly how you designed it. The defense, again, for the entire day, I don't know how much fault you can find. They played very, very well, from start to finish."
On the punt bouncing off of a player, was that a freak bounce?
"I don't know whether it was a freak bounce or not. Our punt returner's primary job is to alert every player that's covering, or holding up a defensive player, that the kick is short. Then their job is to get away. And so the communication from the returner needed to be more animated and more distinct so the player that was holding up the defender going down to cover could get out of the way quicker."
On the review, what did the official tell you?
"I wasn't told anything, other than the play stands. I looked up and saw it, but…"
On the effect of the first-quarter sequence of a safety, the injury to QB Perkins, then the touchdown
"That series where there's a safety, a quarterback injury and a kick return for a touchdown … that would have broken the will of many teams, and it didn't seem to faze our guys. Nor did the whole scenario, going all the way to overtime. Yeah, we didn't kick the ball through the uprights at the end … that's what everyone will see, but the team played really well. We just didn't quite play clean enough to win."
On the third-and-1 try to the end zone at the end of regulation
"We thought we had just one opportunity, and we thought we might catch them sleeping."
On the play of QB Brennan Armstrong
"It was awesome. I mean, it seems like each time he goes in, there's something electric that happens. He's a really good player, but he has a presence that … we see it every day defensively. He has a presence where he thinks he can move the ball against anyone, no matter the circumstance, and he's probably right."
Any serious consideration to ride with Armstrong and not go back to Perkins?
"Nope. Our quarterback is Bryce Perkins, and if he was healthy and able to play, then we were going to play him. And he was healthy enough to lead our team, and he did, and he gave us a great chance to win."
On the location on the right hash for the field goal try in overtime, confident or not?
"It never even crossed my mind. I thought we'd be great."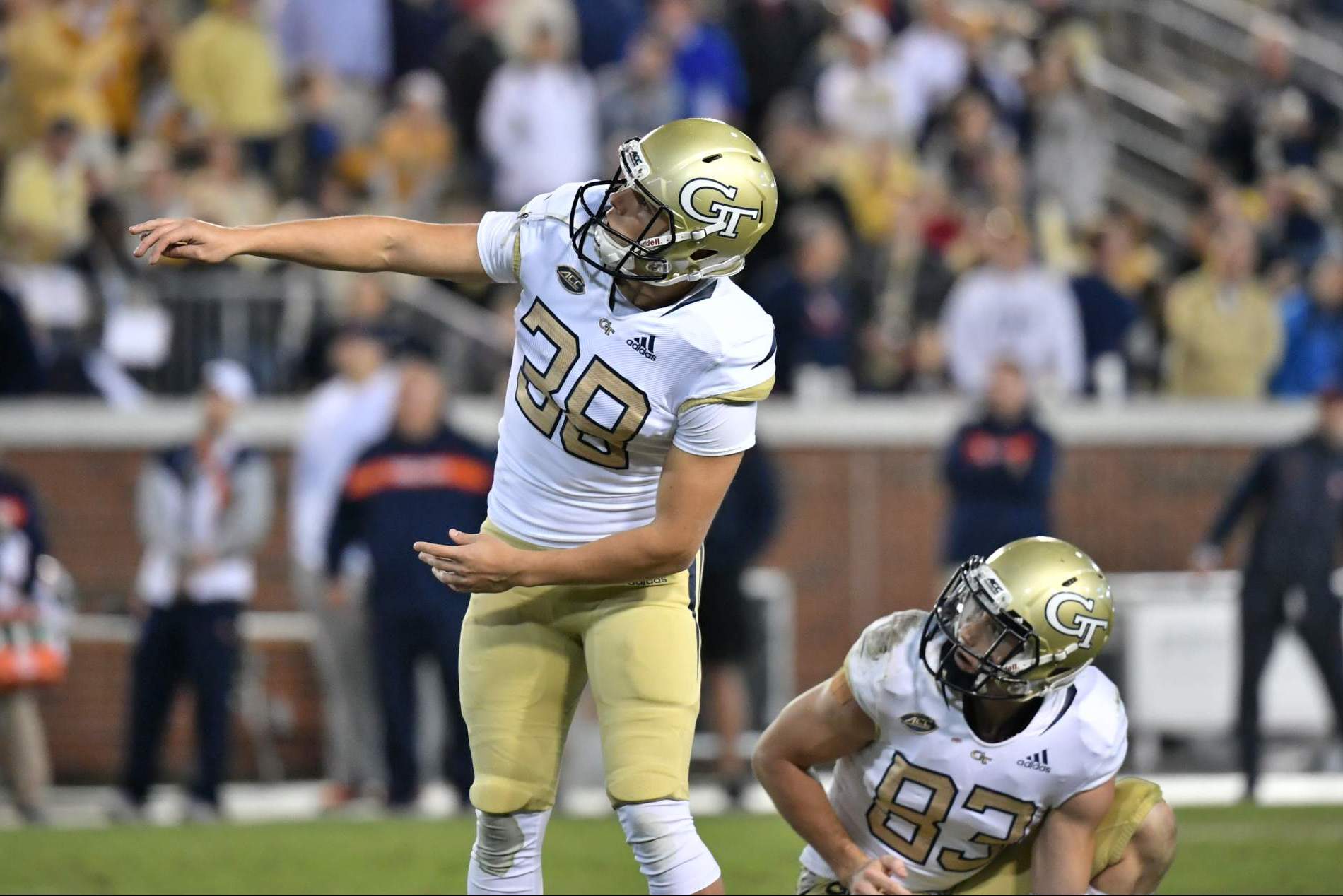 GEORGIA TECH PLAYERS
TAQUON MARSHALL, QB, RS-SR
 On the huge pass completion to Brad Stewart:
"He bailed me out. I threw the ball too early, it could have been a touchdown—but that would have left too much time on the clock. But it was a great catch, he put his body on the line, laid out to get a first down on a huge third down. Kudos to him because he definitely bailed me out."
On how the defense and special teams picked up the slack for the offense at times:
"They did what they were supposed to do when they were out there. We always preach 'control what you can control' when you're out there, and they did a great job of getting off the field when they were out there and putting the ball in our hands when we really needed it. The safety was huge and the kick return was huge. Wes [Wells] made some huge kicks… that shows you it takes all the pieces to the puzzle to win a game like that."
On the turnaround starting the season 1-3 to being 7-4 after the win:
"Everyone just believed in each other. We knew that it was a marathon, so we were just going to control what we could control and go out every week and prepare for the games on the weekend, go out and just go out and do our best to put us in the best situation to win. Once we started winning the confidence got high and we stayed on that pedestal and kept up the energy."
WESLEY WELLS, PK, FR
On the made field goal kick before overtime:
"I try to make each kick the same, but sometimes the nerves do get to you a little bit. It just went off my foot a little weird and when I looked up it was a little to the right. It was a roller-coaster of emotions while the kick was up and the ball hitting the post and going in. It was a great feeling when it went in, but definitely a roller-coaster of emotions."
On his nerves when kicking:
"The nerves usually don't really get to me, I don't know why. I just try to prepare enough in practice to the point where I don't get nervous in games. Even from high school, this was my first game-winner. At practice, we'll make little bets on whether we can make a kick or not, but that's the closest resemblance to the pressure in the game."
BRAD STEWART, WR, SR
On his third-down reception in the fourth quarter:
"I just know that in the first half a defender made a good play on a ball thrown to me, and I was upset about it, and I wanted another chance. On the catch, I feel like I gave the cornerback a good move, made him commit, I started sprinting and TaQuon put it up for me. I've had so many balls in my career where I would just miss by a fingertip, and this was the one that I actually caught. It was big-time so I was really happy for it."
On the emotions of senior night and an overtime win:
"It was a back and forth game with a roller-coaster of emotions the whole way. We had a safety, and started going for two which turned out to be huge for us—and of course the field goals. You never know when you're in the middle of the game when a play will be super important. Our defense did a heck of a job stopping Virginia for only a field goal at the end of regulation. We got the field goal in OT, the defense stopped them, and I feel Virginia was due for a missed field goal."