THE FLATS. – The Georgia Tech swimming & diving program saw multiple school records broken and NCAA qualifying marks earned at the second day of the UGA Invitational at Gabrielsen Natatorium in Athens, Ga.
The No. 22 ranked Yellow Jacket men are currently in second-place on the team leaderboard at 718 points. Host No. 3 Georgia leads men's team scoring heading into the final day on Friday with 1043 points. No. 16 Florida State sits in last place having scored just 702.
Tech's women find themselves in third-place with just 468 points. No. 1 Georgia is out in front after two days at 983.5 points for the women. No. 25 FSU is in second with 810.5 team points.
Results for the meet can be found here.
A new school record was set in the 200 Medley Relay as junior Kyle Barone, with seniors Caio Pumputis, Christian Ferraro and Austin Daniel finished in 1:23.89. In the process the Jackets also earned an NCAA 'A' cut in that event.
Ferraro found himself rewriting Tech's record books throughout the evening as he clocked in at 45.89 in the 100 Fly 'A' Finals to break the previous best time of 46.07, set by Ferraro in 2019. Barone was not far behind Ferraro in the 100 Fly, finishing in 46.09 putting him in fourth-place.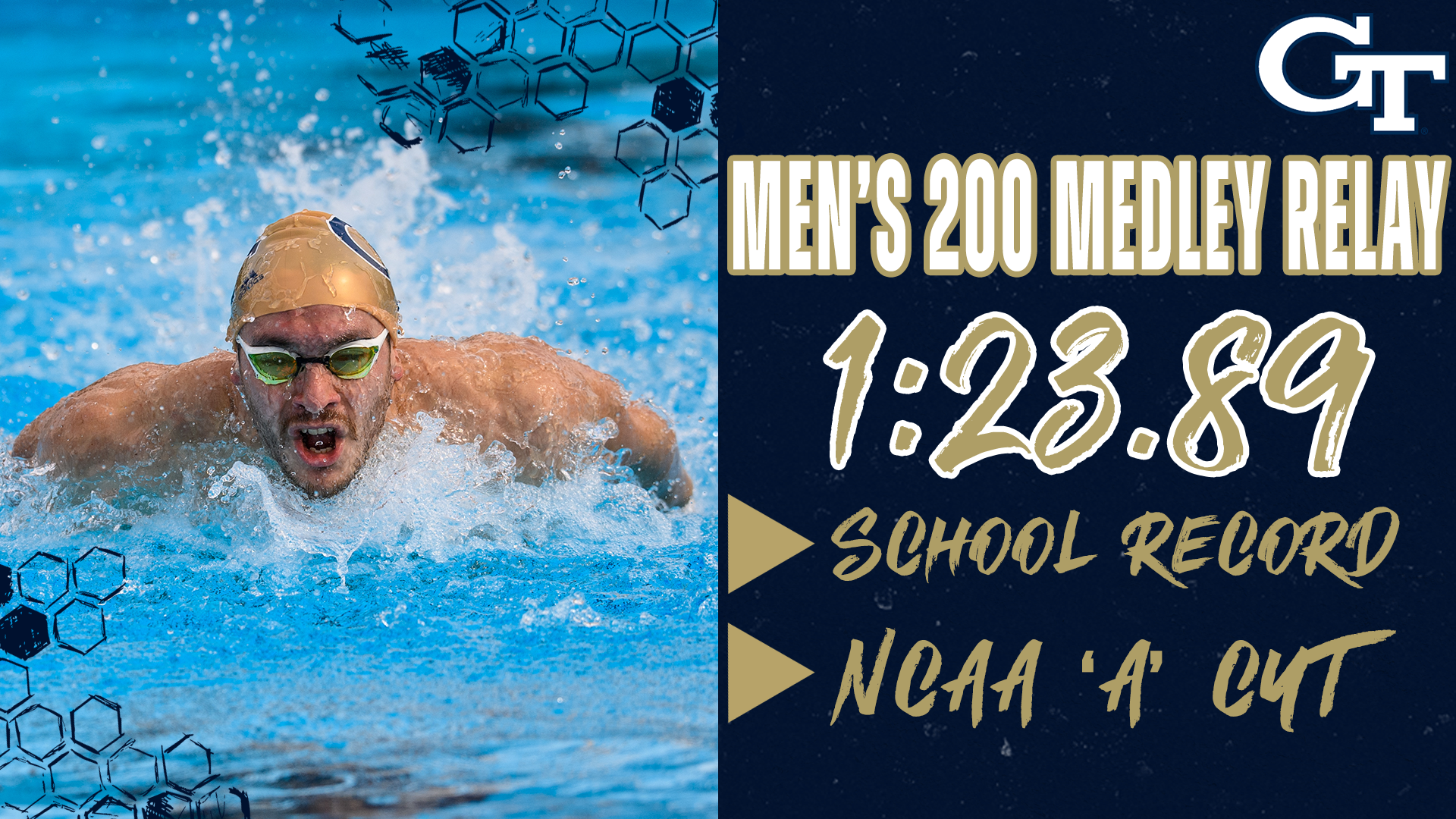 Three men's school records have been broken so far at the UGA Invite through the first two days. The 400 Medley Relay, 200 Medley Relay and 100 Fly have all been rewritten.
Tech's women's diving team was led by true freshman Anna Bradescu & sophomore Carmen Woodruff, earning a pair of NCAA Zone qualifying scores in the platform dive. Bradescu placed first with a score of 281.90, while Woodruff took second at 241.75 points.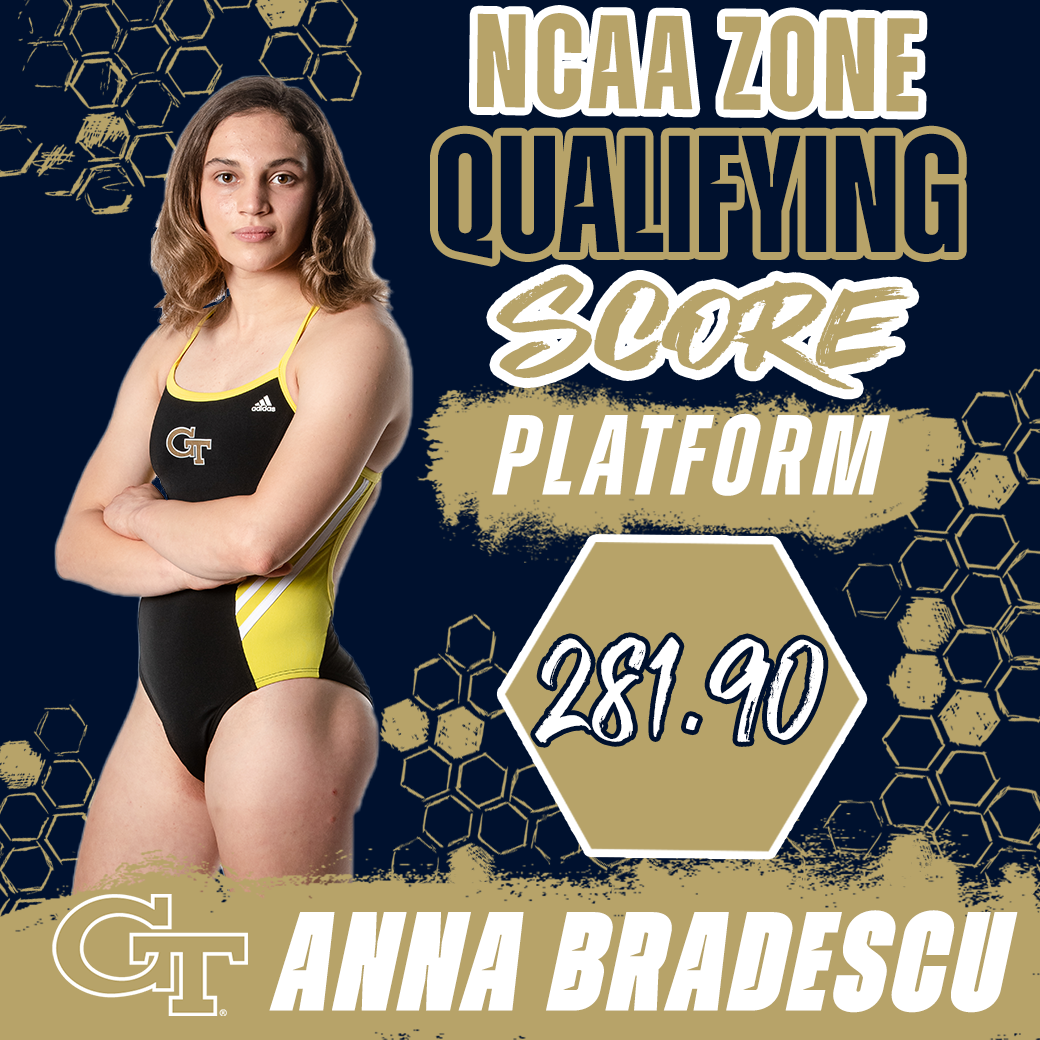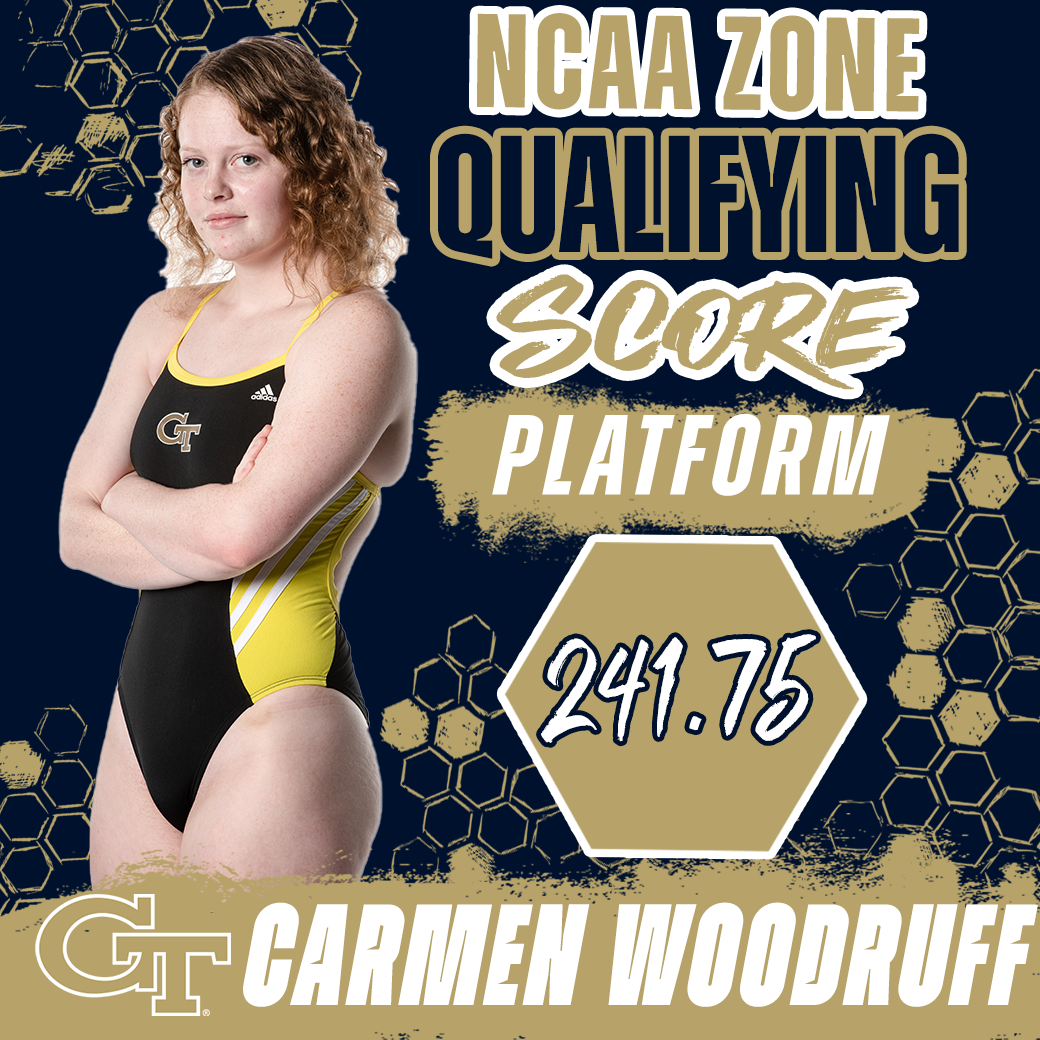 "I definitely knew we were capable of getting many zone qualifying performances," said diving coach John Ames. "The results do not surprise me. Platform is Anna's best event. I still think she has not had her best performance on springboard though."
"As for Carmen," Ames added. "She put together the kind of platform list that I knew she was capable of. I am very proud of her."
Bradescu also qualified for Zones in the 3m dive on the first day of the UGA Invite.
The men's diving squad saw senior Jacob Kreider secure an NCAA Zone qualifying score at 339.75 in the 3m competition.
MEN'S HIGHLIGHTS
Tech was ranked as the No. 22 team in the latest CSCAA NCAA Division I National Poll heading into day two. It was the Jackets first time returning to the top-25 since earlier this January when they were slated in the No. 24 spot.
True Freshman Jonathan Shaheen made it to the 400 IM 'A' Finals and took eighth in that event coming in at 3:58.29.
Another true freshman, Batur Unlu, had the second fastest performance in school history at 1:33.81 in the 200 Free, earning an NCAA 'B' cut in the process. His time was also the fastest ever in program history by a freshman.
Pumputis earned Silver in the 100 Breast Finals with a time of 52.42, which was also good enough for an NCAA 'B' cut.
Sophomore Daniel Kertesz (54.49) & junior Tanner Doan (55.65) took first and second in their heat in the 100 Breast 'B' Finals.
Barone finished second in the 100 Back 'A' Finals posting a time of 45.68.
The 800 Free Relay crew captured Silver at 6:20.59 to close out the evening. They also earned an NCAA 'B' cut.
WOMEN'S HIGHLIGHTS
Sophomore McKenzie Campbell earned an NCAA 'A' cut in the 400 IM 'A' Finals, placing sixth overall with a time of 4:16.34.
Freshman Lindsey Merk (4th-place, 54.37) and Campbell (7th-place, 54.95) were the top-finishers for Tech in the 100 Fly 'A' Finals.
Junior Duda Seifer placed eighth in the 200 Free 'A' Finals with a time of 1:51.75.
Junior Nicole Williams (1:03.22) and senior Catriona MacGregor (1:03.91) finished in sixth- & seventh-place in the 100 Breast 'A' Finals.
Junior Jami Williams (56.00) and Merk (56.05) were the top two finishers in their heat in the 100 Back 'B' Finals.
Georgia Tech will return for the final day of competition at the UGA Invite in Athens tomorrow morning starting at 9:30 a.m. (EST). Finals will begin at approximately 3:00 p.m. (EST). Live streaming for the final day will be provided by SEC Network+ and can be found here.
The Alexander-Tharpe Fund is the fundraising arm of Georgia Tech athletics, providing scholarship, operations and facilities support for Georgia Tech's 400-plus student-athletes. Be a part of developing Georgia Tech's Everyday Champions and helping the Yellow Jackets compete for championships at the highest levels of college athletics by supporting the A-T Fund's Annual Athletic Scholarship Fund, which directly provides scholarships for Georgia Tech student-athletes, and Athletics Initiative 2020, Georgia Tech athletics' ongoing $125 million initiative to allow Tech to recruit the nation's most elite student-athletes, build a better student-athlete once they arrive on The Flats and, ultimately, win! To learn more about supporting the Yellow Jackets, visit atfund.org.   
For the latest information on Georgia Tech Yellow Jackets Swimming & Diving, follow us on Twitter (@GTSwimDive), Instagram (@GTSwimDive), and Facebook (Georgia Tech Swimming & Diving) or visit us at www.ramblinwreck.com.