The Good Word | by Jon Cooper
Even the best of seasons come to an end.
That's lamentable as far as Georgia Tech's men's and women's cross country.
But their success is serving as the driving force for the distance group for men's and women's track and field, as the indoor season opens this weekend with the BSC Indoor Icebreaker, today in Birmingham, Alabama, and Saturday in Boston, Mas., at the BU Season Opener.
While only a select group of Yellow Jackets are competing — Reese Crawford, Brianna Hayden and Denise Woode in the 400 meters, Ebony Forbes, Taylor Grimes and Jeanine Williams, in the 60 hurdles, Jordynn Tyndall in the 800m, and Dasia Smith in the long jump for the women, Maurice Simpson, 60m and 200m, and Wesley Watkins, Jr., 60m, for the men in Birmingham, Nahom Solomon (5000m), and Chris Korabik (3,000)m going to Boston — the weekend is more a matter of quality, not quantity and is a good testing ground.
"We, historically, do not compete many kids in the early December meets," said men's track and field head coach Grover Hinsdale. "We're only taking a couple of guys coach Page wants to take a look at and get an idea of their level of conditioning and competitiveness leading into the Christmas Break. For the most part, we are focusing on the first indoor meet of the season, officially for the full team, January 11 and 12 at Clemson."
"It does start the season but the season really starts in earnest in January," agreed Alan Drosky, Women's Track Head Coach, who is making his annual transition from cross country. "This is an opportunity for some of the track people who have been training all fall to kind of see where they are before the exams and Christmas break. We kind of look at it, 'Who's really fit and ready to race?' Look at academics, make sure everyone's doing well and can afford to travel and miss a day of class as we head into exams. So it's a small group but we're looking for some good performances."
While coaches are always looking ahead, Drosky did enjoy taking one last run down memory lane that was the 2018 cross country season.
The women's team put together a tremendous season, starting with a win at Georgia, finishing no lower than third in the ensuing two meets, then, after a bit of a hiccup at ACCs, finished an inspiring fourth in the NCAA East Regional, qualifying for the NCAA Championships, where they'd finish 28th. The men also won at Georgia, had a top-10 finish in Boston, and just missed two more, each by five seconds, including at the ACCs. They concluded by running a superb South Regional, finishing fifth.
"I thought it was a great season," said Drosky. "The women went to the national meet and competed really well. Often you kind of have to get there once, see what it's like, and then get there again and do well but I thought the women did a really good job of managing the whole situation and ran pretty well. So I thought they competed well and I was really happy.
"It was a great season for the men, also. It got a little bit overshadowed by the women," he added, and "they were a little bit under the radar the whole season. For them to go to the regional meet, run really well, to finish fifth was outstanding. The distance area, coming off the cross country season has some great momentum. If they can continue building on that as they've done from season to season, we hope that we can find a way to get some points in the distance-events area, in the distance medley indoors."
Their work in the fall could pay off big Indoors. Senior Avery Bartlett, and grad student Nahom Solomon provide a veteran presence indoors. Bartlett earned second-team all-America honors in the 800m running 1:48.24 at last year's NCAA Indoors, and twice led Jacket in cross country meets this fall, finishing second another time. Solomon was Tech's first cross country first-team all-American in 23 years, and is the school's record-holder in the indoor 3000m and 5000m.
But Tech also has some up and comers ready to contribute in sophomore Andrew Kent and freshman James Cragin, who finished 1-2 for the Jackets at cross country regionals.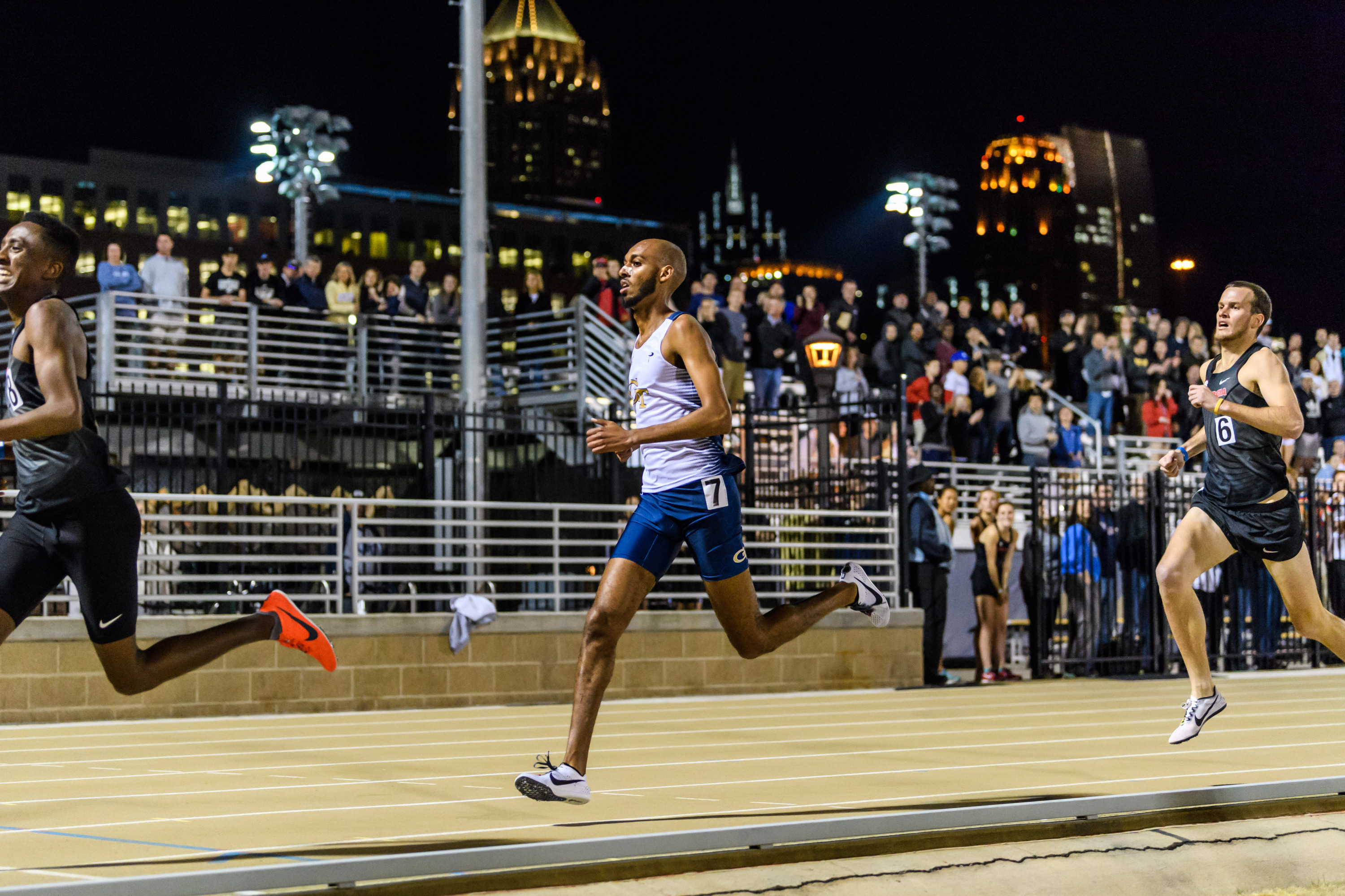 "To get 12th, it was great to see Andrew come into his own," said Drosky. "He's a very talented guy. For James Cragin, as a freshman, running his first 10K ever, to get all-region and be in the top 25 (24th) and earn All-Region honors, that was outstanding. As with the women I think that we have the foundation to keep it at that level and build on it to be even better in the future."
Senior Amy Ruiz leads the women, who also feature seniors Mary Prouty and Hailey Gollnick, and sophomores Hana Herndon and Nicole Fegans, all of whom were superb in cross country.
"Amy Ruiz has been to finals in both indoors and outdoors. She had a great cross country season," said Drosky. "I think that she's going to really do some good things on the track, challenge some school records. Hana Herndon and Nicole Fegans had outstanding cross country seasons and will do some big things on the track, too."
There's no doubt the cross country contingent will be ready to move indoors come January.
"After cross country they don't shut it down by any means," said Hinsdale. "It's pretty low-key for a couple of weeks and then, after Thanksgiving, they get back into the full swing of practice in preparation for the indoor season. Most of those guys have been through that gauntlet. It's not as tough as it may sound to someone on the outside. Not that it's easy but it's a transition that they're used to and they handle it very well."
"They're used to it," agreed Drosky. "The distance group is unique, not just on the track team but in all the sports. They're the only athletes that are probably competing the whole year, from our first meet, early September all the way through May and June. It is challenging but it's the routine that they know. There's a little bit of down time but there is no status quo. You're either getting better or getting worse. So you've got to keep training and keep moving forward. The track team as a whole has been working hard the whole year."
While only a handful of athletes will be getting a look in Birmingham, there still is plenty to watch.
Want some sizzle? How about Jeanine Williams, the defending ACC's fastest hurdler – indoors and outdoors — winning the 60 meter hurdles indoors, then the 100 meter hurdles outdoors. She also was part of the record-setting shuttle relay. Friday is an opportunity to get a peek at what she has in store for her senior season.
"If we're going to talk Georgia Tech women's track and field you have to start with Jeanine Williams. She's been the face of our program for the last two years," said Drosky. "Coming into her senior year she has high expectations for herself — defending her ACC titles and getting to nationals again, particularly the Indoor Nationals, where they only take 16 athletes from across the country."
Tech's Sprints/Hurdles coach Adriane Butler also will send sophomore Ebony Forbes and freshman Taylor Grimes, and they could be key pieces to Tech's hurdling corps.
"We've lost Kenya Collins and Raven Stewart from last year," said Drosky. "Ebony Forbes redshirted last year, but she's improving. Taylor Grimes is a hurdle/long jump athlete who has the potential to do very well in both those events."
Juniors Denise Woode, Brianna Hayden and freshman Reese Crawford also will compete in the 400m, while freshman Jordynn Tyndall will give it a go in the 800m. They could fill spots in GT's relays.
"In the sprint area, our relays have been good and have scored or been very close to scoring at the Conference Meet," said Drosky. "We look for them to continue to compete well, led by Brianna Hayden. Bri has the potential to score at the conference and do some big things."
Senior Dasia Smith represents Tech's women in the long jump. She hopes to contribute in the group with the Jackets' soaring long- and triple-jumpers senior Bria Matthews, who is the healthiest she has been since freshman year, when she was ACC champ in the long and triple and was a first-team all-American indoors.
Page also will be taking a look at a couple of sprinters, senior Maurice Simpson, who ran the team's fastest 200 indoors (21.81) last year, and junior Wesley Watkins, Jr., whose 7.97 in the 60H earned him a 10th in last year's Indoor ACCs.
"Both of these guys are upperclassmen, they've had a good fall training," said Hinsdale. "Coach Page feels they're ready for a competitive setting so he wants to go over and just get an idea where they are right now."
On Saturday eyes turn to Boston, where a pair of grad students, Solomon, and a DePaul transfer Chris Korabik will compete.
"Nahom Solomon only has indoor eligibility, and Chris Korabik, only has indoor eligibility so he didn't compete in cross country, either," said Drosky. "They've been training all fall so we wanted to give them an opportunity to race before Christmas, an earlier chance to race than everyone else, and they're fit so it's a really good opportunity for them."
Drosky believes this weekend can only help come 2019, when the season begins for real.
"It's a small group but hopefully we'll have some good performances," he said. "Give us some idea of how the fall has gone and what we need to work on as we go through the break and head into January."