Final Stats (.html) | Final Stats(.pdf) | Multimedia | Postgame Notes | Postgame Quotes | Photo Gallery
THE FLATS — Georgia Tech men's basketball raced out to a 31-point halftime lead en route to a 72-44 victory over UT Rio Grande Valley on Wednesday night at McCamish Pavilion.
Georgia Tech (3-1) shot 53.8 percent from the field (14-of-26), including a 50-percent mark from three-point range (5-of-10), and limited UTRGV (3-3) to just 8.3-percent shooting (2-of-24) in the first half to take a commanding 42-11 halftime lead. The Vaqueros' 11 points were the fewest Tech has ever surrendered in an opening half and the second-fewest that the Yellow Jackets have allowed in any half in the modern era (1949-present).
The Jackets extended the lead to as large as 35 points early in the second period.
Freshman Michael Devoe led Georgia Tech with 14 points. Jose Alvarado added 13 points and Moses Wright chipped in with 11 to round out three Yellow Jackets in double-figures.
Tech returns to action on Friday when it hosts Prairie View A&M for a holiday matinee. Tipoff is set for 4 p.m. at McCamish Pavilion.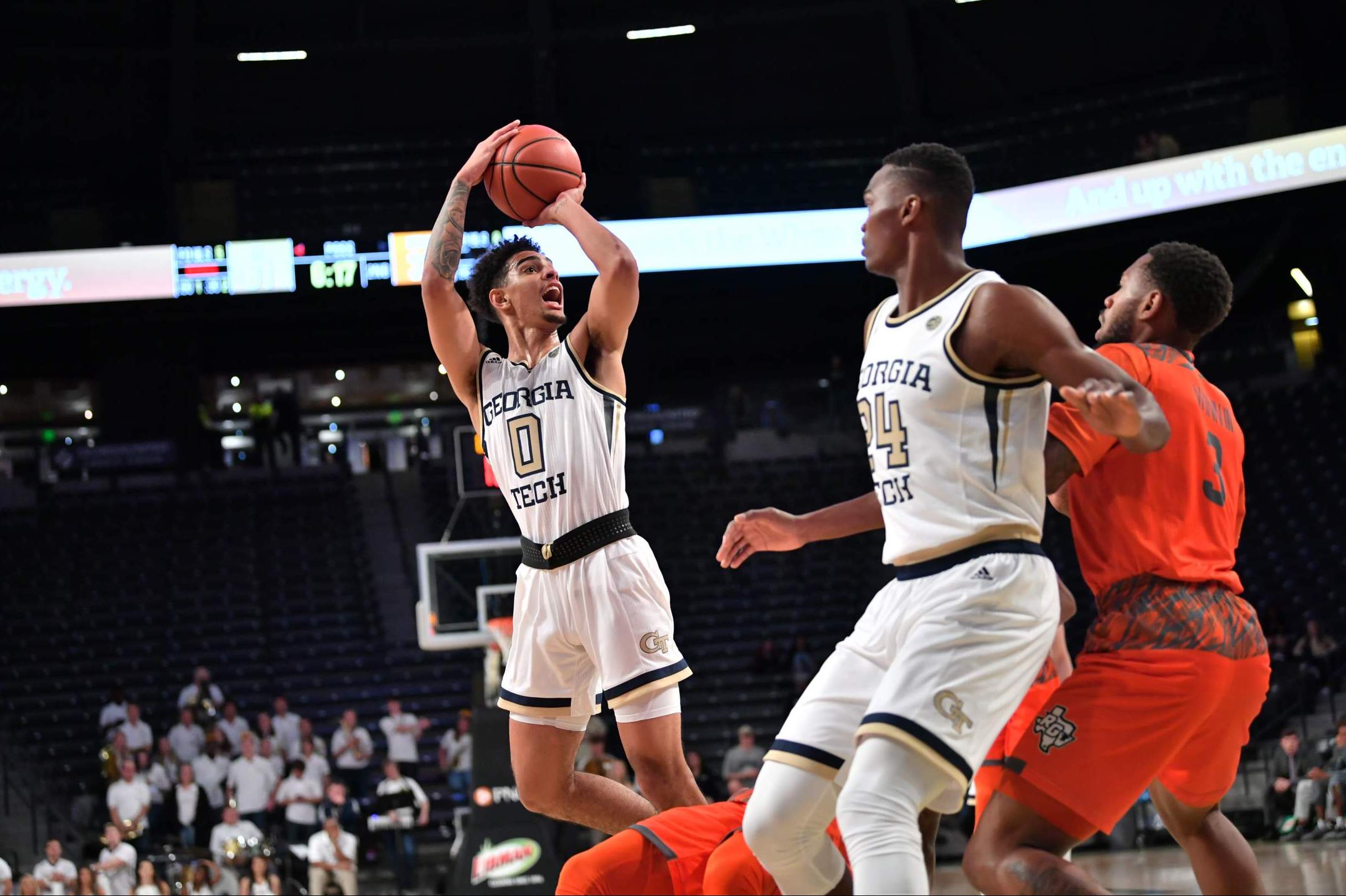 Michael Devoe led Georgia Tech with 14 points in Wednesday's win over UTRGV.
Postgame Notes
MISCELLANEOUS NOTES
Georgia Tech starting lineup: Alston, Haywood II, Phillips, Wright, Gueye
First subs for Georgia Tech: Alvarado, Banks, Devoe for Alston, Gueye, Phillips – 14:08-1st half
On the floor for Georgia Tech at the end: Jester, Moore, Ogbonda, Schafer, Sjolund
Opening tap won by Georgia Tech: Georgia Tech has won the opening tap once in four games last season
Series record vs. UTRGV: Georgia Tech is 2-1 overall, 2-1 at home, 2-0 under Josh Pastner, 2-0 vs. Lew Hill
Current series streak: Georgia Tech won the last two meetings
Georgia Tech is 3-0 at McCamish Pavilion this season, 75-37 in its sixth season in the building, 32-11 under Josh Pastner
Georgia Tech is 0-1 on the road this season, 0-1 away from McCamish Pavilion
Georgia Tech's next game: Friday, Nov. 23 (4 p.m.) vs. Prairie View A&M [ACC Network Extra]
 TEAM NOTES
Georgia Tech held UTRGV to 22.6 percent from the floor in the game, the second-lowest percentage yield ion the modern era (16.3 is the lowest, by Kentucky on Jan. 2, 1960). It was more than 13 percent below the Vaqueros' rate in their first five games.
Tech has held all four of its opponents under 40 percent this season, and to 34.1 percent collectively for the season. The Yellow Jackets are 27-8 when holding opponents to less than 40 percent under Josh Pastner.
The 11 points scored by UTRGV in the first half were the second fewest Georgia Tech has allowed in a half in the modern era (since 1950). The fewest had been eight, in the second half by the University of the South on Dec. 2, 1980.
Tech has yielded just 15 three-point field goals in its first four games (22.4 percent). The Jackets allowed an average of 7.1 per game and a success rate of 37.9 percent last season.
Conversely, Tech has attempted 87 threes (21.8 per game) and made 30 (7.5 per game), compared to averages of 15.3 attempts and 4.9 made per game in 2018-19. Six different Yellow Jackets have made at least two three-point field goals so far this season. Tech has hit 34.5 percent of its threes for the season; only one Jackets team since 2010 has finished the season with a higher percentage (35.7 in 2015-16).
Tech has held its four opponents an average of 20.8 points under their scoring averages – breakdown by game: Lamar 75.3 (69), Tennessee 86.5 (66), East Carolina 79.0 (54), UTRGV 75.4 (44).
Defensively, Tech has forced 70 turnovers (17.5 per game) and taken 41 steals (10.3 per game). The Jackets forced an average of 12.6 turnovers per game last season and took 6.9 steals per game.
Tech has deployed nine players for significant minutes (10 or more per game) in each of its four games so far. All 12 scholarship players saw action at Tennessee and 11 (all except injured Evan Cole) against East Carolina and UTRGV.
Tech's 43.1-percent shooting from the floor against UTRGV was its lowest in three home games. The Jackets shot 50.8 percent against Lamar and 49.1 against East Carolina
Tech's bench outscored that of UTRGV, 31-16. Yellow Jacket reserves have scored 141 points in four games (35.4 per game).
PASTNER'S KEY METRICS
Assists to made field goals: Tech assisted on 16 of 22 made field goals (72.7 percent) against UTRGV, exceeding its nightly goal of 60 percent. The Jackets are at 61.4 percent (59 of 96) for the season.
Free throws made to opponents' attempts: Tech connected on 22-of-35 free throw attempts to UTRGV's 16-of-33 (nightly goal of making more than opponent tries not accomplished). Tech is 32-10 under Josh Pastner when attempting more free throws than the opponent.
Turnovers: Tech has forced 70 turnovers (17.5 per game) and taken 41 steals (10.3 per game). The Jackets forced an average of 12.6 turnovers per game last season and took 6.9 steals per game. Tech came into the game ranked No. 35 nationally in turnovers forced and 26th in steals per game.
Guard rebounding: Tech's guards combined for 13 of Tech's 34 defensive rebounds against UTRGV, seven of those from Curtis Haywood II.
INDIVIDUAL NOTES
Moses Wright started his second straight game for Georgia Tech in place of Evan Cole, who was sidelined with a sprained left ankle suffered in the Tennessee game Nov. 13. He notched his first double-figure game this season (11 points), and the second of his career. His career high is 19 points last season vs. Florida A&M.
Freshman guard Michael Devoe posted his second consecutive double-digit game with 14 points, went 7-for-8 at the free throw line and had his season high in assists with five against one turnover, and has three steals.
Jose Alvarado was the only other Tech player to score in double digits (12 points), and connected on three three-point field goals. He has hit 8-of-22 (36.4 percent) for the season.
Curtis Haywood II didn't score in double figures (7 points) but racked up seven rebounds, six assists and four steals with just one turnover in 26 minutes. He went 2-of-4 from three-point range and has hit 8-of-20 (40 percent) for the season.
Alvarado, Devoe and Haywood combined to dish 14 assists and turn the ball over just three times against UTRGV.
Having played one game fewer than his teammates, transfer James Banks is averaging a team-high 7.0 rebounds per game and has blocked a team-high seven shots.
Georgia Tech's defense held UTRGV to just 11 points on 8.3-percent shooting in the first half.