Final Stats (.html) | Final Stats (.pdf) | Multimedia | Postgame Notes
Miami Fla. – Jose Alvarado scored 17 points to lead four Georgia Tech players in double figures, but the Yellow Jackets could not overcome a 37-point performance by St. John's guard Shamorie Ponds as the Red Storm rallied in the second half to defeat the Yellow Jackets, 76-73, Saturday in the Hoophall Miami Invitational at American Airlines Arena.
The Yellow Jackets (4-3), who dropped their second straight game, used a 14-0 first-half run and 48-percent shooting rally from a 7-point deficit to lead 38-29 at intermission. The Tech run was broken at the horn when Ponds sank a half-court shot for three points.
Undeterred, the Yellow Jackets scored nine of the first 11 points in the second half to open a 47-31 lead, and led by the same margin as late as 15:06 on Curtis Haywood's layup before the Red Storm (7-0) began to chip away.
Ponds scored 21 points over the final 15:06, and he completed the St. John's comeback with a pair of free throws at 3:31 to put the Red Storm up, 67-66. St. John's would build its lead to as much as seven at 73-66 with 26 seconds remaining before the Jackets made a final push.
James Banks III, making his first collegiate start, posted his second straight double-double with 14 points and 12 rebounds. Brandon Alston, also back in the starting lineup for the second time this season, scored 14 points with three 3-point field goals, and Moses Wright added 12 for the Yellow Jackets.
Justin Simon and L.J. Figueroa each chipped in 13 points for the Red Storm.
Georgia Tech returns to action Sunday, Dec. 9, hosting Florida A&M at 2 p.m. at McCamish Pavilion.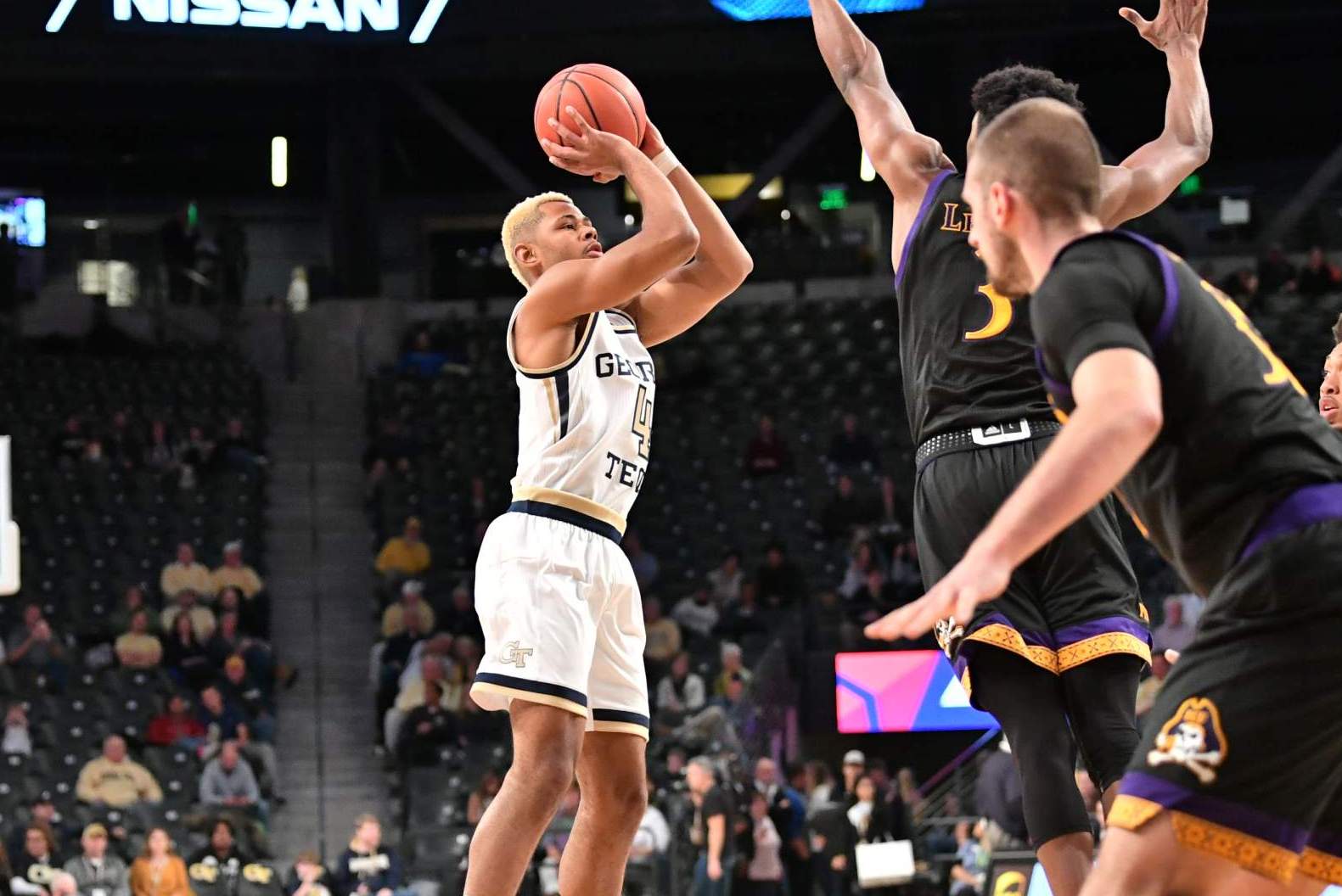 Brandon Alston sank three 3-point field goals and scored 14 points.
Postgame Notes
MISCELLANEOUS NOTES
Georgia Tech starting lineup: Alvarado, Alston, Haywood II, Wright, Banks
First subs for Georgia Tech: Devoe, Gueye, Moore for Banks, Haywood II, Wright – 14:21-1st half
On the floor for Georgia Tech at the end: Alston, Alvarado, Phillips, Wright, Banks
Opening tap won by Georgia Tech: Georgia Tech has won the opening tap three times in seven games last season
Series record vs. St. John's: Georgia Tech is 4-6 overall, 3-6 on neutral floors, 0-1 under Josh Pastner, 0-1 vs. Chris Mullin
Current series streak: St. John's won the last two meetings
Georgia Tech is 4-0 at McCamish Pavilion this season, 76-37 in its sixth season in the building, 33-11 under Josh Pastner
Georgia Tech is 0-2 on the road this season, 0-3 away from McCamish Pavilion
Georgia Tech's next game: Sunday, Dec. 9, 2 p.m., vs. Florida A&M, McCamish Pavilion
 TEAM NOTES
Georgia Tech closed the first half on a 21-5 run to lead St. John's 38-29, then began the second half with a 9-2 start to extend its lead to 16 (47-31) at the 16:51 mark. Tech still led by 16 (51-35) with 15:06 left before St. John's began to chip away, eventually pulling ahead, 67-66, with 3:31 left.
It was the largest lead that Tech has given up at any point in a game under Josh Pastner. Previous big lead was 13 (first half) at Boston College last Feb. 4, and 11 (second half) at Clemson last Feb. 24.
Tech shot 45.3 percent from the floor against St. John's, well above its season average, and hit 21-of-24 from the free throw line, but made just 4-of-21 fro three-point range and turned the ball over 16 times.
Tech outrebounded St. John's, 35-30, the third time in four games the Yellow Jackets have outrebounded their opponent
St. John's shot just 37.9 percent from the floor for the game, the sixth opponent Tech has limited to less than 40 percent, and Tech is holding its opponents to 36.3 percent collectively this season..
Tech has yielded just 32 three-point field goals in its first seven games (4.6 per game, 25.8 percent). The Jackets allowed an average of 7.1 per game and a success rate of 37.9 percent last season.
Tech has connected on just 36.6 percent of its field goals in three games away from home, and 11-of-52 (21.2 percent) of its three-point attempts. But it has converted 81.2 percent of its free throw tries and scored 56 of its 187 points there.
Tech has attempted 137 threes (19.6 per game) and made 42 (6.0 per game), compared to averages of 15.3 attempts and 4.9 made per game in 2018-19. Four different Yellow Jackets have made at least five three-point field goals so far this season. Tech has hit 30.7 percent of its threes for the season, below last season's 31.8-percent clip.
Tech has all seven opponents under their season scoring averages – breakdown by game: Lamar 81.0 (69), Tennessee 82.8 (66), East Carolina 72.7 (54), UTRGV 70.2 (44), Prairie View A&M 69.2 (54), Northwestern 76.0 (67), 83.0 (76).
Defensively, Tech came into the game forcing 16.5 turnovers per game and taking 9.0 steals per game, but St. John's committed only five turnovers (four Tech steals). The Jackets forced an average of 12.6 turnovers per game last season and took 6.9 steals per game.
Tech has deployed at least eight players for significant minutes in each of its seven games so far, nine vs. Northwestern and St. John's, despite Even Cole missing his fourth straight game with an ankle injury.
Tech's bench outscored that of St. John's, 11-2. Yellow Jacket reserves have scored 204 points in six games (29.1 per game).
Tech altered its starting lineup for the first time for reasons not related to injury against St. John's; James Banks earned his first collegiate start, replacing Abdoulaye Gueye, and Brandon Alston started in place of Shembari Phillips. Both Gueye and Phillips had started the first six games.
PASTNER'S KEY METRICS
Assists to made field goals: Tech assisted on 12 of 24 made field goals (50 percent) against St. John's, missing its nightly goal of 60 percent. The Jackets are at 56.7 percent (93 of 164) for the season.
Free throws made to opponents' attempts: Tech connected on 21-of-24 free throw attempts to St. John's 27-of-35 (nightly goal of making more than opponent tries not accomplished). Tech is 33-11 under Josh Pastner when attempting more free throws than the opponent.
Turnovers: Tech has 14.9 turnovers per game and taken 8.2 steals per game. The Jackets forced an average of 12.6 turnovers per game last season and took 6.9 steals per game. Tech came into the game ranked No. 35 nationally in turnovers forced and 26th in steals per game.
Guard rebounding: Tech's guards combined for 13 of Tech's 27 defensive rebounds against St. John's. The fivesome of Alvarado, Alston, Devoe, Haywood and Phillips has combined to take 74 of Tech's 190 defensive rebounds this season (38.9 percent).
INDIVIDUAL NOTES
James Banks scored his second consecutive double-double, scoring a career-high 14 points and matching his best of 12 rebounds against St. John's. Banks went 5-of-5 from the floor and is 11-of-13 in his last two games. He has taken 33 rebounds in Tech's last three games and averages 9.0 for the season. He played a season-high 33 minutes against St. John's.
Banks has had at least one blocked shot in each of the six games he has played, averaging 2.3 for the season (led the ACC coming into Saturday's games).
Moses Wright started his fifth straight game for Georgia Tech in place of Evan Cole, who was sidelined with a sprained left ankle suffered in the Tennessee game Nov. 13. He notched his highest scoring game (12 points, 5-8 FG, 2-2 FT) since getting 19 last Dec. 17 against Florida A&M, and posted his third career double-digit game. He played a season-high 25 minutes.
Jose Alvarado led Tech with 17 points against St. John's, hitting 5-of-15 shots from the floor and 7-of-8 from the free throw line but missing all six of his three-point attempts. He also had four assists and just two turnovers in a season-high 38 minutes, playing most of the last 10 minutes with four fouls.
Alvarado has scored in double figures in four straight games, averaging 17 points over that stretch. He also has hit 20-of-26 (76.9 percent) from the free throw line in those four games after not attempting a free throw in Tech's first three games.
Alvarado has averaged 36 minutes over Tech's last three games (36, 34, 38).
Brandon Alston returned to double digits for the second time in three games and for the fourth time this season, scoring 14 points against St. John's. The graduate senior connected on 3-of-4 from three-point range and is 11-of-18 from distance this season. He had converted 49.1 percent of his field goals tries overall.
Freshman forward Khalid Moore played solidly off the bench for the second straight game, scoring a season-best six points (4-4 FT) with two assists and a steal with no turnovers in 15 minutes against St. John's. At Northwestern, Moore had two points, three rebounds, three assists and two steals with no turnovers in 15 minutes.