Final Stats (.html) | Final Stats (.pdf) | Multimedia | Postgame Notes | Postgame Quotes | Photo Gallery
THE FLATS — Georgia Tech men's basketball used an 11-0 run in the second half to take its first lead of the game and held off pesky Prairie View A&M for a 65-54 victory on Friday afternoon at McCamish Pavilion.
Georgia Tech, which had trailed throughout the game, found itself down by eight points (41-33) with 14:16 remaining in the contest. However, the Yellow Jackets scored the game's next 11 points, nine of which came from sophomore Jose Alvarado, to take 44-41 advantage. From there, the Jackets never trailed again, as they closed the game on a 32-13 run to seal the victory.
Alvarado led Tech with 15 points and a game-high six assists. Brandon Alston and Curtis Haywood II added 14 and 10 points, respectively, to round out three Yellow Jackets in double-figures. All 15 of Alvarado's points came in the second half while Alston scored 13 of his 14 after the break.
James Banks III chipped in with nine rebounds and three blocked shots.
Prairie View's Gary Blackston led all scorers with 19 points and grabbed nine rebounds.
Georgia Tech (4-1) returns to action on Wednesday night for its ACC-Big Ten Challenge matchup at Northwestern. Tip is set for 9:15 p.m. and the game will be televised on ESPNU.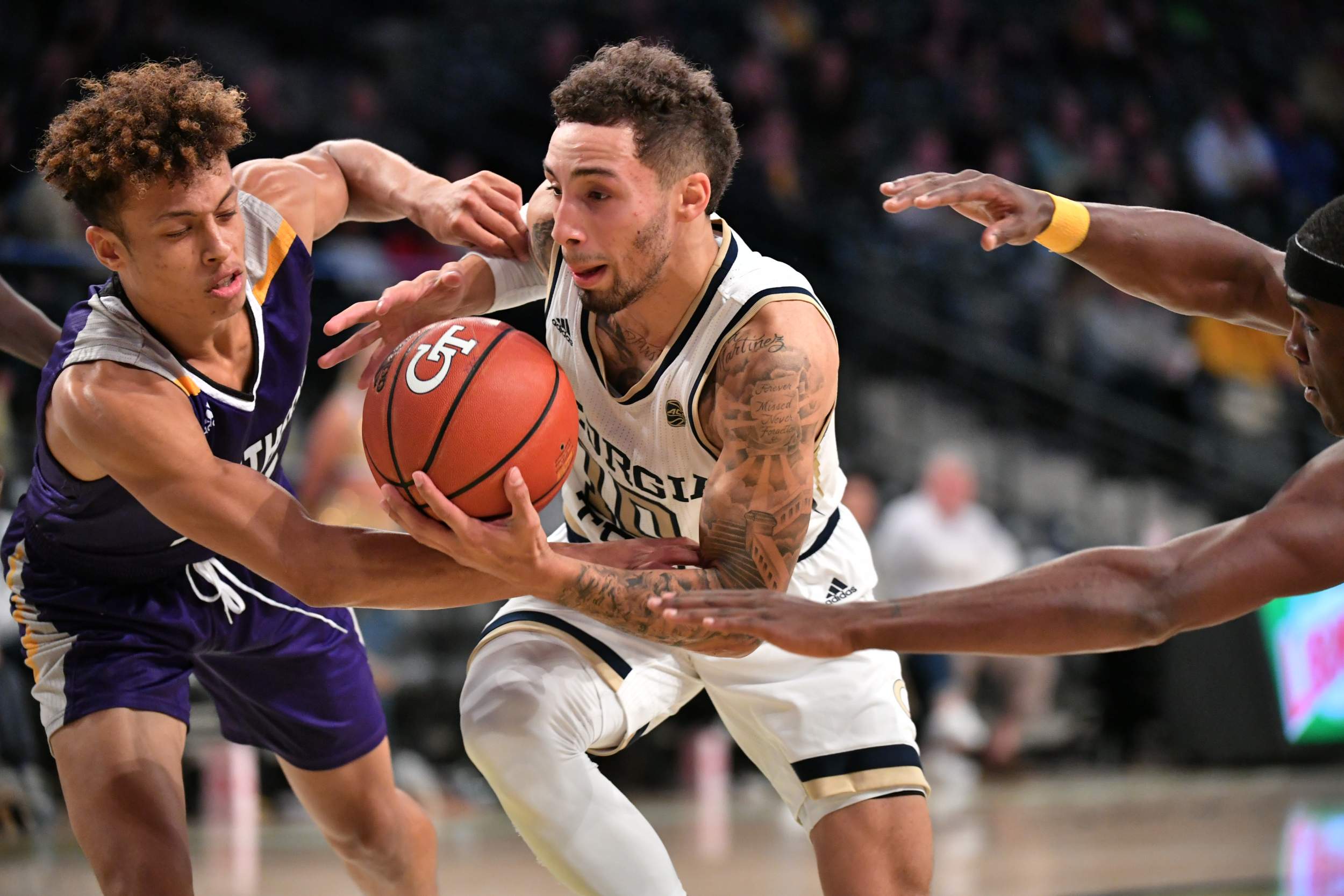 Sophomore Jose Alvarado scored nine points of his team-high 15 points during Georgia Tech's game-changing 11-0 run in the second half of Friday's win over Prairie View A&M.
Postgame Notes
MISCELLANEOUS NOTES
Georgia Tech starting lineup: Alvarado, Haywood II, Phillips, Wright, Gueye
First subs for Georgia Tech: Alston, Banks for Haywood, Gueye – 16:48-1st half
On the floor for Georgia Tech at the end: Alvarado, Alston, Haywood II, Gueye, Banks
Opening tap won by Georgia Tech: Georgia Tech has won the opening tap twice in five games last season
Series record vs. Prairie View A&M: Georgia Tech is 1-0 overall, 1-0 at home, 1-0 under Josh Pastner, 1-0 vs. Byron Smith
Current series streak: Georgia Tech won the last meeting
Georgia Tech is 4-0 at McCamish Pavilion this season, 76-37 in its sixth season in the building, 33-11 under Josh Pastner
Georgia Tech is 0-1 on the road this season, 0-1 away from McCamish Pavilion
Georgia Tech's next game: Wednesday, Nov. 28 (9:15 p.m.) vs. Northwestern [ESPNU]
TEAM NOTES
Georgia Tech is 4-1 for the sixth consecutive season. The Yellow Jackets have not made it to 5-1 since the 2014-15 season (actually 6-1). The fifth win came against Rhode Island on a neutral floor, and the sixth win game at Northwestern in the ACC-Big Ten Challenge.
Tech's 65-54 win over Prairie View A&M represented the Yellow Jackets lowest point total and its smallest margin of victory at home this season.
Georgia Tech trailed at the half for just the second time this season (33-25 at No. 5 Tennessee on Nov. 13). The Jackets made up most of a 10-point by making six straight field goals late in the first half to pull within one at intermission, then 8-of-9 in the second half to pulled the Yellow Jackets into their first lead of the game.
Still, Tech finished the game at 38.5 percent from the floor, and 4-of-17 from three-point range, both figures season lows at home.
Tech connected on only four three-point field goals, but they all came after halftime – Brandon Alston made one at 17:56 (29-33), Jose Alvarado one at 13:54 (36-41), Alston again at 3:45 (55-50) and Haywood finally connected at 1:21 (63-52).
Alvarado scored all 15 of his points after intermission, and Alston chipped in 13 of his 14 in the second half to help the Jackets outsore the Panthers, 39-27.
Prairie View A&M's 41.7-percent shooting from the floor was a season high – all of Tech's first four opponents shot less than 40 percent. Tech came into the game leading the ACC in field goal percentage defense, which is now 43.5 percent, and No. 1 in three-point percentage yield, which is now 23.5 (PVAMU went 5-for-18).
Tech has yielded just 20 three-point field goals in its first five games (23.5 percent). The Jackets allowed an average of 7.1 per game and a success rate of 37.9 percent last season.
Conversely, Tech has attempted 104 threes (6.8 per game) and made 34 (6.8 per game), compared to averages of 15.3 attempts and 4.9 made per game in 2018-19. Six different Yellow Jackets have made at least two three-point field goals so far this season. Tech has hit 34.5 percent of its threes for the season; only one Jackets team since 2010 has finished the season with a higher percentage (35.7 in 2015-16).
Tech has held its five opponents an average of 17.8 points under their scoring averages – breakdown by game: Lamar 81.0 (69), Tennessee 82.8 (66), East Carolina 72.7 (54), UTRGV 70.2 (44), Prairie View A&M 69.2 (54).
Defensively, Tech has forced 84 turnovers (16.8 per game) and taken 45 steals (9.0 per game). The Jackets forced an average of 12.6 turnovers per game last season and took 6.9 steals per game.
Tech has deployed eight players for significant minutes (10 or more per game) in each of its five games so far. All 12 scholarship players saw action at Tennessee and 11 (all except injured Evan Cole) against East Carolina and UTRGV. Only eight played against Prairie View A&M, with Evan Cole missing his third straight game with a sprained ankle.
Tech's bench outscored that of Prairie View A&M, 25-9. Yellow Jacket reserves have scored 166 points in five games (33.2 per game).
Tech was outrebounded in its first two games by a combined 10, but has been even (East Carolina) or on the plus side in its last three.
PASTNER'S KEY METRICS
Assists to made field goals: Tech assisted on 14 of 24 made field goals (58.3 percent) against Prairie View A&M, missing its nightly goal of 60 percent. The Jackets are at 60.8 percent (73 of 120) for the season.
Free throws made to opponents' attempts: Tech connected on 13-of-20 free throw attempts to Prairie View's 13-of-16 (nightly goal of making more than opponent tries not accomplished). Tech is 33-10 under Josh Pastner when attempting more free throws than the opponent.
Turnovers: Tech has forced 84 turnovers (16.8 per game) and taken 45 steals (9.0 per game). The Jackets forced an average of 12.6 turnovers per game last season and took 6.9 steals per game. Tech came into the game ranked No. 35 nationally in turnovers forced and 26th in steals per game.
Guard rebounding: Tech's guards combined for 13 of Tech's 25 defensive rebounds against East Carolina, seven of those from Curtis Haywood II.
INDIVIDUAL NOTES
Jose Alvarado scored all of his 15 points in second half, his season high and his third double-digit game of the season. He made 6-of-11 shots from the floor and is shooting 44.9 percent for the season. He also matched his season high of six assists and set a season high with four steals.
Brandon Alston hit double figures off the bench for the third time this season, scoring 14 points, 13 of those in the second half to help Tech rally from a seven-point deficit. Alston had one three-point field goal during the run, and has hit 7-of-11 this season.
Curtis Haywood II didn't hit his first three until just over a minute left in the game, but it gave the Yellow Jackets their biggest lead of the night at 63-52. It gave him 10 points for his third double-digit game this season. Haywood is connecting on 36 percent from behind the arc.
Moses Wright started his third straight game for Georgia Tech in place of Evan Cole, who was sidelined with a sprained left ankle suffered in the Tennessee game Nov. 13. He has averaged 7.0 points and 4.0 rebounds in that stretch, while hitting 9-of-18 shots from the floor.
Alvarado, Devoe and Haywood combined to dish 12 assists and turn the ball over five times against Prairie View. They have combined for 26 assists against 10 turnovers in Tech's last two games.
Having played one game fewer than his teammates, transfer James Banks is averaging a team-high 7.5 rebounds per game and has blocked a team-high 10 shots. He played a career-high 30 minutes against Prairie View, and the Jackets outscored the Panthers by 16 while he was on the floor
Brandon Alston scored 13 of his 14 points in the second half of Friday's win over Prairie View A&M.
Multimedia
Game Highlights
Georgia Tech Head Coach Josh Pastner Post-Game Press Conference (audio)