Final Stats (.html) | Final Stats (.pdf) | Multimedia  | Postgame Notes  |  Postgame Quotes  |  Photo Gallery
THE FLATS — Led by a career-high 29 points from by resurgent point guard Jose Alvarado, Georgia Tech men's basketball pulled away late for a 73-65 victory over Pittsburgh on Wednesday night at McCamish Pavilion.
Georgia Tech (12-15, 4-10 ACC) trailed for only 20 seconds early in the first half and led by as many as 18 points en route to snapping a seven-game losing streak. Pitt (12-15, 2-12 ACC) pulled within a point in the second half but buoyed by making 50 percent of its shots from the field for the game (24-of-48 — its highest field-goal percentage in 11 contests), the Yellow Jackets pulled away for the victory.
After scoring in single-digits and shooting less than 30 percent from the field in each of the previous six games, Alvarado has scored 46 points on 62.5-percent shooting (15-of-24) over the past two contests. He made 9-of-13 field goals and 9-of-10 free throws to account for Wednesday's career-best 27 points.
Defensively, Georgia Tech recorded a season-high 12 blocked shots while limiting Pitt to 34.5-percent shooting from the field.
The Yellow Jackets return to action on Saturday at Miami (Fla.). Tipoff is set for 2 p.m.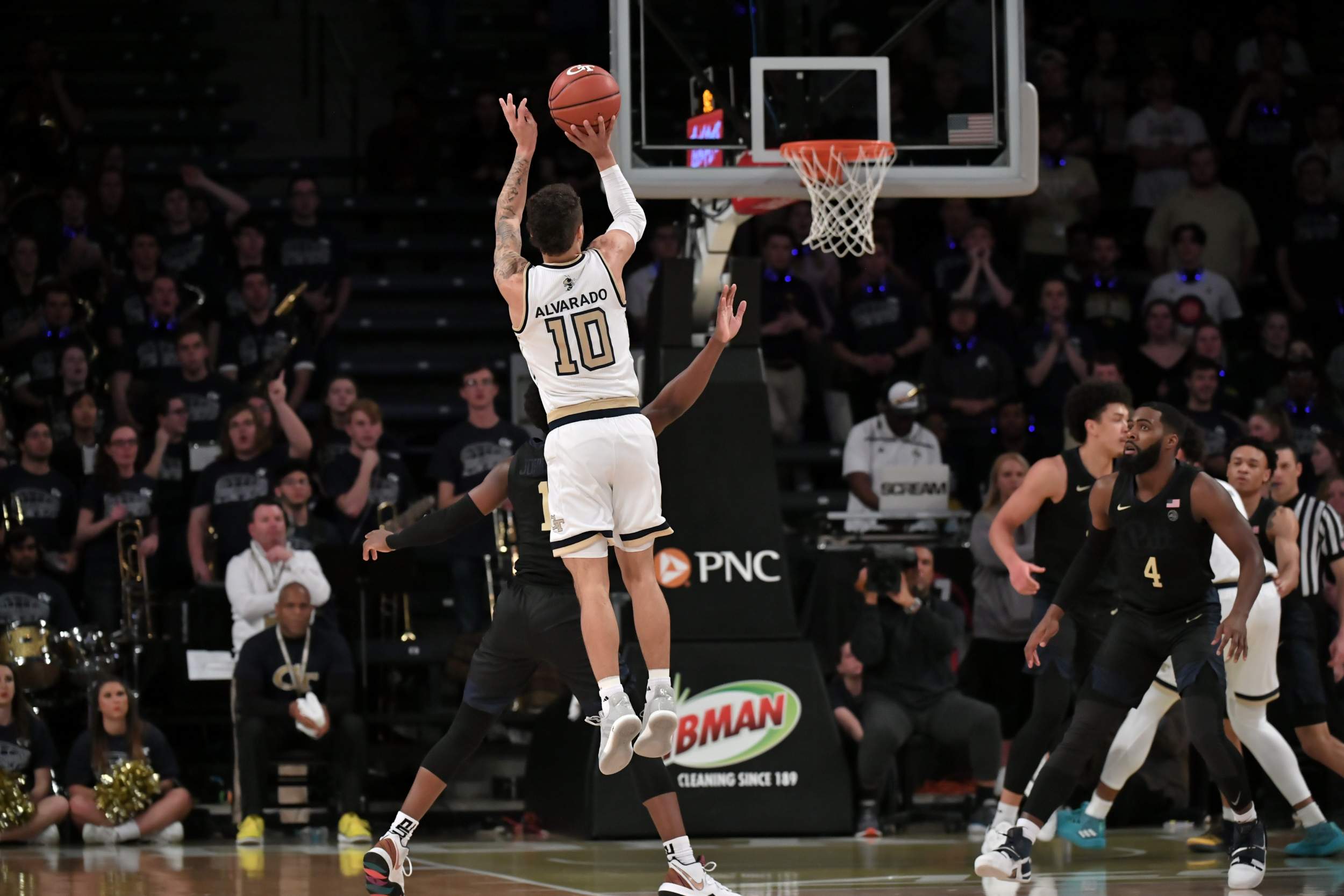 Jose Alvarado made 9-of-13 field goals and scored a career-high 29 points in Wednesday's win over Pitt.
Post-Game Notes
MISCELLANEOUS NOTES
Georgia Tech starting lineup: Alvarado, Devoe, Sjolund, Wright, Banks III
First subs for Georgia Tech: Haywood for Sjolund  – 13:16-1st half
On the floor for Georgia Tech at the end: Alston, Alvarado, Haywood II, Wright, Gueye
Opening tap won by Georgia Tech: Georgia Tech has won the opening tap 16 times in 27 games this season
Series record vs. Pittsburgh: Georgia Tech is 9-4 overall, 5-1 at home, 3-1 under Josh Pastner, 2-0 vs. Jeff Capel
Current series trend: Georgia Tech has won four of the last five meetings
Georgia Tech is 10-7 at McCamish Pavilion this season, 82-44 in its sixth season in the building, 39-18 under Josh Pastner
Georgia Tech is 2-6 on the road this season, 2-7 away from McCamish Pavilion
Georgia Tech's next game: Saturday, Feb. 23, at  Miami (2 p.m., Watsco Center)
 TEAM NOTES
Georgia Tech kept with its 4-out, 1-in alignment, starting Moses Wright and freshman Kristian Sjolund at the forward spots along with guards Jose Alvarado and Michael Devoe and post man James Banks III, for the second straight game.
Sjolund made his first career start against the Seminoles, while Wright started for the 16th time this season. Devoe, a freshman, has started Tech's last 18 games, having made his first collegiate start at Arkansas. Banks has started the last 21 games in the post, and Alvarado has started 25 games.
Tech has used 11 different starting lineups this season. No Yellow Jacket has started every game this season, and 10 different players have started three or more games.
Tech has all of its players healthy, on the bench and in uniform for the first time since Feb. 6 against Clemson. The Jackets have been shorthanded in 11 of their ACC games because of injury, illness or other absence.
Tech used nine players in the game, seven of them for double-digit minutes, and eight players scored.
Tech has shot 50 percent or better seven times this season, three times in ACC play – 55.8 percent against Wake Forest, 59.5 percent at Syracuse, and an even 50 percent Wednesday night against Pittsburgh. The Jackets connected on 57.9 percent of their field goal tries in the second half.
Tech continued an upward turn in its three-point shooting, connecting on 7-of-19 against Pittsburgh. The Jackets have averaged 8.5 threes and shot 37 percent from beyond the arc in their last four games. In the five games before that, the Jackets shot 14-for-96 (14.6 pct.) from bonus range. (Alvarado is 5-for-12 in his last two games, and Curtis Haywood II hit 2-of-4 against Pittsburgh after going 2-for-32 in the eight games before that. Devoe 14-for-27 in his last six games. Sjolund is 10-for-24 in Tech's last four games.)
Tech put together its most efficient offensive game (110.2 points per 100 possessions, according to KenPom.com) since its ACC opener against Wake Forest (121.4, when the Jackets scored 92 points and shot 55.8 percent). It was Tech's fourth-most efficient game of the season.
Tech has made 75 percent of its free throws over its last seven games; however, the Yellow Jackets have averaged scoring just 11.1 points from the charity stripe. Tech went 18-for-24 against Pittsburgh, its most attempts since Louisville on Jan. 19, and its most free throws made since Wake Forest on Jan. 5.
Tech has held 17 opponents this season, and eight ACC opponents, under 40 percent from the floor (Pittsburgh shot 33.3 percent). The Jackets have limited 15 opponents, eight in the ACC, to 30 percent or less from three-point range.
Tech blocked 12 Pittsburgh shots, its fourth highest number ever against an ACC opponent and its most since rejecting 15 against Clemson on March 6, 2008 (Tech's record against an ACC opponent).
Wake Forest (74.4 ppg, scored 79), Clemson (71.4 ppg, scored 72 in the first meeting) and Virginia Tech (75.6, 76 in second meeting) remain the only Georgia Tech opponents to exceed their season scoring averages this season against the Yellow Jackets. Tech had held every other opponent this season under its season scoring average – breakdown by game: Lamar 81.8 (69), Tennessee 85.5 (66), East Carolina 71.1 (54), UTRGV 70.2 (44), Prairie View A&M 69.2 (54), Northwestern 73.5 (67), St. John's 83.5 (76), Florida A&M 63.2 (40), Gardner-Webb 82.9 (79), Arkansas 81.8 (69), Georgia 79.2 (70), Kennesaw State 62.5 (57), USC Upstate 70.9 (63), Virginia Tech 81.1 (52), Syracuse 70.9 (59), Louisville 79.9 (79), Notre Dame 74.7 (61), Duke 88.6 (66), North Carolina 88.1 (77), Florida State 77.8 (59), Clemson 71.2 (65 in second meeting), Notre Dame 71.7 (69 in second meeting), Florida State 77.5 (69 in second meeting), Pittsburgh 67.7 (65).
Tech won despite playing the final 2:01 of the Pitt game without Michael Devoe and James Banks, who both fouled out. Devoe committed his fifth with 2:50 left. It was Banks' fourth DQ of the season, Devoe's second.
PASTNER'S KEY METRICS
Assists to made field goals: The Jackets have 219 assists on 359 field goals (61 percent) in its last 14 games. The Jackets are at 58 percent for the season (38th in the nation) and 56.9 percent in ACC games. Tech assisted on 13 of 24 made field goals (54.2 percent) against Pittsburgh, missing its nightly goal of 60 percent.
Free throws made to opponents' attempts: Tech is 37-17 under Josh Pastner when attempting more free throws than the opponent. Tech connected on 18-of-24 free throw attempts to Pittsburgh's 20-of-38 (nightly goal of making more than opponent tries not accomplished).
Turnovers: Tech has averaged 15.0 turnovers per game this season, 15.4 in ACC games to date (3.4 more per game than opponents). Target each night is 11 or fewer, which Tech has met twice this season (both wins). More telling for Tech under Josh Pastner is that when Tech has committed fewer turnovers than its opponent, it is 22-13. When it has committed more, it is 21-29.
Guard rebounding: The group of Alvarado, Alston, Devoe, Haywood, Moore and Phillips has combined to take 321 of Tech's 700 defensive rebounds this season (45.9 percent). Tech's guards combined for 11 of the Jackets' 29 defensive rebounds against Pittsburgh.
INDIVIDUAL NOTES
Jose Alvarado scored a career-high 29 points, matching his career best for field goals made (9-of-13) and establishing a personal high for free throws made (9-of-10). The 6-foot-sophomore guard has scored 46 points in Tech's last two games after scoring a total of 25 points in the six games prior.
Alvarado recorded his eighth career 20-plus game against the Panthers, fourth this season. His previous career high was 24 at Northwestern on Nov. 28 of this season.
Alvarado has played the full 40 minutes in a game three times this season (at Arkansas, at Notre Dame, Pittsburgh), and 11 times in his career.
Alvarado added five assists, six rebounds, two steals and one turnovers against Pittsburgh.
James Banks III has three double-digit rebound games in his last four – 12 at Notre Dame, 10 vs. Florida State, 10 vs. Pittsburgh. He has averaged 9.6 boards over his last five games.
Banks has averaged 4.0 blocks over his last five games – 7 vs. Clemson, 4 vs. Notre Dame, 2 each vs. Virginia Tech and Florida State, 5 vs. Pittsburgh. Banks is averaging 2.71 blocks per ACC game, which leads the conference.
Moses Wright, who made his second straight start and 16th this season, had his most productive ACC game this season with seven points, seven rebounds and four blocked shots against Pittsburgh. Wright fell one shy of his career high of eight rebounds (Bethune-Cookman, Virginia Tech last season), and had only blocked one shot in a game previously (seven times). He went 3-of-4 from the foul line, including two critical makes with 1:41 on the clock and Tech leading 64-61.
Freshman Kristian Sjolund has seen his most extensive action of the season in the Yellow Jackets' last four games, averaging 9.8 points and 21.8 minutes per game (8 points in 9 minutes at Notre Dame, 11 in 26 minutes at Virginia Tech, 11 more in 28 minutes against Florida State, and 9 in 25 minutes against Pitt). The 6-7 forward has hit 12-of-28 from the floor and 10-of-24 threes in these four games. His season high for minutes had been 11 against East Carolina, and he had gone 2-for-11 from three-point range on the season prior to the last four games.
With Tech opting for a 4-out, 1-in approach at Virginia Tech, Abdoulaye Gueye has not started the last three games. He played just four minutes at Virginia Tech, but played 17 against Florida State (5 points, 6 rebounds) and 16 against Pittsburgh (8 points, 3 rebounds, 2 blocks). Gueye had averaged 12.0 points and 5.1 rebound over his previous eight games, and had scored in double digits in seven of those. The 6-9 senior connected on 52.6 percent of his shots from the floor (41-of-78) in the same stretch. In Tech's last two games, he is 5-of-11 from the floor.
Freshman Michael Devoe averaging 10.0 points (No. 3 on the team), 4.3 rebounds and 2.5 assists in ACC games, and he has hit 46 percent of his three-point tries (23-of-50) against conference opponents. Devoe is 14-of-27 from three-point land (51.9 pct.) in his last six games.
Banks is Tech's No. 2 scorer (11.3 ppg) and leading rebounder (7.0 rpg) leader in ACC games, and he is hitting 50.8 percent of his field goals and 69.4 percent of his free throws against conference foes.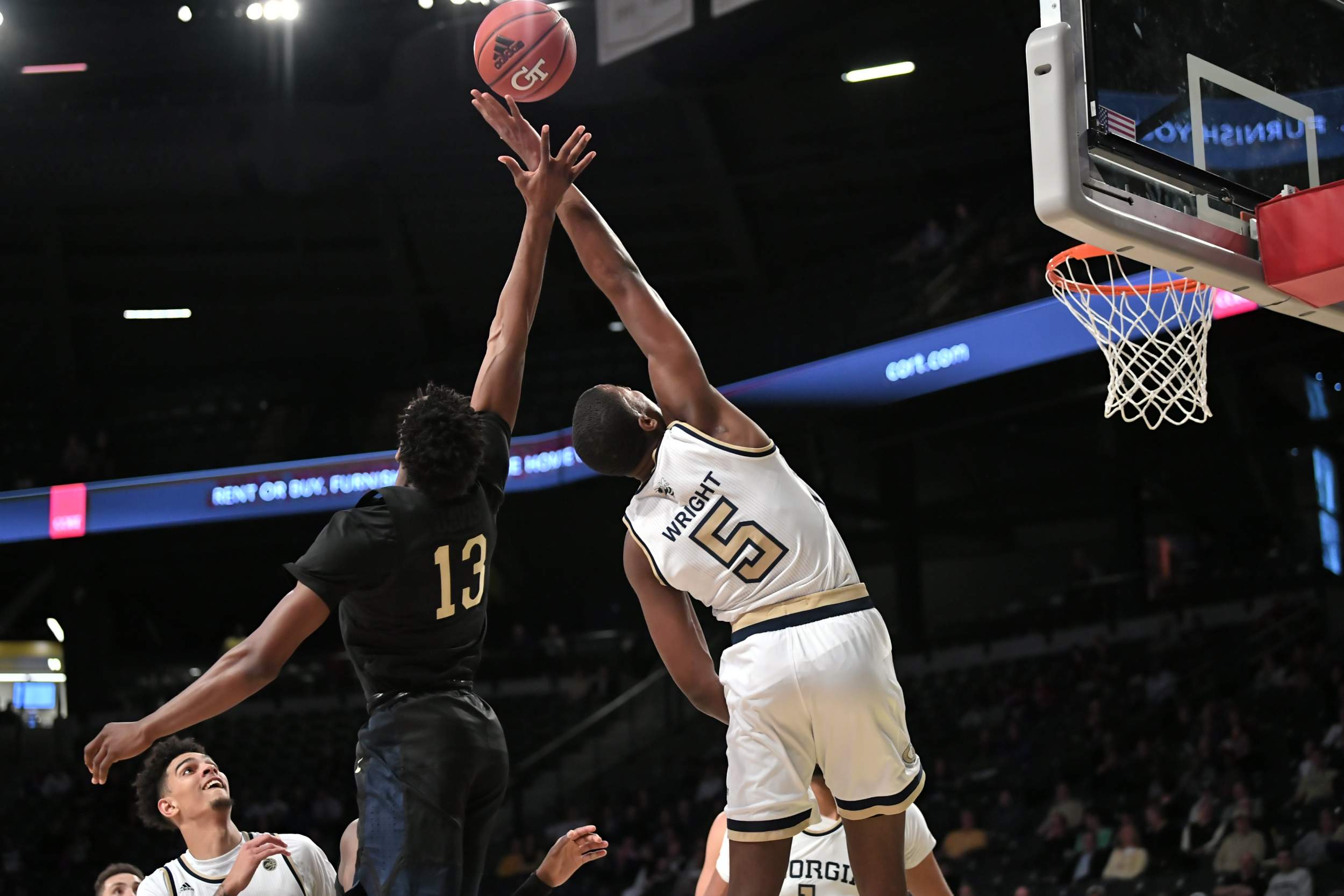 Moses Wright pulled down a career-high-tying eight rebounds, including four on the offensive glass,  and blocked four shots in Tech's 73-65 victory over Pitt.