Georgia Tech football's TaQuon Marshall spent last Sunday's off day focusing on his future, as he took advantage of an opportunity to shadow Fox Sports South reporter Rebecca Kaple during the channel's broadcast of the Atlanta Braves-Colorado Rockies game at SunTrust Park.
Kaple presented the idea to Marshall at the ACC Football Kickoff. She had read a RamblinWreck.com Internship Series story that detailed Marshall's summer internship with 680/93.7 The Fan, the flagship radio station of the Georgia Tech IMG Sports Network. Marshall expressed an interest in a potential broadcasting career and Kaple offered him the opportunity to shadow her in her role as a reporter for Fox Sports South's Braves broadcasts.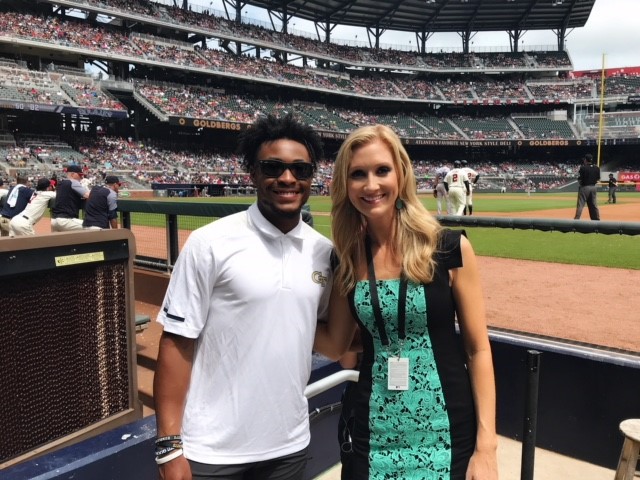 TaQuon Marshall and Fox Sports South's Rebecca Kaple during Braves-Rockies game at SunTrust Park on Aug. 19, 2018.
Marshall sat in on pregame production meetings with Kaple and the rest of the Fox Sports South crew, was introduced to the Braves' TV broadcast team of Chip Caray and Joe Simpson (along with Hall of Famer Tom Glavine) and saw the game from Kaple's in-game position in the first-base camera well. He also had the opportunity to visit the Rockies' clubhouse, where he met National League all-star and fellow Yellow Jacket Charlie Blackmon.
Focused on the broadcast production, Marshall was unaware of his proximity to National League MVP candidate Freddie Freeman at one point during the game.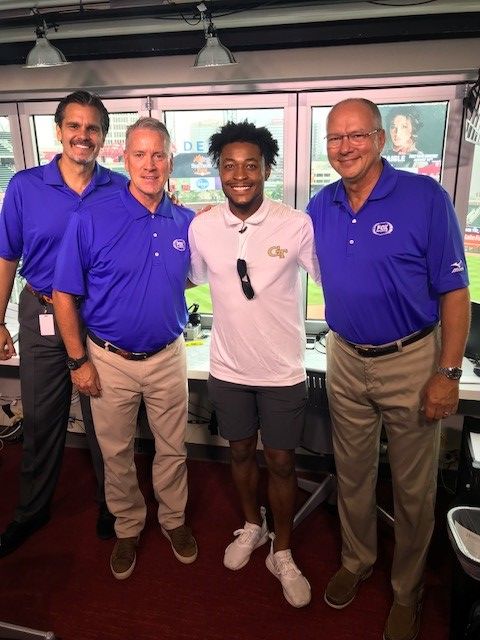 L to R: Chip Caray, Tom Glavine, TaQuon Marshall and Joe Simpson in the Braves' TV broadcast booth.
Marshall will return to his more familiar position in front of the camera this week when Georgia Tech opens its 2018 season versus Alcorn State (Saturday at 12:30 p.m. – Fox Sports South). The broadcast will include a halftime feature on Marshall, which will also re-air on Fox Sports South's ACC All-Access on Thursday, Sept. 6 at 5:30 p.m.
Georgia Tech's starting quarterback will also be featured during the first Georgia Tech Football Report of 2018, which will air on Fox Sports Southeast on Friday (Aug. 31) at 6 p.m. and Saturday (Sept. 1) at 11 a.m. and on Fox Sports Florida on Saturday at 9 a.m.