Box Score (.pdf) | Full gamebook (.pdf) | Multimedia | Photo Gallery | Postgame Notes
LOUISVILLE, Ky. – Moses Wright had a career-high seven blocks and recorded 10th double-double of his career with 15 points and 16 rebounds, but it was not enough for Georgia Tech men's basketball to overcome a challenging turnaround in a 74-58 loss at Louisville on Monday afternoon.
Playing on the road less than 48 hours after Saturday's 76-65 home victory over No. 16 Florida State, Georgia Tech shot just 32% from the field (22-of-68) and was out-rebounded by a 56-39 margin in the defeat.
The Yellow Jackets (8-6, 4-4 ACC) used a 10-0 run to grab a 14-7 lead early in the game, but Louisville (11-4, 6-3 ACC) closed the first half with a 10-3 run, then opened the second half with a 14-2 spurt to run out to an 18-point lead (47-29) and the Jackets never pulled closer than 13 the rest of the way.
Wright's seven blocked shots were part of an 11-block performance for Georgia Tech, which limited Louisville to 39% shooting from the field (28-for-72). However, the Cardinals' 56 rebounds included 20 offensive boards that led to 20 second-chance points.
Offensively, Tech was led by Michael Devoe's 17-point performance.  Jordan Usher rounded out three Yellow Jackets in double-figures with 11 points.
Louisville guard David Johnson was the Cardinals' top scorer with 24 points.
Georgia Tech will lace it up again at home on Sat., Feb. 6, when it takes on Notre Dame at McCamish Pavilion. Tipoff is set for 8 p.m., and the game will be televised on ACC Network.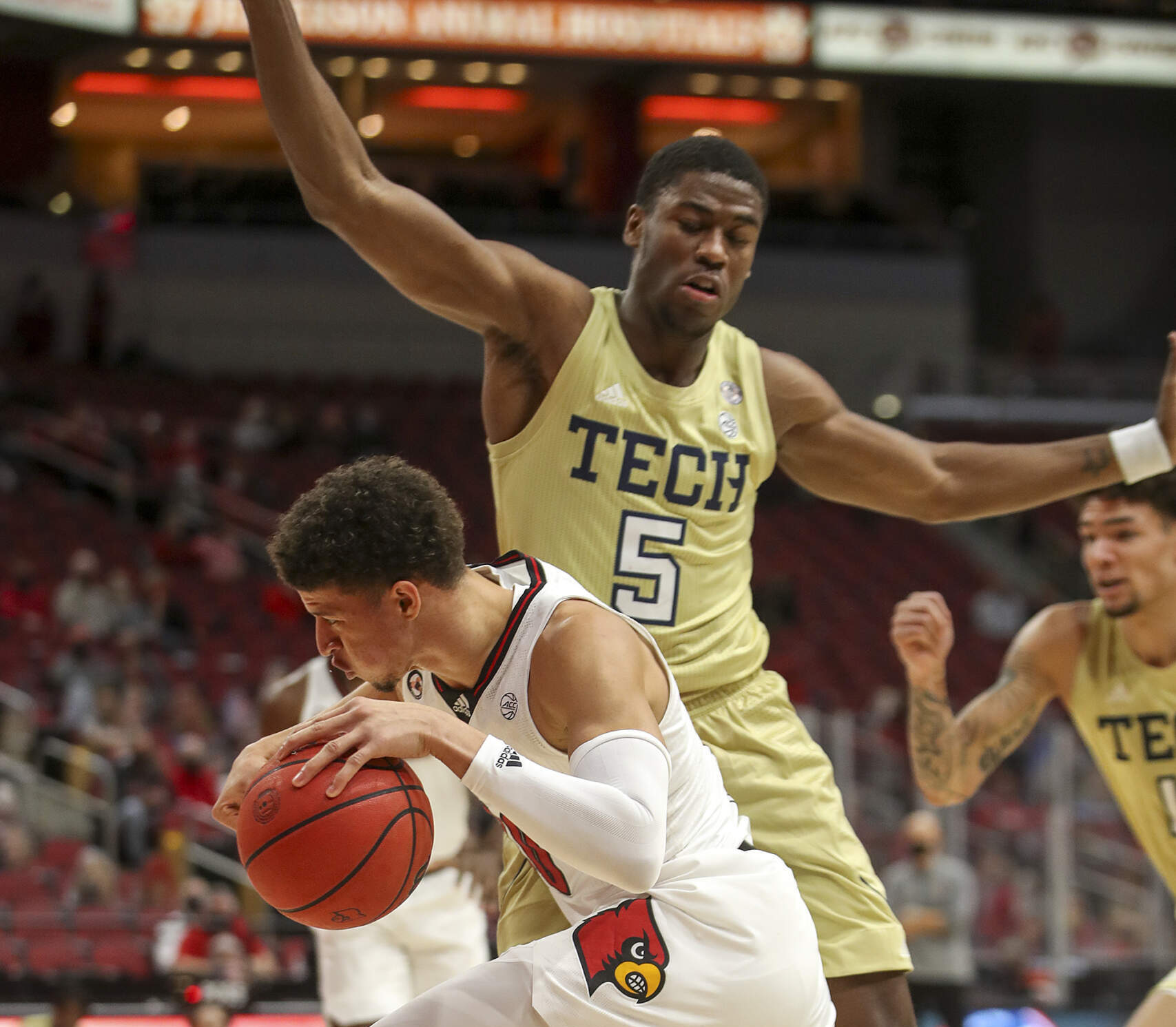 Moses Wright recorded his third double-double of the season and 10th of his career, scoring 15 points and bringing down 16 rebounds on Monday afternoon at Louisville.
Post-Game Notes
TEAM NOTES
Georgia Tech remains winless on the road in the ACC this season, and undefeated at home.
Tech used the same starting lineup it used to win the Florida State game, inserting Khalid Moore for Bubba Parham. Parham returned to the team after missing Saturday's game for a family funeral, and played almost 11 minutes. Moore made his second start of the season, 24th of his career.
For the 11th time in its last 12 games, Tech won the turnover battle and had more assists than turnovers (13 assists, eight turnovers). Only in the first meeting against Florida State on Dec. 15 (11 assists, 12 turnovers, FSU has 12 turnovers) did the Jackets fall short.
Tech forced only nine Louisville turnovers and scored just eight points from them, far below its season norms. The Jackets have forced 15.6 turnovers per game this season, 15.3 per game against ACC foes, and owned the second-best turnover margin in the conference (plus-4.2 overall, plus-4.3 in conference games) entering Monday's game.
Tech suffered its lowest shooting percentages of the season, hitting just 32.4 percent from the floor and 29.6 percent on threes (8-of-27). The Jackets have connected on 36.4 percent for the season, 38.9 percent in ACC games.
Tech sustained its largest margin of defeat this season (16 points), and the largest since a 67-58 loss at home to Ball State on Dec. 18 of last season.
The Jackets are averaging 8.6 made threes per game (3.3 per game more than they made in 2019-20), making at least eight in all but three games (Georgia State, both games vs. Florida State), and rank fourth in the ACC. Tech is averaging a league-high 9.0 threes in ACC games.
Tech's 56-39 deficit on the boards was its largest of th season (Duke out-rebounded the Jackets, 43-28).
Since going to its smaller lineup, Tech has had just 25 shots blocked in its last 14 games, seven of those by Virginia. The Yellow Jackets had 13 shots blocked in their two season-opening losses. Louisville rejected three Tech shots.
Tech has collected 57 steals in its last seven games and is averaging an ACC-high 9.4 in conference games. The Jackets are averaging 9.1 in all games.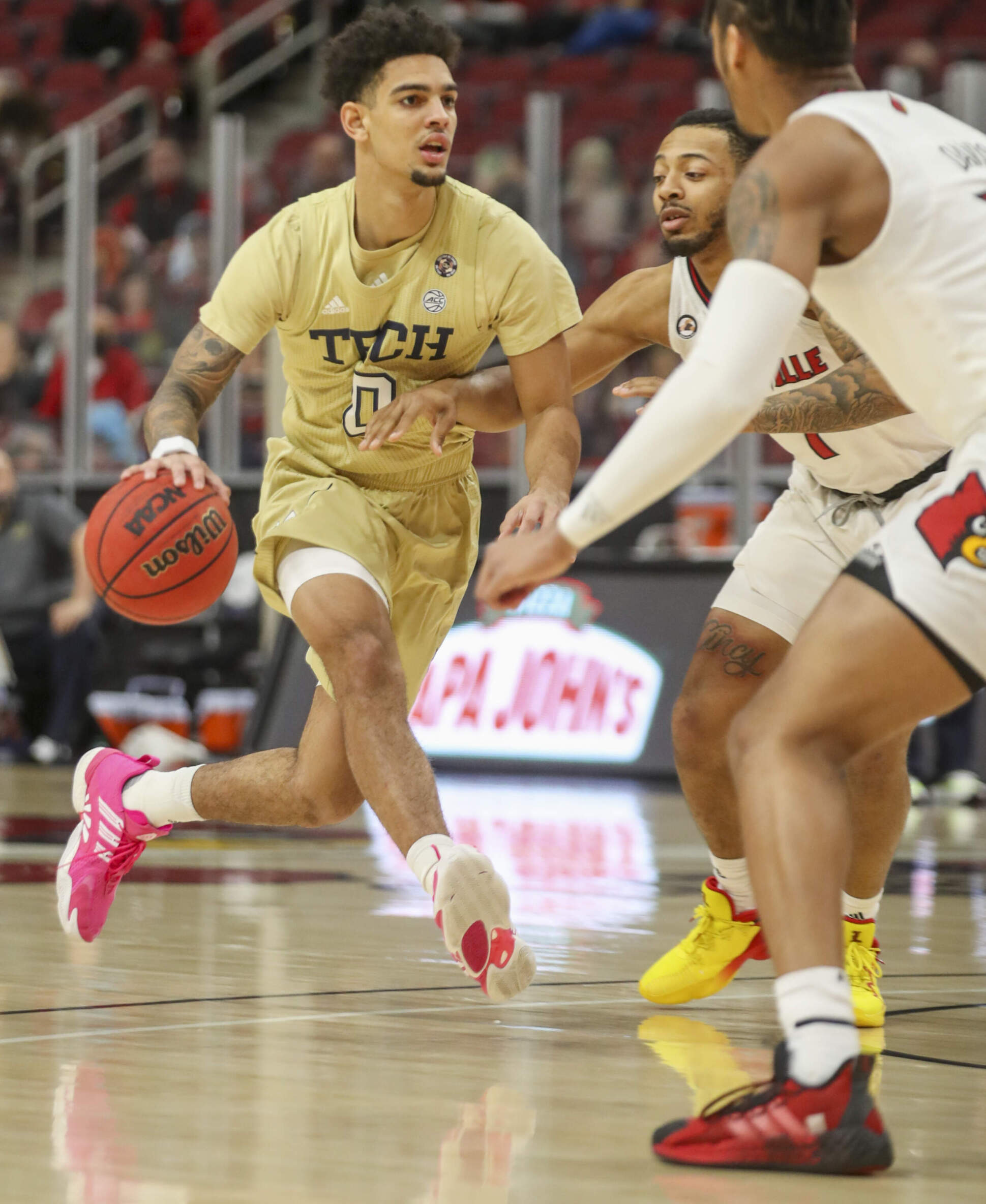 Michael Devoe scored a team-high 17 points and grabbed nine rebounds against Louisville.
Game Highlights
ACC Digital Network Must See Moment – Georgia Tech Turns Defense Into Offense in Style (Video)
ACC Digital Network Condensed Game (Video)
Post-Game Press Conferences
Head coach Josh Pastner
Senior forward Moses Wright