THE FLATS – Julian Swartz, who served as interim assistant coach for Georgia Tech last season while maintaining his duties as recruiting and compliance director, was named to fill the final vacant coaching position full-time for the Yellow Jackets, head coach Josh Pastner announced Tuesday.
Swartz, 38, is responsible for on-court development of Tech players and will focus his efforts on the Yellow Jackets' defensive schemes as well as handle recruiting responsibilities. The appointment completes the Jackets' coaching staff, which also includes third-year assistant coach Eric Reveno, for the 2018-19 season. Pastner named former Tulane assistant Anthony Wilkins to his staff in May.
"Julian has been an outstanding member of my staff going back to Memphis, and did a terrific job when given the chance to coach last season while also handling his off-court duties," said Pastner. "He is a high-energy individual and a great fit for Georgia Tech. He will do an excellent job with our player development, and has the ability to evaluate and recruit at the level we need to continue to build this program."
Swartz, a veteran of 15 years in coaching, including eight years in NCAA Division I, was elevated to fill Tech's vacant assistant coaching position prior to the 2017-18 season, assuming on-court coaching responsibilities while continuing in his role as director of recruiting and compliance, which included serving as the staff liaison with compliance, coordinating on-campus recruiting operations and summer camps.
"I am extremely grateful to Coach Pastner, whom I've had the pleasure working for the last six years, and our administration for this tremendous opportunity," said Swartz. "There is simply no better place than Georgia Tech – Atlanta, academics and the ACC.  I am honored and excited to invest all my energy and enthusiasm to the culture and standards of our program while pursuing championship excellence in all we do."
He first joined the Tech staff as director of operations in May, 2016, after four years with Pastner at Memphis, where he served stints as assistant director of operations, director of player development and interim assistant coach. During his time at Memphis, the Tigers compiled a 92-44 overall record while transitioning to the American Athletic Conference from Conference USA.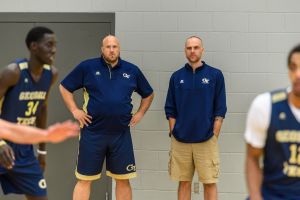 Prior to Memphis, Swartz spent three years as a graduate assistant at Marquette (2005-08) with head coach Tom Crean and one as an intern at Indiana (2008). Among his duties at Marquette were assisting in the areas of video, scouting reports, statistics, student-athletes' academic progress, on-campus recruiting visits and coordinating summer camps. He also assisted in player development, working with All-Big East honorees Lazar Hayward, Dominic James, Wesley Matthews, Jerel McNeal and Steve Novak. Novak, Matthews, McNeal, and Hayward have all played in the NBA. In those three seasons, the Golden Eagles posted a 69-31 overall record and a 31-19 Big East Conference mark and earned three NCAA Tournament berths.
From 2009-12, he served as a counselor in the West Allis/West Milwaukee school district, counseling kids and teaching character education, while also serving as an assistant coach for the Waukesha South High School varsity hoops squad (2003-05, 2009-11) along with coaching youth basketball (2009-12).
A native of Waukesha, Wis., Swartz graduated from Carroll College in 2005 with a bachelor's degree in psychology. He earned his master's degree in school counseling in 2008 from Marquette, which made him the recipient of the 2016 Marquette University Alumni Counselor Education and Counseling Psychology Achievement Award.
ABOUT GEORGIA TECH MEN'S BASKETBALL
Georgia Tech's men's basketball team is beginning its third year under head coach Josh Pastner. Tech has been a member of the Atlantic Coast Conference since 1979, won three ACC Championships (1985, 1990, 1993), played in the NCAA Tournament 16 times and played in two Final Fours (1990, 2004). Connect with Georgia Tech Men's Basketball on social media by liking their Facebook Page, or following on Twitter (@GTMBB) and Instagram.
For more information on Tech basketball, visit Ramblinwreck.com.