Final Stats (.html) | Final Stats (.pdf) | Postgame Notes | Postgame Quotes | Multimedia | Photo Gallery
MIAMI GARDENS, Fla. –  Jordan Mason capped a 141-yard rushing day with a 1-yard touchdown dive in overtime and Tariq Carpenter made the lead stand-up with a fourth-down tackle that sealed Georgia Tech's 28-21 win over Miami (Fla.) on Saturday afternoon at Hard Rock Stadium.
Georgia Tech scored on a fumble recovery and a fake punt in the first half, then largely turned the game over to Mason, who ran for 91 of his career-high 141 yards after halftime. Thanks in large part to Mason's hard running after the break, the Yellow Jackets converted 5-of-9 third-down attempts and controlled the ball for 18:02 in the second half.
While Mason and the running game were the story of the second half, big plays allowed Georgia Tech to score a season-high 21 points before the break. On Miami's first possession of the game, true freshman linebacker Demetrius Knight II sacked Miami QB N'Kosi Perry near the goal line, forcing a fumble that was recovered by redshirt freshman defensive lineman Ja'Quon Griffin for a touchdown.
Later in the opening period, Georgia Tech head coach Geoff Collins dug into his bag of tricks, calling for a fake punt on fourth-and-7 from the Miami 41. Punter Pressley Harvin III showed off a strong arm in firing a bomb to gunner Nathan Cottrell down the right sideline. Cottrell ran under the perfectly thrown pass, tip-toed the sideline and outraced the trailing Hurricanes to the end zone to knot the score at 14-14.
With less than a minute to go in the first half and the Yellow Jackets trailing 21-14, redshirt freshman quarterback James Graham hit true freshman and Miami native Ahmarean Brown for a 35-yard touchdown pass than knotted the score at 21-apiece.
The score remained 21-21 until overtime, thanks largely to junior defensive lineman Antwan Owens blocking Miami's would-be go-ahead 25-yard field-goal attempt with just 26 seconds left to play in regulation.
In overtime, Georgia Tech got the ball first and Mason needed only three plays (rushes of 2, 22 and 1 yards) to give the Yellow Jackets a 28-21 lead.
On Miami's ensuing possession, Carpenter made a terrific open-field tackle of Miami tight end Brevin Jordan on fourth-and-4 from the 8 yard line. After a video review upheld the disputed spot on the field, the Hurricanes still measured short of the first down, setting off a raucous celebration by the Yellow Jackets pouring off their sideline.
Georgia Tech enjoys a bye next week before returning to action versus Pitt on Saturday, Nov. 2 at Bobby Dodd Stadium. Kickoff time for Georgia Tech's homecoming game will be announced on Monday, Oct. 21.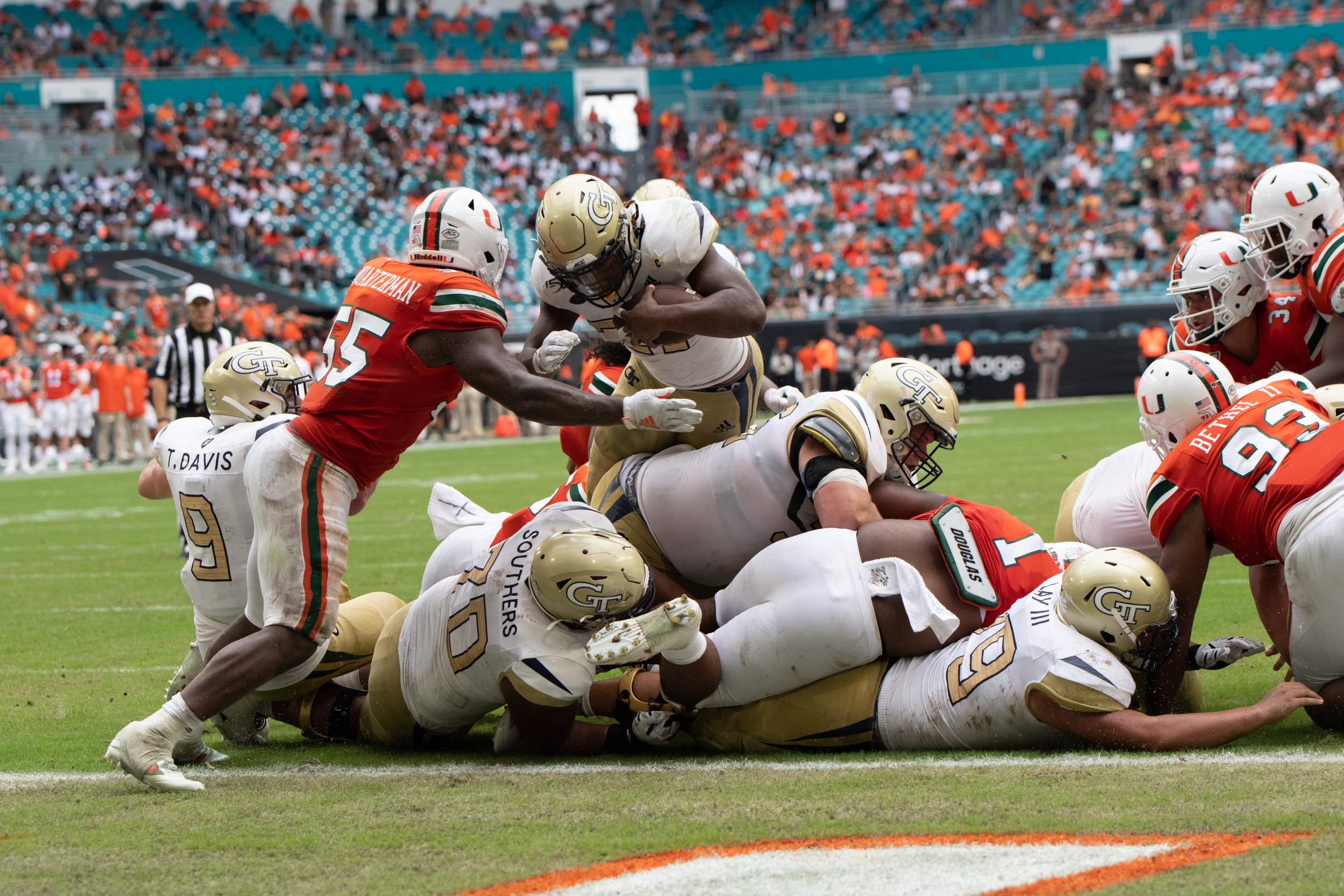 Jordan Mason dives into the end zone for the winning touchdown in Georgia Tech's 28-21 overtime win at Miami (credit: Delvin Jones).
Postgame Notes
Team
Georgia Tech's 28 points were a season high (prev.: 24 vs. The Citadel, Sept. 14).
Georgia Tech's 31:28 time of possession was its second-highest of the season (high.: 32:35 vs. USF, Sept. 7).
Georgia Tech went 6-for-14 on third-down for the game, including an impressive 6-for-9 in the second half after being 0-for-5 in the first half.
Georgia Tech's fumble recovery for touchdown in the first quarter was its first defensive touchdown of the season. The Yellow Jackets had not scored a defensive touchdown since Juanyeh Thomas' 95-yard interception return for a touchdown vs. Louisville on Oct. 5, 2018 and had not scored on a fumble recovery since David Curry's 15-yard fumble return for a touchdown vs. Alcorn State on Sept. 1, 2018.
The defensive touchdown also marked the first time that Georgia Tech has scored off an opponent's turnover. The Yellow Jackets had not scored on the ensuing possession following its first eight takeaways of the season.
Georgia Tech won for the first time on the road this season and snapped a five-game overall losing streak in games played away from Bobby Dodd Stadium.
Georgia Tech moved to 13-12 all-time against Miami (Fla.) with its second-straight win over the Hurricanes.
Georgia Tech snapped a five-game losing streak at Miami.
Georgia Tech beat Miami for the first time in six matchups at Hard Rock Stadium.
The win was Georgia Tech's first at Miami since a 17-14 victory on Oct. 13, 2007, when Miami still played its home games at the Orange Bowl.
Georgia Tech moved to 2-0 this season vs. opponents from the state of Florida. The Yellow Jackets beat USF, 14-10, on Sept. 7).
Individual Notes
Georgia Tech So. RB Jordan Mason ran for a career-high 141 yards, breaking his previous career high of 106, set just last Saturday at Duke.
Mason has recorded back-to-back 100-yard rushing games over the last two contests after not surpassing the 100-yard mark in the first 18 games of his career.
Georgia Tech Fr. LB Demetrius Knight II recorded the first sack and forced fumble of his career when he sacked Miami QB N'Kosi Perry and forced a fumble in the end zone that was recovered for a GT touchdown in the first quarter.
Georgia Tech r-Fr. DL Ja'Quon Griffin recorded the first fumble recovery and touchdown of his career when he recovered the fumble forced by Knight in the end zone for a score.
Georgia Tech Jr. P Pressley Harvin III's 41-yard touchdown pass to Sr. RB Nathan Cottrell on a fake punt was the first pass completion of Harvin's career. He was previously 0-for-1, with his only attempt coming as a true freshman at Duke in 2017.
Harvin has a 774.4 pass-efficiency rating this season and a 387.2 rating for his career.
The touchdown reception was the first touchdown catch and the longest reception of Cottrell's career. Prior to the 41-yard catch, he had three career receptions for 12 yards.
Georgia Tech Fr. WR Ahmarean Brown's 35-yard touchdown reception in the second quarter was his sixth catch of the season of 20-plus yards and his fourth of 30-plus yards.
Brown matched a career high with three receptions (he also caught three passes at Temple on Sept. 28).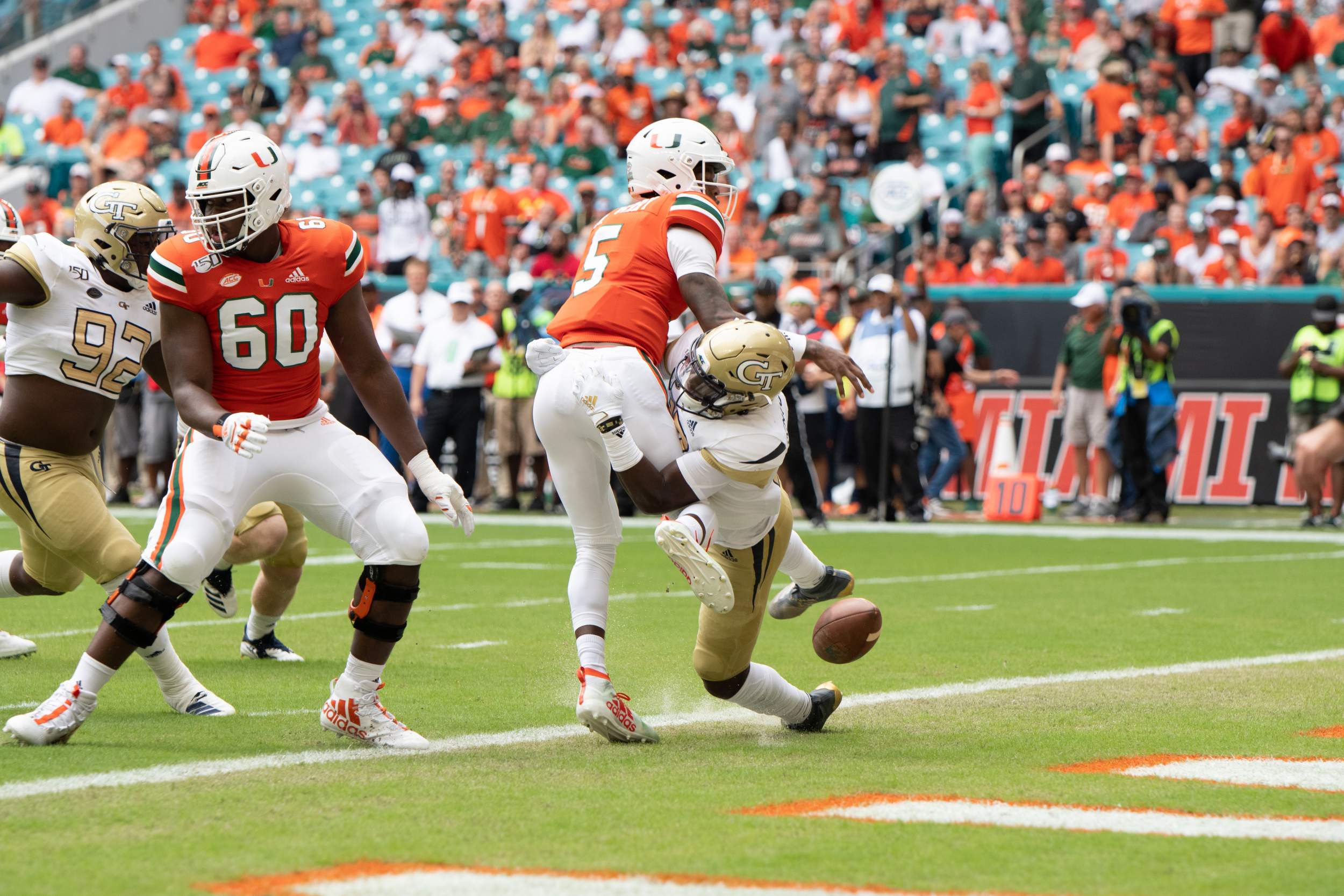 Georgia Tech's Demetrius Knight II forces a fumble on a first-quarter sack. The fumble was recovered in the end zone by GT's JaQuon Griffin to give the Jackets an early 7-0 lead.