Greensboro, N.C. – Georgia Tech's men's basketball team will open its 2019-20 season Tuesday, Nov. 5, with an Atlantic Coast Conference game at NC State as part of the opening slate of conference games. The two-day opening schedule will broadcast games on ACC Network (ACCN), ESPN2 and ESPNU. In all, the ACC will open up with seven conference games to start the season.
ESPN announced four games will be broadcast on the ACC Network, the new 24/7 national platform that will launch on August 22, 2019. The exclusive early-season basketball broadcasts include: Louisville at Miami and Georgia Tech at NC State (Tuesday, Nov. 5); Notre Dame at North Carolina and Virginia at Syracuse (Wednesday, Nov. 6).
Three additional conference games will be aired on ESPN2 or ESPNU including Virginia Tech at Clemson (Nov. 5), Wake Forest at Boston College (Nov. 6), and Florida State at Pitt (Nov. 6). Duke is set to compete in the State Farm Champions Classic (November 5), which will be aired on ESPN.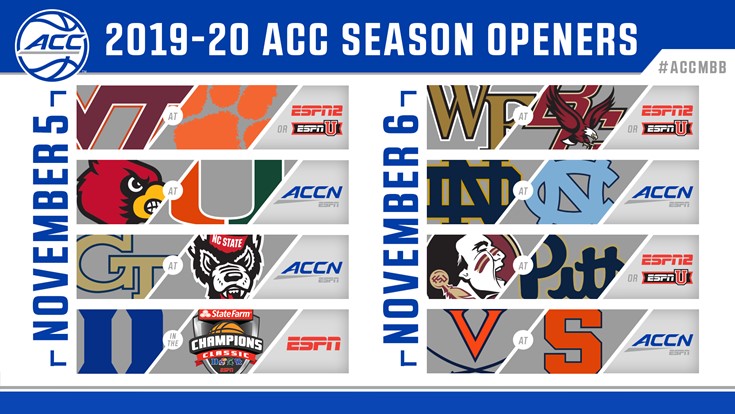 The ACC is moving to a 20-game conference schedule next season after playing an 18-game slate the last seven years.
In 2019-20, Georgia Tech will play Louisville, NC State, Pittsburgh and Syracuse both home and away in addition to Clemson and Notre Dame, with Duke, Miami, Virginia and Virginia Tech visiting McCamish Pavilion. The Yellow Jackets begin their 2019-20 conference season in the same arena where they finished this past season, a 63-61 Tech victory over the Wolfpack.
ABOUT GEORGIA TECH MEN'S BASKETBALL
Georgia Tech's men's basketball team has completed its third year under head coach Josh Pastner. Tech has been a member of the Atlantic Coast Conference since 1979, won three ACC Championships (1985, 1990, 1993), played in the NCAA Tournament 16 times and played in two Final Fours (1990, 2004). Connect with Georgia Tech Men's Basketball on social media by liking their Facebook Page, or following on Twitter (@GTMBB) and Instagram.
For more information on Tech basketball, visit Ramblinwreck.com. Tickets for men's basketball can be purchased here.