Purchase Home Game Tickets | Join the Grand Slam Club |
Georgia Tech Game Notes (PDF) | Duke Game Notes (PDF)
Thursday (7 p.m.):  Video | Audio | Live Stats
Friday (6 p.m.):  Video | Audio | Live Stats
Saturday (1 p.m.):  Video |  Audio | Live Stats
THE FLATS – Georgia Tech baseball (29-24, 12-15 ACC) will wrap up its 2018 regular season slate this week with a three-game ACC series versus the nationally ranked Duke Blue Devils (38-12, 17-9 ACC) on Thursday (7 p.m.), Friday (6 p.m.) and Saturday (1 p.m.) at Russ Chandler Stadium.
Follow the Action Live
All three games are scheduled to be video streamed live on the ACC Network Extra (link located above).
The three ACC contests will also be broadcast live on WREK 91.1 FM radio and online at WREK.org.
Live stats for all three games this week can be found above or on the baseball schedule page at RamblinWreck.com.
Fan Appreciation Day, May 18
Tech baseball will host Fan Appreciation Day on Friday, May 18. All fans will receive a gift of their choosing throughout the entirety of the game (located beside the marketing table). Gifts include: water bottles, GT decals, shirts, lunch bags, foam fingers, Christmas ornaments, GT mini purses and other items.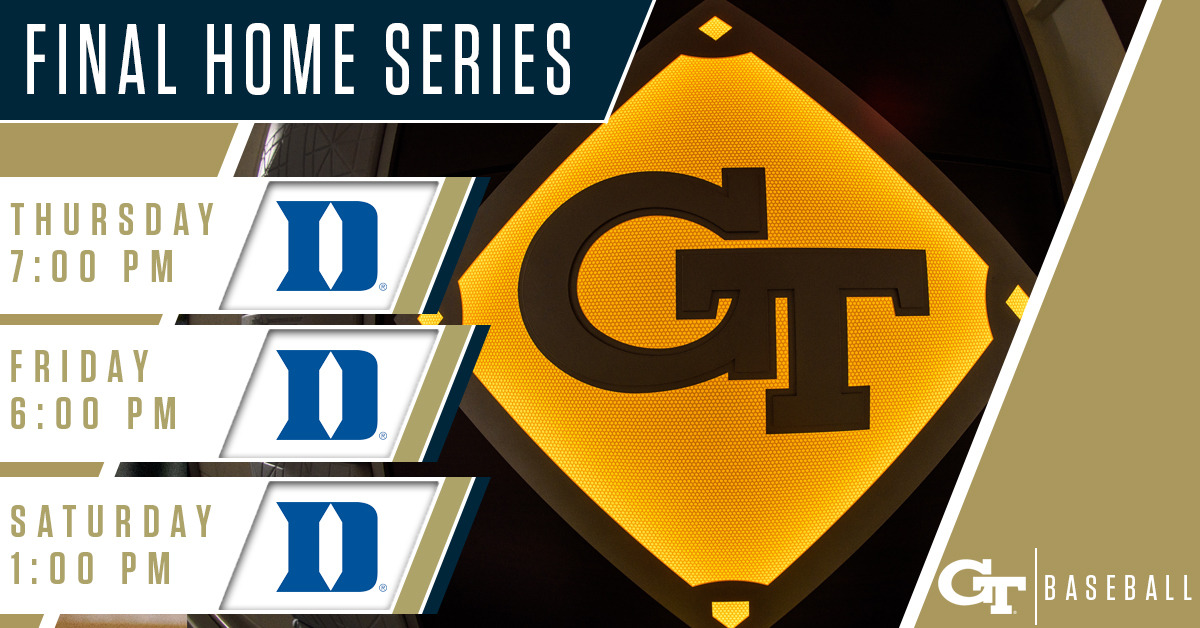 Senior Day, May 19
The Georgia Tech baseball team will hold its annual Senior Day on Saturday, May 19. Prior to the 1 p.m. first pitch, the Yellow Jackets will recognize their six seniors in Wade Bailey, Kel Johnson, Jared Datoc, Ben Schniederjans, Patrick Wiseman and Johnathan Langley.
Parking Now Available Online
Yellow Jacket fans can now pay for parking ahead of time by going online to Park Mobile (Click Here). Klaus Deck (across from Cherry Street and the third base side of Russ Chandler Stadium) will be open for fans for $5.
Tech Tidbits
This week's ACC three-game series versus the Duke Blue Devils is the final conference series of the season for the Yellow Jackets. Tech sits at 12-15 in the ACC entering the final series, two games out of third-place in the Coastal Division and in a tie for eighth-place overall in the ACC regular season standings.
Tech's Joey Bart and Chase Murray are 1-2 in the ACC in hitting this season. Bart leads the league with a .371 batting average on the year, while Murray is a close second with a season average of .358. Bart also leads the league in slugging percentage (.649), on-base percentage (.480) and total bases (131).
No. 3 Wade Bailey is looking to close out his four years on The Flats with a career milestone, as the second basemen is chasing down career hit No. 300. He enters his final three games on The Flats this week with 281 career base hits, 19 shy of the career mark. He would be just the fourth Jacket to reach 300 career hits in program history joining Jason Varitek (351), Victor Menocal (327) and Matt Gonzalez(302).
The Shake-and-Bake duo of Xzavion Curry and Connor Thomas, Tech's first two weekend starters, have combined to win four ACC Pitcher of the Week awards this season. Curry received his conference weekly award honors on April 2 and April 30, while Thomas matched his fellow teammate with ACC weekly accolades on April 9 and most recently this week, May 14.
This season, the Yellow Jackets have recorded five shutouts. Tech has posted shutout wins over Dartmouth (Feb. 23), Arkansas-Pine Bluff (Feb. 27), UIC (March 2), Wake Forest (April 27) and Radford (May 6). The five shutout victories are the most for GT in a season since the Jackets tallied six in 2014.
Prior to the 1 p.m. first pitch on Saturday, May 19, the Yellow Jackets will recognize their six 2018 seniors in Wade Bailey (Villa Rica, Ga.), Jared Datoc (Atlanta, Ga.), Kel Johnson (Palmetto, Ga.), Johnathan Langley(Dunwoody, Ga.), Ben Schniederjans (Powder Springs, Ga.) and Patrick Wiseman (Roswell, Ga.).
With the three-game ACC series versus the Blue Devils, the Jackets will be wrapping up a stretch in which Tech will have played seven games over a nine-day span. Tech played three games at Virginia over a four-day span from Friday to Monday, May 11-14, and hosted SEMO on Tuesday, May 15, before taking off Wednesday prior to this week's three-game series at home versus Duke on May 17-19.
The Yellow Jackets' pitching staff is averaging 8.6 strikeouts per game this season. Tech's arms are also averaging 8.7 strikeouts-per-nine innings on the year.
Connor Thomas has gone the full 9.0 innings for three complete-game wins this season – versus Florida State (April 7), against Wake Forest (April 28) and at Virginia (May 12). He is the first Jacket to throw multiple complete games since Buck Farmer recorded two in 2013, while his three 9.0-inning contests are the most since current undergraduate assistant coach Mark Pope tallied five complete games in 2011.
Tech has a total of 13 different players this season that have hit at least one home run, highlighted by double-digit home runs from Joey Bart (15) and Kyle McCann (14).
On Deck
Georgia Tech will take part in the 2018 ACC Baseball Championship from May 22-27 in Durham, N.C. The tournament seedings will be announced on Saturday night, May 19, while the schedule will be made available on Sunday, May 20.